Overcoming Common Writing Obstacles
How to overcome some of the most common challenges writers face.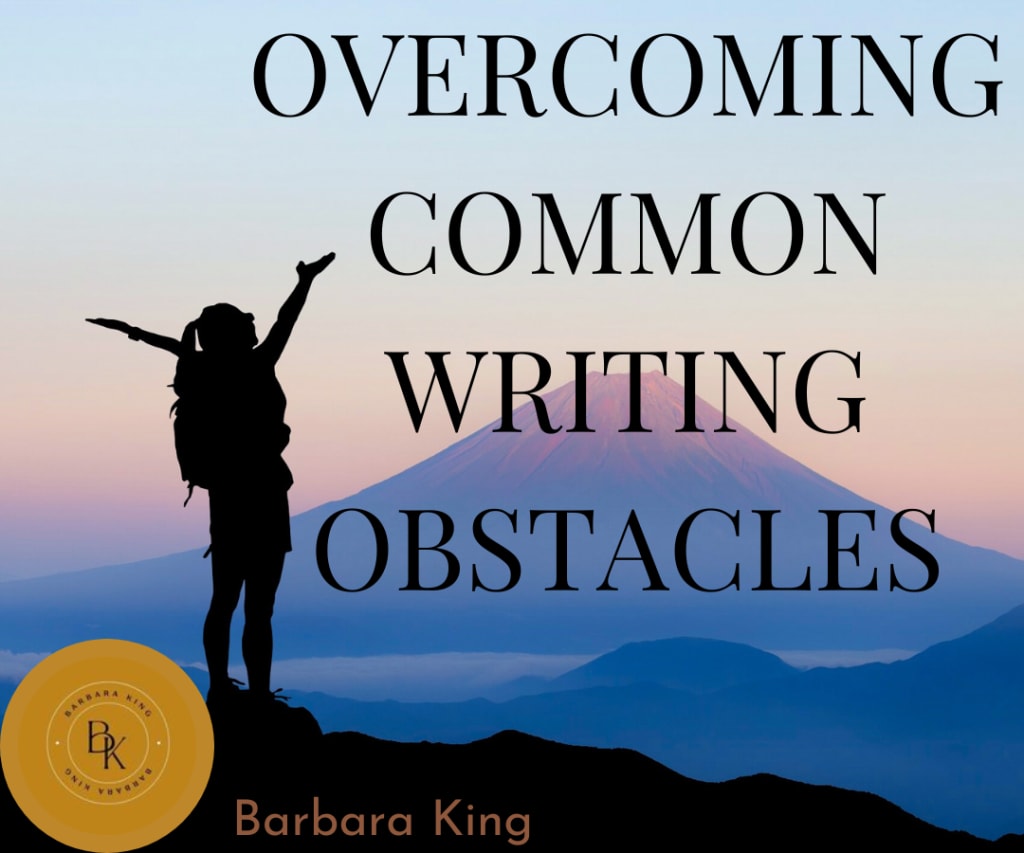 Writing, like all things, can present its own challenges and trials that need to be overcome. I love writing, and I wouldn't change my career for the world, but sometimes, oh is it stressful!
If it wasn't for the fact my desktop was gifted to me recently by my wonderfully supportive and understanding partner when the laptop I had used daily since my sophomore year of college kicked the bucket… 
I would have thrown it out the third-floor window. 
Whether you are new to writing or you've been around the block a few times the same obstacles always seem to show their ugly faces when they're not welcome and somehow creep up again while your back is turned, but no matter when they present themselves they need to be overcome. 
Here's how to overcome the three main obstacles that will plague all writers. 
Self Doubt
As for the new writer as is the old writer. Whether just starting and doubting yourself about the very first piece of work you have ever written or a seasoned writer doubting themselves about their 100th book, doubt can always creep up your spine and sink into your brain no matter your skill level. 
How can you overcome this?
There are two ways that are important for you to know.
The first is to remember that everybody has bad days or days when their brain is telling them something negative instead of telling them what it really needs. A day to rest. If writing is giving you stress then maybe take a day to relax and unwind and pick the story back up tomorrow with a clear head. 
The second is to remember that your brain is just filling your head with doubts about your ability to do something. 
Give it hell and sass with all the confidence you can muster up. 
Is your mind telling you that nobody is going to read your work? Tell your mind to go take a hike because you're going to read it and you're not nobody!  
Every time your brain is giving you a negative thought take on the inner persona of a sassy best friend sticking up for you and tell it off for trying to bully and belittle you.
It says you'll never finish writing the book… tell it you will! 
It tells you nobody is going to read it… tell it they will!
I believe the phrase fake it till you make it when it comes to this. You won't know unless you do and every time you tell yourself you can't do something you're just making it harder for yourself to actually get it done so just try to keep telling yourself you can. 
Time 
"I don't have the time to write." 
It's like saying you don't have time to learn to juggle.
If you wanted to... you would.  
Determination is what makes or breaks a writer. If you want to write you will find the time instead of finding excuses. Wake up earlier, go to bed later, turn off your phone, and microwave dinner instead of cooking. There are hundreds of things you can shift around in your day to make the time to write, you just have to have the determination to do it. 
Support 
This one can be the tough one to overcome because it's more emotionally driven that the others. Sure doubting ourselves sucks, but when others doubt us it's 100x worse. 
How can you overcome this?
You find the support you need.
Do your parents want you to give up writing and get a real job? Lean on the support of your siblings or your partner.
Don't have either of those? The online writing community is a wonderful place to find others that are just like you and where you can give and get support no matter what it is you write. There's a community out there for all types of writers and all types of fiction.
Need more support than that? Well, there's always me, I post articles every day to give you the support, motivation, and kick in the pants you need to write the story only you can tell. 
The only way to overcome challenges you may face is to not give up and to keep on writing.
With all my love and support, 
B.K. xoxo
*If you've liked what you read you can show your support by subscribing, pledging your support, or leaving me a tip that directly supports and aids me as a writer.
By joining Vocal+ you can earn more per read on every story you publish on Vocal.
Click my link to start your 7-day free trial today and start earning more for your stories.
_____________________________________________
This story was originally posted on Medium.
If you would like to experience Medium yourself, consider supporting me and thousands of other writers by signing up for a membership. It only costs $5 per month, it supports us writers, greatly, and you have the chance to make money with your own writing as well. By signing up with this link, you'll support me directly with a portion of your fee, it won't cost you more. If you do so, thank you a million times!
If you love what you've read you can also show your support by buying me a cup of coffee to fuel my writing. 
https://www.buymeacoffee.com/barbaraking
*Contains Affiliate Links
About the Creator
Barbara King is a first-time author of the new dark fantasy novel The Dark Gods. King is a recent college graduate from Southern New Hampshire University where she earned her BA in Creative Writing.
Reader insights
Be the first to share your insights about this piece.
Add your insights