Open Letter from a Hospice Aide
Going Above and Beyond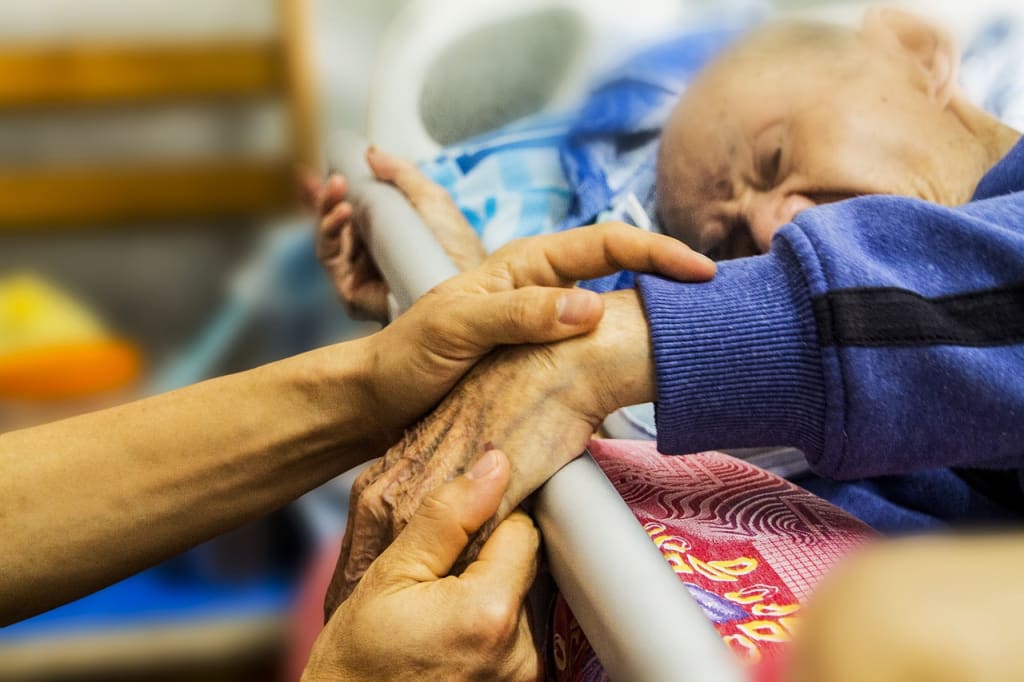 It is 6:50 in the afternoon on a weekday at the hospice house. Me, a nurse, and a nurse in training were on for the seven AM to the seven PM shift. The snow finally quit falling outside as if hopes were about to be lifted, but the day soon proved to be wrong. That day, the sun that was shining represented sorrow and grieving.
We only had three patients that day; one taking his final breaths—we will call him Larry—one from Germany who was still young—we will call her Ester—and one who just did not want to be alone, and we will call her Emma.
Ester was up walking yesterday and could respond to me. The next day I came in and she was completely bed bound and would not even arouse to a bed bath. She had the cutest, sweetest accent I have ever heard and she had tons of stories to tell that I only got to hear for one day. She had so many family members there for her every day as she accepted it was her time to go.
Larry, he was 93 years old and came to us as bed bound. He was with us for about a week and a half before he passed. Day one, his son came to see him for a couple of hours and on day three, his daughter came for about 45 minutes and gathered his stuff and told us not to bother calling with a change of conditions. I did not want to hear what she was saying. I was kind of angry about it, but brushed it off. I did not think someone would actually be that way.
Then there was Emma; she was with us about a week. She had her two daughters, her grandson that she raised, and a husband come in and see her every day. She was riled, maybe it was the end of life rally, but maybe it was someone who was unhappy and disappointed with her life. Her husband cheated on her all the time, talked down to her, along with a ton of other family dynamics.
Emma was with us for about a week, and I was with her except for two days in the beginning. She had the best sense of humor when we admitted her, but every day she rolled her eyes and didn't really care to see her husband. Every time he would come in, she would get restless. She became a complete one assist on day three. While the family is always encouraged in one's last days, sometimes they can do more harm than good. I started to notice the patient becoming disheveled, but I can't just kick out the person irritating her because I know that somewhere deep down, they still love each other, but I was the one she found solace in while she was in her last days. On her last day, the nurses were giving medicine that would knock out a horse, but she did not want to be left alone with her husband. There were other people who needed me, though. I did my care for Ester and cleaned her up every time she soiled and repositioned her. It did not take much time, but the family had requests I had to keep up with as well as trying to keep my main focus on Emma and Larry. Ester had a family member who was more than capable of being patient. My priorities are not getting the family members a bigger cup for coffee or worrying about refilling the paper towel holder because they are "too good" to use the ones sitting right there on top. Now while I am patient with with them to their face, it breaks me inside that they are complaining about little things when they and others have a loved one dying right in front of them.
They throw words in my face like, "You don't have anyone in here right now, you don't understand," and even though I don't have a loved one dying right now, I have their family member for 12 hours a day. Sometimes I feel I have a bond that goes deeper than the daughter or son or anyone else with these patients, and that is hard to watch sometimes. I bring them calm and relief. Some people are scared of death, and I help them accept it and make it comfortable for them, as it should be.
And to the ones whose families don't show up, I will be the one sitting in their room every chance I get while they are at home and don't want to be here when they take their last breaths. It will be my hand they are holding.
Remember, we all die one day. Would you want to be by your side? Please give thanks to the hospice staff members. We go above and beyond for our families and patients. It takes some very special people to do what we do, and if not us, who?