Online Proofreading Job for Beginners.
Do you have the skill to correct punctuation and spelling errors? If yes, then have what it takes to become a virtual proofreader with an income potential between $36k-$60k a year.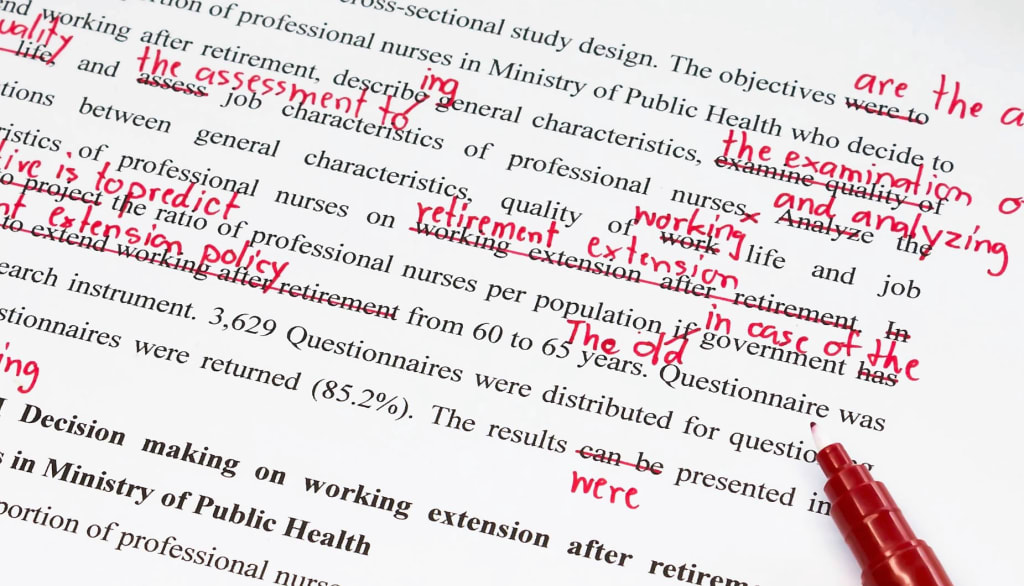 source:google.com
Online proofreading jobs are in demand, and you know why?
Because there is an increase in online content and marketing, this means more job opportunities for proofreaders.
Many bloggers, authors and online businesses need help to proofread their blogs, books and other digital content they create. So if you have the ability to correct mistakes and edit errors in books and blogs, this might be the career for you.
There are many online proofreading jobs for beginners who are interested in working either full-time or part-time.
If you are looking to become a proofreader, you can do this job from ANY part of the world, as it is not country-specific.
What is Proofreading?
Proofreading is when you take a piece of content written by someone (like a blog post or a book) and make it perfect. Its the final stage of editing, which involves correcting grammatical errors like misplaced commas and eliminating spelling errors.
Here are a few components a proofreader needs to check – grammar, punctuation, capitalization and spellings.
Sure there are a number of tools available online that help with this, but they still don't pick up errors as well as the human eye.
Here are some contents that require proofreaders.
– Blogs/websites
– Cookbooks
– eBooks, novels– Email Newsletters
– Online Marketing Material
– advertisements, fliers, brochures
– Social Media Posts
– Essays and Research papers
– Resumes and cover letters
3 Simple ways to tell if Proofreading is for you.
Are you good at catching typos and misplaced punctuation?
Do you often correct texts on social media?
Cringe when a restaurant menu has a misspelt word?
How much do proofreaders make?
As per Glassdoor, the average proofreader salary is $36,290/yr (as of 5th January 2019).
And according to the Bureau of Labour Statistics, its an average of 37,550 and can go up to $61,480.
How to become a proofreader online for beginners?
If you are looking to become a proofreader, here is a beginner's guide to a FREE proofreading workshop, so you can learn to use your word skills to make money.
This workshop has been created by expert proofreader Caitlin Pyle, who has years of experience in the field and over 4,000 students that have been trained by her.
Want to explore further?
Use your proofreading skills to branch out into these 4 online editing jobs that are also high paying.
Transcription – As a transcriber, you will need to convert a set of live or pre-recorded audio files into text. You can put your proofreading skills to use in this career, as it requires you to type out an error-free document. Transcribers earn up to $45,000 a year.
Freelance writing – Every writer needs their content to be proofread, and as a proofreader, you are going to be able to spot errors instantly. You can offer your writing service on freelance websites or on blogs and websites. Highlighting your proofreading skills will land you high paying gigs, and give you higher chances of being accepted.
Blogging – Start your own website and put your writing skills to use. There are many bloggers making a 6 figure income working from home, blogging.
Sell a book – As a proofreader, you will be able to create an error-free book. You can consider this option if you are looking to make a passive income from home.
The first few on the list are entry-level online proofreading jobs, while the options further down are for more experienced proofreaders.
While these are just some places to find proofreading jobs, social media and networking can land you more gigs. I am a part of a few blogging related Facebook groups and I see a good number of bloggers on the look out for proofreaders.
On average, every blogger posts at least one new content each week. Once your client is happy with your work, they are sure to return to you resulting in a recurring income each month. Connecting with other bloggers will lead to more opportunities and also help build your experience as a beginner proofreader. Caitlin Pyle, started out as a blogger, before running her multi-million dollar online business as a proofreader. Learn her proofreading strategies here.
25 Proofreading jobs from home
we are publishing tomorrow for all 25 job list for proofreading.
stay tuned! stay active !
thank you