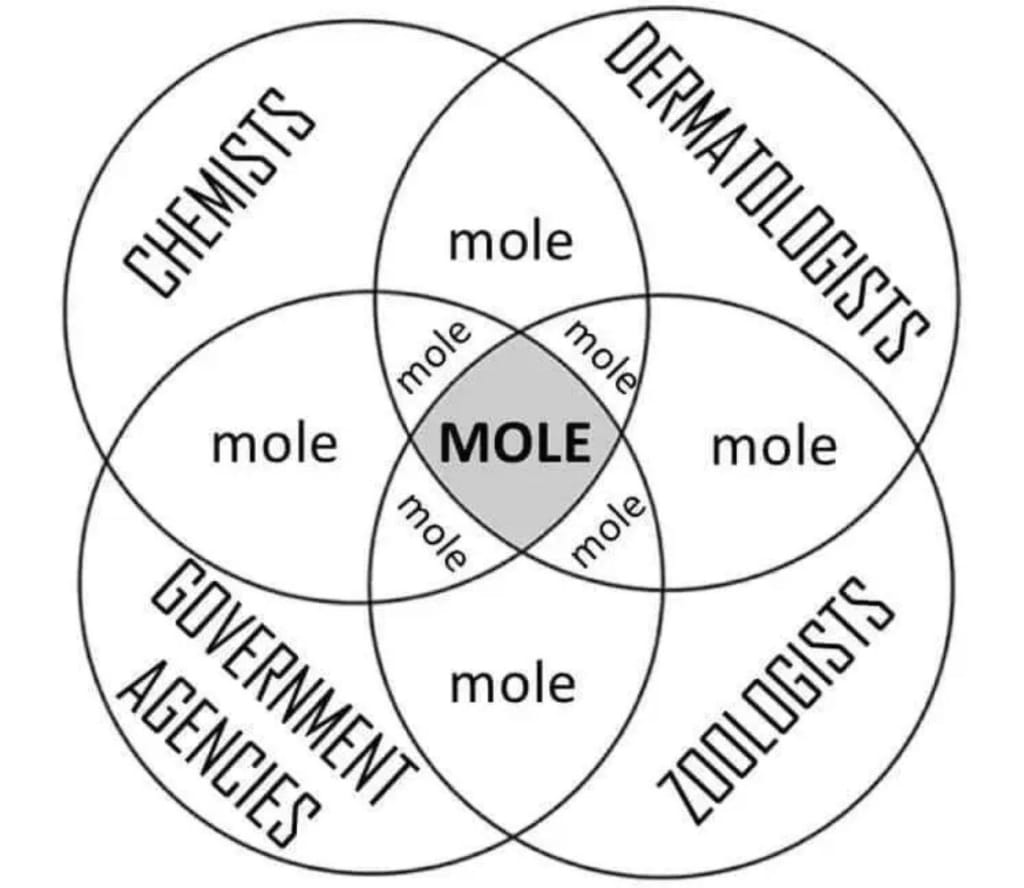 I'm not going to talk about Venn diagrams. For those interested, take a look elsewhere. Or another elsewhere (the latter is not very informative, and it rather serves the purpose of convincingly showing that science is a form of art; I also drop a screenshot below for those who are lazy to open unknown hyperlinks).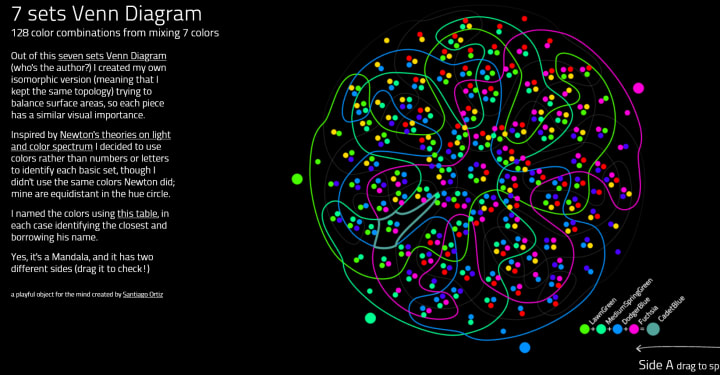 As I'm not talking about Venn diagrams, let's directly move on to the next question. Are there moles on your body? in your garden? among people you think you know? You never know. It is the Great Moles Uncertainty Principle. Maybe even a conspiracy, a coup. They may hide beneath your tulips flower beds, lurk in your belly fat folds, skulk on the pages of your school science textbooks. Look out! Do they wish you no harm? Are they benign? It's better to make an appointment with a dermatologist and seek their advice.
Anyway, what is wrong with this language? I believe every language has homonyms. But it feels like English is outpacing its tribesmen in this verbal contest.
English is not my native language. As a matter of fact, it's not even my second language. Or, if I have two firsts, does it make it a second? One second, I'm trying to resolve this dilemma [scratching my head while thinking]. Where am I heading with this? I'm pretty much just drifting along. One essential thought here is that English is the perfect language for exercising (exorcising) wordplay. When my spirits are down, when I find myself right in the middle of an existential crisis, witty-funny wordplays, puns, and equivoques come to my rescue. So, I'm grateful to all the moles out there, as long as they're not cancerous. Yet, I'm somewhat puzzled: why? Are there not enough combinations of letters and sounds to draw a line between a mole, a mole, a mole, and a mole? For God's sake!
Another intriguing phenomenon for me is contronyms. I could think of only one example of a contronym in Belarusian and Russian (most probably, there should be a few more, but even my friend who specializes in linguistics could not recall any). English, on the contrary, has quite a lot of them. A quick search on the web revealed to me that other languages—e.g., German, French, Spanish, and Chinese—are also guilty of this sin. A random post on Instagram I came across a while ago claims that there are 128 contronyms in English, almost 1.5 times more than in every other language combined. It is unconfirmed information as I couldn't find any proof that these numbers are correct; several sources I uncovered provide a list of 75 contronyms in the English language. But it definitely is not an exhaustive list, as even I can give several more examples.
Diving deeper into this subject certainly would prove to be an exciting enterprise. Semantics, geography, and anatomy of words: it sounds almost like an adventure, doesn't it? But here, I would provide just a few observations. The term 'contronym' was coined in 1962 (by Jack Herring). Also, contronyms can be referred to as auto-antonyms, or Janus words. How did they come into existence in the first place? I am not an expert, so I'll give only some general considerations. One of the simplest explanations one can come up with is the Atlantic Ocean. Brits and Americans seem to have their own opinions about the meanings of certain words. How much is a dollop? You tell me! Another issue is a general tendency of the languages to shift perspectives, reshape, and transform. My guess is that today's young people play a key role here. Eager to be unique and interesting, we turn our vocab upside down, repurpose and recycle it (it's merely my speculations though). And bad, sick, and wicked begin to mean good, great, and excellent. We need more contradictions! Because otherwise, this world is egregiously boring. Now, how chuffed are you with my scribbles?
Finally, I want to talk a little bit about James Joyce's book, Finnegans Wake. I bought the book for 5 Swiss francs (incredibly super cheap!) in a small lovely bookshop in Lausanne. It won me over due to its alluring blurb on the back cover.
—This 'language' is based on English vocabulary and syntax but, at the same time, self-consciously designed to function as a pun machine with an astonishing capacity for resisting singularity of meaning—
Eventually, I managed to read only a General Introduction by Len Platt (some UK professor of Modern Literature) and the first fourteen pages of the novel itself. I was not prepared for that. See for yourself.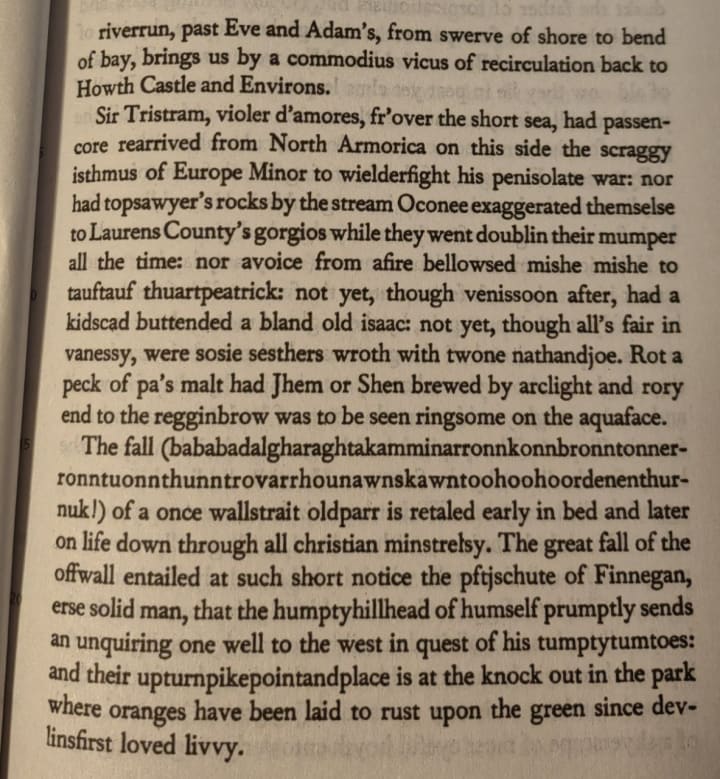 And it's 627 pages more just like this one! There are numerous research (and non-research) articles written about this mind-blowing masterpiece. I wonder how many students in English literature did suffer from this book? Have you read it? Did I find it indigestible because I'm not a native speaker? Or is it a challenging read for pretty much everybody, regardless of their background, age, nationality, and worldview? A book for the minority of literature gurus.
Anyway, I found an almost convincing list of reasons on Quora explaining why everybody needs to read Finnegans Wake before the time for their own wake comes.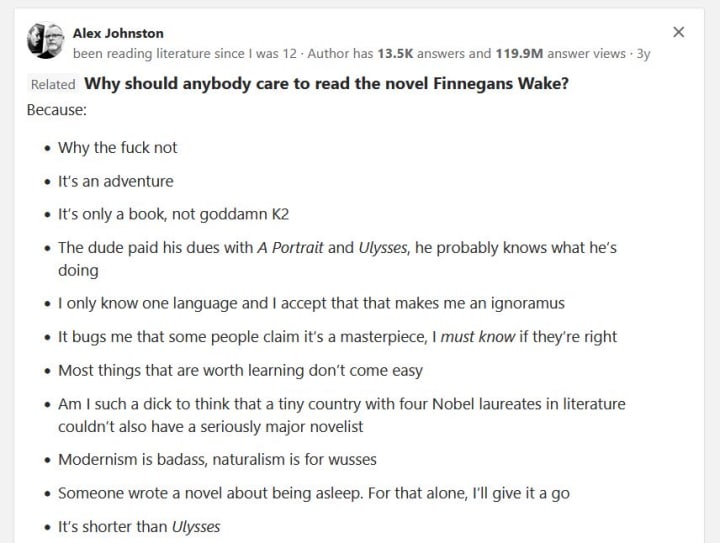 Are you convinced? Me too.
### ### ###
P.S. This essay was inspired by a post on Math/Science Jokes & Puns (or GTFO!) Facebook group.
Reader insights
Outstanding
Excellent work. Looking forward to reading more!
Top insights
Expert insights and opinions

Arguments were carefully researched and presented

Eye opening

Niche topic & fresh perspectives
Add your insights