My Grandmother's Scrap Box
Where my love for quilting began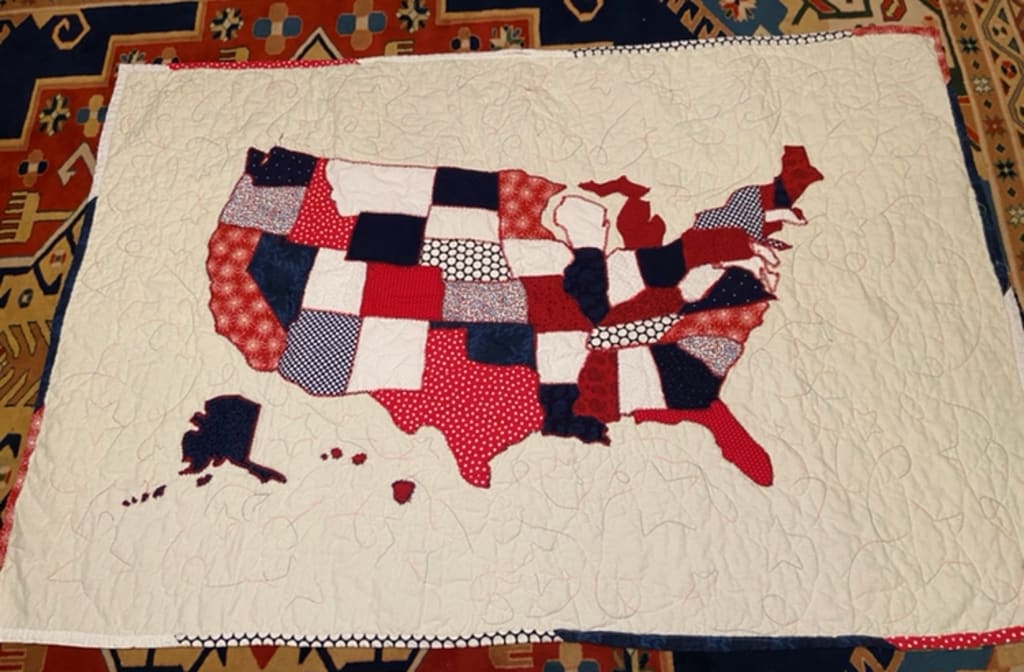 My latest quilt
My grandmother's house was next door when I was a child. I was grandchild number 31 of 32 and by far her favorite! I spent many hours with her both out of necessity and out of desire.
My earliest memories include being in her house. I remember playing her piano, sitting in her lap eating cookies dipped in cocoa, or playing on her porch. But my favorite activity was to play in her "scrap box." This was an apple box with lots of small scraps of fabrics that she used to make quilt tops. When I was a little older, she let me help select scraps which she used to make a quilt for me. I vividly recall the day she finished it, rolled it up, and gave it to me to take home.
I remember coming home from school to find the house full of ladies from the community sitting around my quilt which was suspended from the ceiling in quilt frames. They had spent the entire day talking and quilting this treasure. It has been one of my treasured belongings from my grandmother.
My mother is an excellent seamstress. I don't remember a time when she did not make garments for other people. It was not unusual for three or four ladies a week to show up with bags of fabric for Mom to make dresses, pants, blouses, or even curtains. She began to make quilts when I was a little older. This was a skill she had acquired from her mother but with three kids, she did not have the time to give to the hobby until we were older. She liked to embroider squares, sew them together and then quilt them.
It was shortly after high school that I began to learn basic sewing skills from my Mom. My first lesson was to repair a hole in the seam of a shirt. That seemed simple enough. Later on, I made tshirt dresses for my wife and helped my wife make curtains for our nursery.
After several years of establishing my career and raising a family, my interest in sewing was reborn. My wife inherited an embroidery machine from her mother. We found someone to give us some basic lessons and I was hooked. I spent hours and hours doing embroidery. I learned so much on that machine and realized that I could do much more with a larger one.
A deal came by that I could not pass up and got my top of the line machine at a great price. The hoops were much larger and the machine would do so much more. I spend many nights in my man cave--also known as the sewing room--until well after midnight. Embroidery has been my passion--until I discovered quilting.
The hobby that was first introduced to me by my grandmother and my mother has become my favorite thing. I never really understood why they loved to cut large pieces of fabric into smaller pieces and sew it back together, but what once seemed like a silly thing now challenges me as I create new and beautiful things.
While I am still relatively new to the quilting world, I have enjoyed making some smaller projects. Baby quilts, lap quilts, wall hangings, and even a round quilt have all been in my arsenal, I am currently working on a queen sized one for a Christmas present. Most of what I have done has been for someone else.
There is a special corner of my man cave for UFPs--unfinished projects. I get really excited about new patterns and new fabrics and have quite the collection. In addition, I have a dresser with four drawers full of scraps for applique and quilting.
Though I am a minority in the quilting world, I have found the ladies that I encounter along this journey very accepting and willing to help me learn. The fabric and quilt stores that I visit are always super nice and helpful to "their man" customer. Quilting has brought not only many hours of enjoyment, but many new friends as well.
And it all began in my grandmother's scrap box.