My 1st children's book
How I left my 10-year marketing career and followed my writing passion!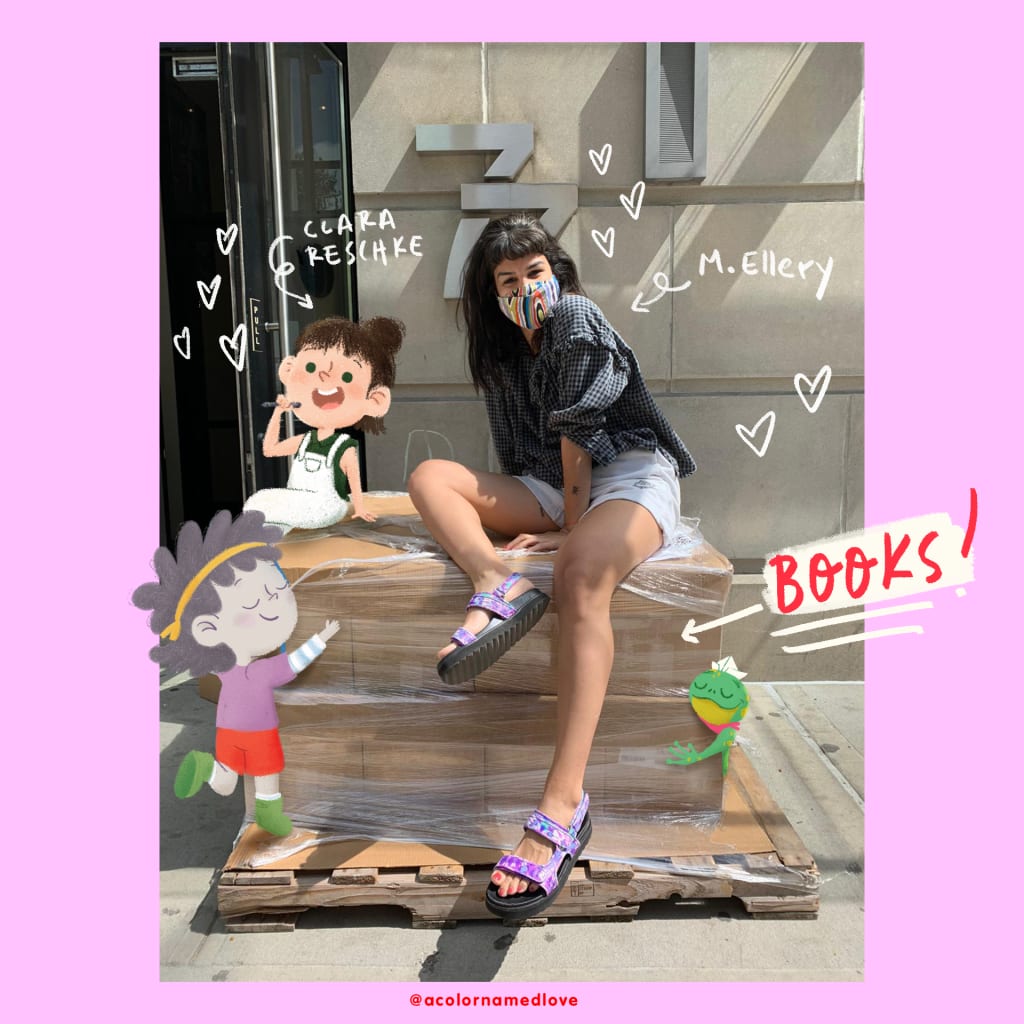 The day the books finally arrived at my home!
I had set aside the dream of being an author until last year when the pandemic hit.
Back then, I was still working at a big fashion company as a marketing manager. I'd been there for 10 years.
It was safe. It paid well. It didn't fulfill me that much.
I started having free time at home in between meetings. Should I open my drawers and old notebooks, open my heart, to my true passion that had been put aside underneath the "Corporate successful life dream"?
I wasn't sure.
My mother's birthday came along in July, and I decided to write her a poem out of the blue.
"This is a really good poem. Why don't you go back to writing?" my partner asked me.
Yeah...I should, right? I thought. But what?
On a 2020 summer day, talking with friends that are non-monogamous and have kids, the lightning stroke.
There weren't any children's books that represented their families. And worse, the kids were getting bigger, and they really wanted to be able to have an open and loving conversation with them about diverse families and all the endless possibilities of love.
I am also non-monogamous, and I want to become a mother soon. So, I would also want a book like that on my future kid's bookshelves. That's when it hit me - this book needed to exist, and I would bring it to life!
I partnered up with my childhood friend Clara, a children's book illustrator, and she said YES! She would help me create that story and show it to the world!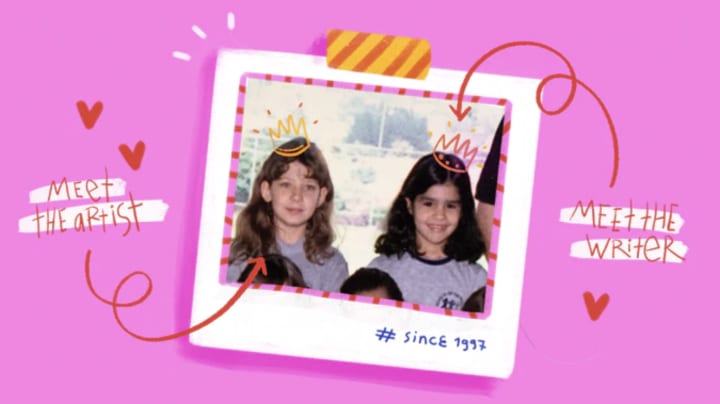 I wrote and put all my heart and soul on those pages. Between Zoom calls, meetings, and PowerPoint presentations with tight deadlines, I felt I was conquering the world from my living room's couch!
A month later, the final manuscript for our book - A Color Named Love - was ready.

In the meantime, Clara was transforming my words into sketches and characters, bringing them to life. It was a beautiful and very emotional process. Me and my childhood friend getting back together to create a story like this.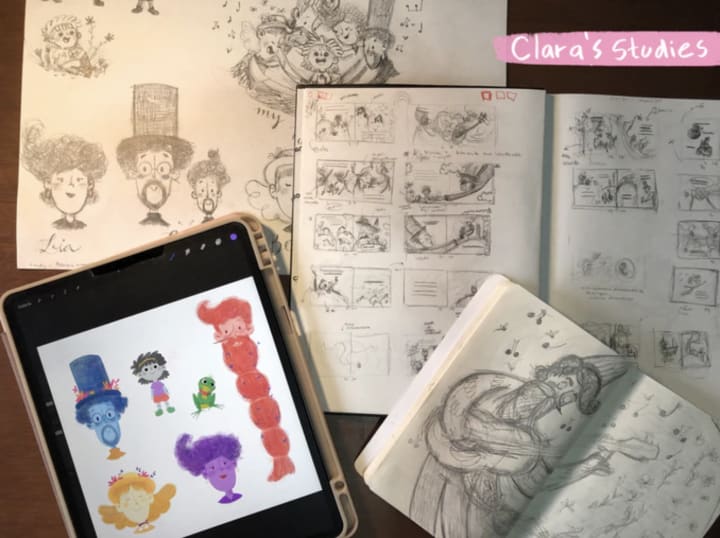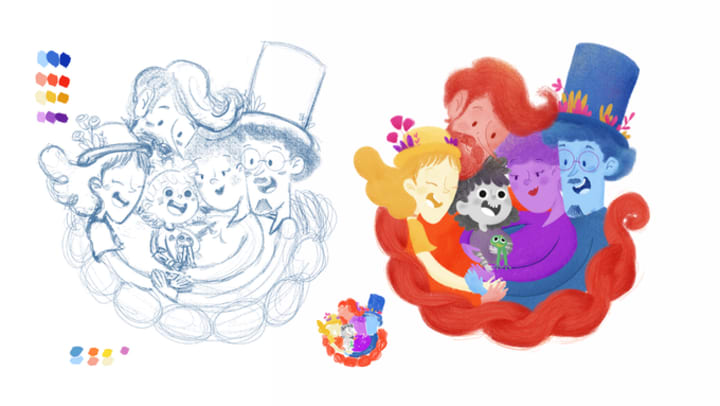 We felt we were almost done! We had a beautiful, inclusive story, amazing characters, and a purpose, but we had one problem...
No one wanted to publish it.
It wasn't easy. No editor or publisher, or agent would accept a story like that.
"It doesn't have a market" they would reply to me.
"It won't work," others said.
Well, we wouldn't be defeated that easily. We needed to bring this book into the world! If my kids and my friends' kids would read it, if our family would benefit from it, I was sure other families would too.
This book would create a space for children to see their family and their world portrayed in media, creating a sense of belonging while exploring the loving bond between diverse family constitutions such as polyamorous families and the ability to love and let go.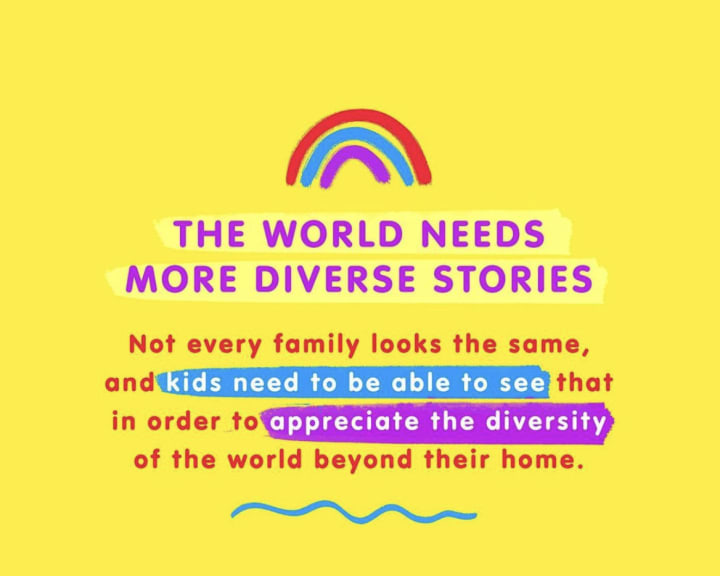 We decided to self-publish it on a crowdfunding platform. I put together all the courage I needed and added all my marketing and storytelling skills, combined with Clara's amazing illustrations.
This was August/2020, and with all the ideas in our heads, we decided on the crowdfunding launch date.
It would be a 30-day all-or-nothing campaign starting t in October and ending on November 25th as a birthday gift to myself.
We had 3 months to get it all of our heads and put it out in the world.
I reached out to several non-monogamous families and podcasts, and the response was amazing! They would interview me and support our book, they would talk about it so that more families could know a story similar to theirs was going to be told, so we could reach more people that would identify with this loving book.
The time had arrived, we were ready to launch it!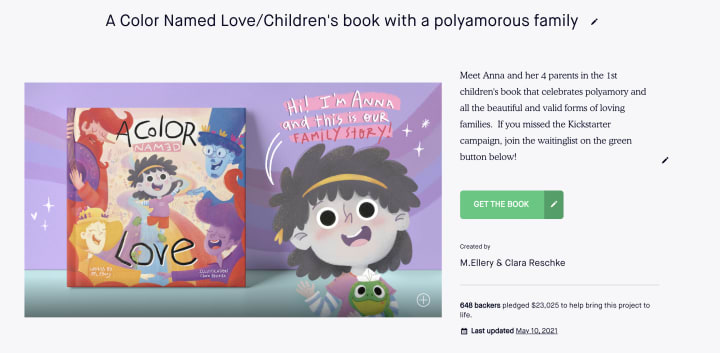 We Zoom called (she is based in Brazil) and decided to push the GO LIVE button. This was the moment I was waiting for; the counter clock would start to run for 30 days until we could know if our story would be published or not.
We were ready to tell Anna's and her beautiful family's story!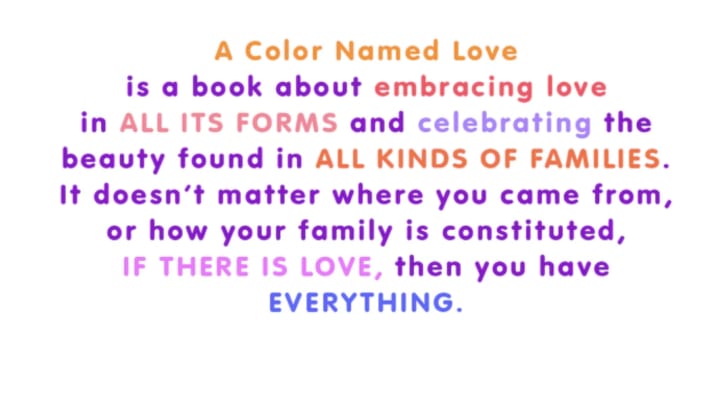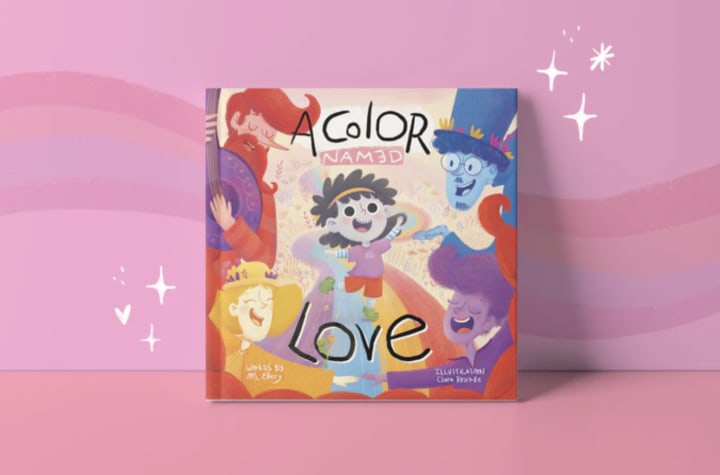 In the same second, the $0 became $15, $50, $100. We couldn't believe it. The numbers kept going up. Of course, we had told family and friends it was live, but more people were pledging for our book. Names we didn't recognize were appearing one by one in the backer's list, all of them interested in our story; It was magical!
The book was finally out, and people were actually interested in it!
We also created an Instagram page to foster a community that would talk about love and inclusion, a place people could feel safe to be who they were. And now our village has more than 2.000 loving members!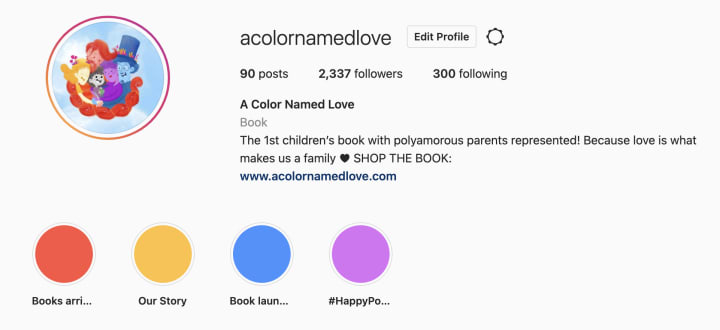 On the first day, we did $3k; in 9 days, we reached our goal of $13k. It was unbelievable — I started crying a lot when we finally did it because it meant this story would be out in the world soon.
At that moment, I got a message from one of our Instagram followers saying, "Hi, I wanted you to know that it was me that made the $13k goal pledge, I am really happy for you, and I really want this book to come to life."
I cried more. We. Did. It. TOGETHER.
I called Clara, and we started an internal party in our minds. All of our efforts had paid off. The podcasts came out that same week. Many people from the polyamory community supported us on Instagram, Reddit, and Facebook. They were eager to help us put our story in the world. No need for publishers, no need for big corporations. Only us, my writing, her illustrations, and a fantastic community that wanted to see this story come to life as much as we did.
The words I had written on that manuscript were now out of me and into the world, and I wasn't afraid to keep telling that story. We were confident and happy about it!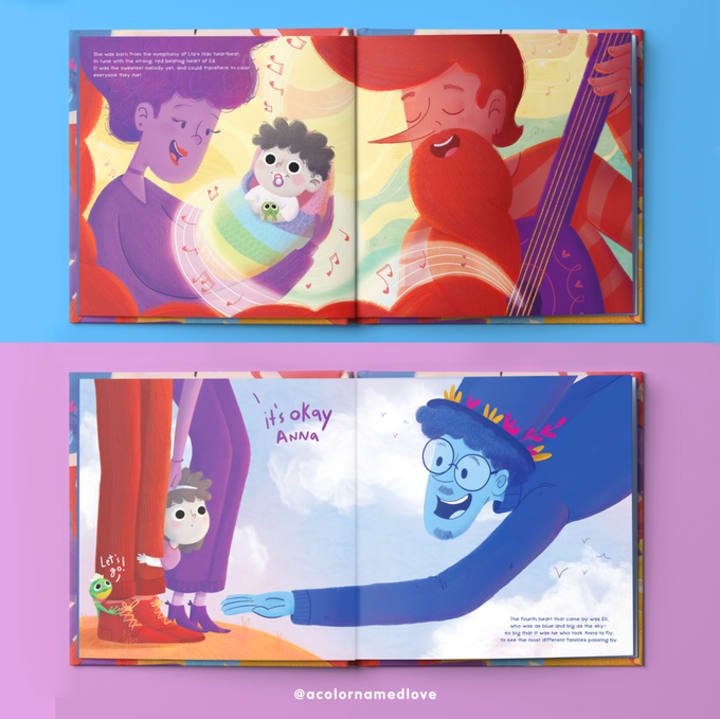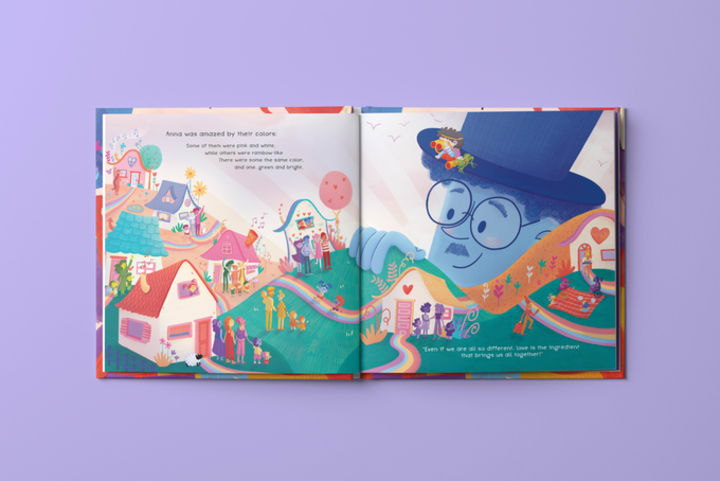 And 30 days later, we couldn't believe our eyes. We had reached 177% of the goal! It felt MAGICAL!!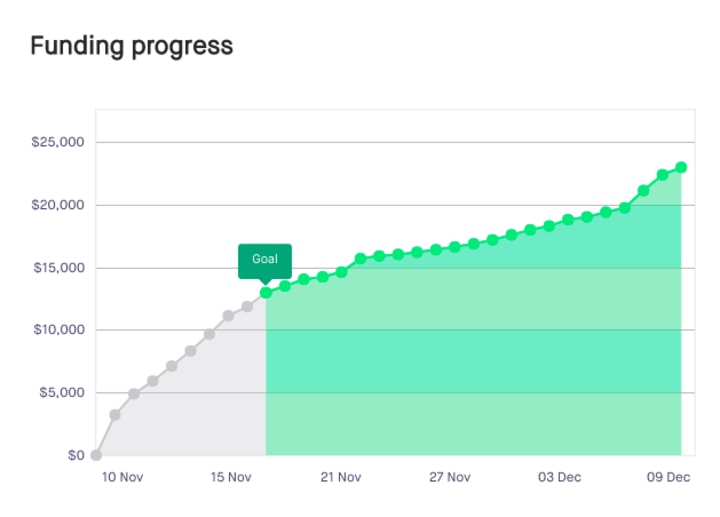 Our story was going to be read at more than 600 houses of families around the globe. Not only in the US but in the Netherlands, Germany, Canada, New Zealand, Australia, Brazil, Japan, to name a few — self-publishing had enabled us to go further.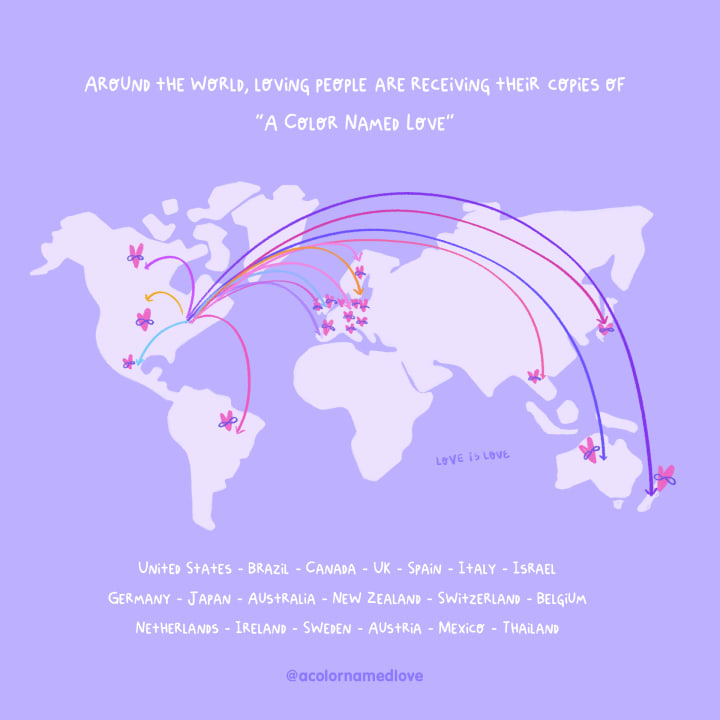 After the crowdfunding campaign ended, we just had to wait for the books to be printed. Since this was in the middle of the pandemic, a 3-month wait became 5 months.
We told everyone that the books would take a while to arrive, and there were so many positive responses. They didn't mind, and they would wait to have their story with them. We were lucky to have such a beautiful and amazing community!
May/2021 was the month! All the books finally arrived at my apartment, and we sent them to people's houses.
My husband and partners that live in our community came together to help me pack 600 books that had been sold on the crowdfunding platform.
Scissors, cardboard paper, wrap, stamps, and staplers in hands, we packed and got all the books ready to ship.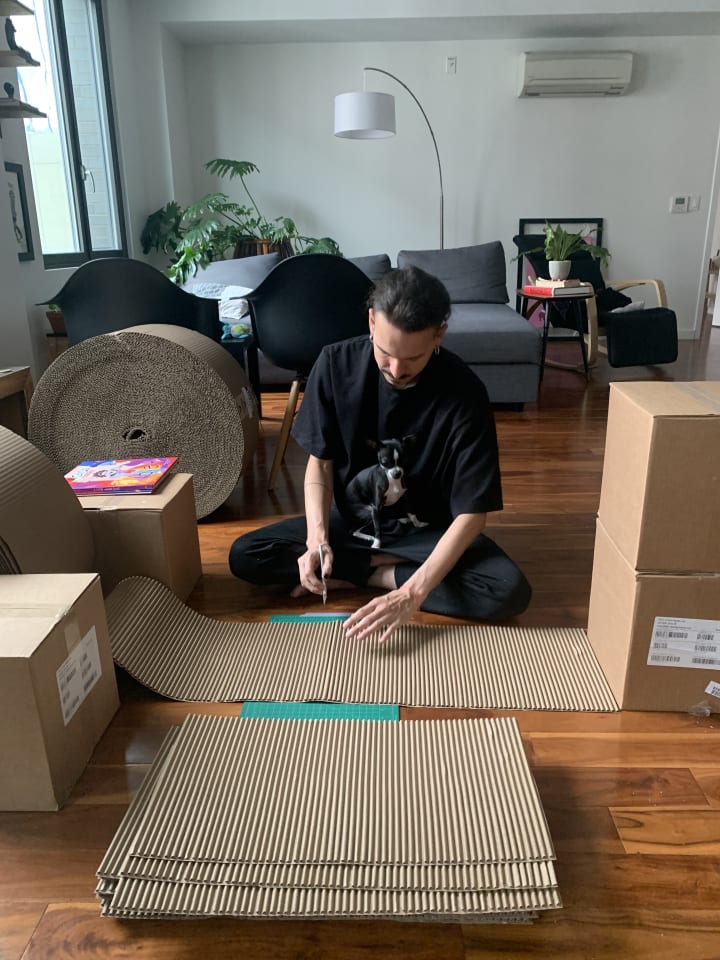 Seeing this book travel the world, see my words go to places and be able to be a part of the whole process of writing, then marketing a crowdfunding campaign, the podcasts, the sleepless nights editing videos, and seeing the story come to life, was a journey I could never imagine I would embark on.
Writing is my passion, but more than that, seeing my stories help families and reach the heart of people around the world is priceless!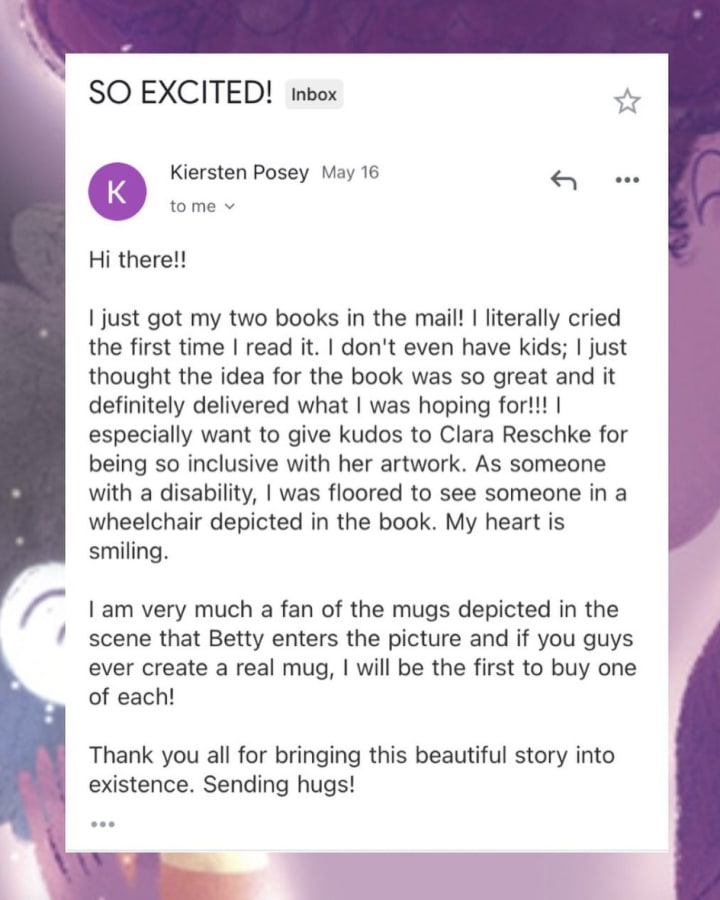 What I feel when reading those messages is indescribable. There isn't a day we don't thank our community and the messages we are receiving, they warm our hearts, and make us feel we are on the right track.
I got fired at the end of 2020 and this book was my salvation. It made me believe I can do and accomplish my dreams if I believe in them and fight for them. It made me feel full, capable, and hopeful.
If you have a dream, a faint sound in the back of your mind telling you to go after something, DO IT! Choose to try instead to give up. I keep thinking that if I hadn't given myself a chance, I wouldn't be here to tell this story today.
Always follow your heart!