Meet the Jabra SPEAK 810: The Ultimate Bluetooth Conference Speakerphone Every Company Needs
Why deal with old school speakerphones in a new school world? The Jabra SPEAK 810 gives you collaboration power unlike anything else.
After yet another call rehashing the same details to yet another batch of clients, my boss looked like she was ready to have her head hit the desk. It had been a very long day.
She had been working on trying to get a 12-person collaboration going between her clients and our team—and it had been nothing short of a nightmare.
Our first batch of clients was in New Zealand and regularly ask for conference calls about the next creative project step. The other people we were working with were based out of Austria.
The problem here was our tech. Our speakerphone only allowed calls three ways, and half of the time, this meant that we would all have to crowd into the office and listen in.
The calls were often chaotic, and on most occasions, were difficult to understand because they kept cutting out. Worst of all, they took hours, and we were relegated to sitting in the office without the ability to take a bathroom break.
This was my life a couple of months ago. Ever since we got the Jabra SPEAK 810, things have been pretty different—and we couldn't be any happier.
The speakerphone problem was a major issue.
Specialized speakerphones were once goods that were relegated to Wall Street-style firms that involved major collaborations. Gone are those days, especially since our world has become more interconnected than ever before.
You need phones to get connected with the people you're doing business with. If you want to do a presentation with people across the globe, using speakerphones for conferences just makes financial sense.
The problem with most speakerphones is that they tend to have poor call quality. Worse still, they've always been difficult to set up and fairly difficult to move. That's what caused us to realize that we couldn't keep doing business with our old speakerphone.
In the case of our office, the biggest issue we had with our speakerphone was the fact that it forced our conference calls to be extremely rigid in nature. Only three parties could speak maximum, the calls all had to be done in one office due to the wire clutter around the speaker, and the connectivity was difficult to establish.
During last quarter, we had enough money to start upgrading our tech.
Our old speakerphone had started to go—and its poor call quality became noticeable to our clients. We realized that our lack of good conference technology was affecting our ability to keep our workflow going.
Last quarter, our department had managed to free up some money and create a new budget. Finding a good speakerphone with conference call capabilities quickly became our number one priority.
Yours truly was tasked with finding a new speakerphone.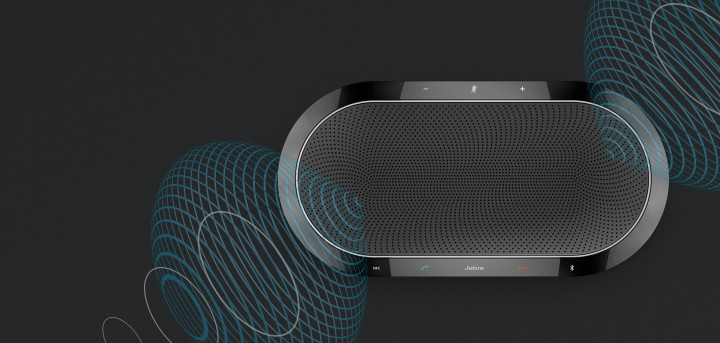 When I was told that I would be in charge of finding new office equipment, I knew the job was going to be tough. The department needed a speakerphone that would evolve with our company, as well as our highly mobile clients.
My boss emphasized that functionality and flexibility were what we needed. Our company was in the process of expanding, which meant that the tools that we were looking for would have to grow with us in every single way.
The Jabra SPEAK 810 had all the features that we needed to make phone conferences easier, and that meant scheduling overseas chats would be more convenient than ever.
This speakerphone has a slew of different connection methods, ranging from Bluetooth on a mobile phone to a 3.5 mm jack on your tablet to wireless connectivity through VOIP. That alone meant that we wouldn't have to cancel meetings due to tech problems since we could just switch to tech connected to the Bluetooth.
The best feature we noticed was that it allowed up to 15 different parties to talk via the Jabra, even while using handsfree devices. Since the Bluetooth allows you to be as far as 30 meters away from the device, we wouldn't even have to crowd around a tiny office table to talk!
It got even better than that, though.
I actually went so far as to talk to a business associate who had the 810 in his office. He offered to let me test out the capabilities that it had before I agreed to purchase it.
Right off the bat, I enjoyed the crystal clear sound quality that came from the Zoomtalk microphones. Unlike the last model we had, the microphones didn't pick up on background noise. The Jabra 810 just focused on voices instead.
After fiddling around with it, I discovered that it was designed to work with Skype for Business, IBM Sametime, Cisco, and Avaya. This would allow us to streamline our chats, keep records, and do so much more.
And wire clutter? It's a thing of the past.
It might be a bit embarrassing to admit, but our last speakerphone was pretty ancient. It looked like a box with a mess of wires poking out of it, and to a point, the sheer cable clutter it produced meant it was stuck in one room for good.
The Jabra SPEAK 810 is different—and delightfully modern. It has a super lightweight build with minimal cable clutter, which makes it easy to move from room to room.
As of right now, my department has three rooms we use for conference calls. We can now switch from room to room based on how many people we need on the call. The days of 15 people crowding around a room fit for eight went the way of the dodo.
The Jabra SPEAK 810 was just what the doctor ordered, and not just because it's so versatile. It is incredibly easy to use, and people are able to intuitively figure out every little detail they need to get started.
I was very worried about getting the 810 and having to finagle with it for a long time before it'd work, but this really wasn't the case at all. Connecting everything and figuring out how to work the Jabra was easy as could be.
Heck, even our interns use it from time to time.
The Jabra SPEAK 810 definitely changed things in the office.
Ever since we started using the Jabra SPEAK 810, things at work have been a bit different. There's significantly less frustration because we don't have to shout so that our clients can hear what we're saying.
My boss is happy that she no longer has to have multiple meetings to explain the same thing to different people. While there are still plenty of ups and downs at work, things have become more fluid, and way less stressful.
These days, I see other speakerphones companies use and cringe a little. If you ask me, most companies could use to "SPEAK up" to the 810.