LIGHTS CAMERA ACTION
So you wanna be an actor...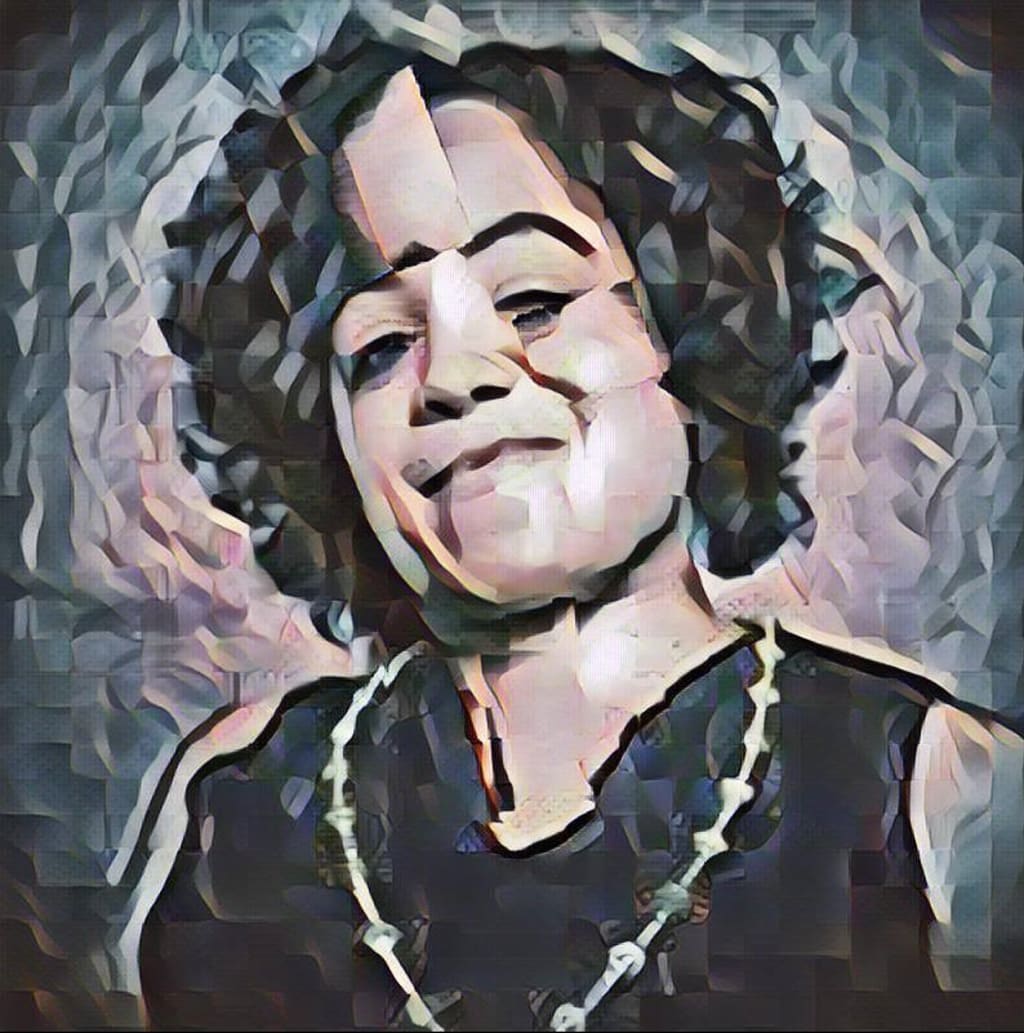 WHO AM I?
My name is Lizzie Martinez and I am:
- A little person
- An actor
- A script writer
- A published author
- A poet
- A comic writer
- A friend
AND SO MUCH MORE….
----------------------------------------------------
I've been at this acting thing since I was 11 years old. I can remember my first audition that was recorded was for "Unconditional Love" starring the wonderful Kathy Bates. Of course I never got the role for this film, but I have never forgotten my first film that I actually got to audition for.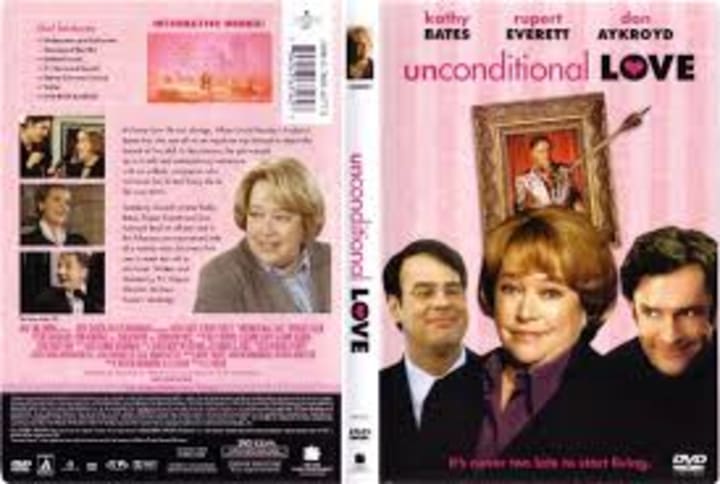 I just got a spark for wanting to act. I performed as many plays as I could in school and if I didn't get to perform in them I had the opportunity to direct a couple. That was always fun. When I went to college I took International Business, Business Management and Drama. I wanted to somehow be involved with film. I saw only a few films with little people in them "Wizard of Oz", "Willy Wonka and the Chocolate Factory", "Willow", "The Bride" starring David Rappaport and I saw an Episode of "Little House on the Prairie" with actor Billy Barty (who was a little person). What I noticed for myself was that there weren't very many little women in the industry that I could look up to. Sure there would be one here and one there, but as quick as they came they disappeared and they'd begin to use the same little male person over and over.
HERE ARE JUST SOME OF MY ACCOMPLISHMENTS: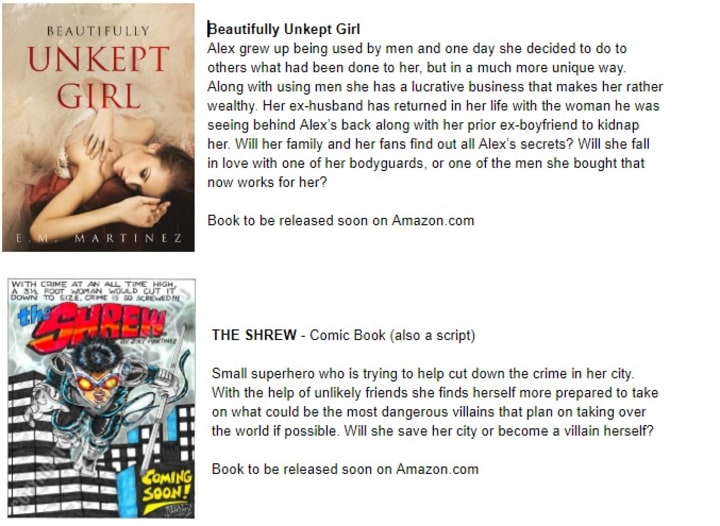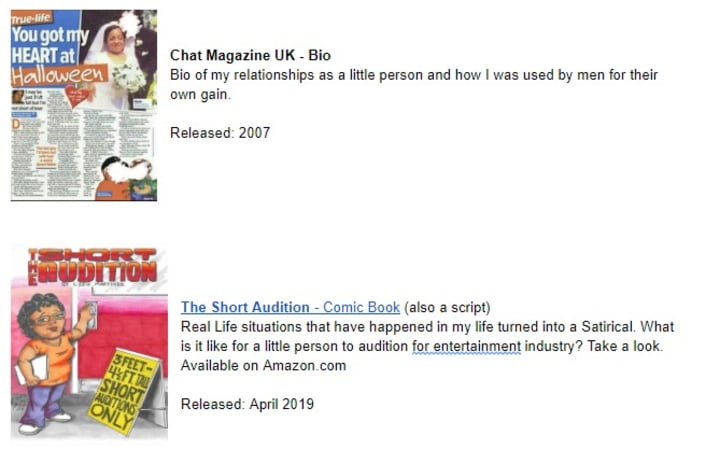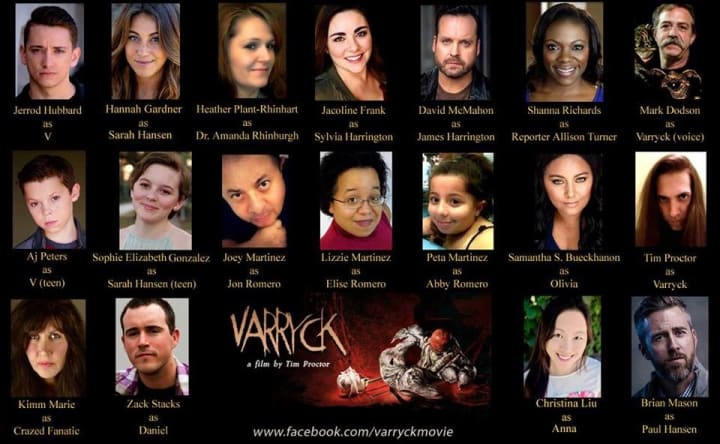 What is acting?
The art or occupation of performing in plays, movies, or television productions.
What are the Pros of being an actor?
-You get to pretend to be someone else
-You get to drive around in luxury (something you probably weren't able to do before)
-You get invited to the coolest parties/after parties
-You get to wear expensive jewelry (even if it's just for the Red Carpet)
-You get to meet other celebrities that you've probably always wanted to meet
-You realize people know your name and want to know more about you
-You get to be interviewed and be on different shows
-You can be a big influencer for so many people and voice your concerns
-You can be proactive and have followers back you up and want to support a worthy cause that you may be helping
-You can afford to travel to many designations whether on your own time or because your job as an actor requires it… IMAGINE THE PLACES YOU COULD TRAVEL TO
-You can buy your dream house
-You can hang out with your friends and have big parties that you've always dreamt of having
What are the Cons of being an actor?
-People will know where you are at (Beware of stalkers)
-Not all roles may fit what the director/casting director/etc is looking for
-Work may come far few and in between
-You may not be able to perform all the duties necessary that is required of you
-You may be required to work long hours for days and/or weeks at a time without many days off for yourself
-Scripts can change in an instance and then given to you right before your to go on set.
-Lack of sleep because of long hours and/or travel because of interviews and being at different locations could cause health problems
-It could be a problem to have relationships with individuals and/or to always be there for your children
-You have bought your dream house and now you aren't getting as much work right now, so how are you going to afford to pay for your dream house (especially if you are just starting out)
-Your friends have stopped coming around because you can't afford expensive parties anymore and/or maybe you aren't buying them things that they thought you would keep doing.
-You may have friends/family come out of the woodwork that you didn't know and they suddenly want to be in your life and have their hand(s) held out.
----------------------------------------------
DO YOU HAVE A BRAND?
What is branding? - Well your brand is pretty much how one would define you as an actor and how you would define yourself.
I'll help you understand: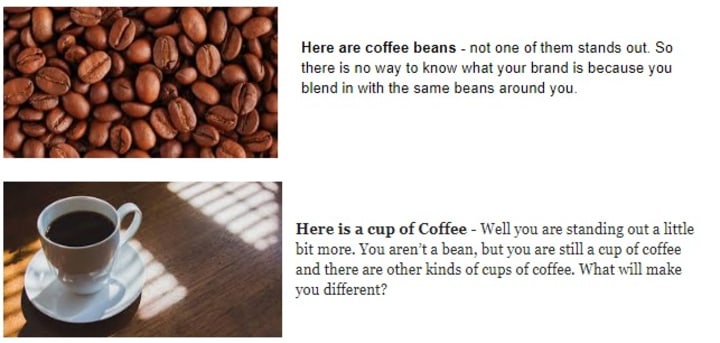 Now IMAGINE your not just a plain cup of coffee you are a Starbucks cup of coffee. Everyone knows the brand and it stands out. You know what the logo is when you see it. It's got it's brand.
So you're still trying to think about your brand. Say your brand is a mom. Just like the bean, there is no way to stand out. You're bunched in the group with all the other moms.
So now you need to stand out a bit. Are you the mom next door? Well you can see there's a bit of an improvement there but let's see if you can stand out more. Now think of yourself as the soccer mom type. What about the cheerleader mom? What about a dance mom? Did it make you go hmm? Are you starting to understand how branding works? You can't expect other people to know what your brand is if you don't know what it is yourself. When you get head shots done you should already know your brand. This isn't the time for you to ask your photographer to figure out what your brand is. You need to know who you are and what that brand is.
-----------------------------------------------------
NO NO'S FOR HEADSHOTS
-Men don't go topless (unless specified)
-Don't tilt your head down so far that the whites of your eyes are only being shown
-Don't tilt your head up so far that you can see up your noise
-Don't throw up your hands and make signs with your hands
-Don't raise your shoulders as if you're shrugging
-Don't lean so far forward that the photographer loses the length of your neck and your neck ends up disappearing
-If you have a long neck try to lean back a little to reduce the length
-Don't turn your face to either side to far. It doesn't want to appear as if you're hiding parts of your face because you have a scar, disfigurement, etc. Show who you are proudly.
-Remember scars, disfigurements, etc. Actually make you stand out.
-Don't make crazy faces
-No saggy pants
-Women please wear shirts that cover your chest. No one wants to see your chest exposed with barely anything there (unless specified)
-DO NOT wear sequence garments, stripped, printed garments when you have head shots done. Wear plain shirts and jeans or plain dress pants.
-You want your makeup up to be natural. Nothing too dark. You want the Casting Director to see your natural look as much as possible. The makeup should be just enough to take away the oil skin so it doesn't shine in the images.
-Don't confuse modeling type/style pics with actor head shots
-Don't flex your muscles
-Don't make crazy faces
-Don't think that more skin means you'll get noticed for the right reasons - NOT TRUE, you'll get noticed for all the wrong reasons
---------------------------------------------------
THERE MAY BE TIMES WHERE YOU SUBMIT VIDEO AUDITIONS YOURSELF AND HERE'S SOME TIPS FOR YOU REGARDING THIS SITUATION:
-Pick a plain wall space where no pictures are hanging
-Make sure you have good lighting from natural sunlight if you are taking your own headshot pictures if it's requested
EXAMPLES (NOT TO DO):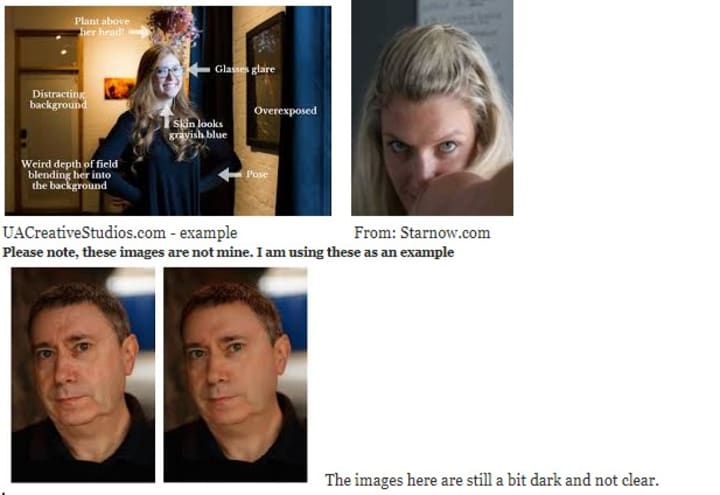 Remember, no one wants to see your arm outstretched while you take your picture. What works for a selfie doesn't work for sending in professional pictures for Casting Directors, etc. You don't want the background to be busy otherwise your photo will be discarded. Remember please wear a solid dark color if you have to submit your photos. You can break it up with a pocket on the shirt. If you decide to wear a white shirt, break up the white shirt with a sweater or jacket so it doesn't look like a floating head a top of white shirt, even more so if you are standing in front of white wall.
It would be wise if you invest in yourself and by several PLAIN backdrops and lighting. I have known some people to buy plain sheets for a queen size bed (grey, dark blue, light blue) and have used that to tack up on the wall and take pictures in front of … even film their auditions in front of. But you need the space where nothing will be around you while you film. Even if that means you have to pull out your couch, take pictures off the wall and tack up the plain backdrop or sheet then do that.
It really doesn't matter anymore if your head shots are vertical or horizontal. They just need to be good. Your photos should have your name somewhere on the front of them usually with a border around them and be an 8x10. Most places don't give you an 8x10. It turns out it's an 8.5x11. So if you are going to be professional then you need to do it correctly.
Good company I recommend to have a border on your images and will make sure you have an 8x10 photo that you want is: www.thepixelpusher.biz and you can email them at: [email protected] in which I have used this company numerous times and have always been satisfied with their work.
Look up examples of really good actor head shots to see a wide variety of angles. Remember, this isn't like a high school photo, this is a calling card for your profession so make sure it's really good.
YOU WILL have to invest in yourself. It's just obvious. Just like any job, you have to buy yourself probably clothes to fit the profession you are in. So I am going to give you some idea as to what kinds of things you can invest in for yourself as to taking your own head shots and/or to help with video submissions.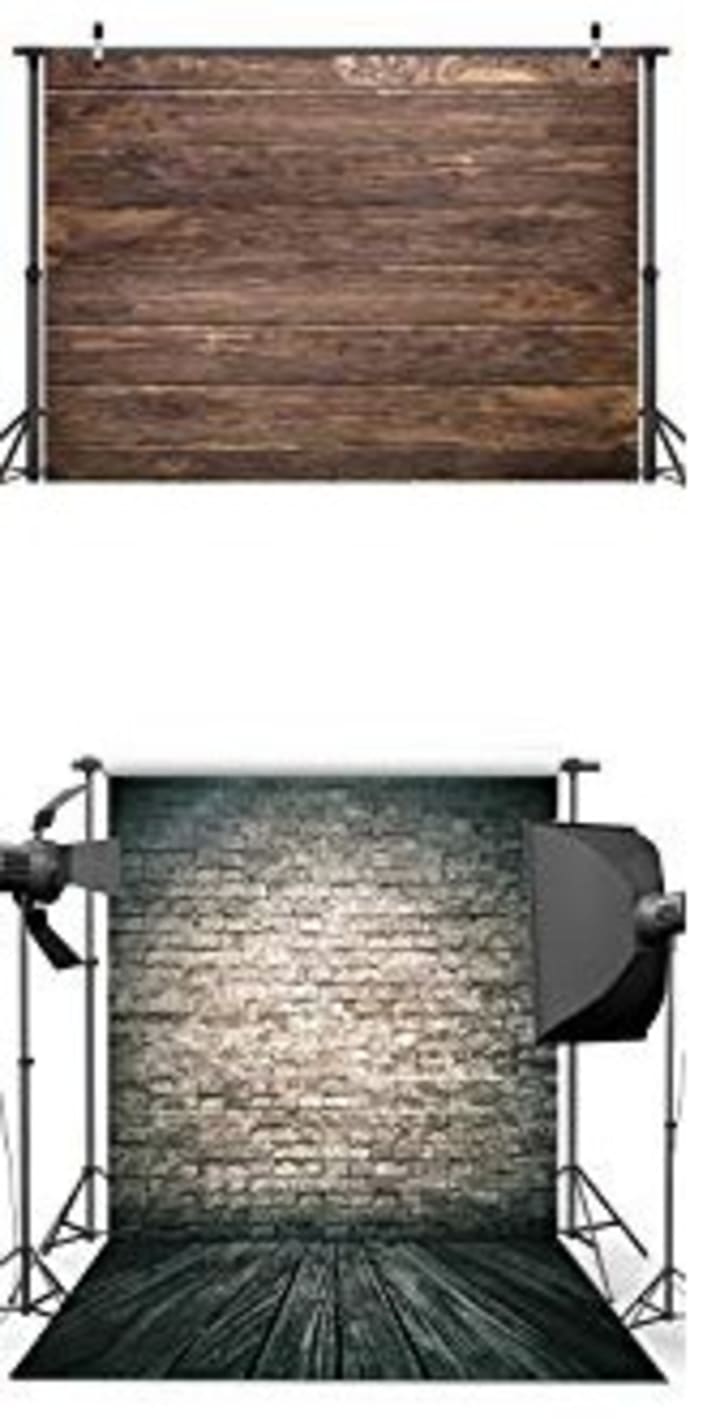 Do you notice how the back drops aren't too crazy. Find a backdrop that is plain. Something that doesn't have a lot going on in the background. There are backdrops with lights, where the wood is 10 different colors, where there are flowers coming down from the top of the backdrop, some that seem like you are in a scene from a movie. You don't want that. You want plain. Back drops. Even lighter backdrops is okay. But if you get plain white, then wear something that makes you stand out. No white shirt shirts unless you have a jacket or sweater to counter the white backdrop and your white shirt so it doesn't look like you have a floating head. If you set it up with great lighting your pictures can look professional just as professional as if you went to a high priced photographer, plus if you ever need to send in yourself in a taped audition, you already have decent back drops as well. Even grab lighter plain backdrops that you can either connect to the backdrop stand or tack to the wall.
HERE ARE SOME LIGHTING IDEAS TO HELP YOU OUT: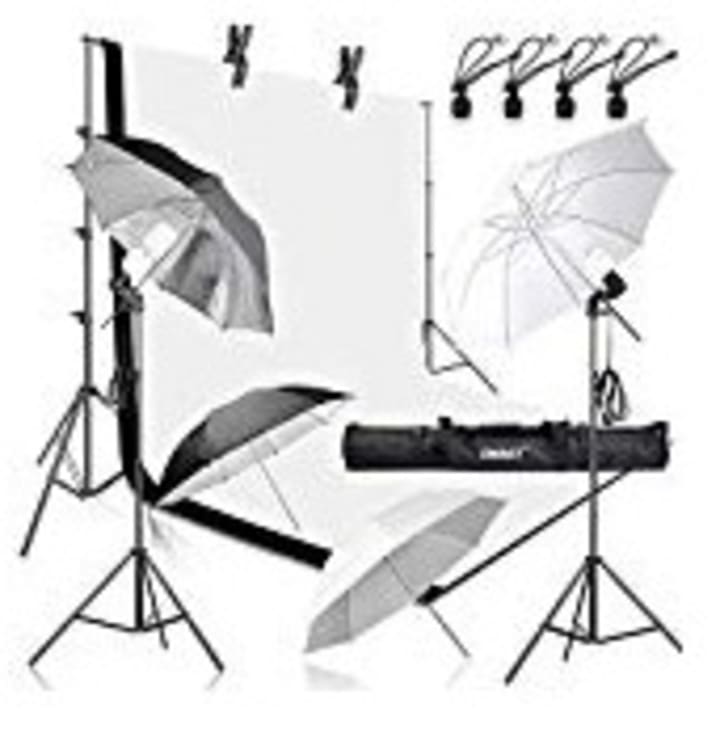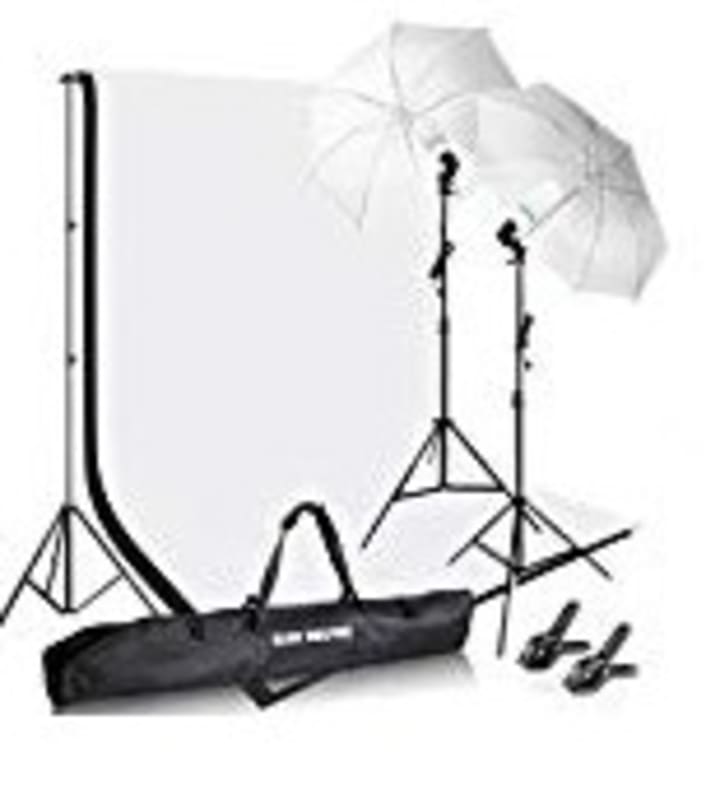 Also find a good digital camera or use your cell phone if it shows good video and images. You don't want anything blurry. If you have to question your own images or video then toss it out and start over. You only want to send out the very best to agencies who are requesting your work/images.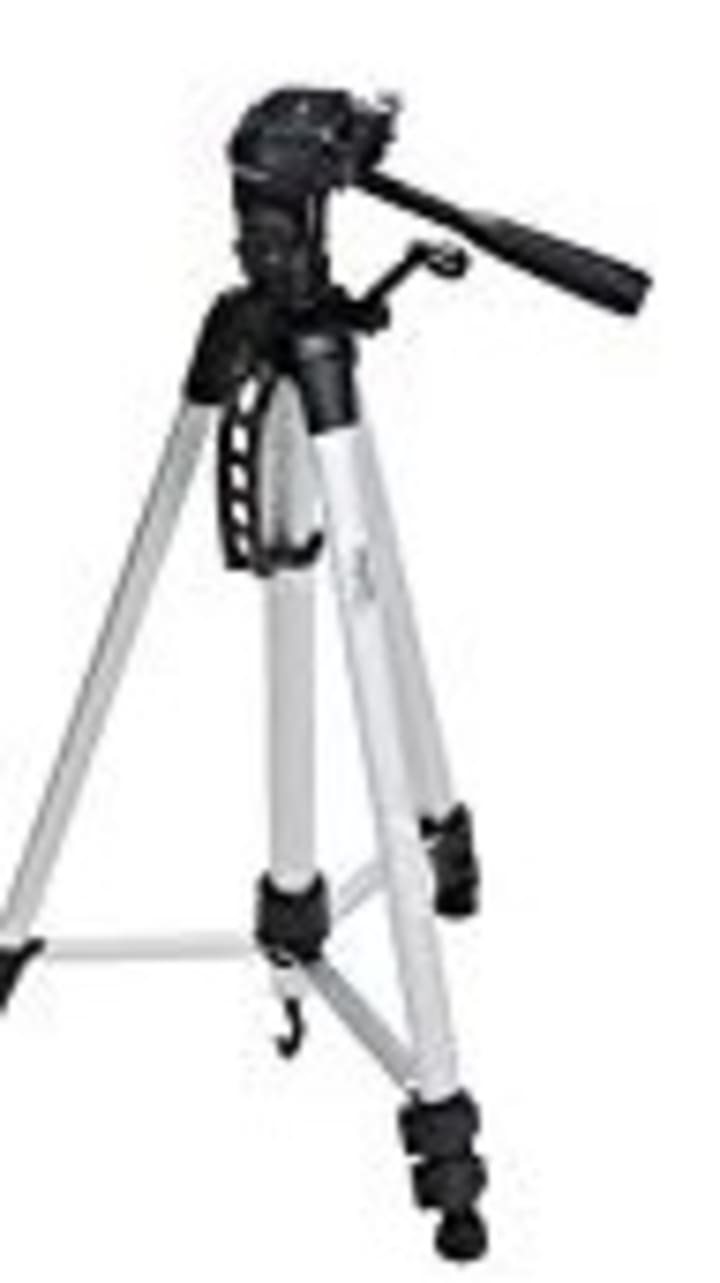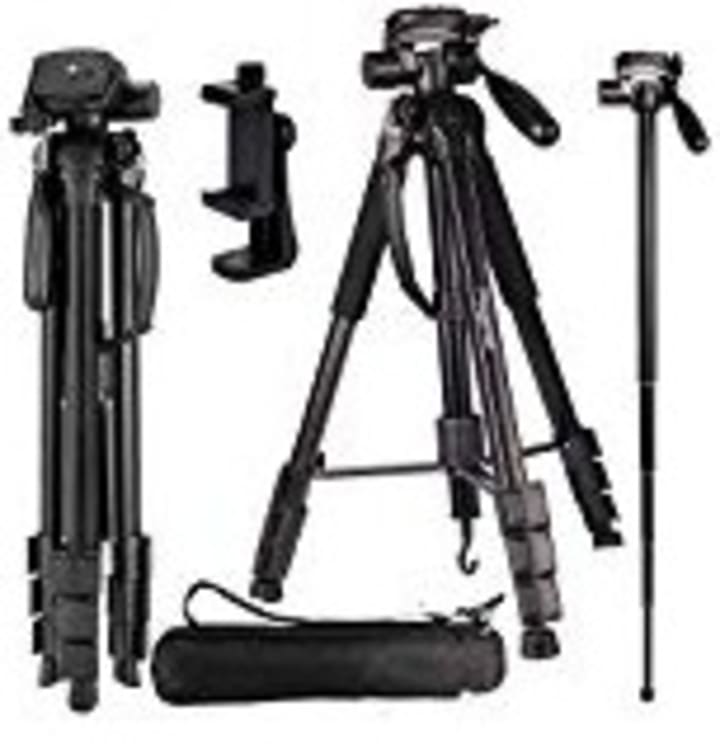 Here are stands to help hold your camera for you or your phone as you self tape your auditions. You don't want someone to hold your camera/phone while you audition because it may be shaky as you hold it and you don't want the CD (casting director) to toss it out because of the shakiness.
When you self tape here are some tips:
-Don't look directly into the camera. Look off to the left or the right of the camera as if you'd be looking at someone else
-Don't be moving around a lot on film unless directed to do so in your filming instructions
-You can have a reader to read off camera while you film what you say. Make the reader off screen read a bit softer than you. Remember the audition is about you and it's not about the reader.
-Don't have a child read off camera. The audition needs to be serious.
-Don't have a reader in your home. Call your friend and if possible skype them, give them your script and have them read softly while you are filming yourself.
-Keep in mind, to have good lighting, follow the instructions, and remember, each character you play is a character. So bring that character to life. Don't say, well I can't do this or I can't do that or act like this or that. YOU personally may not act a certain way or do this or that, but your character WOULD/DOES.
-If your part requires you to speak on a phone. Turn your cell phone off and then use it for a prop. DON'T hold up your finger and thumb and mime that you are on the phone. Have you come to a kissing scene and need to show you are kissing. Don't worry! You don't need a partner to do this. Close your eyes and bite your bottom lip. Take a deep breath. Bring your fingertips to your lips then open your eyes and show that feeling of being kissed in your eyes, in your behavior on film. Make it a 3-5 seconds of leaving it to the viewers imagination that you were kissed. Do you need to pack a bag? Grab a small bag and place two or three articles of clothing on your arm or in the bag and take them in and out of the bag while you talk.
-There are so many ways to self tape yourself if you need to use small prop items. Now if the character is supposed to be a cowboy, elf, monk, bride, etc. DO NOT come in wearing a wedding dress, monk, elf, cowboy. Wear something that would give the impression that you are portraying that character.
EX: Bride - you can have your hair made up with slight curls (nothing extravagant), a nice dress (nothing extravagant), nude makeup.
Remember you are to give the impression you are that character. Why can't you dress up? Because the CD (casting director(s), etc) wants to see you and if they can see you they can try to see if maybe you could also fit other characters that they may have in mind.
EX: I went in for a t.v. commercial for an elf role. Not only did I get the call, but there were about 20 other people show up for the same role. I wore a dark blue shirt with a pocket and black pants along with sneakers. Others showed up with an elf hat, stripped Christmas dresses (some in green/red tights and long red long sleeved red dress with white buttons and Santa hat). Some had their faces painted looking like an elf. Some went out of their way to have pointy noses fixed on their noses and their hair in braids. Some spray painted their hair a white color to try and show that they were elves. Well one by one they were called back and one by one that came out of the room disappointed and crying. Some had hoped that even if they didn't know their lines that their look would give them a pass and that wasn't the case. I got a call back. Why? They got to see me for me and I also knew my lines. It's more than knowing the lines though. It's becoming that character when you say the lines and it's bringing that character to life.
Each person that came to the audition had to find out these things on their own. Maybe they were told by their agents not to dress up and they wanted to do it anyway, but they hoped that that would get them by in the audition room and it was an epic fail.
HOW DO I GET AN AGENT:
There are a few things that you need to do for yourself before you get an agent and most you can do on your own.
- Sign up and get notices of casting calls to colleges who are doing films. (Ex: Full Sail - Orlando, FL. UCF - Orlando, FL.) send out notices on Social Media about what they are looking for. Join different groups.
- Taking different acting classes to become up to date on what is needed for auditions, etc.
- If you can't make it to different locations here is a great online site with many different classes that you could take.
- Iactingstudios.com
You need to have a few things on a resume. In order to know your strengths and weaknesses you need to put yourself out there. I know some of you may think "I acted 10+ years ago so I know what I'm doing…" Things have changed from 10+ years ago so you need to catch up and be up to date on what is current. So don't ever think you know everything. If you have that attitude then that shows the kind of attitude you'll have on set and you always want to have an open mind.
Once you get some work behind you from short student films or films that you may put together yourself you may get noticed and an agent will reach out to you, or someone may get you in contact with their agent.
Keep in mind that the agent (once you get one) is to help you find work. But you need to help yourself as well. Keep yourself busy. If you find work, you can let your agent know. If you're agent finds you work make sure you do what is asked of you right away especially when it comes to how to submit your work.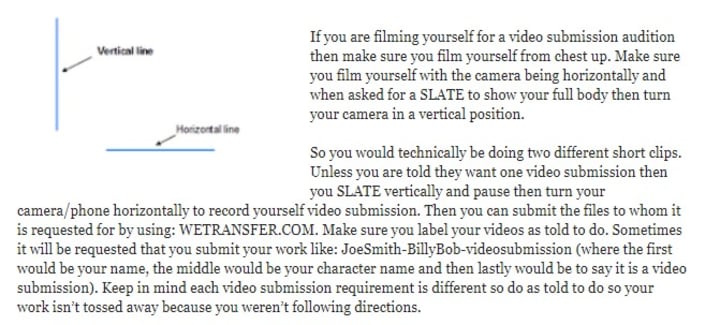 Please be patient getting as to getting an agent. You really don't need one in the beginning. Don't blame the agent once you get one for not getting you work. Remember you have to look for work as well. If you don't do your part then the relationship between the agent and yourself can become null and void and you could be dropped.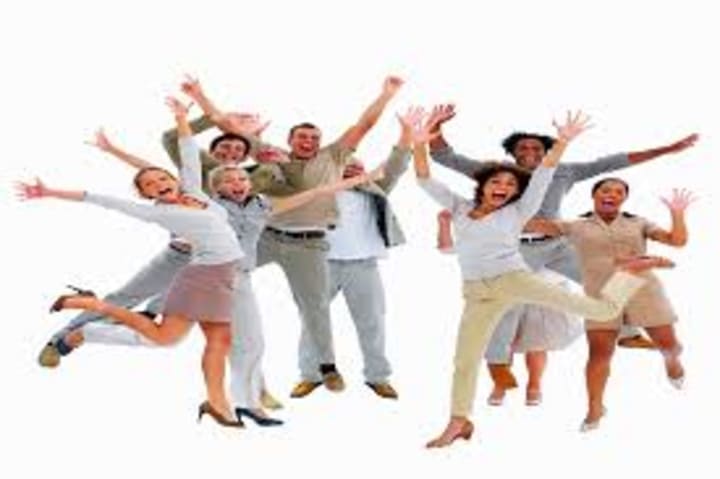 SO YOU'VE MADE IT TO YOUR AUDITION NOW WHAT?
Just know that you may get your script the day of the audition so you need to look it over. Don't sign in until you have time to rehearse for a good while. Most people sign in and then once they are called back they've realized that:
-They haven't had time to even go over the script
-They haven't figured out the idea of the script
-They've had no time to try and research their character at all
-They panic
-They come up with 10,000 excuses when they get called back in the audition room and are in front of the casting directors and/or director
-You must realize that you aren't the only one that was just handed their script and haven't had time to go over anything. EVERYONE is in the same boat as you so you need to roll with it.
-Don't come in to the audition room talking about being late because you ran out of gas, your dog ate your homework, etc. They don't care. Honestly. They really don't care. Always leave for your auditions an hour or I recommend an hour and a half early so you have time go rehearse the script and find out what you can if possible about the character, the story plot, etc.
If you're early - YOUR ON TIME!!
If you're on time - YOUR LATE!!
Remember they don't care that you had a flat, that the traffic was bad, that your mom dropped you off, that you just left your job and just made it here. That's not their concern. They are there to see if you can fill the need that they are looking for so if you have to leave 2 hours early - THEN DO IT! If you need to leave 3 hours early - THEN DO IT!! Assume that traffic is going to suck. Assume that you may run out of gas, assume that it's going to rain. Be there early so you have more time to look over everything and don't sign in right away once you get your script. Have time to look over everything. Have time to research if you can. What are the other characters doing? Can you tell if you like the person you are speaking to in the script? Are you new lovers? Past lovers? Friends? Family member? Other…. Don't just know your lines, but know the other person's part before yours and know how to react. If the other person's lines are meant to be mean … you can't come off excited if it's meant that you are just as mean. Know what you are reading and what the intent is. Read the entire script over without focusing on your lines. Read it like you were reading a book. Read it several times if you must then start to get into what your character is saying and how you imagine them acting.
Before starting your audition, you may be asked to SLATE and they'll tell you what to say. They usually will tell you to look into the camera and state your name, the character you are playing and where you are from. If you have long hair and its pulled up in a bun or in a pony-tail, don't be surprised if they ask you to turn slate and turn to the right and to turn to the left after taking your hair down so they can see your hair. Don't think anything bad of it, remember they are going for a look and they want to have a better look at your hair and imagine in their mind the character having your look.
If you are in the middle of saying your lines and you flub it up badly then ask to start over and most times they will allow it, but if you flub up a word or a couple words then keep going. Don't freeze up if you mess up because most times no one will notice that you've messed up if you just keep going. Do your best!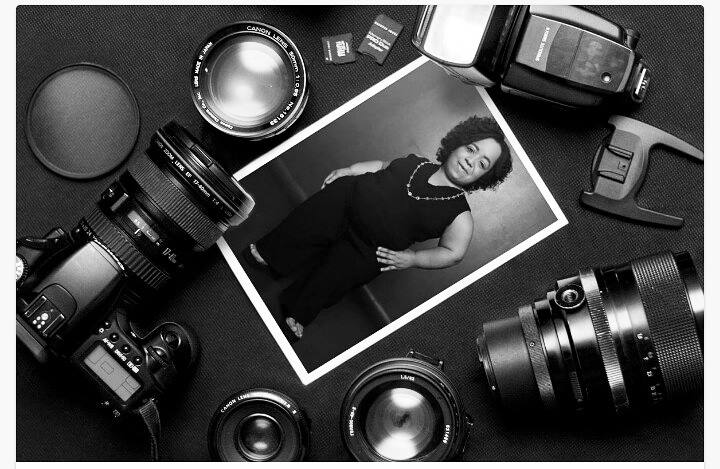 Once the audition begins and someone is reading off camera and they sound so dull and not interested in wanting to do the lines --- DO YOURS TO THE BEST OF YOUR ABILITY! You are supposed to shine anyway. Not them. They've probably been repeating these lines all day long for several days and just are tired of saying this over and over and over again. Maybe they are having an off day, but whatever it's just do your lines great. If you are acting with someone else, don't kiss them if that's what is required. Maybe you can talk out with your other half what should be done. Maybe he can stroke your face or maybe you can place your hands on your lips and pretend the kissing scene has happened. If you are acting with the CD (casting director) and the scene calls for you to touch the other person. Ask if it's okay if you touch the CD's arm or hold their hand. If they say no then avoid it. You have to adapt to whatever is thrown at you. Like any audition, like any film set you are on, you will have to adapt to any changes.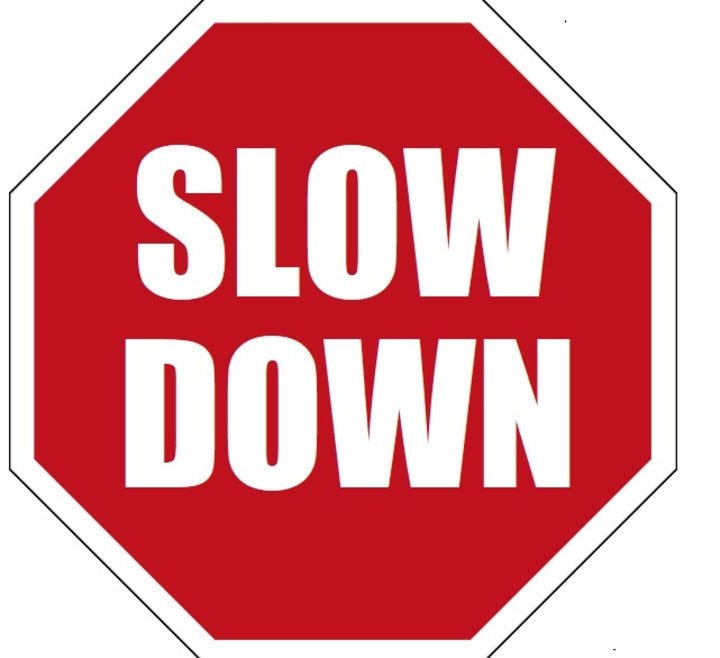 You may hear the term: "speed it up" - that doesn't mean start speaking faster. It means that they don't want you to pause so long in between your lines.
In fact they may have you say your lines differently several times. Don't get caught up on you practicing one way and that's the only way you want to say your lines. They want to imagine you doing different things for their film/show/etc. This will also show them that you are flexible and can follow directions and/or take suggestions and make it your own for them. This gives them a chance to see if the character would look good saying something this way or that. If they are wanting to see how well you can perform they are more than likely interested in using you and if they don't use you for this project, that doesn't mean they aren't thinking they could use you for something else or know of another director who is looking for an actor. So make sure you leave a good impression. Not one full of excuses and one who isn't willing to be flexible.
I've been to auditions and I heard from the waiting room the casting director had asked the actor if he could act one way and he wasn't flexible because he let them know he rehearsed his lines one way and that's it. That doesn't make a good impression at all. The actor left while bad mouthing the casting director. Why? Because in his mind he did fantastic - auditioning HIS WAY and everyone in that room should have seen his talent. He wasn't willing to change his pitch/tone in his audition. He was stuck on even his speech being one way because that's how he rehearsed it.
Once you're done then you can say thank you and leave. You don't need to shake anyone's hands before leaving.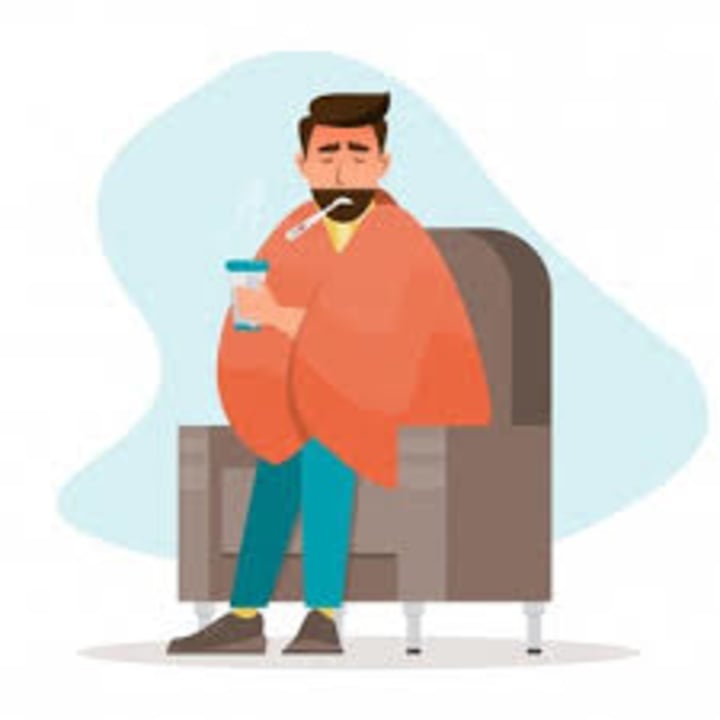 PLEASE NOTE: IF YOU ARE SICK - don't show up. Call your agent and explain you're sick. The casting directors/directors/crew don't want someone coming in who's extremely sick (flu, something contagious) and then shaking their hand and/or coughing and sneezing all over everything. They can't afford to be sick because they themselves are on a deadline.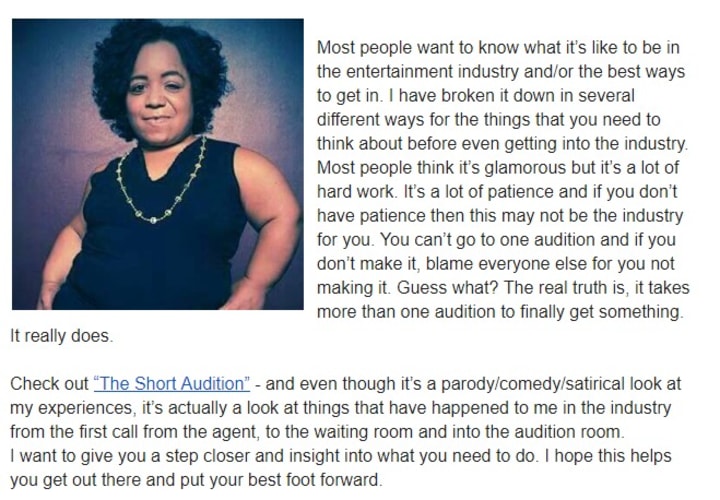 If you thought these tips were helpful to you, please feel free to leave a tip of your own and if you can't that's alright as well. I hope you continue to enjoy my articles.