Latest gold chain designs for women and men.
gold chain designs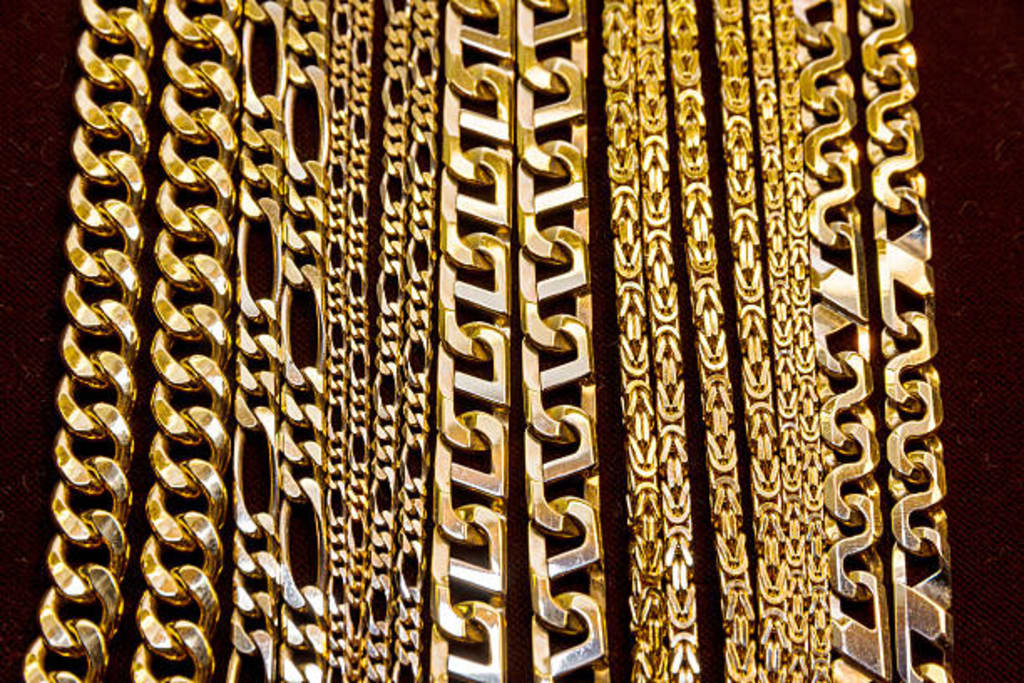 Chains are a sort of jewelry that may rapidly alter an individual's demeanor. It's elegant, lovely, and endearing. The nice thing about chains is that they look amazing on people of all ages, genders, and outfits. It adds a touch of sophistication to your neck. Chains come in a variety of metals, including silver, gold, bronze, and others. Gold chains are the highest popular and give off an affluent aura. Furthermore, chains can be placed around the neck, forearms, and ankles. You will be enchanted by its allure.
Several styles have a major attachment to them that makes them modern. Pendants are the name for these accessories. A well-chosen chain may make you appear self-assured and fashionable.
When it comes to a real gold chain, they are quite elegant and regal. They come in a variety of shapes and designs, making them a must-have in every wardrobe. You can have whatever you desire, from long to short chains. You'll also adore the glitzy appearance of this jewelry. There's a lot of flaunting going on. You may also select from these elegant gold chain styles if you're searching for a piece for yourself:
1. Anchor Chains.
Anchor chains, the most traditional and gorgeous of all chain types, may raise your appearance to a significant level of refinement and grace, regardless of the specifics of your dress. Each link in the chain is circular, with a strip in the middle.
All chains of this sort, are meant to resemble the chains used to secure anchoring to a ship. This design comes in a variety of shapes and sizes — plain, fluffy, dainty, or hefty — so all you have to do is choose the one that most suits your mood. Choose a more sturdy design if you want to highlight the chain itself.
2. Chain in gold and silver.
The combination of gold and silver is stunning, and it adds a lovely finishing touch to your outfit. It is appropriate for people of all ages and genders. These chains come in a variety of styles, from heavy to slim. With gold, any form of silver appears great. The casual vibe of these chains will appeal to you, and you may wear them on a regular basis.
3. Chains in Rose Gold.
If yellow gold isn't your thing, you might go for a rose gold chain instead. These are one-of-a-kind and feature a well-balanced color scheme. Because it contains a small amount of copper, rose gold is also known as pink gold. These will make you appear more opulent and wealthy. These chains are accessible to anybody.
4. Customizable Gold Chains.
The customized Gold chain is quite popular at the moment, and this is due to the fact that it can be designed in any way a person desires. It includes the following information: nickname, dates, catchphrases, words, quotations, and expressions. These chain designs are incredibly stylish and let you show off your neck. This could possibly be the finest present.
5. Belcher Chains.
Belcher chains are classic, and their broad D-section links are suggestive of secreted style.
Since the mid-1800s, Belcher Chains have been used. Belcher Jewelry is a plain chain on one side that loops in circles back over itself repeatedly before joining into a closed coil at the other side. When seen from up or down, this produces an open gap in between connections that resembles undulating waves, giving these pieces their name: "Belchers."
To make your own unique, customized chain, add a gold pendant.
6. Black Beads on a Gold Chain.
These have a one-of-a-kind pattern that goes great with black beads. In some beliefs, this chain is worn by women to shield their husbands from harm. You may pick from hundreds of alternatives and appreciate its heavenly appearance.
7. Box Gold Chain.
You may not be familiar with this sort of chain, but know that that it's well worth investigating. Solid gold box chains are a modern spin on the classic chain necklace, with a clean, uncomplicated design and look. This particular version features an 18ct polish, which indicates it's crafted of solid 18-carat gold, refined to precision, and free of allergens that might irritate your body. They are available in two versions: 16′′ and 20′′. The delicate and square links in these necklaces give them their lovely boxy look. This necklace is recommended if you're searching for something simple but nonetheless eye-catching.
8. Feather-Like Gold Chain.
If you're searching for a contemporary chain, this is the one to go for. It has a smooth and lovely appearance. You may wear it with your everyday clothes and feel secure. The old-school heavy Gold chain designs are being replaced by these innovative types of chains.
9. Figaro Chain.
In the realm of chains, a Figaro chain is unique. Unlike conventional chains, which have links that are all the same size and form, these chains have a sequence of recurring links. They usually consist of one larger, occasionally rectangle link led to a series of tiny oval or circular links. This design loops, resulting in a one-of-a-kind and complicated chain.
Figaro chains are a fantastic option for females and males who want something a little more intriguing than a standard cable chain but aren't looking for anything as intricate as a Byzantine chain for instance. You may wear it alone for a more stylish look, or pair it with a pendant for a more powerful statement.
10. Gold Chains with a Simple Design
Simple Golden chains are elegant, clean, and suitable for every event. Its entire bright appearance makes it incredibly famous, which is why both men and women adore it. Even though it is less expensive than other designs, everybody wants one. Wearing a basic neckpiece does not require any special outfit or event. Wear this necklace to signify your good health and fortune.
11. Gold Chain with Evil Eye.
The Evil Eye is employed to keep bad energies at bay. This becomes essential when the same component is coupled with a gold chain. The evil eye in a chain can make you feel more relaxed and content. The elegant style of these gold chains looks fantastic. It should be owned by everyone.
12. Gold Cubic Zircon Chains.
The most recent chain design features Cubic Zircon. It's a lot of glitter with a lot of sparkle and dazzling, finely shaped stones. These emit diamond-like vibrations. Its overall appearance will appeal to you. And the gold and gleaming stones blend in well. This type of hold chain should be in everybody's collection.
13. Gold Snake Chain.
Snake has a lovely outer surface design, which also looks wonderful in the chain. The gold metal enhances your appearance by reflecting your affluence. When these two motifs are merged, they create a stunning effect. You may choose the weight and size of these chains, and you'll love the way they appear straight out of the box.
14. Hip-hop Gold Chains.
These hefty and massive chains are ideal for anyone who wants to seem like a rapper or thug. It is fashionable and provides you with a unique appearance. It is extremely pricey due to the dense and general gold design. It's also rather hefty to carry, so it's ideal for someone who likes to flaunt their money.
15. Miami Cuban.
Because rappers wear them around their necks, the Cuban chain is also known as the Miami Cuban. These gold chains are hefty and decorative in design, and they offer the wearer a powerful air.
Miami Cuban chains are somewhat flattened and have links that are close together. These gold chains, like all other varieties of gold chains, can be worn huge or little. Originally, these sorts of chains were largely worn by guys, but lately, women are also seen wearing them to make style statements.
16. Peacock-inspired gold chains.
This gold chain has a classic appearance and goes well with the peacock pendants. Colorful peacock motifs are created on a gold frame. It goes well with any classic ensemble. You may choose the height of the peacock pendant and set it in the Gold chain to your liking.
17. Pearls on a delicate gold chain.
Just choose the Gold chain with pearls if you want simplicity and refinement. These motifs are elegant and look well in short designs. In addition, pearls and gold complement each other brilliantly. The nice thing about these chains is that you can wear them with any type of cultural outfit. These chains have a sophisticated appearance that you will like.
18. Ring Gold Chain.
Many individuals dislike carrying a chain about in their hands. If you're one of them, you'll want to invest in this gold chain. It provides you with an elegant spot to place your ring. These go well with everyday clothes, and their lightness makes them ideal in every way.
19. Sacred Figures on a Gold Chain.
Gold Chains with a Divine Component are really beautiful and make you feel good. It makes you feel powerful and allows you to keep your Deity close to you. You may choose the pendant's dimensions and chain length, as well as the pendant's overall appearance.
20. Swarovski Crystals on Gold Chains.
Swarovski Crystals have a unique look and go beautifully with gold. Designers have to strive to create the gems that are normally placed in the chain. The Swarovski Crystals and the chain will go well together and give you a modern style.
21. Wheat Chains.
A wonderfully distinctive wheat chain is formed by braiding flat and curved elliptical links altogether. This type of gold chain resembles the top of a ripe wheat spike, much like the name indicates. This chain, is strong and robust, allowing you to wear pendants with it. When worn alone, though, its distinct style shows.
For guys, huge wheat chains are always a wonderful choice, but for ladies, a narrower, more subtle chain is a better option. The outcome is a traditional, ageless appearance that is beautiful, refined, powerful, and demands attention, regardless of who wears it.
22. Oval-Link White Gold Chain.
The oval-link shape of gold chains resembles that of belcher chains, however, they are composed of links. These are usually made of yellow or rose gold, although they are also available in white gold. These are a wonderful choice when worn with a bunned hairstyle and gold earrings because of their lightness and adaptable style.
Pay a visit to the Jewelry store in san Antonio and you will be enchanted by its allure.The equilibrium provided by the matching attire is only as excellent as the gold chain. With light and heavy chains to choose from, you'll be ready for any event. Recall that the style has an influence on the quantity of gold required to manufacture it, thus it will alter the cost. Preferably pick a design that complements your attire and the event you'll be going to.
Source :- https://exoticdiamondsa.medium.com/latest-gold-chain-designs-for-women-and-men-d55ca1b5bab6
Reader insights
Be the first to share your insights about this piece.
Add your insights