Know Five Finance Roles after Completing Your MBA
A variety of finance job roles that an individual can pursue after completing an MBA graduate program can be broadly classified as follows...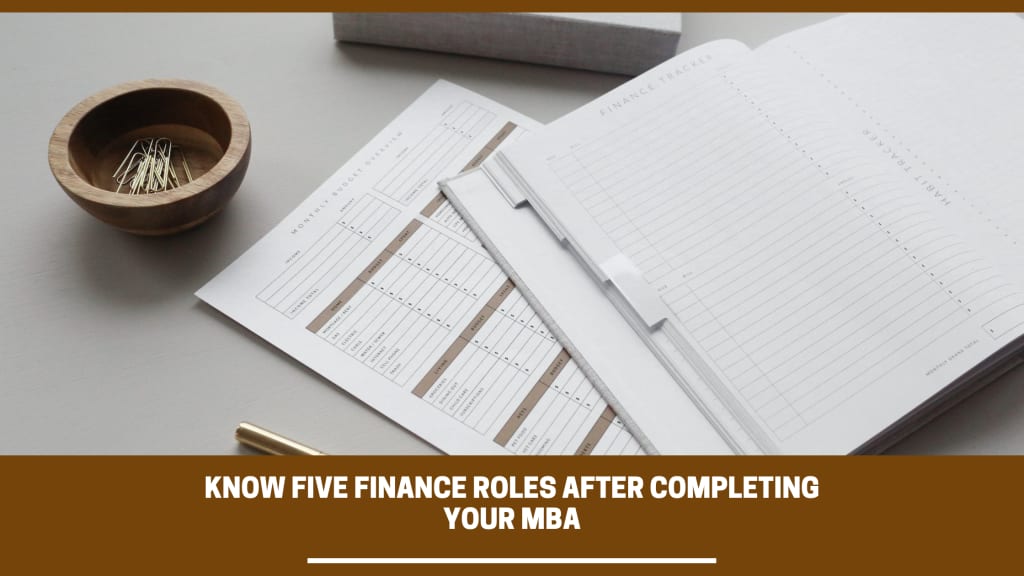 The economy is all around us, from our first sip of morning coffee to the last of the night's social media advertisements. Finance has to be at the top of the list when it comes to a discipline that has a significant impact on our lives. There are numerous opportunities available in an MBA graduate taking the help of best teachers for GMAT preparation program with a major in finance. All that is required is to catch it. There are exciting careers available in financial institutions, consultancies, and banks. One can advance to the most sought-after finance positions, such as investment banking. Finance job roles are not limited to investment banking; there are numerous avenues with a strong analytics and sales function.
A variety of finance job roles that an individual can pursue after completing an MBA graduate program can be broadly classified as follows:
Banking, Financial Services and Insurance (BFSI) Sales
Corporate Finance
Risk Management
Equity Research
Business Finance
1. BFSI Sales
This position combines sales and finance. It includes providing solutions to customers' financial needs, ranging from loans to insurance on the retail side and forex to working capital on the corporate side. The role of a financial advisor entails analyzing financial statements to determine creditworthiness and designing client-specific offerings based on the size of the account. They also build healthy and meaningful relationships with clients, which leads to increased wallet share. A BFSI sales professional must collaborate with distribution channels to meet sales targets, provide continuous feedback to the marketing team on product features, and meet asset disbursement targets. The initial title assigned is Wealth Advisor or Relationship Manager. A BFSI sales role is found in all of the world's leading banks and financial services institutions, and it is also the most common finance job for MBA graduate program graduates.
2. Corporate Finance
Working in the CFO's office or team is usually required. Day-to-day activities include preparing and reviewing financial statements and annual reports, managing working capital, budgeting, and forecasting. Individuals must deal with banks for short and long-term financing, interact with the investor community, collaborate with auditors, solve compliance issues, and evaluate various investment and M&A opportunities. Analyst is the most common designation, and roles are typically offered by CFO offices of large corporations and conglomerates.
3. Risk Management
Working as a client advisor is part of the job description. It includes risk assessments for all types of risks (financial, systemic, customer, market, and so on) for the client's business. The role also entails developing and maintaining a model capable of capturing and assessing risks, introducing automation and process improvement for improved risk reporting, and identifying new risks and incorporating them into existing models. Analyst or Associate are the most common job titles. Back offices of global banks provide the role of financial advisor (SocGen, Goldman, DB etc.). Consulting firms such as KPMG and EY also provide positions along these lines.
4. Equity Research
It is an entry-level position for all investment banking functions, including trading, mergers and acquisitions, and portfolio management. It entails valuing securities using various techniques, writing concise, clear reports that teams can use to make decisions, developing models that can be updated in response to market changes, meeting with key company personnel, and participating in investor calls.
5. Business Finance
The role of a financial advisor necessitates economic analysis of various aspects of business. They also assist with process improvement opportunities, plan and strategize to maximize Profit & Loss gains. Initially, the designation is Analyst, and it allows you to work with business leaders in almost any organization.
All of this does not come naturally, but it is something that can be learned and instilled in yourself. Pursuing an MBA in Finance will expand your knowledge of financial skills and business concepts, allowing you to transform your career. Advanced Derivatives Applications, Banking, Financial Markets and Systems, Corporate Valuation, Risk Management, and Strategic Financial Management are among the courses taught in the MBA in Finance and Accounting program at Indian Institute of Management Udaipur. After completing your MBA graduate program, you will be able to find work in a variety of fields, including banking, corporate finance, investment services, and real estate.
Reader insights
Be the first to share your insights about this piece.
Add your insights