Jerrick CEO's Week in Review: 12/30/19 - 01/03/20
A weekly recap of the most relevant news, updates and insights from Jerrick, Vocal and across the industry.
Endurance
In the racing world, endurance racing is a sport that strives for perfect partnership between humans and machines. It is as much about testing the durability of the race car, the machine, as it is about the skill and stamina of the human team that drives it. These types of races, and the arduous preparation required to compete in them, are emblematic of the sheer power that comes from synthesizing machine processing and human thought. The significant barriers that can be broken when these components fit together are game changing. The engineers and drivers engage in a never ending feedback loop to improve the durability and speed of the machine. Success plays out transparently and in real time on the race track.
This new decade is an endurance race for Jerrick. Our team has been preparing for such a race for years, not just by honing our managerial and tactical skills but in building, testing, and evolving an organization–a machine–that can withstand any pebbles we encounter on the track.
Growth
After six years of relentless work, Vocal is now a scalable and sustainable technology platform ready for the endurance race. The initial sacrifices and investments Jerrick made in those early years have already paid off in a big way; Vocal is a technology platform that is of a caliber associated with only a few hundred other digital platforms. Through deep concentration and determination, we did it at a fraction of the cost it would have incurred in the private markets. We found success when we stopped believing that we were smarter than the data, and we learned to see where the data was pointing and followed that path.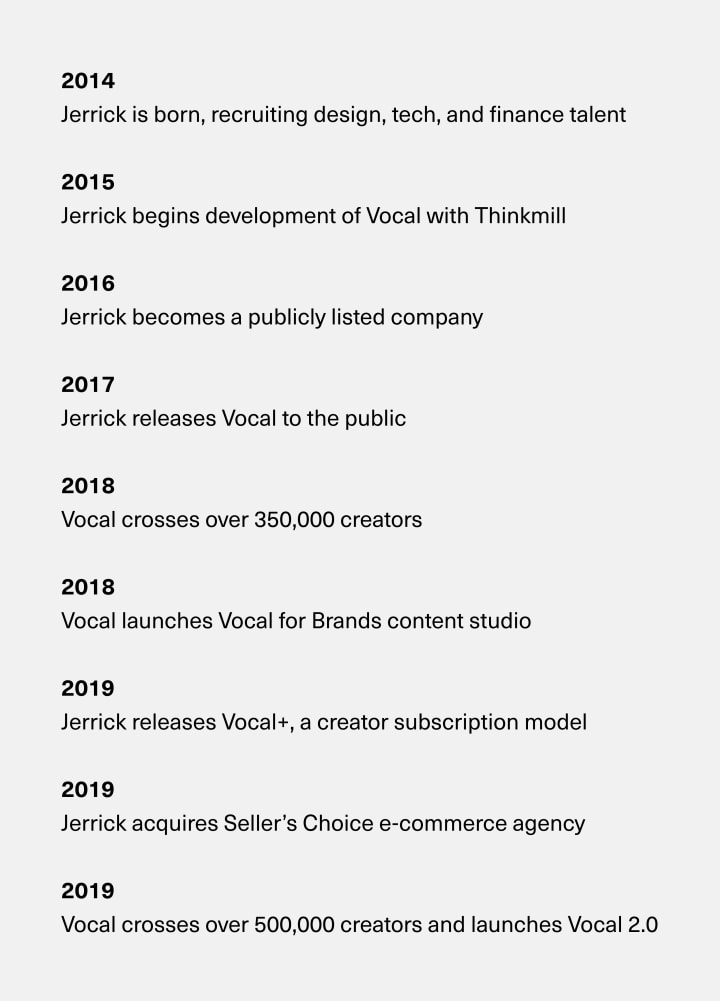 Now, with projected year-over-year exponential growth across most key company metrics, the team is uniquely positioned to succeed. As discussed in my last weekly update, our internal agile management system, as well as our team's application of statistical data, provide invaluable levels of edge to our company's culture and capabilities. Most importantly, it keeps a tight control over expenses while expanding revenues.
Vocal has grown into one of the top online creator platforms. On a daily basis, we onboard 400-500 freemium creators, approximately 5-10% of which upgrade to Vocal+ within seven days, seeking a higher value proposition. The Vocal+ conversion rate is up from what was only 1-2% approximately 60-90 days ago. Underlying this monumental growth potential are accretive math formulas with which we designed the qualified ecosystem that makes Vocal so unique.
Vocal+ Value Proposition: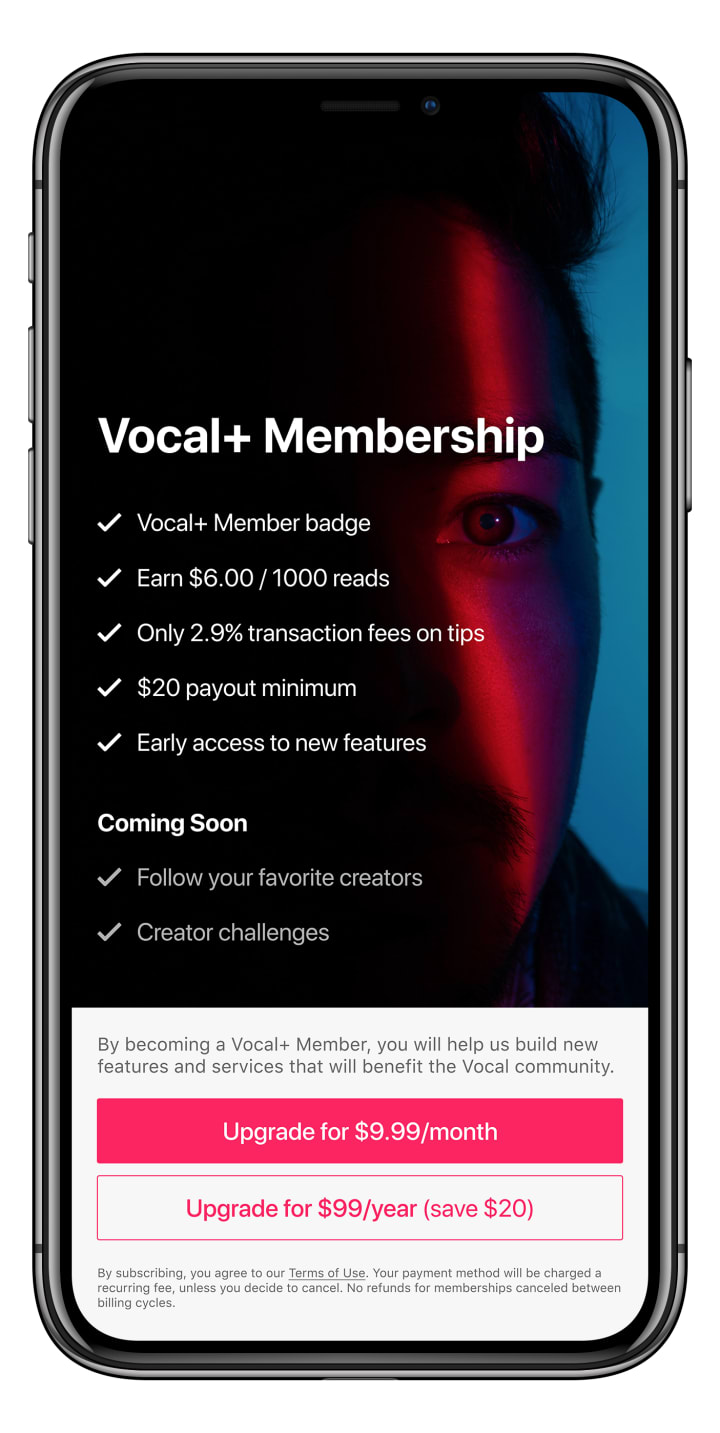 Qualified Ecosystems
When we talk about qualified ecosystems, we are referring to well-curated or moderated platform environments with multiple quality stakeholders such as creators, their audiences and the brands that want access to them. Core to the success of the ecosystem is a proprietary technology. The platform must offer a needed solution to a digital problem while being safe to engage with and efficient to use. From Upwork and Spotify to Vocal and Vimeo, these new platforms are the future of online communities.
A qualified ecosystem is an accumulation of individuals or businesses around a common interest or goal. The engagement is partially supported by the underlying technology and guided by established and trusted protocols. Participation in the digital or virtual world is part of the movement from web 2.0 to 3.0. The future of the digital space is platform-based ecosystems, many directly connected, that consistently improve by applying statistical data to process and protocol.
"The popularity of virtual communities reflects the fact that individuals are using new technologies, such as the Internet, to fulfill both social and economic goals."

—Constance Elise Porter, "A Typology of Virtual Communities: A Multi‐Disciplinary Foundation for Future Research," 2004
In her research, Porter explains how individuals use virtual communities of transaction to buy, sell or learn more about products and services. They use virtual communities to discuss shared interests, develop social relations and to explore new identities.
According to Porter, "Firms can also benefit from using virtual communities to fulfill business goals. Many have begun to integrate virtual communities into their online strategies in search of the following benefits:
Increased sales
Positive word‐of‐mouth
More effective market segmentation
Increased website traffic
Stronger brands
Higher advertising and transaction fee revenue
Better product support and service delivery
Vocal is this type of platform that has cultivated a strong virtual community and is now reaping the benefits.
Awareness
As CEO, I am entrenched in an awareness sprint that occupies most of my time and will continue to do so through the uplist. We have begun to see small pickup through Network Newswire's distribution of my Weekly Updates, among other outlets. It has been an intense last few months, to say the least. Part of this process has entailed painstakingly filtering through the vast number of contacts I have amassed and stayed in touch with. It is particularly important at this moment to identify the people that Jerrick can work with in the future as well as identify individuals who can potentially participate in the uplist transaction.
I have had a chance to speak with many people who have asked me to simplify the S-1 public information into a basic presentation. The deck will be catered toward those who have been following the public disclosures, and will distill company news into its most essential elements regarding what the company is, and how they can invest in it.
I am going to reach out to many of you who are on this list over the upcoming 30 days as we get closer to uplist. I am grateful to have a strong investor network, many of whom go back to my Wall Street days, that continues to support Jerrick's growth both in financing and counsel. More recently, we have selected a bookrunner whose operational infrastructure and retail network made them an ideal fit for Jerrick.
Finally, Thinkmill, our longtime development partners based in Sydney, is one of the finest teams I have seen in this space, and their exceptional contributions are yet another gear that makes the Jerrick machine function so exceptionally well. Together with Thinkmill, we plan on expanding Vocal's ecosystem exponentially this year. Introductions to new collaborative partners is part of that process. Jerrick has become a very serious endeavor in the last couple of years and I can only imagine the alpha that lies beyond the boundaries of the company's existing network.
As Jerrick enters its next chapter, we are prepared to have our endurance tested and look forward to having our technology platform measured against the best that is out there.
JMDA OTC Weekly Report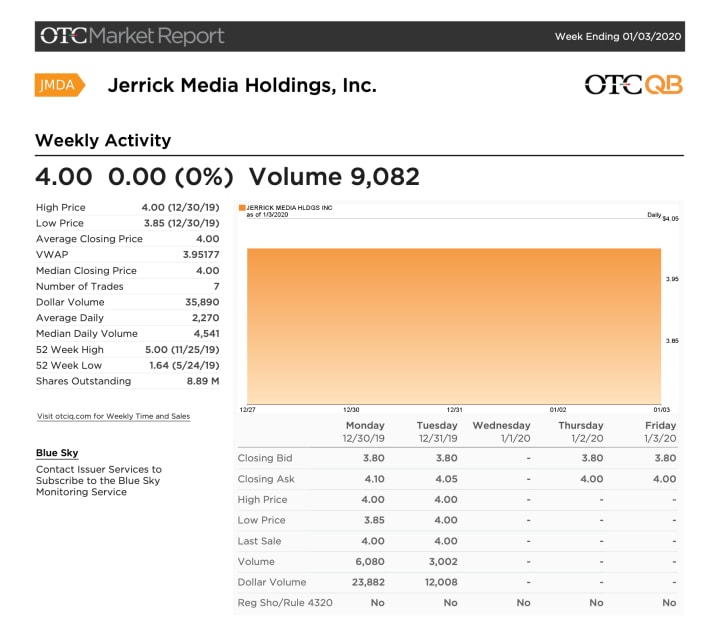 While I am encouraged to see a ninefold increase from last week's anemic volume, it is still relatively light and will need to grow significantly. The majority of trading over the last 8 weeks has been between $3.80 and $4.20. To clarify something I articulated in A Microcap's Guide to Uplisting, JMDA is not subject to a pricing period because of several coexisting factors under NASDAQ's equity standard for uplisting. That said, it is nice to see the relative strength in the stock and know that if needed we could probabilistically have met the $4 threshold of any of the other various pricing periods under other listing standards.
Stock Watch
This week we added a few new stocks to our watch list.
Mohawk Group, publicly traded under the symbol MWK, is a consumer product company that, according to their website, develops "proprietary technology leveraging data and artificial intelligence to bring our customers the products they desire in an efficient manner." With an approximate $100MM market capitalization and an emphasis on investment in technology, MWK becomes another example of a company our team needs to analyze. A difficult post IPO trading market left MWK closing recently at between $5.00 - $6.00.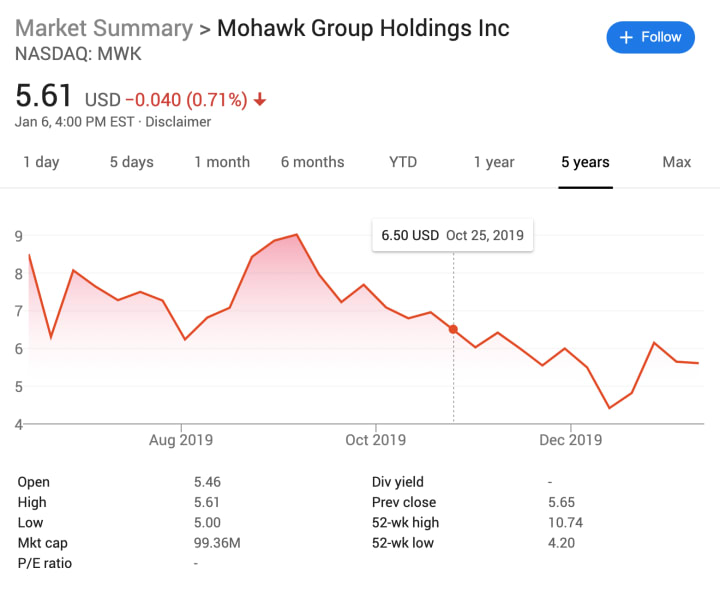 In terms of larger market cap companies, we've been paying increasing attention to Upwork (NASDAQ: UPWK) and Fiverr (NYSE: FVRR). These companies In particular align well with Vocal, in that they service similar constituents with a model that we could eventually integrate into our platform. Perhaps we too will one day offer our creators access to the gig economy by putting them in direct contact with brands. Important to note, however, that Fiverr has recently been trading between $23.00 - $24.00, having never recovered their IPO value.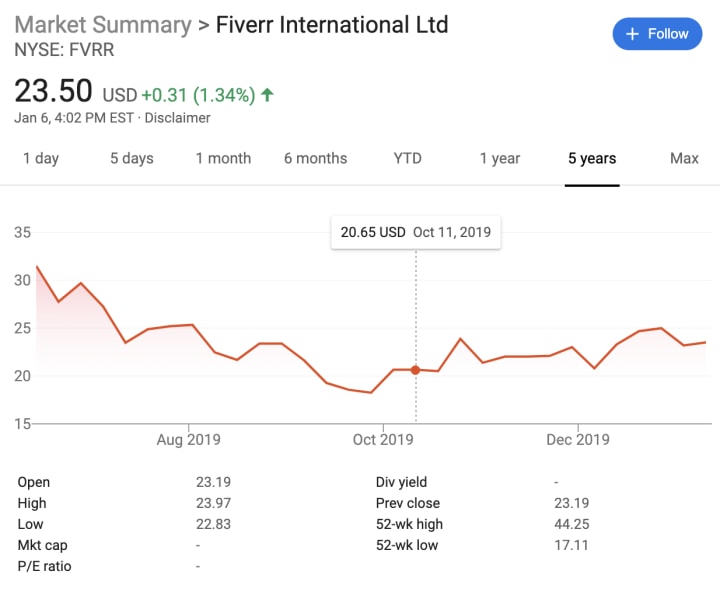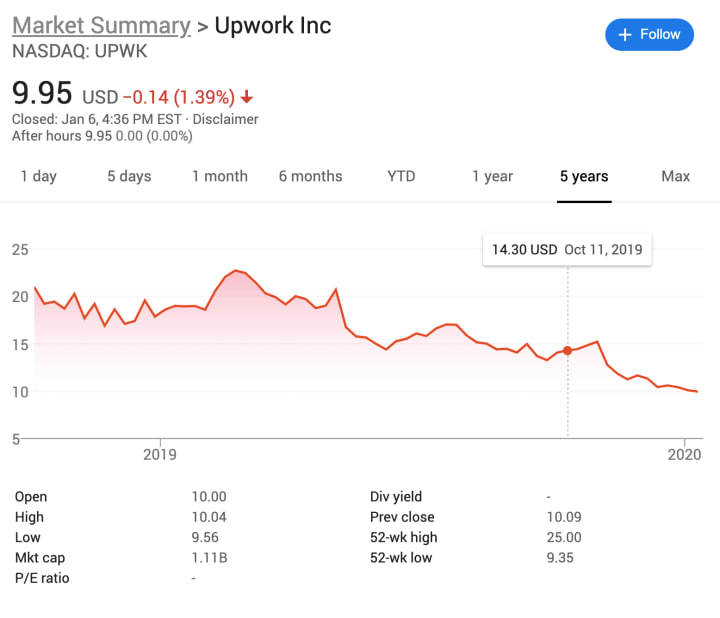 Special Situations
There are, additionally, a number of sites that are now on Jerrick's radar. These sites are notable for their strong content, engaged audiences and growth potential, provided that they are partnered with the type of technology and data that platforms like Vocal can provide.
Prohbtd
A lifestyle brand for the conscious mind and cultured palate that rebels against prohibition past, present and future through art, street style, travel, cuisine, and entertainment.
Blinkist
Founded in 2012, Blinkist connects 6-million readers worldwide to the biggest ideas from bestselling nonfiction via 15-minute audio and text.
At Jerrick we monitor a large swath of the digital space for both inspiration and potential acquisition or investment opportunities. As the Vocal platform continues its rapid expansion, we look to collaborate with interesting digital infrastructures that seem to share core common values and mission statements.
Alexa
We have set new records in Alexa ranking growth on a weekly basis since September, in part due to the consolidation of our 34 communities into the Vocal.media domain.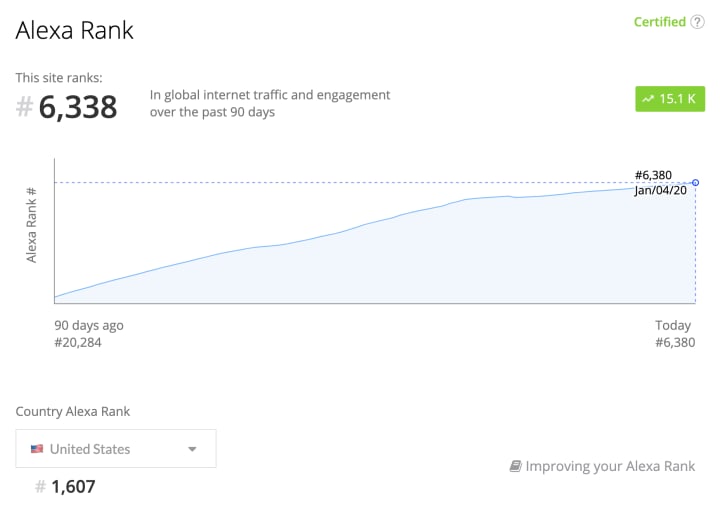 Vocal Staff Picks
Vocal's moderators reviewed so many incredible submissions this past week (50% increase week over week in creator submissions), as holiday cheer and New Year's resolutions increased creator activity. Here are some of the recently published stories that stood out to us, both qualitatively and intellectually.
Creator Experiences
The Vocal Curation Team is committed to inspiring and motivating the creative community. To that end, we have highlighted some recent activity that reflects Vocal at its best.
Industry News
As always, for regular updates please follow me on LinkedIn as well as the company's other social pages:
Jerrick
LinkedIn: https://www.linkedin.com/company/jerrick-media
Twitter: https://twitter.com/JerrickMedia
Facebook: https://www.facebook.com/JerrickMedia/
Vocal
Instagram: https://www.instagram.com/vocal_creators/
Facebook: https://www.facebook.com/VocalCreators/
Twitter: https://twitter.com/Vocal_Creators
LinkedIn: https://www.linkedin.com/company/vocal