Jerrick CEO's Week in Review: 01/06/20 - 01/10/20
A weekly recap of the most relevant news, updates and insights from Jerrick, Vocal and across the industry.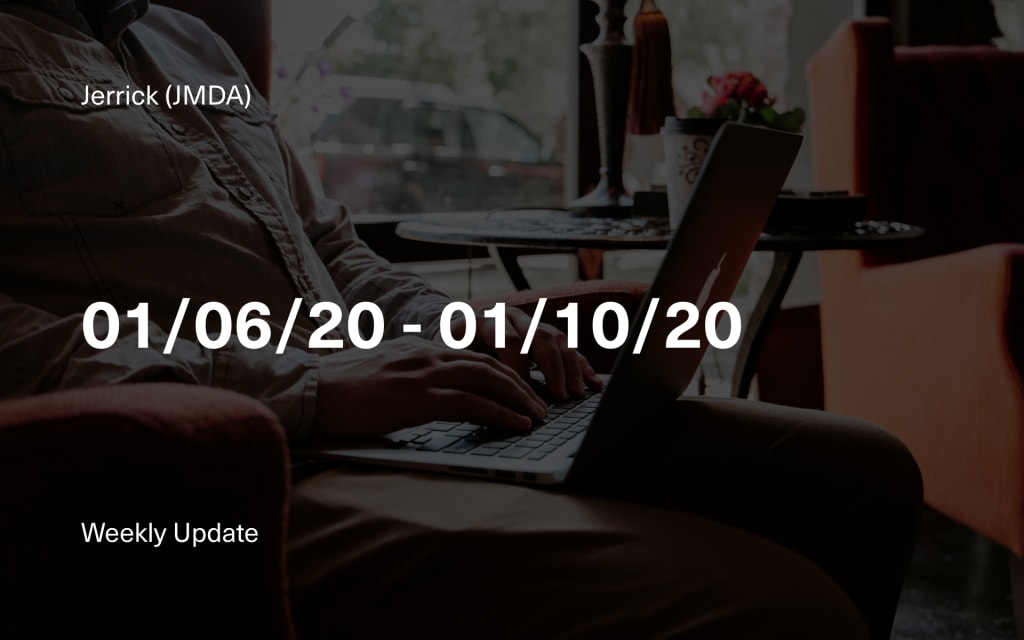 Patience and Hard Work
It's almost two weeks into the new year, and we're off to a promising start as we continue to work through multiple tracks, including:
NASDAQ application paperwork
Raising capital and growing revenues
Controlling costs to develop an important proprietary technology platform with tremendous present and future value
There is a symphony of moving parts to pull off the uplist, all of which essentially come down to our continued patience, discipline and hard work.
History and Evolution of Alexa.com
Over the last few years I have often cited metrics from Alexa.com. I can remember doing this as far back as 2012, when I first started to understand the basics of how Alexa Internet works and why it exists.
Alexa Internet was first founded in 1996 by Brewster Kahle and Bruce Gilliat, long before Amazon chose the name of its virtual assistant AI. The name–Alexa Internet– was an homage to the Library of Alexandria, its founders seeking to illustrate the very real parallel between the largest repository of knowledge in the ancient world and the vast store of knowledge that is the Internet.
Initially, Alexa aimed to be an intelligent search engine, offering users a contextualized set of data on the sites they visited and recommendations for sites they should visit next. Soon, Alexa's offerings grew to include the archiving of web pages. Then, in 1998, Alexa Internet made history by donating a copy of their archive to the Library of Congress, representing the first-ever large scale digital donation. Two years later in 1999, the company was acquired by Amazon for approximately $250 million. When Amazon.com, Inc. had gone public two years prior in May of 1997, trading opened at $244 with an implied market value of $438 million from the IPO raise. At the time it acquired Alexa Internet, Amazon stock was trading between $79 and $105.
In the early aughts, Amazon began opening up its API to third party developers, following a similar path as their contemporaries like Google and Apple (the App Store first launched in 2008). Post the financial crisis, during which time Amazon dropped from highs of nearly $100 to lows in the $40s, Amazon started to shift focus away from Alexa's search engine and focused instead purely on analytics. In 2009, Alexa Internet redesigned its site to emphasize traffic metrics like average page views per user, bounce rate, time spent on site, demographics and other common web search traffic statistics.
As this was happening, I was paying close attention to both how Alexa ranked websites and valued traffic and understood it to be as powerful a weapon for Wall Street as it was for Silicon Valley. I realized that Alexa metrics act as an empirical data source that could work to demonstrate value to potential investors. While tech founders could articulate their company's growth, Alexa could actually validate it.
"Information is power—if you have the right tools. Alexa's suite of intuitive analytics products transforms data into meaningful insights that lead to competitive advantage for your company." —Alexa.com
Over the last 5 years, Alexa.com has evolved into one of only a handful of truly reliable sources for public comparative website traffic data. Alexa Rank is the gold standard with which Vocal and all of our digital contemporaries can assess our value and learn how to improve it. Alexa provides the tools most sites need to understand and better their SEO practices and strategy, as well as to grow their traffic.
The list above shows the top 250 ranked websites in the United States. It should come as no surprise that the bulk of the world's most important companies reside on this list.
I've highlighted below a couple of the top 250 companies along with some commentary. These companies have some degree of commonality with Vocal (as is the case with every platform environment, regardless of what it "does") but more importantly, they offer relative value metrics that are helpful in analyzing the potential parabolic growth of tech companies.
As described on their website: "Patreon is a membership platform based in the United States that provides business tools for creators to run a subscription content service, with ways for artists to build relationships and provide exclusive experiences to their subscribers, or "patrons"."
Patreon was co-founded in May 2013 by Sam Yam and musician Jack Conte, who was looking for a way to make a living from his popular YouTube videos. Together, Conte and Yam developed a platform that enables audiences ('patrons') to pay a subscription fee for access to a creator's works of art. Patreon raised $2.1 million in August 2013 from a group of VCs and angel investors. In June 2014, they raised another $15 million in a series A round and then, in January 2016, closed on another $30 million in series B funding. Since 2016, Patreon has gone on to gather another $120MM in funding from two different rounds, bringing the total to $166MM. They have used the funding to focus on greater customization for their creators and international expansion.
Patreon is currently valued at between $500 - $600 million.
Patreon's Alexa Rank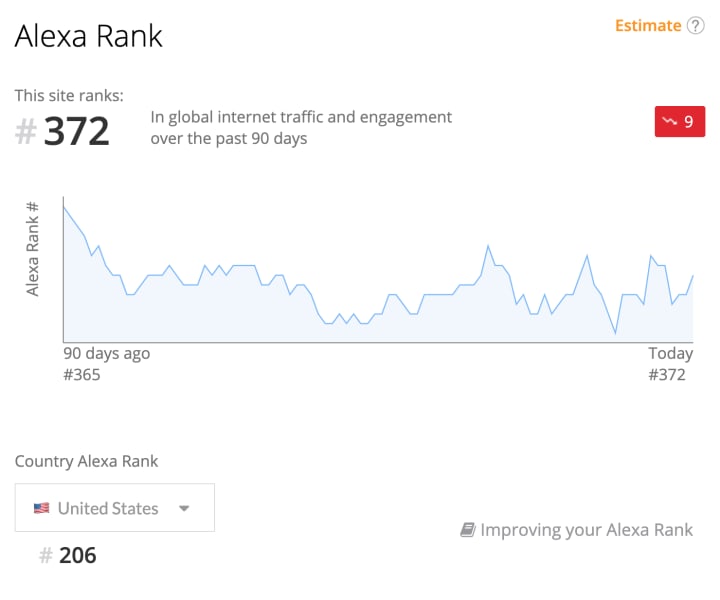 Medium is an online publishing platform launched in 2012. Medium was developed by Evan Williams and is owned by A Medium Corporation. The platform describes itself as an example of social journalism, offering content from a hybrid of amateur and professional creators, and open-to-all and exclusive publications.
I have always been a fan of the general editor technology on the Medium platform, though it is not quite as broad-minded as Vocal's. More importantly, our companies diverge greatly in our varying approach to subscriptions (readers never pay to consume content on Vocal, whereas Medium introduced a metered paywall). Nevertheless, on the whole, Medium is another interesting comparative for us to look at.
Medium is currently valued at $500 - $600 million.
Medium's Alexa Rank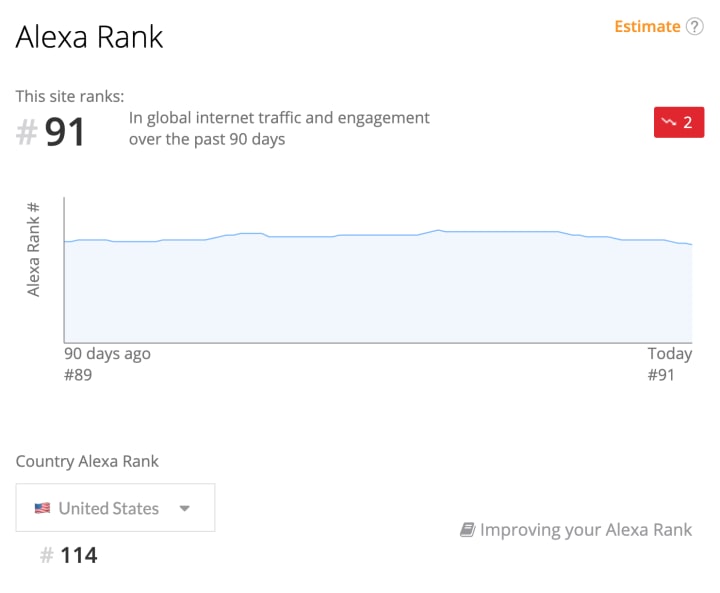 Then, at the other end of the spectrum, I've also included a few lower Alexa ranked sites that we regularly follow. Online content portfolios will eventually trade at fractions of current valuations. Acquirors who understand the history of potential targets have the advantage in understanding value.
eHow is a website of how-to guides with many articles and 170,000 videos offering step-by-step instructions. eHow articles and videos are created by freelancers and cover a wide variety of topics organized into a hierarchy of categories. Any eHow user can leave comments or responses, but only contracted writers can contribute changes to articles. The writers work on a freelance basis, being paid by article. This type of system is what is frequently called a content farm.
eHow was acquired by Demand Media in 2006 (now known as Leaf Group). At the time of its acquisition it had 17,000 articles and 5.8 million visitors a month.
In 2010 and 2011 Google implemented changes to their algorithms intending to reduce the ranking and impact of content farms. These changes led to a 40% drop in traffic to all of Demand Media's portfolio sites.
Leaf Group (eHow's parent company) trades under the ticker NYSE:LEAF and has a current market cap of $80 million.
eHow's Alexa Rank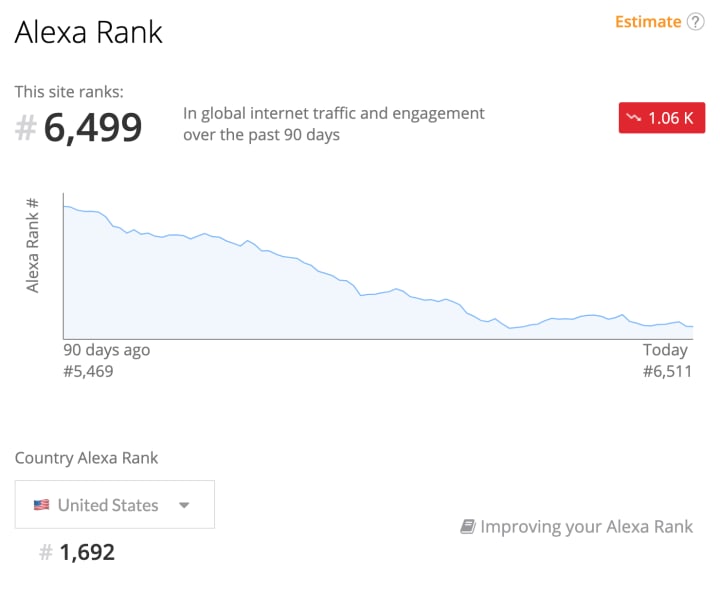 Another example of a site owned and operated by a public company may be familiar to Wall Street veterans: the street.com. TheStreet is a financial news and financial literacy website.
"In April 2013, TheStreet Inc. acquired The DealFlow Report and The Life Settlements Report financial newsletters and the PrivateRaise database from DealFlow Media Inc. The DealFlow Report covers microcap stocks, including initial public offerings and private placements, while The Life Settlements Report focuses on life insurance settlements. In November 2014, the company acquired BoardEx for $22.5 million." - —Source
The Street is a subsidiary of TheMaven, the latter having acquired the former in August 2019 for $16.5 million.
The Street's Alexa Rank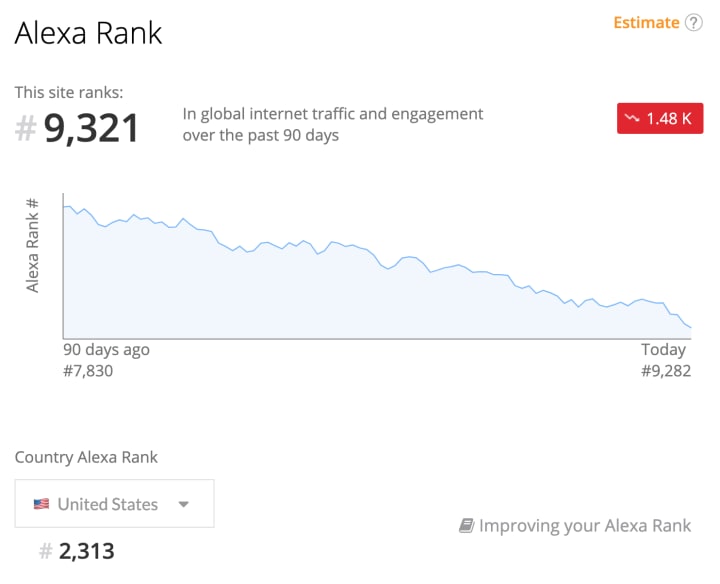 Irrespective of valuations, there is a developing public market for tradable tech that can be validated in a crowded space of data by tools like Alexa, Comscore and Nielson. Smart and efficient management can arbitrage what is going to be a distressed market of old legacy platforms being acquired by new tech that offers the real promise of sustainable revenues.
For Vocal, Alexa has come to be a consistent barometer with which we can track our accomplishments. In particular, Alexa enabled us to see the magnitude of our decision to aggregate our 34 unique website communities powered by a singular publishing technology into a singular domain, vocal.media. The aggregation, part of our 2019 replatforming, led to a substantially rapid and accretive growth for the Vocal platform that, if our math is correct, will not stop anytime soon. Simply put, Vocal is a self-sustaining ecosystem that will continue to expand, and Alexa is an excellent source of data to guide and validate our practice. Much of our structure is quite unique and it makes Alexa's perspective on our platform well suited to comparative analysis and for extrapolation as to what it implies about our continued exponential growth.
Reader insights
Be the first to share your insights about this piece.
Add your insights