Is Smashwords Losing Steam, Part Three
Publishing with Lulu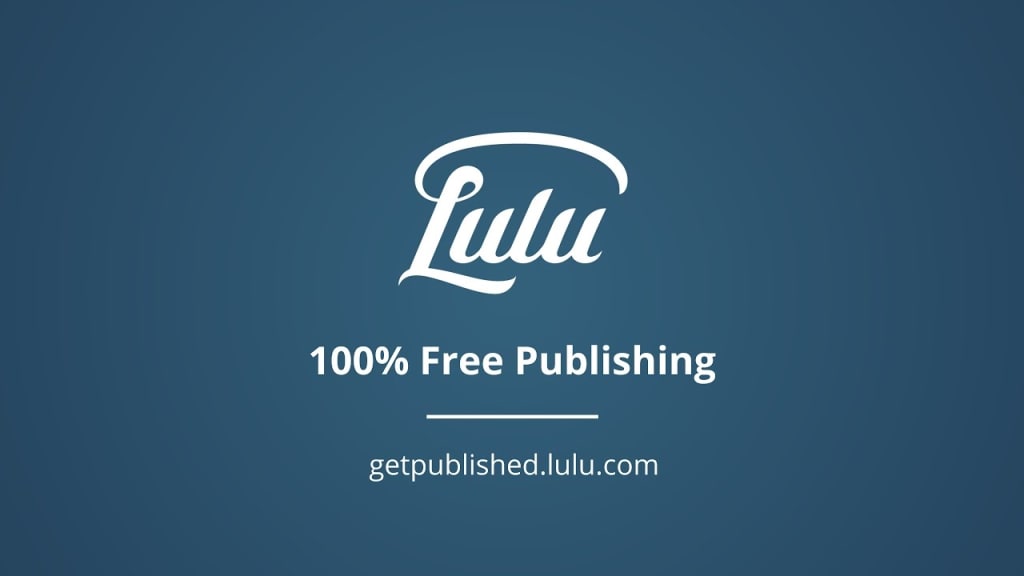 Lulu.com was founded after Bob Young had an unsatisfying traditional publishing experience with his book Under the Radar, which was based on his success as the co-founder of Red Hat. Bob was determined to establish a more effective and profitable route to publishing. This remains a core tenet of Lulu.com's mission—making content creation and consumption a simpler and more rewarding experience for people around the world.
This is the quote from Lulu.com's own About Us page. I decided to do some research on Bob Young. He seems like an upstanding businessman, but on his Wikipedia entry, it states:
In 2002, Young founded Lulu.com, a print-on-demand, self-publishing company.
Alright… authors have been published through traditional presses for many years. Unfortunately, for one reason or another, some writers haven't been able to make the cut, but even before the first ebook was self published, writers had the advent of vanity presses, or print on demand, where anyone can have anything published.
Once ebooks came onto the scene, writers who couldn't land an agent, or even a contract with a true independent press like Edge or Baen Books—which often still require an agent if, for nothing else, negotiation of the contract—got their chance to self publish their own ebook.
Here's the thing; you can't be both P.O.D. and self publishing. This is kind of why the terms vanity press and hybrid press exist. Vanity presses, P.O.D. companies, and hybrid presses all publish ebooks, while most hybrid presses only publish ebooks; it's cheaper than owning their own printing equipment, but some contract it out to KDP or other P.O.D. companies. This is why the term self publishing differs from P.O.D., vanity, and hybrid.
Anymeow, since this series of articles is about pulling away from Smashwords, which I still discourage, I decided to create an account with Lulu because they're supposed to do everything that Smashwords and KDP do—publish ebooks and paper backs—for free as a self publishing platform. As soon as I created my Lulu account, the site stated that my password was wrong.
How? I just made the account. Then, I tried to recreate the account, but it said the account already existed. Then, I tried to log in with the account I had created, and mysteriously, everything was fine. I did also have to validate my email account, which is standard practice.
Not really a good start, though. I treat every event in my life like a blueprint, and the first step presented discouraging issues.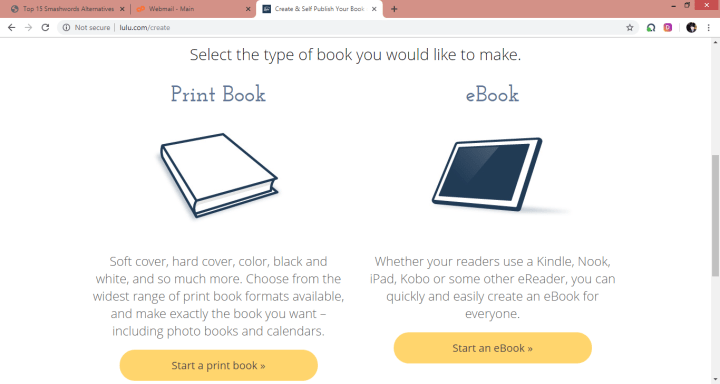 Once your account is created, and you choose print or ebook, you have to upload a .pdf or .epub. At least, that's how the site is presented after clicking ebook. I went with an .epub since it states that's what's required to make the ebook available on all ereaders.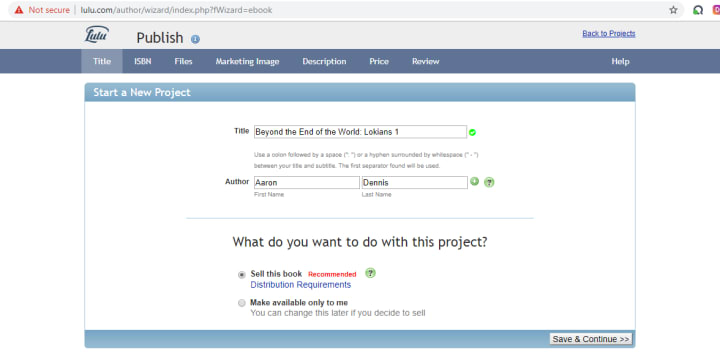 Oddly, you can make the book available only to you, I guess, so you can look at it and make sure it's everything you want, but I want it distributed, so I chose "sell this book." I'd like to add that you should be able to download your book file after conversion, the way KDP, Smashwords, and Kobo allow. KDP even lets you proof it through an ereader-like program rather than having to download the file.
The next step with Lulu, after choosing to upload a file, but before actually uploading it, is choosing an ISBN. Like with most self publishing platforms, you can go with their ISBN, your own, which you only need if you're a publisher publishing other people's books, or no ISBN, which is dumb since you can get the Lulu one for free.
Yes, if you self publish, the platform's ISBN does not make the book theirs. It's still yours. Hence, self publishing.
Out of curiosity, I checked the license agreement before continuing because this book is already published on Smashwords and Amazon, so I need to know if I'm even allowed to publish without violating any kind of contract or term of agreement. Reading through the concise jargon, I did not see anything stating that I was not allowed to have my book published by other publishers, expressly, but it seemed to be implied.
You are granting publishing rights to Lulu to act as a publisher on your behalf to retailers and wholesalers globally.

Lulu will be the sole source of bibliographic data on your book.
The two statements above seem to nullify my possibility of publishing this particular book since it has bibliographic data from Smashwords and Amazon respectively. To that effect, I went back to make the book available only to me. I figured I wouldn't need an ISBN since it wouldn't be distributed.
In the next step, it shows that you can upload other file types, not just .pdf and .epub. I suppose they're just the easiest to convert. I finally uploaded the .epub.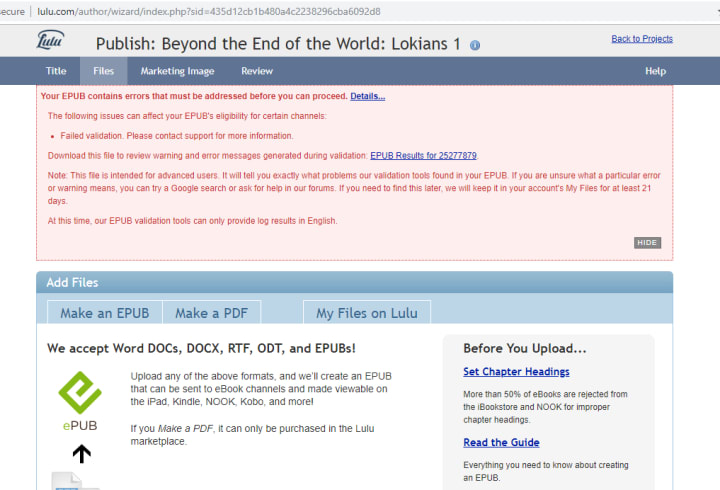 Naturally, I got validation errors. No surprise, right? The same thing happened with Kobo, but they didn't make any difference. They happened with IngramSpark, too, which did not allow me to continue the process; similarly, I can't continue with Lulu.
This is a real drag with self publishing platforms because no one is going to Google 200 different validation errors in order to find out what the problem is. In the spirit of completing my goal in some fashion, I tried uploading a .pdf. As I upload my .pdf, it tells me to make a .pdf.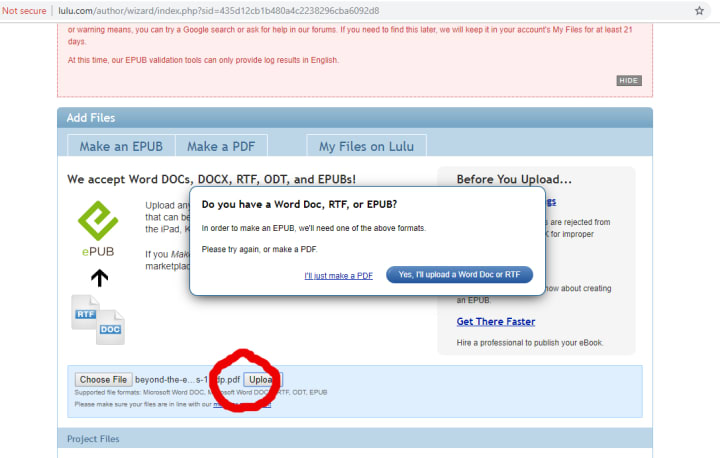 You can see it's a .pdf. I then tried a .doc. Fortunately, that went through. Like Smashwords, Lulu converts the file. Conversion with Smashwords is super easy, and they convert a .doc to every possible file type if you format correctly.
Sadly, the file conversation stated the chapters weren't formatted correctly. I made some changes. The new file had the same issues.
Now, I get that Lulu has different formatting requirements to convert and subsequently publish a book for distribution, and my goal is to get through not only the publication of a book with Lulu but also to see how they distribute books and to which stores, so all of this is a huge debacle for me, but I was striving.
Before I gave up completely in humiliating and crushing defeat, I wanted to see the ebook conversion package they kept shoving in my face, because, let's be honest, anyone who doesn't know about publishing platforms is probably going to look into the conversion package. If, for whatever reason, you choose not to publish through Smashwords, KDP, or Kobo, it stands to reason that Lulu could be an alternative, but at what cost? The site doesn't say.
I'm guessing that Lulu purposefully rejects anything that isn't formatted through their conversion mechanism, thus making their conversion package your only option. Well, their package isn't something you can just buy or add to cart. You have to fill out a form, and then have them email you with the package, which includes cover art, layout design, and print formats.
You can, however, click on their .epug guide, which I did. Their .epug guide is almost word-for-word the same as Smashwords's except for the following line:
NOTE: If your manuscript includes a TOC page with hyperlinks to chapters, the hyperlinks will not function following conversion; therefore if you plan to keep the TOC pages, we suggest you remove the hyperlinks as well as page numbers – since eBooks do not have pages in the traditional sense.
When I publish through Smashwords, I insert bookmarks into my chapter headings, which I then hyperlink to my TOC. In order to continue with Lulu, I tried making the changes, and they still did not work.
It's difficult for me to provide an accurate review of Lulu in this instance, but I can't understand why anyone would use Lulu as a self publishing platform when Smashwords and Amazon allow you all the same options including paper backs with KDP. Oh, yeah, and Lulu is not a self publishing platform despite the fact they advertise 100 percent free publishing.
Amazon even lets you place ads so long as your book is not erotica, so they definitely help you to sell books if you pay them to do so. Smashwords doesn't offer such a service because they're not really a book seller. Sure, you can buy ebooks directly from Smashwords, but they're really just a publisher and distributor, and their distribution is what makes them so attractive.
If you have a professional book cover, hired a professional editor, have a great story, and a few bucks to purchase ads from a private company, you can do extremely well through Smashwords, using KDP just to have your book on Amazon and in paper back. Nevertheless, I Googled "is lulu publishing worth using" and the first result was 69 user reviews on consumeraffairs.com.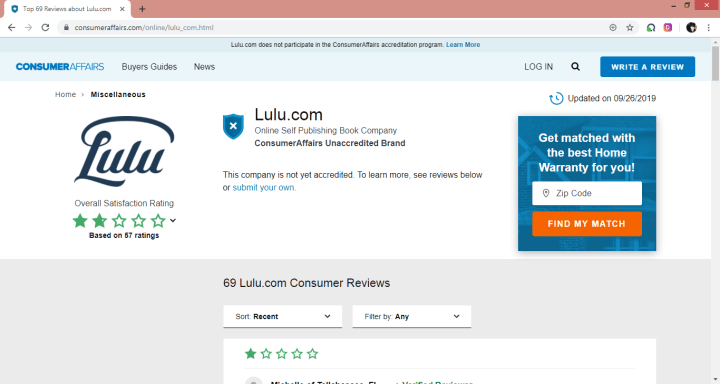 You can look at the reviews yourself, but here are a couple of lines from just three reviewers.
One user claimed:
I signed up to get my book published through the advanced program with Lulu.com. I paid $2000 to have them help me to publish my book. They wasted two months of my time in a "review" process. They kept rejecting my manuscript and refusing to publish my book for what they termed as libel issues.
It sounds like what I said earlier; you can't actually self publish, because they won't accept your book. They are a P.O.D. company, so you have to hire them to do the conversion. If anyone reading this has successfully self published through Lulu, I'd love to know about it, so feel free to contact me: dennis(at)storiesbydennis(.)com, and we can do a little interview about how and why you used Lulu, and how others can do the same.
Another Lulu user claimed:
I am truly shocked and dismayed that a company that claims to support the written word, authors, and books could react in such an unscrupulous and underhanded way. Having finished writing my book in December 2018, I signed a service fee in order to get my book published with LULU.COM.

First, I received incessant and useless standard emails encouraging me to finish my book. These are impersonal emails that basically take your clients for fools. Finally, I was put in the hands of an agent, Chelsea ** who responded vaguely and sporadically to the advancement of my project. She asked me to reduce the song lyrics in my books to 7 lines which I did. I stopped getting answers from this person and I believe this person was discharged and my file was given to Nina **. This transition took a long time, but Nina was more cooperative. She asked me to send a legend of all the name changes which I did, in order to ensure no real names were used. She asked me to change two street names which I did. Finally, she said that the names I had changed were not sufficiently changed. One cannot change Jordan for Jason. I changed them again.
This is how P.O.D. companies operate. I've worked with Xlibris, and this is 100 percent the same thing that happened to me. I worked with three different "associates," none of whom conversed with each other, and I had to reenter information and re-upload files on a regular basis. As a writer who didn't know the first thing about publishing, this was all very confusing, and it took a long time to get the book published. It also cost a ton.
There were a few five star ratings on consumeraffairs.com for Lulu, all of which were basically the same:
I have published many books over the years and I found Lulu to be the most professional and easy company to deal with. Starting from the beginning with the gentleman named Ryan whom I spoke with, to production. Ryan was very knowledgeable, professional and kind. He listened to my needs and the needs of my mother's book. Production staff (Erika) was great as well and respected this family history book. I highly recommend using their services if you are serious about publishing. I have read many of the reviews on here and they are from NON serious authors or ones that wanted their books done for free. I will definitely be using their services again. Keep up the great work LULU!
Erika respected the book? I know for a fact that P.O.D. companies do not read the book material unless you pay for editing services. I'm sure Erika was a great CSR, but this review, like others, sounds made up. Besides, why did this user read the negative reviews? Who is this person to decide who is serious about what? Why would the author even address the negative reviews unless they have something to gain, like they work for Lulu…?
Now, the person above may be a real user—I can't really know one way or the other—but they also admit to paying for all publication services. Lulu is not a self publishing platform. They are a vanity press or a P.O.D. company, which also provides ebook services. I'm inclined to believe IngramSpark is the same, since they had me add my credit card info before uploading any kind of file.
This is a real problem in the self publishing world. If you are not doing all of the work yourself, it isn't self publishing. If you're paying the publisher to publish your book, it isn't self publishing; it's print on demand.
Yes, as a self publisher, you can hire an artist to design your cover. Yes, you can hire an editor to edit your content. Yes, you can hire someone to format your interior. Yes, you can hire someone to market your book after it's published, but you are the one who owns all the files. You are the one who uploads all the files. You are the one in charge of selling your book. You are responsible for everything out of your pocket. With Lulu, they are responsible for everything out of your pocket—P.O.D.
This is the big, big, big difference from actual self publishers like Smashwords, KDP, and Kobo; you own everything, and that's why you can publish through all of them. Kobo also offers book services, but you can easily publish through Kobo without any issues for free (marketing and editing are not publishing features). Although, Smashwords distributes through Kobo, so you can't have duplicate books, but that's a non-issue.
The same thing goes for KDP. When you're uploading your files, you have the opportunity to purchase some services, but you get to own all the resulting files. This is different from traditional presses, who will own your edited manuscript, title, and cover art even after you are released from contract. Xlibris still owns my original cover art, but since they did not pick the title or edit the manuscript, I retained those rights.
My conclusion is that Lulu is every bit as good as, say, Freisenpress or Xlibris. If you fork out enough money, they'll publish whatever you send them, and they'll sell it, too. They'll also call you twice a day, trying to sell you more promotional services. Bank on getting seven emails a day with new deals on book trailers, script formatting for movies, and God knows what else.
I've said it before; I spent $10,000 with Xlibris. They sold my book. I did not earn $10,000 through Xlibris. I lost a lot of money, and I don't want you to do the same.
I spent nothing on Smashwords or Amazon, and I've made plenty of money. You can use Lulu if you want. I don't think they're a disreputable company. I don't think they're a scam. I think they are portraying themselves as something they are not—a self publishing platform.
Then again, many of the authors providing the consumer reviews at consumeraffairs.com feel that even though they purchased all the packages, they still didn't find success, but that could depend on innumerable variables. All things said; make sure you are informed before choosing a publishing platform. Try to contact some of the authors published by those platforms. Check the reviews of those platforms; the platforms, not the books they've published.
Thanks for reading. You can read about publishing through Kobo and IngramSpark as well. You can find more information about reading, writing, editing, publishing, and marketing on my Editing Services and Free Resources tab. Be sure to contact me if you have a success story you'd like to share.