Is Smashwords Losing Steam?
Publishing with Kobo Writing Life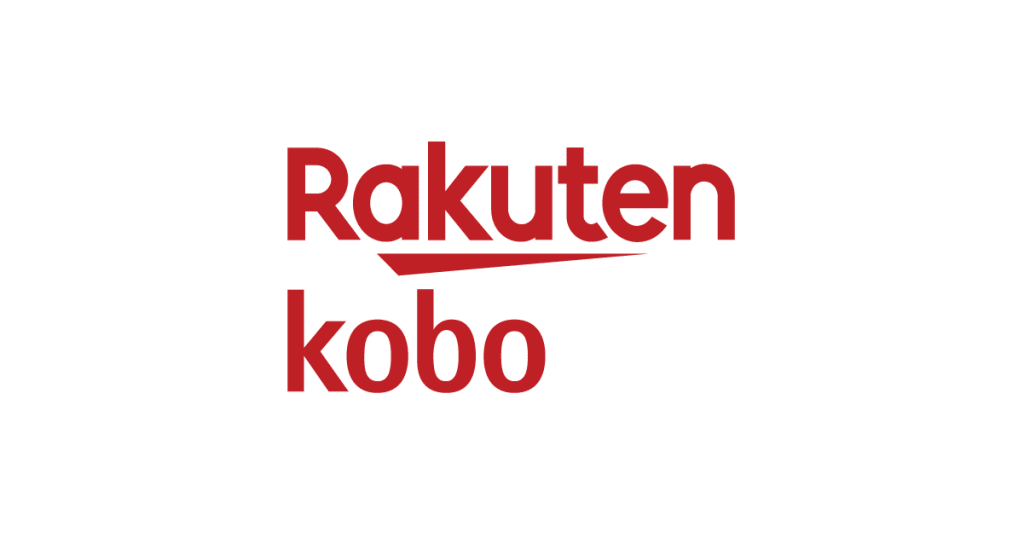 I'm starting to have issues with Smashwords. Don't get me wrong, I still think they're great for novice and budding writers.
Their publishing platform is still fantastic. Unfortunately, I've recently had two issues.
My first problem is with their new "selling" interface.
They used to have this "classic" appearance, which let potential ebook readers scroll through all the books in that genre.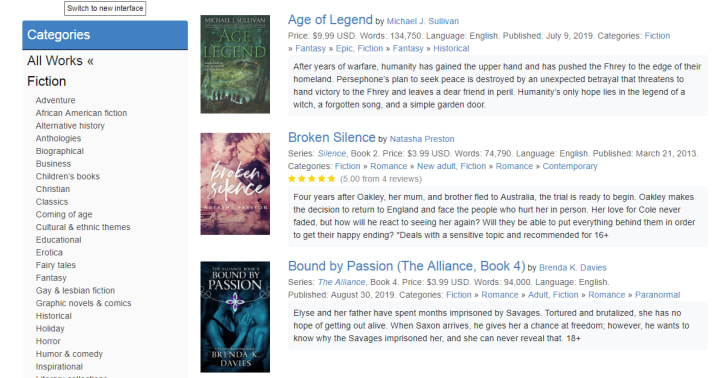 If you searched for "fantasy," you'd see a list of fantasy themed books with their respective covers and blurbs. Anyone looking for a book of any genre could easily scroll down and peruse blurbs along with the covers.
Now, Smashwords has this "new interface," which only shows the same five writers' books.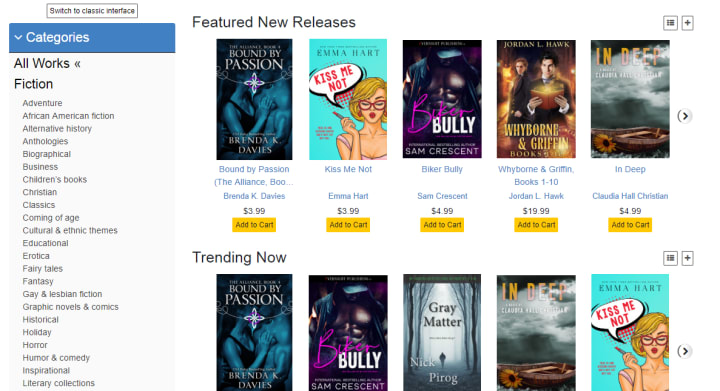 There's no blurb, review, or anything; all you can do is slide through the cover art, and you'll get sick of sliding through covers without knowing what those books are about. Naturally, potential readers can still look at different books, but what do you see?
Just a bunch of covers, and then you have to click the cover image to get to the buy page just to read the blurb. This won't help sell books unless the reader is already familiar with the writer, in which case they won't care what the cover looks like. All they care about is the author and the new title.
Would you really avoid buying a new Harry Potter because the cover is ugly?
Maybe, Smashwords is trying to copy Barnes and Noble and Amazon, which I must say shouldn't approach selling books by displaying 300 tiny covers. When I look at their "fantasy" selection, I don't recognize any writers or any titles, and I'm only going to click one or two covers before I decide that I can't find what I'm looking for. If you already know an author's name or the title of the book, things are a little more simple, but what if you don't? What if you're just browsing?
I really can't wrap my brain around this method of "selling." I guess it works for the major publishing houses… I think they do it that way on purpose, to drown out indie published books, but Smashwords is not a major publishing house.
I don't believe the new Smashwords interface is going to sell books, especially not by competing against Barnes and Noble and Amazon. If those big companies are selling books in this manner, the least Smashwords could do is maintain an inventive way of attracting buyers—the classic interface.
My second problem with Smashwords is their complete lack of customer assistance. This is new. They used to have an email address, which received messages and responded. Now, you're supposed to click a question mark icon, take a bunch of screenshots, and hope they respond after you let them know what's wrong.
If you're thinking about becoming a writer, or if you've written a few short stories, or if you're tired of Quotev and Wattpad, Smashwords is still a great way to go. They don't just publish and sell books, they distribute to other sellers like Barnes and Noble online, Apple Books, and tons of others. You can also add videos and link to print copies. They're also in league with Findaway Voices, a company that produces audio books, which do end up on Amazon as well. I certainly have no intention of pulling my work from Smashwords because of their wide distribution and awesome-sauce services.
On the other hand, if you're a 10 year vet, you're sick of playing games with KDP, and you don't like the way Smashwords is selling books, there are alternatives. I found this link, which provides alternatives to Smashwords.
I'm going to review them one by one as I use them. Since Kobo Writing Life is the first one on the list, I'm starting with that one.
You begin by making an account, and you can make that account through FaceBook, Google, and other options. Unfortunately, none of those options included the simple input of an email address. My FaceBook and Google addresses are not the ones I wanted to use, but just to see the process, I went ahead and used Google.
Once I reached the sign up page, I was able to change my email address. I then had to confirm the address before setting up my payment details. I did not like that I could only accept payment directly to my bank account. I'd like to choose Paypal or Stripe, but hey, Amazon pays me directly, so no big deal.
Then, you just click dashboard, and begin publishing.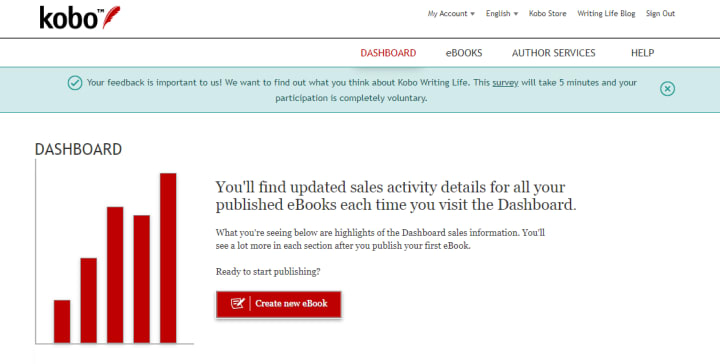 The uploading of the title, metadata, book cover; all that stuff is just like KDP or Smashwords. I like it; very user friendly. Fortunately, they accept numerous document file extensions. I went with the .doc extension. Unfortunately, the conversion encountered an error.
I tried to make the necessary corrections, but I just could not get it to work. Let me go off on a tangent real quick and tell you that I have a degree in computer sciences. I'm no dummy, and I've converted all kinds of files from one format or extension to another. Normally, the changes I prepare to my .doc file before even writing are all I need before uploading to either Smashwords or KDP, with a few minor tweaks for each respectively, and there are never any issues.
So, anyway, I tried converting a .pdf version to .epub with Calibre, and I couldn't get it to come out straight, not even executing the proper changes through Calibre's conversion tools. I then tried turning the .doc into a webpage, which Kobo Writing Life doesn't accept directly, but I ran that through Calibre and converted to .epub.
That file looked good, so I uploaded it to Kobo. Kobo provides validation results, and there were some issues, so I tried to correct them by running the .htm file back through Calibre with some more changes.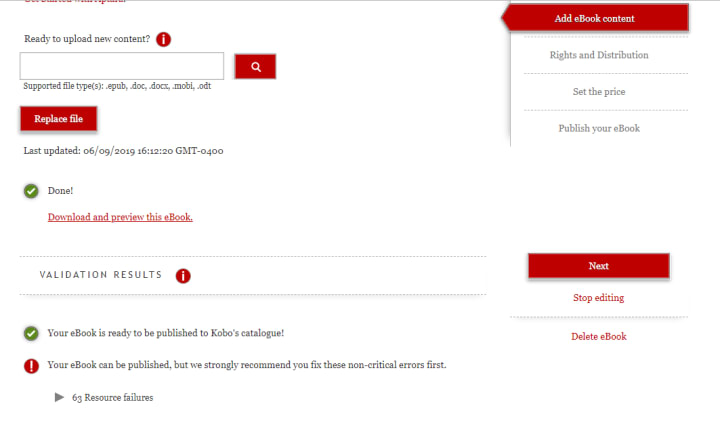 At this point, I had a good little headache going, but I managed to make those changes, add a cover for the actual .epub extension, and re… re-re-upload.
Okay, so, finally, I still saw some validation issues, but I downloaded the preview of the book file, and it all looked good to me. The cover was a little distorted, but I really didn't care; I think a square cover rather than a rectangle cover will work better for the .epub, at least the way I did it. The bookmarks and table of contents worked. The external links to my website worked. Good enough for me.
I wrapped up all the book details and went on to distribution. Kobo Writing Life has a Kobo Plus feature, which kind of sounds like KDP Select, but it's only available in Belgium right now, so whatever. I probably wasn't going to go for it anyway, especially if it meant limiting distribution through Kobo, which I don't think I can do because this ebook is already published and distributed elsewhere.
You then have the option to add the book to OverDrive, but I think Smashwords does all that. In fact, I think Smashwords adds your ebook to Kobo Writing Life to begin with if you pass the premium catalog requirements, but I really wanted to see the publishing process in the event that something happens to Smashwords, or I just want to pull my books for my own reasons.
Anyway, I then had the opportunity to set the library price, which has to be at least 99 cents, which I didn't like because I wanted the book to be free. Then, I got to set the actual price, which I did set as free. I didn't really understand why the library price couldn't be zero.
When you publish to Smashwords, you set the actual list price first, and if you set it to zero, it's zero for libraries, too, but whatever. I'm not gonna' pick nits, but I am going to complain that Amazon doesn't let you just make your ebook free; you have to send people through a gauntlet of clicking, copying, and pasting in order to prove that your book is free elsewhere. Finally, I published the book and received a message that within 72 hours, they'd let me know that everything was either fine or there were more issues, which is pretty standard.
Over 72 hours passed and my ebook was still "publishing," but there's an email address on the dashboard, which is there because this happens often. I emailed Kobo and let them know my book was stuck "publishing," and I included the screenshot to show that it had been beyond 72 hours. In about 12 hours, they had it published and ready for distribution.
One final bonus to publishing through Kobo is the numerous services they offer authors. From audio book production to reviews, they really do offer a wide array of totes cool services. Do they work? Are they reasonably priced? I don't know. That will depend on you and your book.
For anyone who doesn't want to use Smashwords, I think I can say that Kobo Writing Life is a safe alternative.
I also want to say that you'll have a much easier time uploading your file if you're already familiar with the .epub format. This can be done by using Scrivener, which I hate. I may at some point write an article just to help people understand how to format and convert different file formats for publishing, and why Scrivener is destroying their writing careers, but right now there's plenty of good information already, so just Google: "How to convert from x file format to y file format," and you can follow the steps. Just be sure to check the new format because sometimes there are unpredictable results.
I'll be uploading my ebook through another publisher next time, so stay tuned. You can find more reading, writing, editing, marketing, and publishing advice by dropping by my Editing and Free Resources tab. Thanks for reading, and tip me because I'm doing an awful lot of work to make sure you don't have to go through the same headaches I do.