Interview with Hillary Gadsby, Consummate Career Woman and Founder of StilettoGal
Marketing maven Hillary Gadsby has long since broken her own glass ceiling, so she founded StilettoGal to help other women break theirs.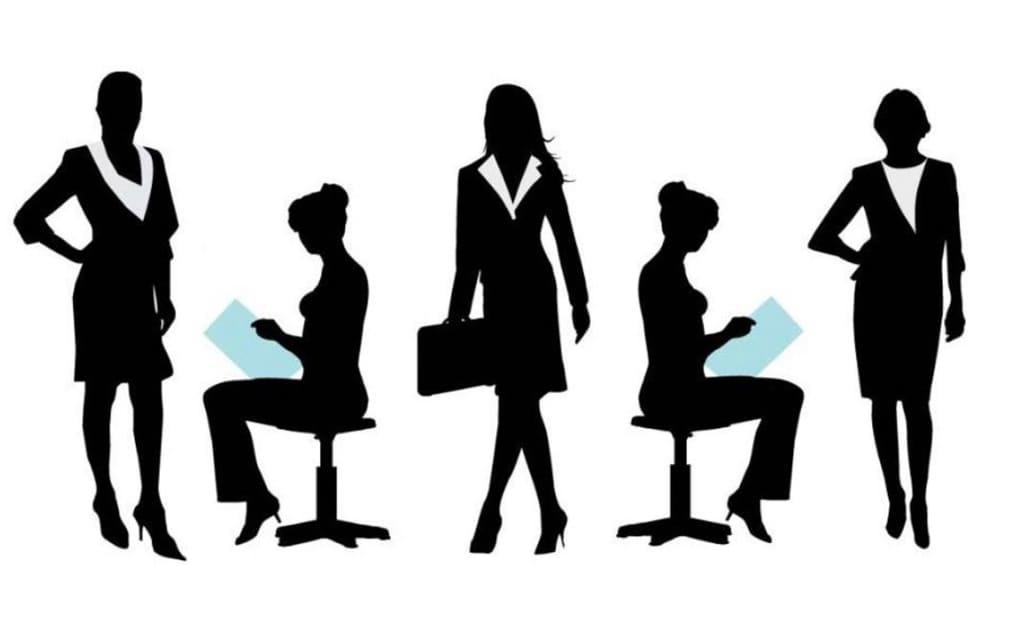 As gender equality becomes an increasingly pressing issue in workplace culture, individuals are calling out companies that require women to wear high heels to work. The thought behind this opposition is that to compel females to wear the quintessential "sexy shoe" objectifies female employees and undermines the value of the work they produce.
Hillary Gadsby has managed to turn this outdated (and thankfully diminishing) company practice and turn it on its head; she took the stiletto—a symbol of sexism—and rewrote the narrative to encourage her fellow women to own it and embrace the stiletto as a symbol for empowerment, not degradation.
Hillary is by all accounts a natural born entrepreneur, she sees needs and she fills it. She spent years earning credibility as a businesswoman vis-à-vis her strategic marketing and events firm A Gadsby Affair. Rest assured, Gadsby's day job keeps her busy, but her duties extend beyond that of a marketing CEO; she wears another hat as CVO—Chief Visionary Officer—at Stiletto Gal, a media company and global community that serves as a one-stop-shop for women in the workforce. The company offers everything from entrepreneurial training to seminars with female industry leaders, and hosts frequent events geared toward young businesswomen's professional and personal development.
Needless to say, Stiletto Gals celebrates the high-heeled shoe and all that it stands for; that is, femininity, beauty, power and confidence. Journal sat down with Ms. Gadsby to walk a mile in her stilettos to learn more about what motivates her to help break all those glass ceilings, and talk about Passionistas: Tales, Tips and Tweetables From Women Pursuing Their Dreams. Naturally, Hillary Gadsby was asked to contribute her story—in fact, we imagine she was something of ashoe-in...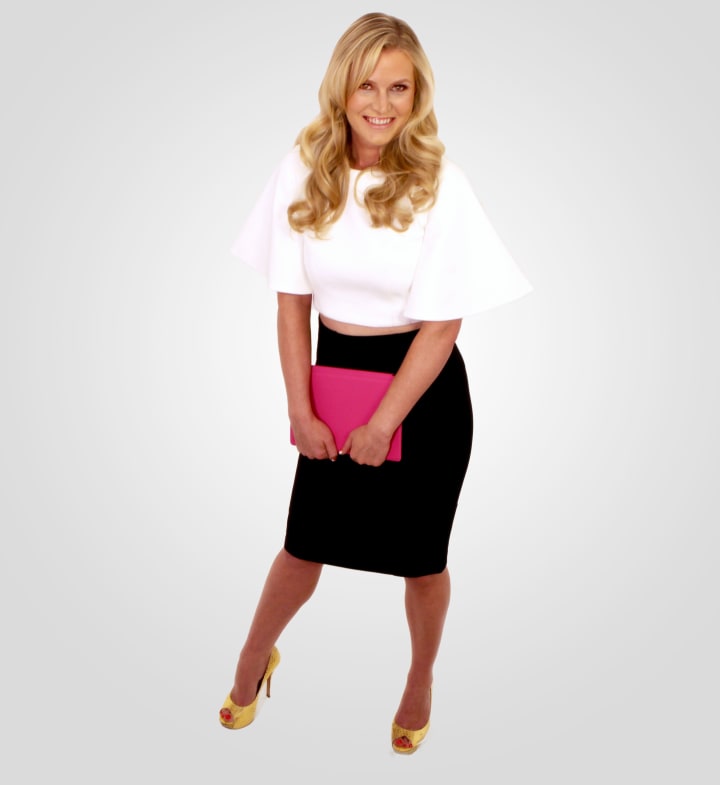 Journal: Gender inequality—particularly in the workplace—is not a new discovery, but do you recall the first time you personally encountered it and had the realization that, fair or not, you would have to work extra hard to prove yourself?
Hillary Gadsby: Absolutely. I have faced many gender inequality-related issues, but the one that really sticks out the most is an incident that occurred after I had to do a pitch in front of a prospective client—an investment-banking firm. I had to pitch in front of 17 managing directors of the firm. All of them were men. I was completely professional, brought my best work to the table, and the presentation went very well. I was so proud of myself; I'd completely nailed the presentation, and the managing directors I had pitched to were entirely impressed. Then, it happened. An hour after the presentation, the guy in charge of handling the project contacted me to ask me out on a date. I turned him down—I was already in a relationship, and I do not like to mix business with pleasure. From that moment, the project was completely shelved.
What was your very first job?
My very first job was babysitting. Even though I was just ten years old at the time, my services were highly sought after, and this led to me quickly creating my own babysitting business. I had too many families to handle myself, so I recruited my friends to help. I made a profit on each friend—they were my employees.

What finally prompted you to create this platform in addition to your marketing firm A Gadsby Affair?
When I started my marketing firm in 2008, I could not find any agency or event company that combined marketing and business development into one. 2008 was a tough year economically, and companies were not getting a return on investment for their events. I am a natural born connector and networker, so I decided to create a business that was all about making connections and garnering personal interaction skills to grow one's business. In starting StilettoGal, I wanted to create a platform for women to be inspired by other women. I didn't have female mentors when I started A Gadsby Affair so, I wanted to create a portal for inspiration, connections and collaboration between women in business.
In 10 words, what is a Stiletto Gal?
A Stiletto Gal is "a businesswoman/entrepreneur who seeks to inspire other businesswomen/entrepreneurs!" We are a global portal for women in business, and the voice of the next generation of women business leaders and entrepreneurs. We inspire, educate, and connect through written content, digital content, and our events. Joining our community is free of charge. You can sign up on stilettogal.com!
Your target audience appears to be primarily Millennial. Are there similar platforms that exist for women who want to develop these empowerment skills at an older age?
Our target audience is Millennial, however we cater to woman of any age who are looking to make connections and succeed in business. Our content is geared toward inspiring the next generation of business leaders, but that doesn't mean she has to be a millennial! You don't have to be young to create the life you want, and succeed!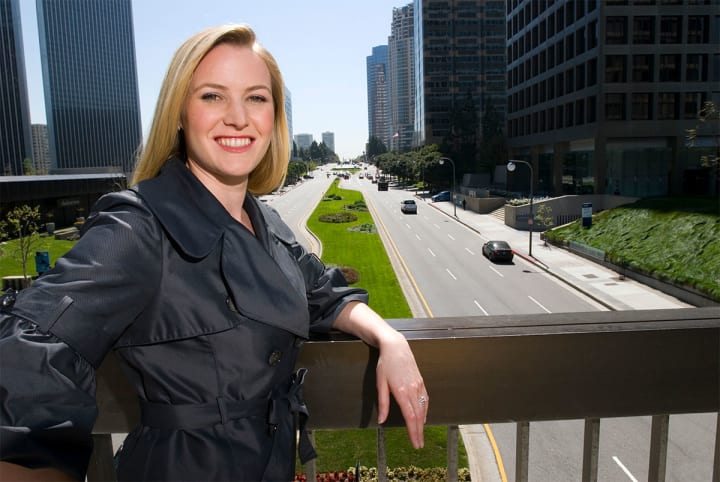 What was the biggest career risk you've taken thus far, and how did it turn out?
It was a huge risk to start my own business in an economic time that was challenging, but it felt like something I needed to do. It was like a calling. I have had my company for eight years and have found consistent success with it. We have had amazing clients in the last few years, including Toyota and Four Seasons!
Do you wear stilettos to work?
Not everyday. However, most days, when I have meetings outside my office, absolutely yes, you will always find me in stilettos. My personal brand is very important to me, and stilettos are part of that brand.
Who was your role model growing up and why?
My mother has always been my biggest role model. She has always been an entrepreneur herself, and each time she failed, she got right back up and started over. I have never met anyone more resilient than her.
Your speaker series features strong women from different industries to address young, ambitious female entrepreneurs: who would be your dream guest speaker and why?
Diane Von Furstenberg would be my all-time dream speaker. She created an empire with such persistence, resilience and class. Any woman would be lucky to learn from and be inspired by her.
One of the major points of contention when it comes to women in the workforce has to do with paid maternity leave. What do you tell women who want to have kids but maintain their career? Do you advocate for paternity leave, too?
This is a tough question for me because I am not a mother and do not have any personal experience regarding this issue or the challenges that new mothers face because of it. But I do believe that women are the stronger of the two sexes and can do anything if they put their minds to it. And of course paternity leave is also important. All parents deserve to have time to be with their newborns.
When it comes to the typical issues women encounter in business, how much of the problem is internal (a function of her lack of confidence) versus external (result of being a "woman in a man's world")?
We have more opportunities today than ever before. I do believe that we need to teach the next generation collaboration skills and how to have more self-confidence. The more collaboration we provide, the more confident we feel. If you have someone to hold you accountable and guide you, big things can happen. We are still lacking in the funding area, however. Women are starting businesses worldwide at 1.5 times the pace of men. In this country, only 4 percent of venture capital goes to women.
Professionally speaking, what has been the most powerful or effective marketing campaign you've seen that advocates for female empowerment?
Honestly, I haven't seen one yet. I eagerly await one that really speaks to me.
What attracted you to work on Passionistas?
Erika De la Cruz and I met on Facebook. I was skeptical at first, as most compilation books don't do much in my opinion, but after meeting her in person I just couldn't say no. She has this infectious spirit about her that you can't replicate. She has so much passion for helping others. I knew I needed to jump right in and be part of this project.
What was your biggest takeaway from that project?
My biggest takeaway is the business relationship I have built with Erika. We are launching a college tour together in March that will focus on Latina, African American, and Asian women.
If you could have dinner (or go stiletto shopping) with any woman in history, who would it be?
Audrey Hepburn. She defines elegance.
What is your favorite or most inspiring quote?
"I never knew what I wanted to do, but I knew the kind of woman I wanted to be." —Diane von Furstenberg
The chapter you wrote for Passionistas is titled "Chores, Choices & Ralph Lauren"; we're intrigued, can you summarize that story into a few sentences?
My chapter is about connections and how important they are in both life and business. It is also about having the courage to take risks, get yourself out there, and make connections.
What's the last book you read?
Passionistas, of course! ☺
What venture can we look forward to next from Stiletto Gal?
I have teamed up with an extraordinary female entrepreneur to launch The Boss Box, a quarterly subscription for women in business and female entrepreneurs. It will include everything a woman needs to lead a Boss life! I'm so excited to share it with you all very soon!