#Instagood: How to Use Instagram Hashtags for Digital Marketing in 2021
Answering all your questions about the best practices for using hashtags on Instagram in 2021.
If you're like me, you started off using the Instgram hashtag "tbt" to note that a picture was for Throwback Thursday, even though it was clearly Thursday and your picture was clearly a throwback. Thankfully, we now know much more about the important role that hashtags play in the digital world.
As Instagram's algorithm continues to evolve, hashtags become increasingly more important to get right. With the ability to follow a certain hashtag came the power for a brand to land their post right in the feed of their targeted audience– it doesn't get much better than that.
So let's dig into the best practices for using hashtags in 2021.
Why Should You Use Hashtags on Instagram?
A post with at least one hashtag receives an average of 12.6% more engagement than a post without hashtags, according to marketing platform Later, making the hashtag an important tool in growing your brand and reaching new people.
Instagram hashtags have two functions: to categorize content on the platform and make it more discoverable. They're basically a filing system for the wonderful, chaotic world of Instagram. So, when you hashtag your post, it will appear on the corresponding hashtag page that Instagram has created.
Hashtags are best used when you keep in mind that their purpose is to help people on Instagram discover things they're interested in, and to help brands reach the people that are looking for you. When used correctly, hashtags can successfully place you in front of your target audience.
Instagram Hashtags Best Practices
As with anything in digital marketing, you want to be strategic with your use of hashtags. Let's answer some questions we all have about the Instagram hashtag.
How many hashtags should I use on Instagram?
While the platform allows for you to use a maximum of 30 hashtags per post, a Social Insider study found that posts with 27-30 hashtags don't receive maximum engagement.
The study also found that the best practice for the number of hashtags to use varies with profile size, or the amount of followers you have. For example, profiles with less than 5,000 followers performed best when they put 6 hashtags in their caption, while those with 10,000 to 50,000 followers saw peak performance when they used only 2 hashtags in the caption of a post.
The average amount of hashtags used per post is 11, according to Hubspot, but that doesn't mean it's the number to go with. When it comes to amount of hashtags to include in a post, your brand should find the range that's right for you by experimenting with hashtags and analyzing which posts have the most engagement, highest reach, and most impressions.
Should I hashtag all of my posts?
If you're looking to expand reach and engagement, you should definitely use hashtags in every Instagram post, but your hashtags should not be identical in each post. While using similar hashtags is acceptable, you should vary them based on the content in that specific post.
Can you use hashtags in the comments?
While important, hashtags aren't the most visibly appealing or easy on the eyes. You work had to create the most perfect Instagram feed, and that shouldn't be ruined by a deluge of hashtags as soon as you clock into the post.
Good news– hiding hashtags is completely acceptable! Instagram's algorithm doesn't distinguish between hashtags in the caption of a post and hashtags in the comments, which means you can put your hashtags in the first comment of your post and it will still show up on the designated hashtag page.
Another piece of good news: only the account that created the post can use hashtags in the comments, meaning spammers (or even well-meaning fans) won't be able to determine where your post ends up via its hashtags.
To put the hashtags in the comment section, you create your Instagram post as you normally would (sans hashtags) and upload it to Instagram. Then, find your way to the comments section of that post and create a comment with your chosen hashtags.
Here's what it looks like when you hide your hashtags in the comments section: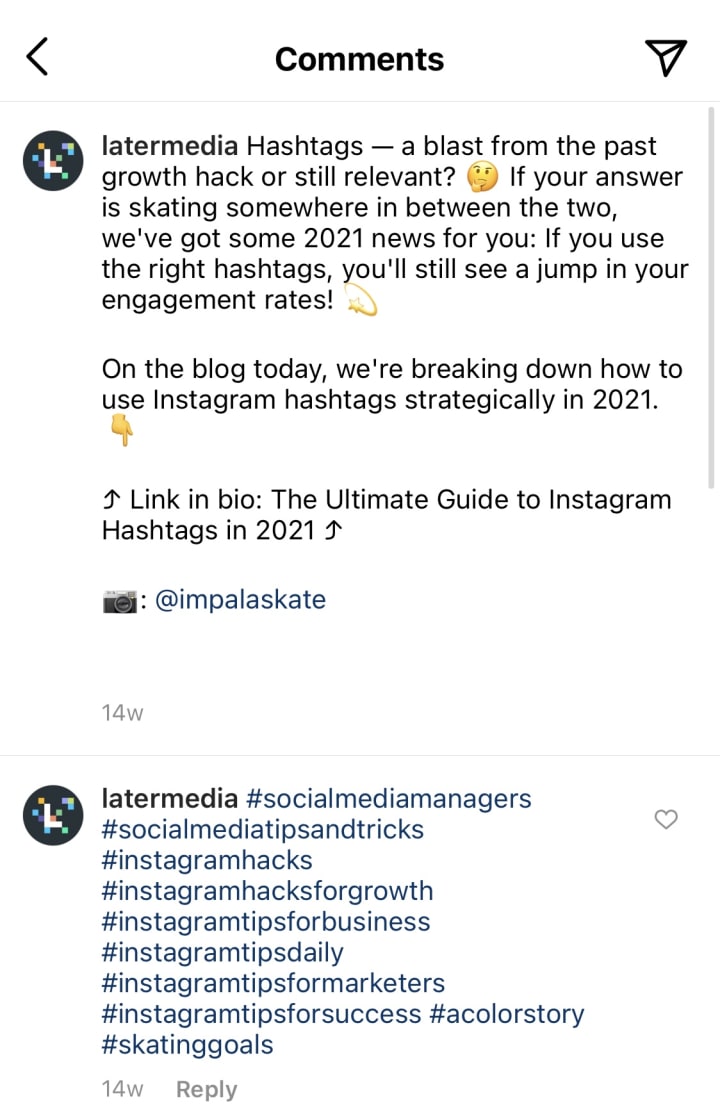 There's one other method of hiding hashtags that does not involve the comments section. To hide your hashtags in the caption, you can:
Create a caption that is longer than 3 lines
Create 3-5 line breaks with punctuation marks (like periods)
There is one caveat to the practice of hiding your hashtags; the best practice for hashtag placement actually varies based on the size of your account. The aforementioned hashtag study done by Social Insider found that Instagram accounts with more than 100,000 followers see a better reach rate when they place their hashtags in the comments. On the flip side, profiles with fewer than 100,000 followers perform better in terms of reach when hashtags appear in the captions of posts.
Should I use the most popular hashtags?
While it might be fun to take a look at the most popular hashtags on Instagram (like #instagood), actually using them will do little to promote your post and expand the reach of your social media efforts.
In fact, you actually want to choose hashtags that are as niche as possible. You'll have more of a chance to be seen by those who follow a hashtag if there is less content aggregated within that hashtag.
How do I find the best hashtags to use?
The best hashtags for your brand are those that connect you with the audience you're trying to reach. As mentioned, it's better to use more niche hashtags to avoid getting lost in a sea of posts. Your hashtags should be brand-specific, but they should also be post-specific as well.
Generally, there are three different types of hashtags that brands want to consider:
Branded Hashtags. Branded hashtags are those you create to be specifically relevant to your company. Branded hashtags have the added benefit of giving your audience a virtual "space" to share their own content about you and your brand, which then gives you the opportunity to find user-generated content. Having an online community in which people post your brand simply because they love it means you've reached the ultimate goal of content marketing: guiding a person from the awareness stage to the promotion stage of the customer journey.
Campaign Hashtags. Campaign hashtags fall into the realm of Branded hashtags, but they are less permanent. Campaign-specific hashtags are what they sound like, meaning they are tied to a specific campaign that your brand is running. Campaign hashtags can help build engagement over a short period of time for marketing efforts like a product launch, sale, event, or partnership. Check out Dove's caption in the post below for an example of a Campaign hashtag:
Community Hashtags. Community hashtags are more general than Branded or Campaign hashtags and seek to help people in your online community find your post. Community hashtags range from specific products that you sell to common related phrases or industry terms.
Finding the best hashtags for your brand takes a dedicated combination of research and experimentation.
Take a look at your audience, competitors, and –the Holy Grail of Instagram– the influencers. Check out the hashtags that these accounts are using and see if any are relevant and could work for your brand.
You can also use the Instagram search to find related hashtags. When you're creating a post, type the topic into the search bar and select "tags" from the menu in order to see other hashtags people are using. At the very least, this research will give you an idea of what people on Instagram are talking about.
Can I use hashtags in an Instagram Story?
Yes! You can use up to 10 hashtags in an Instagram Story in the form of a sticker or text.
Hashtags in Stories differ from those in posts as your Story is not guaranteed a spot on the corresponding hashtag page. Instagram chooses Stories to be featured based on engagement and quality of the content.
Summary: Quick Hashtagging Tips for Brands
Use hashtags in every post, but vary your selection from post to post.
Experiment with the amount of hashtags you use per post.
Consider the hashtags that are used on the accounts of competitors, industry enthusiasts, and relevant influencers.
Make quality Instagram Stories and use relevant hashtags in them.
Find niche, topic-specific hashtags.