Infosys is hiring Java- Developer
Apply Link is Given Below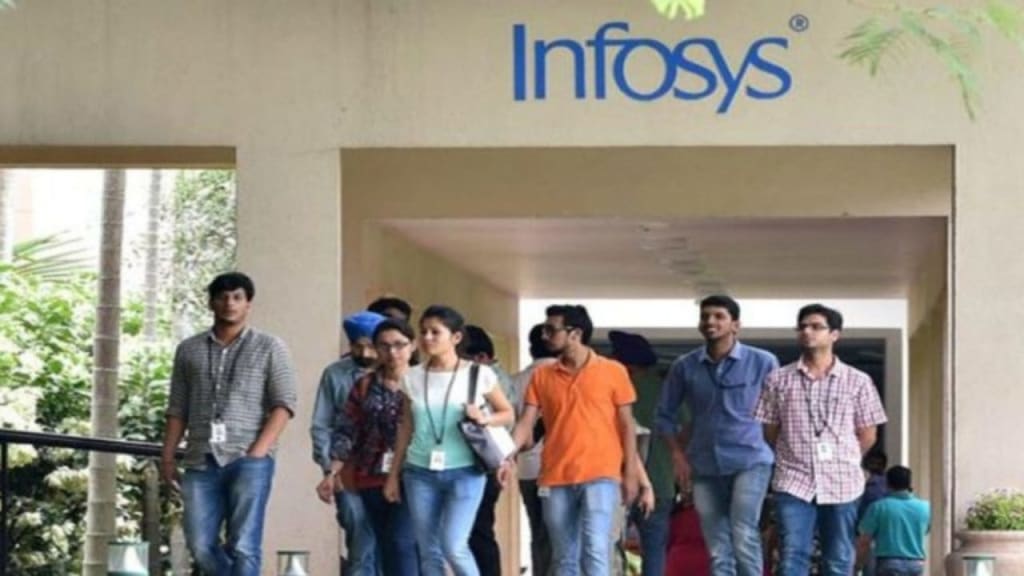 Source: Google.com
Educational Requirements
- MCA,MTech,BTech,Bachelor of Engineering
Service Line
- Application Development and Maintenance
Work Experience
- 2 Years and above
Job Title
- Java Developer
Responsibilities
A day in the life of an Infoscion
• As part of the Infosys Delivery team, you will work on implementing designs, developing high quality programs and systems, partnering with our clients to ensure high quality deliverables.
• You will create technical artifacts and be the first point of contact in responding to production issues and conducting any technical analysis to arrive at solutions
• You will share your learnings from projects through knowledge management initiatives and leverage knowledge from other projects to drive high efficiency and effectiveness
• You will be a key contributor to building efficient programs/systems and if you think you fit right in to help our clients navigate their next in their digital transformation journey, this is the place for you!
If you think you fit right in to help our clients navigate their next in their digital transformation journey, this is the place for you!
Additional Responsibilities:
• Advanced conceptual understanding of at least one Programming Language
• Advanced conceptual understanding of one database and one Operating System
• Understanding of Software Engineering with practice in at least one project
• Ability to contribute in medium to complex tasks independently
• Exposure to Design Principles and ability to understand Design Specifications independently
• Ability to run Test Cases and scenarios as per the plan
• Ability to accept and respond to production issues and coordinate with stake holders
• Good understanding of SDLC
• Analytical abilities
• Logical thinking
• Awareness of latest technologies and trends
Technical and Professional Requirements:
• Primary skills:Java, Spring, Hibernate, Springboot, Microservices
• In-depth knowledge of design issues and best practices
• Solid understanding of object-oriented programming
• Familiar with various design, architectural patterns and software development process.
• Experience with both external and embedded databases
• Creating database schemas that represent and support business processes
• Implementing automated testing platforms and unit tests
Preferred Skills:
Java
Careers at Infosys
At Infosys, you will have the opportunity to solve some of the toughest challenges of our customers and help them discover problems worth solving. In your journey with Infosys, we will equip you with the necessary tools, trainings and coaching to keep your career moving ahead. Your experience is cherished and celebrated at Infosys! Infosys allows you to explore domains and technologies beyond your past experiences. Move forward in your career with Infosys.
All of you who join us in India directly after graduation, start off with training at our Global Education Center in Mysuru. When you complete the training, you are allocated to an industry project based on your skills or interest area. As soon as you start contributing to a project, several learning and growth options become available to you. Here are the different roles that we hire for from campuses.
Welcome to Infosys Careers for Experienced Professionals
As a leading provider of next-generation consulting, technology and outsourcing solutions, we are dedicated to helping organizations in over 46 countries to renew their core and simultaneously innovate into new frontiers. Whilst we constantly challenge convention, some things remain unchanged: the unwavering ethics, transparency and respect behind everything we do. We will always be a company powered by intellect and driven by values.
So, if your passion is to build solutions that really make a difference to enterprises, the community and your world, Infosys is the right place for you.
For more information about Infosys or career opportunities please visit us @ www.infosys.com
ABOUT INFOSYS
Infosys is a global leader in next-generation digital services and consulting. We enable clients in 46 countries to navigate their digital transformation. With over three decades of experience in managing the systems and workings of global enterprises, we expertly steer our clients through the many nexts of their digital journey. We do it by enabling the enterprise with an AI-powered core that helps prioritize the execution of change. We also empower the business with agile digital at scale to deliver unprecedented levels of performance and customer delight. Our always-on learning agenda drives their continuous improvement through building and transferring digital skills, expertise and ideas from our innovation ecosystem.