I Was a Disney Ambassador!
What It's Like and How I Did It!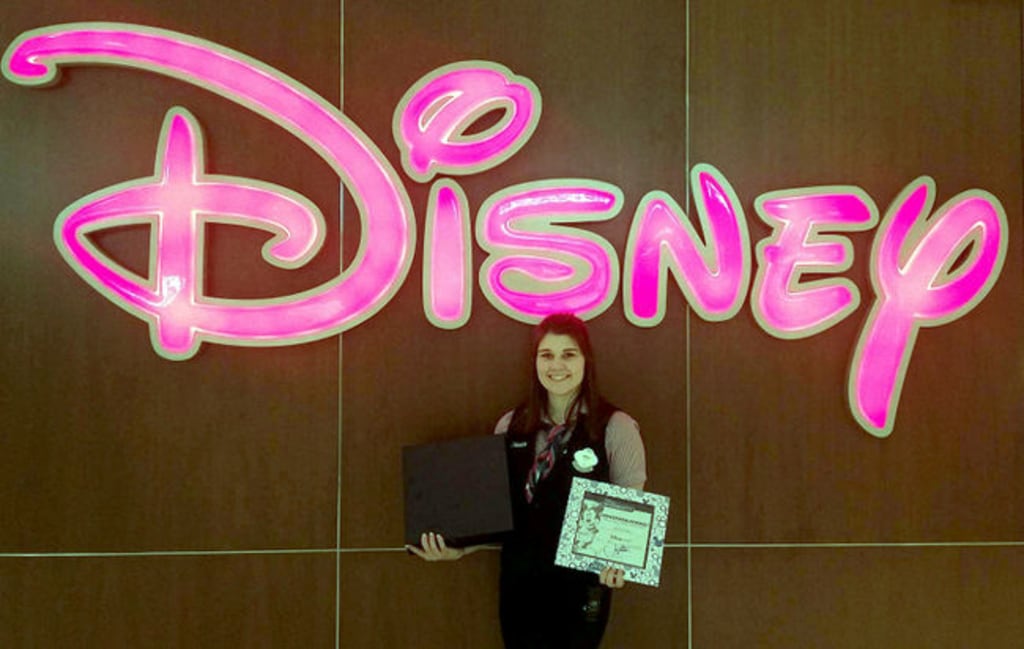 When you think of big brand names with big brand images, the Disney Company probably pops into your head. As it should, it is a billion dollar company that is well known and represented globally. Never in a million years would I imagine myself a Disney Ambassador. What is a Disney Ambassador and how did I do it? Let me tell ya.
What exactly does a Disney Ambassador do?
It is a Disney Ambassador's duty to ensure that all team members are up to date on all things Disney. Knowledge about the company, the store, merchandise, movies, policies, everything! Make fun ways for everyone to get involved.
In return, Disney certainly treats you well. All Ambassadors get access to exclusive merchandise and even get to see all Disney movies in theaters for FREE!
How did I do it?
First of all, I live in Canada and have never worked in a Disney Park. Crazy, right? I did, however, work at my local Disney Store. Working for a Disney Store has many of the same perks as working in the parks. I was hired with the opening of a new store and during training was told about this incredible opportunity called the Disney Ambassador Program! I immediately thought to myself, I will do that! Little did I know it would take me ten months to reach this goal.
The rules to applying were simple. You must work for the company for six months before submitting an application, and your application must be an essay answering the question, "Why do you think you would be a good Disney Ambassador?" On the six month anniversary of my date of hire, I handed in my Ambassadorship application. A three page essay explaining why I thought I would be a great Ambassador. To my surprise, I was one of two cast members who applied.
The next step was a four week observation period. My managers would treat every shift I worked like a test or a trial run to my ambassadorship. They would observe my actions with guests and fellow cast members, they would take notes, give me feed back, ask for my thoughts on my performance, and provide criticism on how I can improve. It was a long four weeks and a lot of pressure. But this was only step two. This is when the other applicant dropped out.
Step three was a Disney knowledge test, and a knowledge test unlike any other! This is not your average Disney fan trivia test, This was an evaluation on your knowledge of all things Disney.
Disney Company history
Movie knowledge
Character knowledge
Song knowldge
Merchandise knowledge
Store policies
Company health and safety
You name it and it was on this test. To make it even harder, it was not multiple choice. There was even a short and long answer question portion of the test. I studied harder than any school test I have ever taken (Shh, don't tell my parents!) The passing grade for this test was a 75 percent!
I PASSED! But wait, that was not the final step.
All of my work up to this point was collected and reviewed by my management team. My essay, my observation notes, and my tests were discussed between them and they decided whether or not to submit my application. Thank God I had a great relationship with my managers because they approved it and sent it to head office. There they would decide my fate.
One month later, and four months from my original application date at a cast member meeting, I was surprised by a big celebration appointing me the first Disney Ambassador of my city! I was thrilled! The celebration was completed with an induction kit full of Ambassador goodies (You know how us Disney fans love our exclusive merch!).
In the kit was a framed certificate signed by Jonathan Story, Head of Disney Store; a Disney Ambassador pin; a scrapbook to keep track of my ambassadorship, and this all came in a very fancy Disney box!
This was an incredible experience that makes the Disney fan in me jump for joy! To anyone wanting to become a Disney Ambassador, I say do it! It is hard work, but with a little faith, trust, and pixie dust, you can achieve it!
business
About the author
Crazy Disney fan by day, but by night... I am also a crazy Disney fan!
I am a former Cast Member absolutely in love with all things Disney!
Reader insights
Be the first to share your insights about this piece.
Add your insights