I Found Success on YouTube. Then I Walked Away
My Journey from Viral Sensation to Purposeful Disconnection.
The Beginner's journey
Being a successful creator on any platform takes a lot of work. You toil away in the early days hoping to find traction, you tweet into the void, write for hours every day to no audience, film videos, edit, and publish to get a handful of views. It's brutal. If you're a creator of any kind, you know what I'm talking about.
The Early Days
The first time I filmed a Youtube video was in 2010, I had a crappy phone that had a 2.5MP camera. I knew YouTube was a thing but didn't fully grasp how powerful it could be in self-expression. I filmed a 10-second video, published it and never looked at it again. In fact, I realized that this video existed only 4 years ago — about 9 years after it had been published.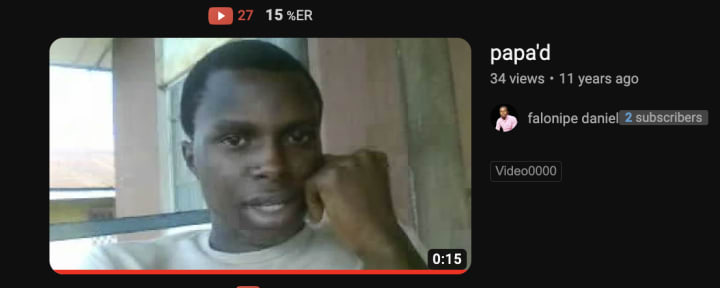 In 2018 I began to take YouTube seriously again and posted a few videos here and there — some about my life as a Doordash delivery driver, then some about how to grow a YouTube channel — Even though I only had 35 subscribers, the irony!
It wasn't until 2020 that I started to take it very seriously and a few months after that growth came into view. One video started to do well and the subscribers trickled in.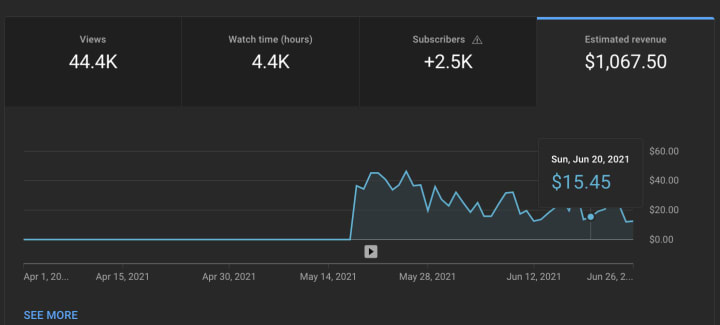 "Do what works" — Don't!
I used to watch a lot of YouTube growth channels — and the advice they gave was quite similar — "when you find something that works, double down", and "When you try something and it works, do more of it". That's what I did.
So, what was the video that did well? It was a video I made about Facebook dropshipping. Like anyone who had tried to make any money online, I came across the dropshipping business model. I mean it was all over YouTube and everyone and their grandmother seemed to be making money from it, it seemed, except me.
After a lot of trials and failures, I gave up. But then I discovered Facebook Marketplace Dropshipping. It was the height of Covid and everyone was stuck at home, Facebook introduced the shipping option to their marketplace feature and I simply copied the business model of dropshipping — I saved pictures of items from Amazon or eBay, uploaded them to Facebook, and marked up the original price by 50,70, sometimes 100%, if it sold, I kept the spread. Simple!
This video caught everyone's attention as the method was new and unsaturated.
I made follow-up videos to the one that was getting a lot of views and my subscribers started to increase. In less than 2 months, I'd gotten 1,000 subscribers and my channel got accepted into the YouTube partner program very quickly.
Getting Monetized
In the first two weeks of monetization, I made nearly $700 with just under 11,000 views. If you know anything about YouTube monetization, you'll know that these numbers are insane. My CPM was close to $100. CPM is how much advertisers pay per 1,000 views. When I showed this number to people, they would always say that it was the highest they'd ever seen.

Weeks went by, and it seemed like I'd finally cracked the code. Every video was getting good views and my subscriber count increased.
Deep down though, I dreaded what I was doing. I was only dancing to the algorithm's tunes. The first indication of this was when I tried to make a video about a different topic that wasn't dropshipping, my video barely got any views compared to the usual numbers. This crushed me. Panic set in. I wasn't enjoying these dropshipping videos, my audience wanted nothing else. But the ad revenue was very good and many brands wanted to collaborate with me.
Eventually, I sat down and thought very deeply about it. How much longer could I keep doing what didn't make me happy? It seemed wrong, I felt like an imposter, like a failure in fact.
Pulling The Plug
One morning, in my Airbnb apartment in Mexico City, I made the ultimate decision to change the direction of my channel. At this point, it had only been 6 months since my first viral video. I felt sad but relieved at the same time. It felt like I'd shed a huge weight off my shoulders. I didn't have to play to the algorithm. Now I could make whatever content I felt like making.
I set all my videos prior to that time to private (all 55 of them) — meaning no one could see them except me. I gave myself time to mourn the loss of my short-lived YouTube success, then I went in a totally different direction.
These days, I share content about remote work, travel, global living and a life less ordinary. I've since created another channel where I talk about online marketing and monetization. On these two channels, I have a combined following of just under 8,000 subscribers.
I no longer obsess over metrics but create content that I truly love and enjoy.
Final thoughts.
When you find a tiny bit of success after a long period of suffering, it may feel as though it could get ripped off you at any moment. Maybe it could, but think about the misery of not enjoying success when it finally comes. No one should have to endure that.
If you did it once, you can do it again.
As I type this, the music playing in my Airpods is titled 'Waiting for you' by Majid Jordan, and the lyrics go… "Hang on, there's another one waiting for you. Hold on to your truth."
If you find this piece interesting, check out my other writings and I'd love to hear from you in the comments.
About the Creator
3 years ago, I said goodbye to 9 to 5 to travel the world - I share what I've learned about online creation & savvy monetization.
X (formerly Twitter) - ifdanieldid
Reader insights
Be the first to share your insights about this piece.
Add your insights