How to Use Directional Signs to Promote Your Business?
Are you looking for ways to expand your real estate business? This story is for you.
Shaped Real Estate Directional Signs
Wayfinding signage helps you direct people to your desired place. In the real estate business, you could use professional real estate directional signs for a couple of purposes. These signs could direct prospective clients to your office base, open house event, or for sale properties. First, we need to find a place that has this product for sale at a reasonable price. There are various printing companies that are active online like Agent Print. Ordering from these professional printing suppliers is simple. Ordering directional signs is the first step. Next, we need to see how to use them. This way, we can make sure that we will see their full effects. Also, we need to know how they help us boost our sales and the number of closed deals.
Keep It Simple
There are signs that you can load with information and pictures. Directional signs are just not one of them. The best tip for these wayfinding signs is to keep them simple. The message should be concise and to the point. An arrow and the name of the place to where you intend the attention to go might be enough. Maybe you can add some more information such as your logo and minute details. But still, make sure it does not get messy. Use fewer colors and patterns. A minimal design would do most of the time.
The Variety of Directional Signs
The thing about directional signs is that they do not have fixated layouts. You could choose from a wide range of options and for many purposes. Their versatility is to our advantage. There are square directional signs in a range of sizes. Is your area of installation big enough? Then choose bigger signages to fill the space. It would be more eye-catching, as well. Where can you check these different options on sale? The website of our initial example, Agent Print, has a thorough list of things you could offer. Many online real estate printing websites now give you access to see their catalogs online with a few clicks.
The other choices are unique shapes used in the wayfinding signage world. What encompasses the idea of a homely property on sale more than a real estate house-shaped directional sign? Hold tight, and do not get too excited yet. There are other options, as well. The arrow and circle-shaped directional signs are just as unique. There is an arrow under the circle to better direct people to the precise side. So, variety is never a problem in the wayfinding signage world. You could check all the options and see which ones are more suited for your property listings.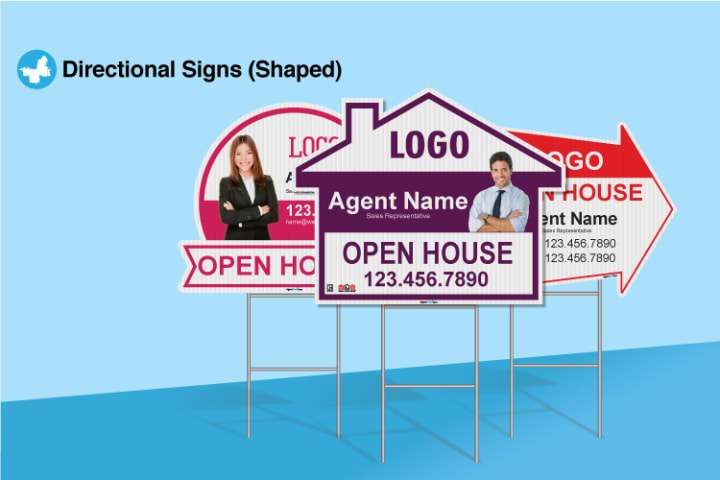 What options are there?
Square directional signs
Arrow
Circle
house
Go Hard or Go Home!
This slogan might be a little too imperative. But the truth is that keeping your signs minimal does not mean they should be boring. Keep them exciting by using bold colors. It is better to use the colors in your logo to keep things meaningful, however. Anyways, use bold, readable fonts that are open to view even from a distance. Put yourself in the shoes of your clients. See how they perceive your signs. Are they understandable or confusing? Is the information clear and correct? Can people who are color blind make up what it says on the signs? There are color blind palettes to which you can refer. These small details differentiate you from others in the business. Always be open to new ideas and learn from everything around you. These signs will show you how effective they are, provided you use them wisely.
Promote Your Brand
Furthermore, directional signs help you save resources. Without them, you would need to set someone to direct people in the intended direction. This additional need for the workforce seems unnecessary. Have you ever gotten lost? It brings up feelings of distrust. Well, people might not get lost in an open house, but people tend to get overwhelmed even if they do not show it. The clear path to your event illustrates how thoughtful you are. It reflects on your work etiquette. So, promote your branding wherever you think a real estate directional sign may help. Also, be careful to place them not too far away or close to the final destination. This placement is something you would learn in time.
Your design needs to be:
Inclusive of colorblind people e.g.
Eligible
Bold
Minimal
Building trust
Promote your business
Go for High-Quality Signs
The better the quality, the more you can use it. This reusability is profitable both for your company's economy and the earth. So, go green by purchasing high-quality signs. These signs are placed in outdoor places most of the time. It is natural for them to lose their first-day quality after some time. They may get damaged, or their colors might wash off. So, it is best to think of these situations beforehand. For example, on Agent Print, there are two quality offers. Both are two-sided, which is another positive point to look for. As you may have spectators from both directions. One is a 4mm Coroplast real estate directional sign, and the other is 10mm.
Both have the durable and positive features of Coroplast material. What is this material? Well, Coroplast is a kind of corrugated plastic. It is highly durable and immune to most weather changes. But we can be sure that the 10mm one bears the weather conditions and environmental effects much better. So, if you know you usually set your open house events at a specific day and time, you could order the best quality offer. This way, you will have your signs ready for each event prepared and ready.
Keep Your Directional Signs up to Date
If there is any information on the sign that has changed, it is time to change it altogether, as well. A directional sign with misinformation is worse than no signs at all. What is the point of placing a sign? Imagine that it has a time and date on it, which is not correct. So, proofread your sign multiple times. See if every detail still holds true to this day. See things from the perspective of your clients. Would you trust a real estate agent who is careless about these things? If you are busy, let someone you trust to take care of these things. But never underestimate the power of advertising and building trust.