How to Switch Career in DevOps
How can I learn DevOps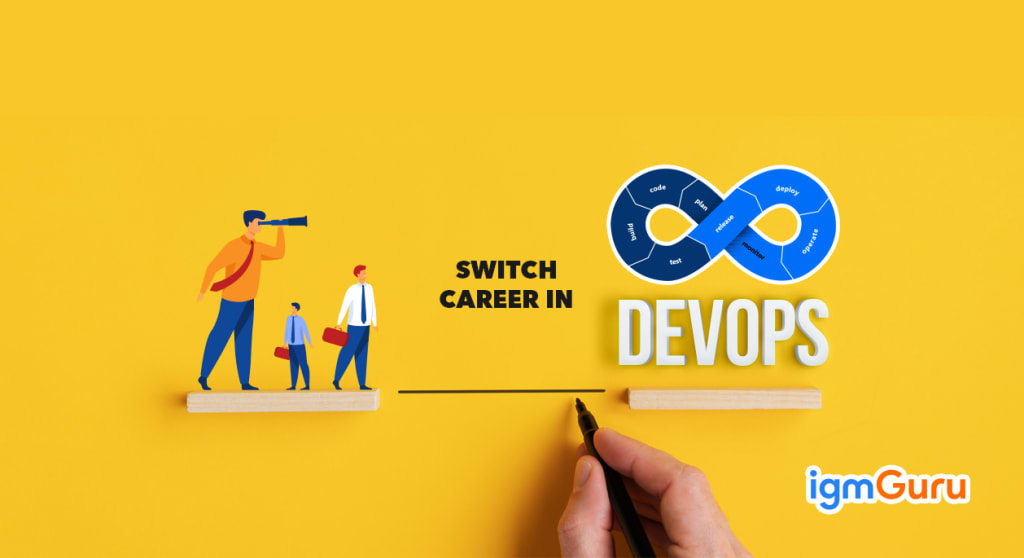 Introduction
Have you ever heard of career frustration? Do you feel anxiety about your profession, no idea of your future?do you feel insecure in your career?
Then it's high time for you to switch. Switching your career to DevOps would not only bring back your lost happiness but also a hike in salary, prestige, and position. Isn't this the thing you want?
DevOps works like a filter removing the hurdles between development and operations. Under the banner of DevOps, teamwork in perfect collaboration, helping in the development of software to its deployment.
DevOps is gaining a market of its own, slowly and steadily. Due to its objective of shortening the system development life cycle and providing high-quality continuous software delivery, many industries are opting for DevOps nowadays!
Why DevOps
There are a few reasons why DevOps Course is so much in Demand:
1. Cloud Certification
DevOps has cloud certification with no chance of failure. Every application is changing to cloud-based platforms. In DevOps, cloud processes are complementary and it needs a proper deploying process to change in the main platform. That is why DevOps engineers are hired.
2. Industry Domain Knowledge
DevOps is the most spoken word in the IT domain. DevOps established industrial domains and reduces the time between two changes. DevOps ensures high-quality software delivery. That is why industrialists hire salaried DevOps engineer for their automation, configurations, continuous seamless integrations to make the most of the profits.
3. Development in Data Science
DevOps also helps in data science works by providing for the infrastructure, continuous integration, and monitoring, DevOps creates close collaborations of data science teams to produce high usage of data. DevOps engineers assist the data scientists in working together to perform a series of tasks.
4. DevOps Increases Efficiency
DevOps helps in the acceleration of tools and due to continuous integration, it increases efficiency and also reduces the amount of manual work required. It is less prone to errors and helps the software engineers complete unautomated tasks. It also helps in creating parallel workflows.
5. DevOps Reduces Cost and Deployment Failures
The most important benefit that a company can achieve is to reduce the cost of hiring multiple staff. DevOps not only reduces overall cost but also promotes successful deployments. by making shorter developmental cycles, it makes it easier to correct and identify small coding defects.
So now we can see why DevOps is so much in demand in today's' market. Now a question arises," what are the criteria and skills needed to switch a career into DevOps?"
Skills Required to be a DevOps Engineer
Following are some of the skills and qualifications that every company lookout for in their DevOps engineer certification:
1. Flexible nature!
Coding always needs to be updated. It is an ever going phenomenon just like the development of a child. A successful DevOps engineer must be flexible. He should have the ability to develop his new systems and operations into the code continuously. They must be comfortable with moving from one department to another for testing, releasing, and deployment of software.
2. Competency with Security Skills
Since DevOps brings a faster cycle of development, the risk of vulnerable to cybersecurity issues always prevails. So, engineers must have the knack to write security codes to protect their work from hijacking and stealing. The engineers must have competency in protecting their systems from cybersecurity vulnerabilities and unwanted attacks.
3. Ability to Collab
Every DevOps engineer should have the ability to collaborate with others in creating software development of the finest quality. Working in a team with providing more cross-functionality within the development process. So, you should learn how to collaborate with others.
4. Instant decision-making Capacity
All DevOps engineers have required one special talent. They should have the capacity to take an instant decision. Different types of problems, issues, and other problems arise every day. And an engineer has to fix this as fast as he can. Quick decisions allow the engineer to form a coherent relation with other workmates and this would bring rapid development in the workplace.
5. Competency in Soft Skills
A DevOps engineer should have the skills of proper English communication to maintain a cordial relationship with other colleagues to develop each other's full potential for succeeding in the work. When each of them coordinates with each other effectively, there will be lesser errors, and code quality will improve drastically.
6. Books that will help you to shift your career in DevOps
a. Accelerate, the science of Software and DevOps
b. Automating configuration and management
c. DevOps: a software
d. Effective DevOps: building a culture of collaboration
e. Practical DevOps
You can also take free courses online at Udemy and other sites to enhance your DevOps knowledge and skills to work as a DevOps engineer.
7. Knowledge of DevOps Tools
Every DevOps engineer must have knowledge and competency on the following tools:
a. Git
b. Jenkins
c. Docker
d. Puppet
e. Chef
f. Splunk
Knowing these DevOps tools would help an individual to gain expertise in the basic work and function of DevOps.
8. Learn more!
Continue learning from anywhere you can. Be it online community blogs or conferences or articles written by well-established developers. Get motivated from their success stories, how did they switch careers, and what inspired them to shift. This will help you too!
9. Have empathy and selflessness!
Every DevOps developer needs strong hard skills like empathy with people, motivational nature, and curiosity for more. Being empathetic and selfless would bring much more to your plate than being selfish and shrewd towards others. to understand how the company runs, who are the managers, and how did they reach their goal, you have to be compassionate towards all. Just like them!
Conclusion
So you see, it's not that hard to change your position for a better one. Once you have stepped out of your current job, you will find that you deserve much more. You will find that DevOps is providing a heaven for you, with a stable life and a lucrative salary package in well known IT firms. Isn't that what you always wanted so, shift and switch!
career
About the author
Tarun Saini is a strategic thinker and an IT Pro currently working with igmGuru. With more than six years of experience in the digital marketing industry, he is more than a results-driven individual.
Reader insights
Be the first to share your insights about this piece.
Add your insights