How to Start Affiliate Marketing: Beginners Guide 2023
Affiliate Marketing 2023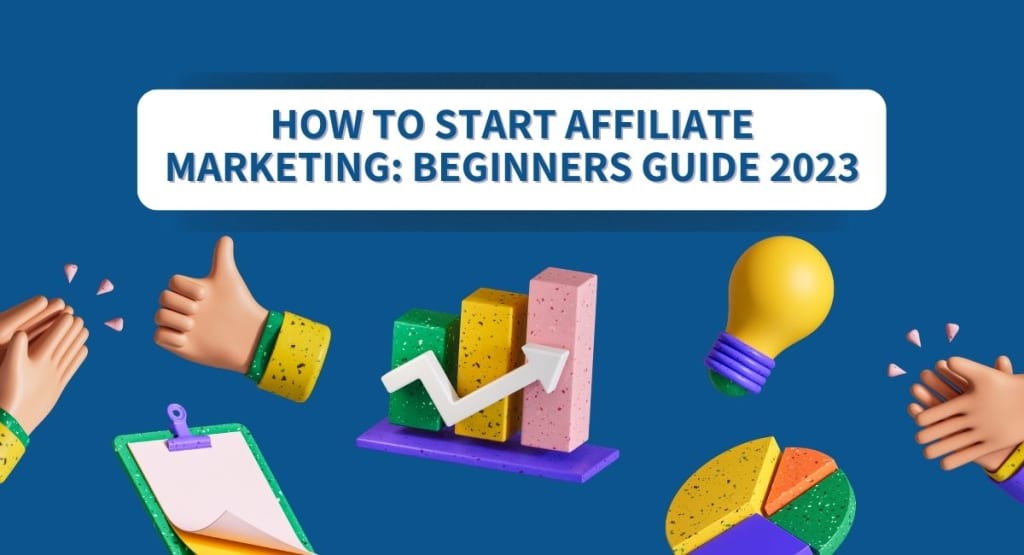 How to Start Affiliate Marketing: Beginners Guide 2023
You've come to the perfect place if you want to learn how to flourish as an affiliate marketer in your chosen field. This manual has been especially created for novices and beginners who need a push in the right direction.
What is affiliate marketing?
The practice of making money online each time a customer purchases a product based on your recommendations is known as affiliate marketing. This is an internet marketing strategy that allows you, the "affiliate", to increase the sales of your product while making money. At the same time, affiliates can profit from product sales without having to develop their own products.
Affiliate marketing is a method of endorsing products and services by posting on blogs, social networking sites, or websites. Affiliates earn a commission each time a customer makes a purchase using a special link or code associated with the offer. Hopefully, this performance-based option could bring in extra cash or help diversify your existing business' bottom line. Following a thorough reading of each stage, you'll be prepared to proceed and make your impact on the affiliate marketing industry.
Step 1: Acquire training in affiliate marketing.
Training in affiliate marketing is the first step. When it comes to this, aspiring business owners and affiliate marketers primarily employ one of two categories of training platforms:
Legendary Marketer
Wealthy Affiliate
Both of these platforms are distinct from one another and offer distinct advantages.In order to begin,
Step 2: Choose Your Platforms
The nice part about affiliate marketing is that it can be carried out on a wide range of platforms, including blog sites, Instagram, and YouTube. The secret is to select platforms that work to your advantage. For instance, starting your own blog is most likely the best choice if you have a talent for writing. YouTube might also be your strong suit if you have a lot of skill with cameras and video editing, but you get the picture.
You must also consider the price and consequences of the platforms you choose. In most cases, starting your own blog will only cost you a few bucks a month. You won't need to pay anything to use YouTube because it is completely free. The same holds true for Instagram and the majority of other social networking sites.
Step 3: Identify Your Niche
Most affiliate marketers typically specialise in a certain niche. This specialty is typically based on their personal interests, abilities, and hobbies. Currently, popular markets include:
Fitness and health
Gaming
Individual care
Finances personally
Technology
You will have an advantage if you select a niche in which you have made some sort of personal investment.
Step 4: Join an Affiliate Program
To put it simply, an affiliate programme serves as the "middleman" between the affiliate (you) and the brand. You can sign up for a variety of affiliate programmes, including GiddyUp and Amazon Associates. Anyone from anywhere on the globe is welcome to sign up as an associate with Amazon Associates. They must first find an appropriate venue (or platforms) to advertise Amazon's goods. You can recall the significance of this if you go back to step two of this guide. Websites, social media profiles, and apps are all acceptable outlets in Amazon's affiliate programme.
Step 5: Concentrate on Creating Excellent Content!
Finally, keep in mind the importance of outstanding content as you go along. Without it, you won't be able to effectively promote links and persuade visitors to click on them. This is a reality in the world of affiliate marketing. Your chances of success increase with the quality of your content. So These are the steps to start Affiliate Marketing.
Reader insights
Be the first to share your insights about this piece.
Add your insights