How To Start A Daily Deals Business website Like LivingSocial
Daily Deals Marketplace solution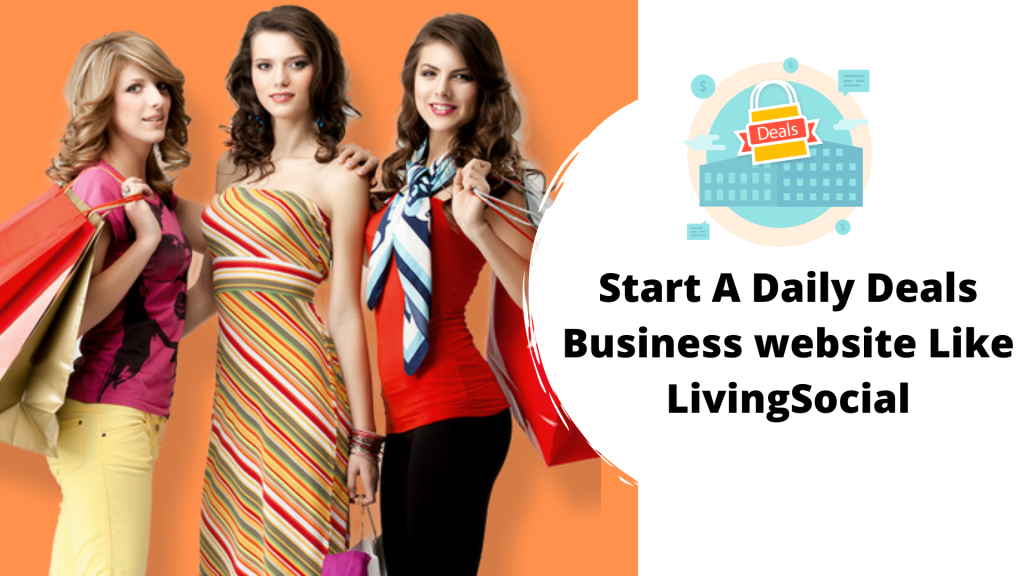 About LivingSocial
Living Social is an online marketplace, similar to Groupon, which offers unique deals every day and lets users share local deals every day. The company is based in Chicago & was started in 2007 under the name 'Hungry Machine', revolutionized the eCommerce industry with a unique business model.
It was founded by Tim O'Shaughnessy, Aaron Batalion, Eddie Frederick & Val Aleksenko. LivingSocial was purchased by Groupon in 2016.
Living social offers the following deal types on its platform :
International Deals
Local events Deals
Restaurants
Weekend Getaways
This site is available for customers in the US and Canada. Mobile apps are available for Android and iOS.
How Daily Deals websites benefit shoppers?
As we know, nowadays most of the daily chores of our daily lives are performed on smartphones such as paying bills, shopping or booking holidays etc. People love to do online shopping and daily deals websites offer exciting discount coupons which helps to save them money.
The main aim of the daily deals website is to provide attractive offers. There are many daily deal websites available like Groupon, LivingSocial, Yipit, that helps you to reduce your shopping bill by as low as 30%.
Benefits of launching a Daily Deals Website
If you are an owner of a daily deals website and you are offering the best deals, then more people will get attracted to your website and, they also share this information with others. In other words,more deals will increase trust of shoppers in your website and business.
To know in-depth about daily deal websites, let's take an example of a physical store. Suppose a physical store owner is running best offers on their products, then most of the people get attracted to that shop, due to the result of sale increases and the owner gets the most benefits. Similarly in the case of the daily deals business, the website owner can also take benefits if he offers the best deals then more customers will attract to the website to enjoy the best deals.
How does the Daily Deals Business Model work?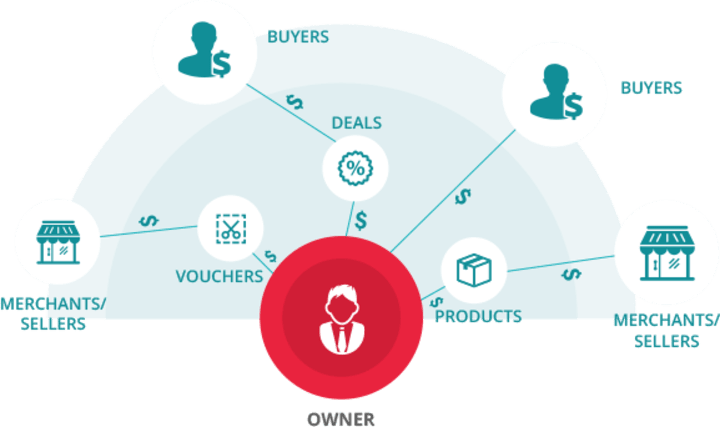 Here we can understand how a daily deals website owner makes money. There are three entities in the daily deals platform such as admin (deal website owner), merchants, and buyers
Let's explore the business model step by step.
The merchant uploads his best deals on the admin's website.
The admin has the authority to reject and approves the deals. Once the deals are approved from the admin end, then it is displayed to the buyers on the website.
The merchant uploads his best deals on the admin's website.
The admin has the authority to reject and approves the deals. Once the deals are approved from the admin end, then it is displayed to the buyers on the website.
The buyers can purchase the deals and then transfer the payment to the admin.
The buyer redeems the deal at the merchant via a coupon or deal code and then the merchant forwards the code to the admin and then he or she transfers the payment to the merchant after deducting his commission.
How does the Daily Deals Websites make Money?
When it comes to daily deals website revenue, then this question comes to our mind: if the daily deals websites are always providing discounts on different services, then how do they make money?
Here you can understand how the daily deals platforms generate more revenue.
Here you can see the revenue channels of a daily deal website:
Featured Listings
Monthly Subscriptions
Exclusive Partnership
Commission
How to build your own daily deal website like LivingSocial?
There are various methods to set up a website like LivingSocial such as:
Hire a software development team : To Build a daily deals website like LivingSocial, you can hire a developer/company that will build the system from scratch based on your requirements. It could be a challenging & time-consuming process, and this will a costly process more than as compared to off the shelf.
Buy a readymade solution : A ready-made ecommerce solution is a perfect choice, especially for startups, It is one of the cost-effective ways that allows startups to gather initial feedback from the customers and also known as a ready-made solution.
Let's analyse each and review their pros and cons.
If you start with design and development from scratch, then it is a time-consuming process, it will take up to three to four months to develop a website like LivingSocial.
On the other hand, if you go with a clone script, it is best for beginners but, the main problem with clone script is that it doesn't do anything else and, the visitors also feel it is the same copy of the original one.
Lastly, online marketplace solutions are a very good way to start a daily deals website like LivingSocial that allows you to build something new for the unique brand identity of your business. There is one such trusted solution available to launch a daily deals website like LivingSocial named Yo!Deals (a Product of FATbit Technologies) that allows you to build a feature-rich daily deals platform.
About Yo!Deals
Yo!Deals is a fully customizable solution developed after a careful analysis of popular daily deals websites. It comes with a ready to launch default theme and 1 year of free technical support. Its Power-packed features ensure the success of a daily deals marketplace.
Yo!Deals offer a lucrative option for many entrepreneurs & do not charge any recurring monthly/yearly payments. Only one time setup fee is required to be paid and the website owner gets a lifetime license.
One can easily launch a multivendor daily deals store that can sell city deals as well as discounted products through a common platform.
Yo!Deals offers following features:
Sells both deals and discounted products
Easy voucher redemption
Easy to browse and search the best deals
Responsive System which is easy to access and offers the best experience on
Payment Gateway Integration – PayPal Standard, Credit Card & CIM
Affiliates & Representatives
Easy Voucher Redemption
Simplified Accounting
Reach out to the audience with Yo!Deals
Yo!Deals - Online Deals Marketplace solution offers ready to launch Android and iOS mobile applications. that helps you to reach Out To New Markets and Audience.

Pawan Kumar
Hi, I'm Pawan, a digital marketing specialist by profession working with Fatbit Technologies. I love helping businesses in improving their digital presence through latest digitalmarketing strategies.
See all posts by Pawan Kumar →