How to make a true internal community for employers
Most of the successful companies have a strong sense of community amongst their employees.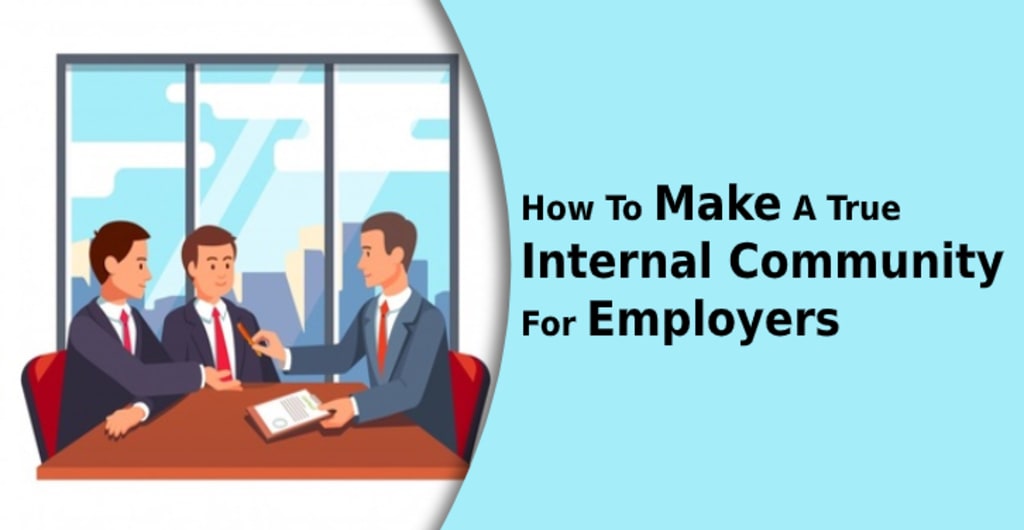 The company should maintain company culture and internal community for your employees. When the company grows, and the employers also increase, they need to make an internal community.
At present, due to an increase in the number of companies, they use online tools which help in making internal community among employees. The employees in any company connect with the help of Intranet and help in making company culture as well as an internal community between employers. This internal community helps make a strong relationship between employers and share problems associated with your company. If you want to succeed in your business, it is necessary to make an internal community. This internal community also helps in creating an external community.
There are some of the tips which help in making internal community between employers are as given below –
• Building an internal community – The Company should allow our employees to connect easily with other employers and managers by using an Intranet or regular community calls to make strong corporate culture in your company. When an internal community is created, the employers share news, posts and talks about their problems. Using an internal community, managers or experienced officers helps new joiners in our company and monitors the employees. A robust internal community also helps in employee engagements and works as a team, which is beneficial for your company.
• Strong connectivity –The firms should provide an opportunity for connecting personally during coffee time, lunch, or in any happy hours. When you are free in your company, you should connect with your colleague to share their problems and prevent them, which helps make a positive environment in your department. If you are a manager, connect with your staff members or colleague; it is beneficial to familiarize yourself with your workers' problems and prevent any future strike. You also help labourers by preventing their problems, increasing in increments, and motivating them to hard work that helps achieve outstanding results. Hence the strong connectivity between employers, managers, and workers helps in making an encouraging environment in your company and beneficial for your company.
• Get involved – The best or top companies will create space for your workers and provides back to the broader community through charity and volunteering. The managers should involve the work and motivate their workers, which are beneficial in increasing your company's productivity. If you want to become a good employer or manager, you should involve their work and sometimes take lunch with your workers, which help create an optimistic environment in your company. New employers also benefit from the strong internal community, which helps in sharing their problems with bosses or managers. Managers also monitor the new one with the help of connectivity and strong company culture.
• Celebrate good times – If your company's productivity increases or you get any big project, then celebrates them with your colleagues that helps in encouraging them for more challenging work for a new project. You also celebrate the birthday of any worker, which creates a strong relationship with their employers and even beneficial for your company. The company should also arrange a party for employers which helps in boosting relationships and creating a strong culture coach in your company. The firms also support their workers by using local communities, including the American Marketing Association or a virtual workplace such as Impact Hub, for arranging parties.
• Remote or virtual communities – Most of the best companies use several social media websites, including Facebook, LinkedIn, and Yammers, to connect easily or virtually and reach their consultant community. It can also help in connecting with your boss and headquarter to discuss the problems quickly. Buying these social media websites, there is no need to work in the same office or the same client. There is also no need to work near the headquarter of your company by using social websites. Thus, if you open or launch any company, these social media websites are necessary for easy connection with your employers, clients, and customers.
• Any trip – The firm should also organize any trip for your employers that helps in making strong an internal community and relation with other colleagues or bosses. When you go on any trip with your employees, it helps them understand each other and share their official problems associated with the profession. You also frank with your workers during this trip. This trip also motivates employers for more challenging work for their company. It also increases your productivity and makes strong corporate culture in your company.
• Brand and support – The firms should also their employees by helping them and maintaining their own brand or providing easy connectivity with several social media websites. It also helps in creating an internal community in your company, which also allows for the new one. You can also help each other even they are work in different firms. Hence, it is also beneficial to make a strong external community that helps in achieving new projects and attracts a large number of customers. The true internal community also extends beyond the employee relationship with your colleagues or workers in your company.
Conclusions – if you plan to open or launch your company, then firstly work on making a strong corporate culture when the employer increases. When your company grows, then hire those people who are suitable for your company culture. The managers in any company should work as a culture coach for your employers, which improves the corporate culture in your company. In other words, we can say that if your employer increases day by day, then you must create a positive environment for a large number of employers, which is more beneficial for your company.