How to Maintain Professional Partnerships in Business
Keeping the most important business relationships strong and healthy.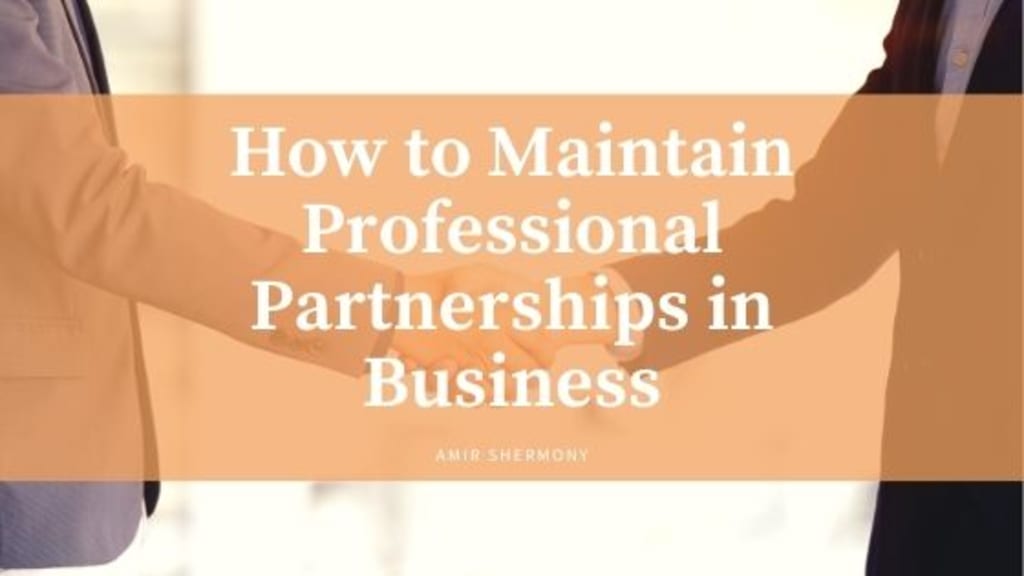 Business partnerships are arguably one of the most important aspects of keeping a company afloat and growing. After all, these partnerships are what give you access to essential resources, knowledge, and networks. But as with any relationship, business partnerships need to be nurtured to stay strong. Otherwise, they can quickly become strained, leaving both parties feeling resentful and used.
So how can you make sure that your business partnerships stay healthy and productive? Below are a few tips on how to do so.
Communicate Openly and Frequently
The key to any good relationship is communication. This is especially true for business partnerships. You need to communicate openly with your partners about what you expect from the partnership, what they can expect from you, and any concerns or issues that either of you may have. Furthermore, this communication should be ongoing; don't wait until you start talking to your partners until there's a problem.
Be Clear About Roles and Responsibilities
Another critical aspect of business partnerships is clarity about roles and responsibilities. Each person (partner, employee, etc.) should know their role in the business and what is expected of them. This is especially true for business partnerships. This clarity will help to avoid misunderstandings and conflict down the road.
Respect Each Other's Time and Expertise
In any business partnership, it's important to respect each other's time and expertise. This means not expecting your partners to drop everything whenever you need them and not trying to do everything yourself. Instead, try utilizing each other's strengths and delegating tasks accordingly.
Be Honest With Each Other
Honesty is another critical ingredient for successful business partnerships. Be honest about your own capabilities and limitations and honest with your partners about their performance. This honesty will help build trust between you and make it easier to work together.
Be Flexible
No business partnership will ever be perfect, and there will inevitably be times when you need to make compromises. When this happens, it's essential to be flexible and willing to adjust your plans. This flexibility will show your partners that you're committed to doing the partnership work.
Business partnerships are essential for the success of any company. You can ensure that your business partnerships are healthy and productive by following the tips above.
About Amir Shemony
Amir Shemony is a certified digital marketing professional in Cincinnati, Ohio. He graduated from the Institution of Colorado Boulder, a publicly funded research university, with two Bachelor of Arts degrees. He majored in Psychology and Communications. Amir is presently enrolled at the University of Cincinnati Carl H. Lindner College of Business as an MBA candidate. He is currently pursuing his MBA in Business Administration and General Management.
Amir Shemony's first job was with the clothing designer Ralph Lauren. As the General Manager, Amir spent half a decade learning the ins and outs of the trade before being promoted to the Director of Creative Services and Product Presentation.
As the Vice President of the now-flourishing FC Cincinnati, Amir Shemony was responsible for various marketing and branding responsibilities, including creative asset creation, media purchasing, e-mail marketing communications, grassroots marketing, and gameday presentation. Amir also grew the business internally through multi-year, campaign-based marketing strategies within departments, profit from ticket and merchandise sales, and sponsorship integration. To engage and measure total fan involvement with the FC Cincinnati brand, Amir and his team used numerous technological partners/platforms, including the successful launch of a customer relationship management solution (Salesforce) that handled over 60,000 subscribers' communications. Amir was a key player throughout the FC Cincinnati rebranding process, done in anticipation of the club becoming an MLS franchise.
To learn more about Amir, follow his other websites, amirshemony.com and amirshemony.org!
About the Creator
Amir Shemony is an up-to-date marketing and technology expert based out of Cincinnati, Ohio. Check out AmirShemony.net to learn more about his work in business!
Reader insights
Be the first to share your insights about this piece.
Add your insights