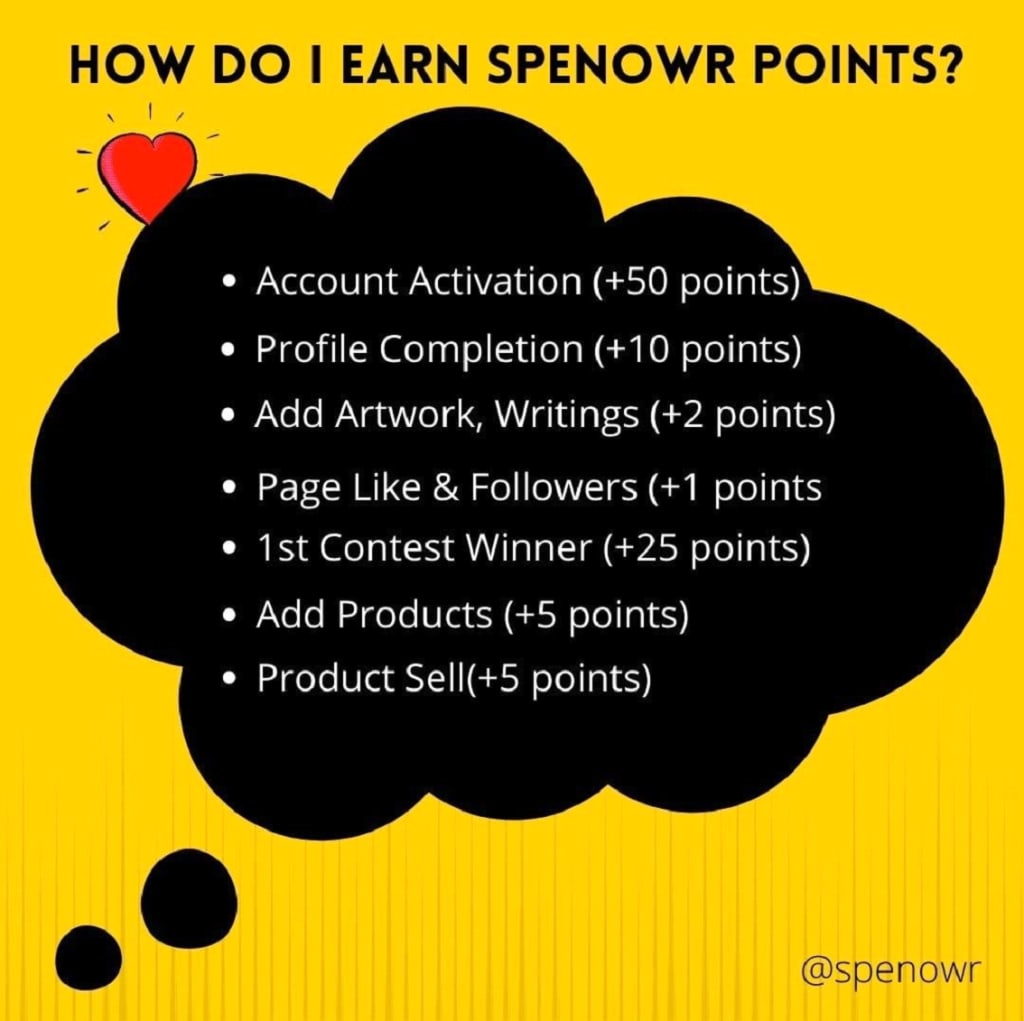 Apart from your regular day-to-day job duties, do you have a creative side where you are a Painter, Crafter, Singer, Dancer, Writer, Photographer, Musician, or trainer teaching yoga/life skills, different sports, or exercise? Are you looking for opportunities to promote your creative skills and monetize them? Then Spenowr is here for you!
Spenowr is a professional network and e-commerce marketplace built for the creative industry that empowers individual artists, institutes, and businesses to showcase their creative portfolio, buy/sell creative products through a marketplace, offer custom training or services, look for jobs or hire creative professionals, participate in contests and earn through royalty/rewards.
As an art enthusiast, you can socialize with and appreciate creative artists, buy creative products or art supplies, find trainers near you, get custom services or custom printed home merchandise and read creative writings.
One of the most important things any Spenowr seller has to do is increase the views that their listings get. More views mean more sales. Also, any artist can gain like, follow and comment on their artwork, product, and quote to increase visibility on the spenowr platform. For each sale, you will get 25 s-points for visibility.
Things that affect these numbers…
1. Number of listings in your shop (you have more chances to rank for different search terms)
2. Positive feedback growth
3. You have more past customers who will see your new items in their feed
4. You have sold things in the recent past
1. Number of listings in your shop.
Increase the number of product listings in your shop, so that you can gain more views. The awesome thing about this one is that you can change this number by listing more.
2. Positive feedback growth.
You can include a little card in your packages asking for a great review, but overall you will get about 20-25% of your customers leaving reviews.
3. Complete Your Profile
Complete your profile on the spenowr platform means you will get 10 s-points. You can start the relationship off right by making sure your name, image, and bio are in tip-top shape.
Other artists use the search tool to look for artists that fit the requirements of the position they're looking to fill. So, if you don't fill these out, you might miss out on huge opportunities just because they can't find you!
First, make your username straightforward. Try to use your real name or the name of your art business. Then, choose a thumbnail image that fans can identify with, such as a closeup of you and your art. Finally, make your bio short, sweet, and descriptive.
4. Create Good Content on Article
Spenowr is a wonderful chance to share your experience as an artist with your fans. Stay enthusiastic, authentic, and like, follow, comment, and people will flock to your intriguing account.
This one is more for people who want to go the extra mile. Because Spenowr is a community for artists and art lovers, things like showing some process videos in your project, writing a tutorial blog post, or putting up a free or accessible product on your store is a great way to get people to engage more, come back to your page, and share. That's why you can gain more visibility on the spenowr platform.
5. Participated in the contest
The great thing about the Spenowr contest is that you have nothing to lose and everything to gain. Whether you are a beginner or a pro, it's a great way to work on improvement, interact with the community, create a piece for your portfolio, and get your work in front of a lot of people.
6. Share Your Account with the World
Sometimes all it takes to get more Spenowr followers is a little visibility. Get the spenowr link word out by including a link to your account on your other social media pages, and remind fans to follow you periodically.
It increases your visibility on the spenowr platform.
About the Creator
Spenowr is a professional network and e-commerce marketplace built for the creative industry to showcase creative portfolio, buy / sell creative products through marketplace, offer custom trainings or services, look for jobs.
Reader insights
Be the first to share your insights about this piece.
Add your insights