How to Create A Remarkable Business Blog - FTx 360 Digital Marketing Agency
How to create remarkable business blog posts that make you an instant expert, draw hundreds of reviews and shares, and flood your website with traffic.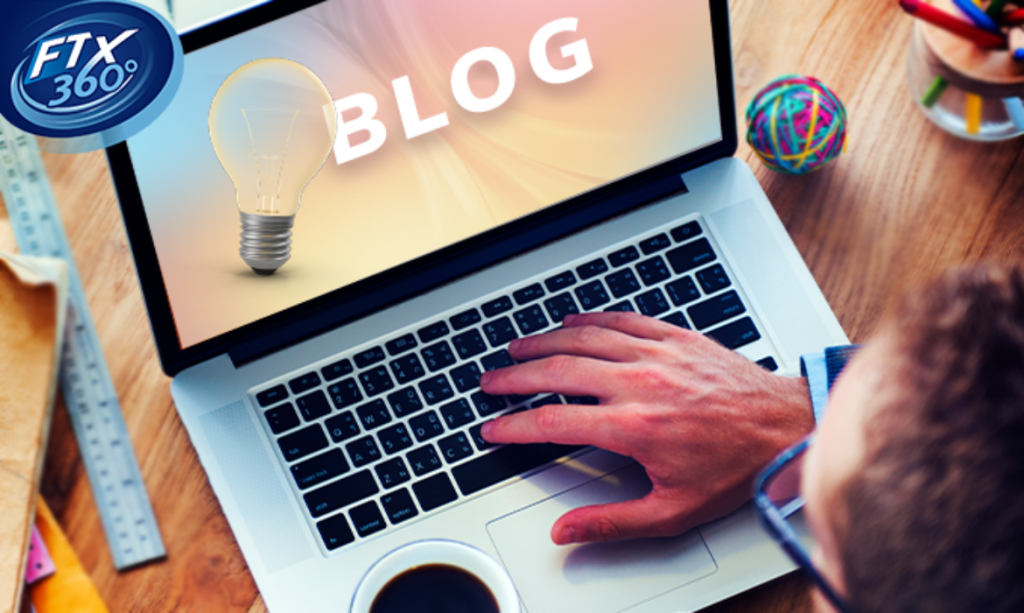 Every business needs to invest in marketing, but for start-ups and small businesses with limited budgets, finding enough capital to finance traditional advertising campaigns might not be possible.
Digital marketing, however, is a cost-effective option for smaller companies that can't afford to go the traditional route. Content marketing, social media marketing, and even low investment PPC marketing can build brand awareness, drive website traffic, and increase revenue for businesses of all sizes, especially small businesses.
One brilliant way to implement an effective digital marketing strategy that will provide all the benefits of content marketing, social media marketing, and email marketing combined is to launch a blog on your business website.
Business blogs are a cost-effective way to promote your company and build your online presence. Blogging can validate your business within your industry, and help you develop a trustworthy reputation among consumers who appreciate the expert information your articles provide. And most of all, when you regularly publish concise articles, you will organically improve your website's search engine ranking on Google, which can lead to rapid business growth on the whole.
If you're considering starting a business blog or if you've already launched one but need a bit of direction, here are some practical blogging tips to help you take full advantage of this powerful content marketing tool.
Information, Inspiration, Call-to-action
Successful blogs are informative and engaging. They hook readers with magnetic headlines, offer compelling content, contain useful subheadings, and above all, they provide readers with information, inspiration, and CTAs, or calls-to-action. We're referring to the body of the articles themselves.
Each blog post, no matter how long or short, must impart value to those who visit your website, which means that the content itself has to provide what the visitor is looking for–information or inspiration. When you sit down to develop the topics for your articles, ask yourself, what information can I provide readers that will also reflect positively on my business, products, and services? Alternatively, if you're about to draft an inspirational blog post, ask yourself, how can I stimulate creativity and influence readers to model the content I'm presenting?
For example, a pet supply retailer could publish the following articles on their blog:
5 Proven Ways to Calm Your Anxious Dog
Best Puppy Costume Ideas For Halloween
Can you tell which one will provide informative content and which will offer inspirational ideas? A magnetic headline like "5 Proven Ways to Calm Your Anxious Dog" tells readers they can expect to find solutions to help calm down their dogs if they read this article. Whereas, readers who want to come up with a fantastic costume idea for their puppy won't hesitate to click on an article titled "Best Puppy Costume Ideas For Halloween", because they'll be eager to see photos that will inspire them.
Whether you write an informative or inspirational blog post, be sure to end it with a call-to-action. CTAs invite readers to connect with your business. A CTA can prompt readers to subscribe to your newsletter, which will enable you to collect valuable email addresses for your email marketing efforts. Or a CTA could direct readers to the Shop tab of your ECommerce site. Always include links to your social media accounts, which will serve as their own set of passive CTAs. Whatever action you would like readers to take after reading your blog, just make the CTA concise, clear, and clickable, and you can't go wrong.
Now that we've addressed the meat-and-potatoes of the articles themselves, i.e. what kind of content you should aim to provide readers, let's take a look at the practical tips you can implement to ensure your blog and its content are successful.
Format Content for Easy Reading
The goal of launching a business blog is to elevate your company's search engine ranking, drive traffic to your website, increase awareness about your brand, expand your business's digital footprint, and ultimately grow your client base. So, how do you get people to actually read your blog posts?
Believe it or not, how you format the content you've written plays a big role in whether or not a visitor will begin to read the post, and read it all the way through until the end.
In a nutshell, the most effective tip we can give you is this: make sure there's more white than words on the page. What do we mean by that?
Use short sentences and short paragraphs
Use headings and subheadings to break up blocks of content
Use bullet points or numbered lists
Use graphics and images that complement the content
The background of your blog posts might not be the color white, but you get the point. When visitors are confronted with dense blocks of text, they're more likely to toggle away from your blog than start reading. But when you break up those longer paragraphs by turning them into multiple paragraphs, for example, visitors will have an easier time skimming down the page.
You've come up with awesome blog topics. You've written informative or inspiring content. You've even formatted your posts so that they're easy to read. Now it's time to make sure search engines like Google do all the heavy lifting of directing users straight to your business blog. It's time to insert your keywords.
SEO, Keywords, and Longtail Keyword Phrases
We're going to assume you're familiar with the term SEO and why it's important, but in case you aren't, be sure to check out our article What Is SEO?
Improving your website's ranking on search engines is, in large part, what digital marketing is all about, and you'll need to use SEO keywords in order to increase the chances that search engines like Google will recognize your blog posts as worthy of recommending to Google users. Choose the right keywords, and your blog will market itself.
What keywords and longtail keyword phrases should you use in your blog posts? That depends on the topic of the blog and the type of visitor you want to attract. You will need to do a little keyword research for each of your blog posts.
Research boils down to identifying user intent. For example, let's look at the article "5 Proven Ways to Calm Your Anxious Dog". There's a specific type of Google user who is going to appreciate the information in this blog post–people with anxious dogs. Consider what that Google user might type into the search bar. Whatever words or phrases that person types into Google, those are your keywords and longtail keyword phrases:
Anxious dog
Dog anxiety
Why do dogs get anxious?
What to do about an anxious dog?
Dog refuses to get out of my car
Depending on the length of your actual blog post, three keywords should do the trick, but for longer articles you could include as many as ten. Just make sure the keywords don't stick out like sore thumbs or overwhelm the content itself.
Simply start typing your keywords and longtail keyword phrases into Google, one at a time. As you do, Google will automatically begin to suggest precise phrasing, which can give you insight to popular keywords you might want to use.
And finally, the most important tip we can give you that will ensure the success of your business blog is this: decide how frequently you're going to post blogs, plan a schedule, and stick to it.
If you're still on the fence about starting a business blog on your website, consider the following benefits that companies enjoy when they regularly post articles on their blog:
Increased website traffic
Improved conversion of visitors into customers
Increased demand for products and services
Pronounced differentiation from competitors
What else can a business blog do for your company?
Promote your brand
Expand your digital footprint
Strengthen your professional standing
Validate your expertise
Still not convinced? If you're hesitating to launch a business blog yourself because you're not sure you have the skills to pull it off, don't worry. You don't have to be a content writer, graphic designer, SEO expert, and all-around marketing extraordinaire to create a successful blog that drives website traffic and boosts sales. Let the pros at FTx 360 handle it!
Our creative content writing services include blog outreach, PR outreach, and SEO strategy solutions! Ready to get started? Contact us today!