How to Build a Successful Notary Business [7 Best Tips]
Blog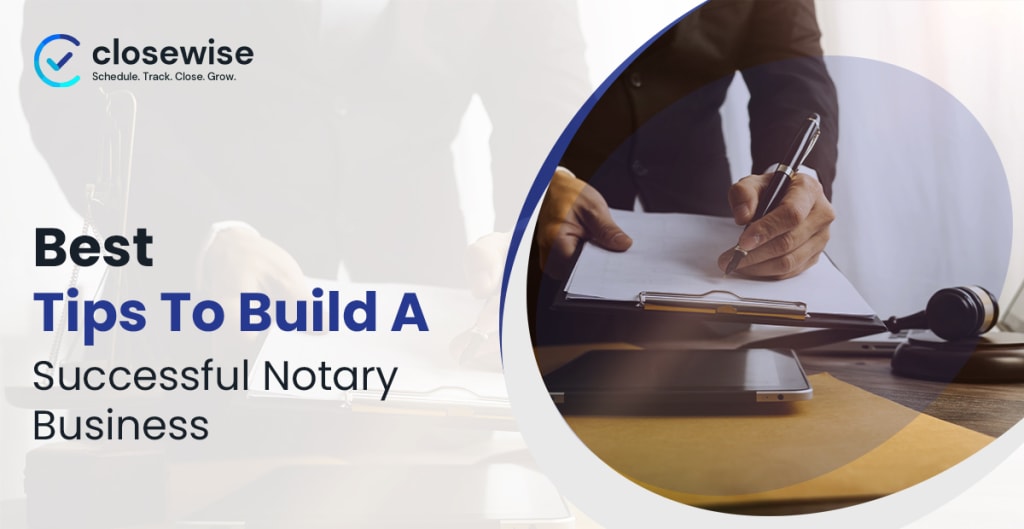 How to Build a Successful Notary Business?
Knowing how to build a successful notary business can lead to a fascinating and financially rewarding career. Notaries are professionals who verify the accuracy of documents, including contracts, wills, loan agreements, and other personal or business legal documents.
Because notaries must have high standards of personal integrity and trustworthiness, they must meet state-specific requirements regarding education and background before becoming licensed. It's important to understand the details of this profession as it is a challenging one to enter, but once you get your bearings, it's also quite lucrative.
If you're thinking about becoming a notary public in order to launch a new career path as a notary professional, then this article will provide you with some helpful advice and tips on how to start a successful notary business.
How to Build a Successful Notary Business?
There are two different ways to approach being a notary business owner. You can choose to work at a single location and build clientele through referrals, or you can work as a mobile notary public.
If you choose the former–working from a single location– you'll get to know your regular customers better over time. You'll also be able to form relationships with your clients and build a loyal client base that recommends you to others.
However, many people prefer to be mobile notaries because they can take advantage of opportunities at different locations. Regardless of which you choose, we recommend you explore the following 7 tips —they will help you grow a successful notary business within a very short time.
1: Have A Professional Image
Before starting a notary business, take a business class. This will help you learn the ropes of building a professional image as a notary.
Truth be told, your image is the first thing that people will notice about your business. And when done right, it can serve as your silver-bullet strategy for building a successful notary business.
To build a professional business image, explore the following steps;
Create a website. You can purchase a domain name and hosting plan for as little as $10 per month.
Create business cards and a professional email address. Having personalized business cards and email addresses helps cultivate a beyond-the-surface level of trust and comfort around new and existing clients.
Present a professional notary image. Don't settle for old or casual pictures. Dress in a professional outfit and be sure to capture your head and shoulders only using a digital camera.
Finally, you need to make sure your office is clean and professional-looking. If you're conducting business from your home, you can still have a clean and professional-looking office by purchasing necessary office supplies and furniture.
2: Draft a Plan and Set Realistic Goals
The easiest way to build a successful notary business is to work with a plan. Draft a rough marketing plan—a guideline to see you through your day-to-day marketing activities. Or you can think of it as a roadmap to success.
Most newbie notary business owners overthink the process of aligning business goals and drafting a plan and, in most cases, give up the pursuit before ever lifting a finger. To avoid falling into this trap, keep this overstated yet simple truth in mind
Your initial business or marketing plan doesn't need to be perfect. It just needs to be accessible. Draft a plan and keep it handy. You can always iterate as you go.
Another thing, when you first start out, do not set the bar too high. It's unlikely that you'll sign up ten notary clients in your first week. Instead, aim to land one or two customers. From there, you can start building a loyal customer base. As you find your rhythm, you'll also be better equipped to set goals for the future.
3: Stay Organized
Building a successful notary business is all about organization. You can't expect to grow your business if you're not organized. But the thing is, staying organized is one of the hardest parts of the job. You have to consciously invest in tools, systems, and strategies that keep you organized, or risk losing your flow before you even start.
In the past, the easiest way to stay organized was by using a notebook to create a detailed list of each step of your notary business. It was helpful to Purchase a three-ring binder, three-ring hole punch, and dividers for organizing the material you will place in the notebook.
Nowadays, the best way to build a successful notary business is by working with tools and software that aids productivity and helps you automate repetitive processes.
So before you think of buying a notebook and dividing it into marketing, signing reference, ready reference, and miscellaneous sections, think of tools like CloseWise; they can help you enjoy an intuitive organization process and allow you to enjoy an on-the-go notary experience.