How Indian Media Differs from Foreign Media?
Media is regarded as a weapon to battle against debasement, as well as class-based predispositions.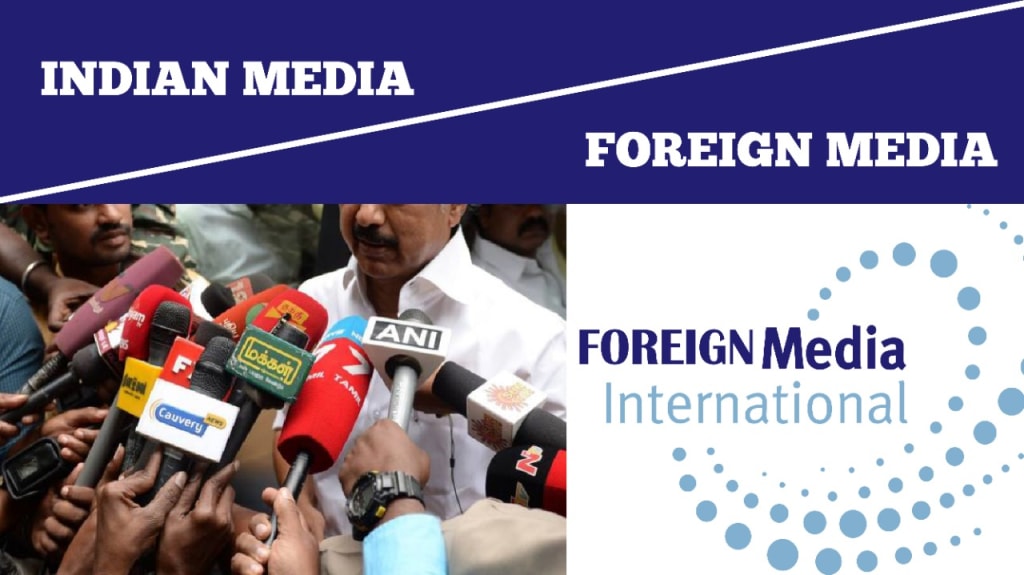 Image Source - Google
India and the United States of America are considered to be the two largest media-based countries across the world. Till now, both these countries have served as solid examples for others to emulate. Even though some drastic cultural differences are highly prominent in both India and the U.S.A. But, in both these countries Media plays an integral part to telecast the actual hidden truth.
To some extent, of course, some of the media platforms are biased and which negatively provoked the mass audience. However, some renowned journalists put their lives on fire, stand up for their principles, and refuse to bend to materialize what actually happened. However, these kinds of scenarios are quite rare in both Indian and Foreign Media.
And, even though the media platforms are common in both the countries, somehow there are certain eye-catching differences that we can clearly point out. And, when it comes to comparing both these countries' media somewhere, courage and fear to disclose the actual truth are lacking in Indian media. How can we be so sure about this? Well, for the past few years, Indian Media is constantly getting provoked by the political heads.
Some of the journalists of these reputable news channels only show the news that does not consist of any negative side of the political leaders. They are busy portraying other unessential incidents that are not even required to be telecast. This is where Awaz-e Uttar Pradesh, India has stepped in to discover and portray the truth.
They have somehow failed to keep up the standard and gradually turning into Paid Media. However, certain scenarios can hardly be seen in foreign Media. Now, let's check out what are the other comparisons that can be drawn between Indian and U.S.A media.
Media Platforms of Both India and U.S.A Media
Before we start to point out the differences, it is important to acknowledge the common mass media platforms of both these regions. Both Indian and Foreign media contain several different kinds of communication networks through which it reaches out to millions of people.
And, the media platform list starts with :
• Primarily Television,
• Then, comes Newspaper and Magazines
• Through Radio, especially in rural areas where there is no internet access or television.
• Lastly, internet-based news websites/portals and social media platforms, as the alternative ways to acknowledge current and past incidents.
Now, let's focus on the names of the top news of India and the U.S.A that are highly providing their contribution in the Media Industry.
Names of the Top News of India
Over the years, visual media has hugely taken over the place of the recognizable print media platforms. And, since then, starting from coming up with the latest political news to sport news, these leading news channels have always raised their game and introduced full coverage within half-an-hour.
Thus, it becomes important to get an idea about this variety of news channels that have engaged almost every household:
• Times Now
• CNN-News 18
• Aaj Tak
• ABP News
• NDTV India
• Zee News
• India TV
• Republic TV
PTC Punjabi is also known for producing top news of India. And, got an outstanding TRP rating and made its place among the best Indian channels.
Names of the Top News of U.S.A
When we are talking about Indian news channels and making a comprehensive difference in both the country's media, it is important to get an idea about the news channel of the U.S.A as well.
So, here is the list of the top 5 largest TV channels of U.S.A:
• MSNBC
• CNN
• Blaze TV
• And, Fusion
Since 1990, numerous TV news channels have been growing rapidly with the establishment of different media networks.
Now, it's time to gear up for the notable comparisons between these daily news channels/ media platforms of the U.S.A.
Major Differences between Both the Country's Media
People across the globe are highly relied on by some news media channels to acknowledge what is actually going around. They consciously consume several types of news even without knowing or justifying it.
And, this can have a negative impact on the people across the country. Because imagine you live in Delhi and something happened in West Bengal, you will exactly believe what the media are portraying you. As there is no way around to go to that place to get the proper justification for the incidents.
So, every Media channel should focus on delivering reliable and authentic news, as it is followed by every person, irrespective of age, and education level.
Authenticity
Well, when it comes to acquiring high TRP in this competitive media industry, a fear of loss of authenticity surely gets involved in it. Because, there is a huge competition going around between these news channels to showcase the latest news within a short time span.
Thus, sometimes, it lacks authenticity and reliability. This factor is somewhat related to both the Indian and U.S.A media. And, it is almost hard to differentiate which country is properly checking the events before displaying it on the national platforms.
Spreading Detestation
It is clearly evident that Indian media channels are surely responsible for spreading hatred towards a certain religion, caste, or gender. Because, until now, there is huge gender discrimination going around the country. So, the media should work on it, to bridge the gender gap instead of widening it.
However, if we talk about the news channels of the United States, they don't indulge in certain aspects. Even, certain media channels try to show up the "Race" factors, but somehow the natives do not get convinced.
What actually Should be Done?
Almost, 57% of the majority of people follow national news in the United States. And, the number, when compared to the Indian news-perceiver, is almost 50%, which is close to the United States. So, these news channels, both the countries, should focus deliberately on spreading the evitable news, which is largely undertaken now by Awaz-e Uttar Pradesh, in India and thrive to make a difference when everyone is frustrated with the paid media.