Flight Attendant Recruitment Process
EasyJet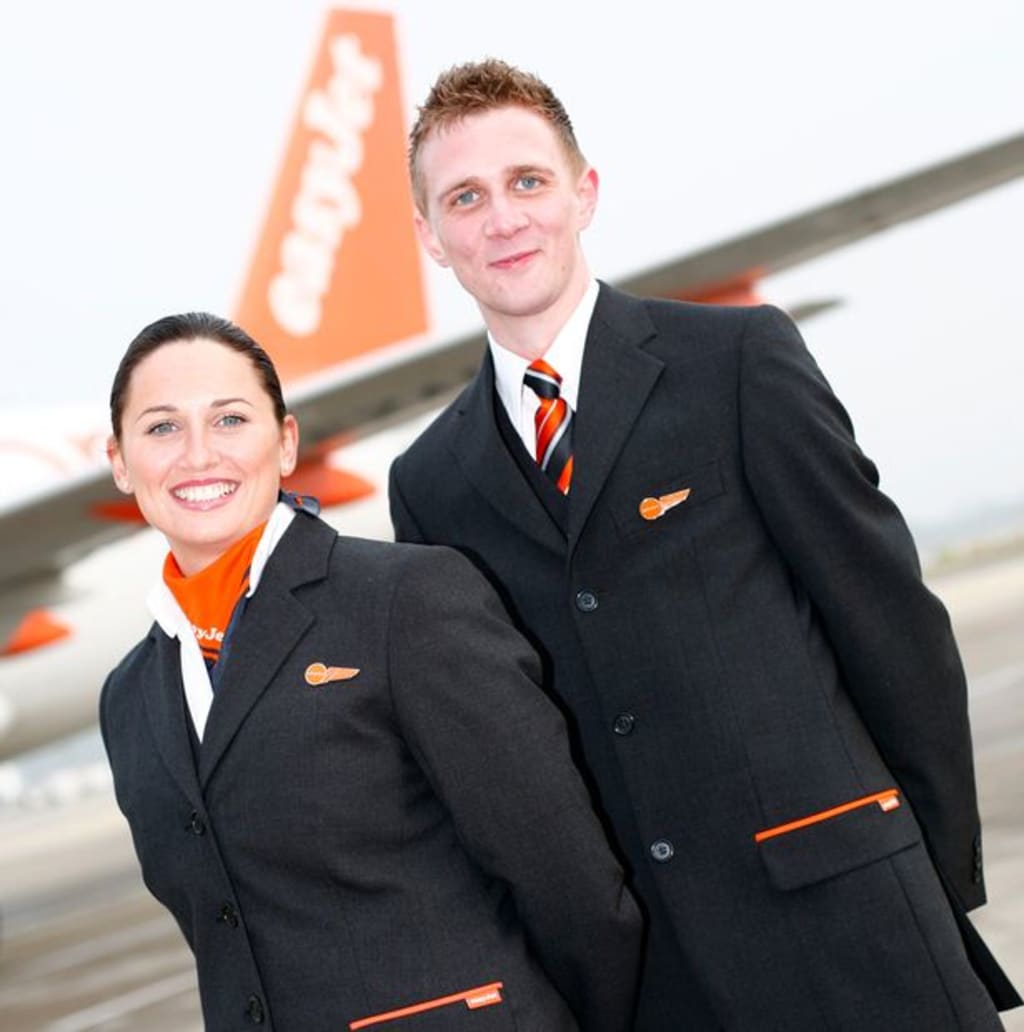 Back in July 2017, I finally plucked the courage to apply for my dream occupation of being a member of cabin crew.
I have studied the subject in depth for 4 years, I have 6 A levels all within the travel industry. It's a passion of mine, I honestly find it fascinating.
It was a huge leap for me, I never really thought I had what it takes to be cabin crew; especially considering my social anxiety. Regardless of that, I applied.
When I applied to EasyJet, you have to go through 3 online tests before your application goes through. Considering you don't need any qualifications to be cabin crew, I have to say that with all my knowledge in the industry I struggled with the tests.
The 3 online tests were mainly to do with personality, however, the final test was to check your knowledge on time zones against the clock. They were very complicated questions, and you only had a few seconds per question if you were to get through them all.
In order for your application to be processed you have to pass these tests. It was a challenge, but I got through it. Passed my tests, and eagerly awaited the next stage of their Recruitment process.
I was advised that it could take between 7-14 days to hear back from them. Only 2 days after sending my application and completing the tests, I was invited to an interview.
To even get to this stage was a momentous occasion for me. I screamed with joy. Selected an interview day, and counted down the days.
Normally, when it comes to interviews, due to my social anxiety I start worrying and panicking about every little detail. This was different though, I was genuinely excited. I gathered everything I could so I was prepared for the interview.
One major tip I would give to you is to read up on the company; learn the key facts. I didn't think to do this at the time and felt a little silly when it came to the interview stage.
The day of my interview arrived, I woke up early to prepare myself and get ready. I travelled up to London Gatwick on the train, which was fairly stress free as it was pretty much a direct journey.
I arrived at the airport an hour early so I popped into Costa for some breakfast and to calm any nerves. This was my dream job, I was determined to leave that airport with a job offer.
Once I checked in at the front desk, 15 minutes early I walked through to the canteen and without hesitation instantly introduced myself to everyone there. Exchanging numbers with a few of them.
It was a long day, starting at 8.30am, many of us became quite close to each other and enjoyed the whole process.
When 8:30am arrived, exactly on time the interviewers came out and introduced themselves to us all. The whole atmosphere at EasyJet is friendly and welcoming.
A lot of the time I forgot that they were important people that I needed to impress, because everyone treats each other like we've all been friends for years. It's an incredible experience. One I will never forget.
Once introduced, the interviewers explained what our schedule for the day would be. Then we were directed upstairs to a meeting room and watched a few videos; which contained a lot of information about the company and the role of cabin crew.
After this, we had group activities. Testing how we all worked together as a team. My first activity with my team was reading a statement and filling in missing gaps with clues that we each had and took turns in reading out. It was relatively easy, but the group nominated a team captain (me) and then I delegated tasks to everyone. We came back after 1 minute, took it in turns to discuss our thoughts and filled in the gaps.
The teams were then muddled up and the next task took place. We had a budget of £10,000 to promote a new route that EasyJet was flying to. There were many options, each had a cost. However, halfway through the interviewers stopped us and told us we had to have one specific thing in our promotional campaign. Which meant we had to rearrange things to ensure that we kept within the budget.
Our time was up and we passed both tasks. We were then all sent down for lunch, and told that in 45 minutes they would bring us back up and let us know who was staying for the final interview stage and who wasn't successful.
It was what seemed like a long wait, we were all filled with nerves at this point. Thinking of everything we may have done wrong or not to a standard.
The time eventually passed and we were all taken up to the meeting room again. Names were called out, and if it was yours you had to stand up. My name wasn't called. I was instantly filled with dread. Many of the people who were called up, were in my opinion some of the best people there.
Those people's names who were called out were directed out of the room. Our room was silent, you could almost smell the fear in that room.
One of the interviewers came in and made an announcement "Ladies and Gentlemen, unfortunately I have some bad news for you" at that moment, my heart DROPPED. I thought, this is it, I haven't gotten through. I was on the verge of crying because I was so close to landing my dream job. She continued "you'll be staying here a little longer today as you've all been offered an interview" ... YES! A huge sigh of relief filled the room. They each gave us a time for our 2:1 interviews and allowed us to go back to the canteen until we were called.
As soon as I got downstairs, I went outside and called everyone I cared about starting with my boyfriend, telling him the good news.
My interview was at 12:15, so I had a while to wait. I explored the airport with one of the other girls for a bit and came back closer to the time of my interview.
Eventually I was called up and they asked me a lot of questions based on my experience with customers and my education. When the interview was over, they assured me that I will have an answer on whether or not I got through within 5-7 working days.
That was the longest wait of my life. Constantly refreshing my emails to see if I had the job or not.
2 days after the interview, I received an email... "Congratulations, we would like to invite you to be our newest member of crew" I screamed and told everyone I knew. I was immensely proud and excited to have come that far.
All that followed was a lengthy reference check, medical history check, and criminal record check. I passed all of that, and was offered a training day; 9th January 2018.
So, it's leading up to that all important day. I want to do a daily article about every step of my 3 and 1/2 weeks training. Hopefully giving you an insight into the training of EasyJets cabin crew.
career
Cabin Crew with EasyJet and Travel Enthusiast!
Receive stories by Rhiannon Eyre in

your feed