Five Things to do BEFORE Setting up a Facebook Page.
How to set up a Facebook page for your business when you don't know where to start.
Whether you've just started a business or have been running one for some time, if you're not taking advantage of social media to build and market your brand, a Facebook page is a great place to start. The setup process is simple, it's free, and it only takes a few minutes to complete. Did I also mention Facebook has over two billion users? Think of how many potential customers you can reach through your page. Exactly, so let's get started.
Rather than advising you to go straight to Facebook, find the Create a Page tab, and follow the instructions, I'm recommending some prep work first. Before you create a Facebook page for your business, there are five things you should consider doing first to get your ducks in a row.
1. Visit a handful of Facebook pages for research. Look for pages that provide similar products or services to yours as well as pages that are not similar that you already follow.
Go through each of those chosen pages and take notes on what you like about them. Do they have a nice aesthetic that's pleasing to the eye? What do you like about their posts? Are they engaging, informative, entertaining, or a combination of all three? Do they post consistently to keep followers updated on new products or services?
Now take notes on anything you don't like. Do any of the pages look unprofessional or incohesive in their design? Is it unclear what products or services are being marketed or on the contrary, is it too spammy? Are there pages that look appealing but it's been weeks or even months since they've updated their followers with a new post?
Once you've completed your research, use this information as a guide on how you want your business page to look, feel, and operate and then customize it to your particular brand.
2. Have all of your business and contact information ready.
This includes your business name; a tagline if you have one; website address; business address or post office box if applicable; telephone number and/or email address; and your hours of operation. All of this information isn't required to set up a Facebook page, but the more you can give your customers, the better.
3. Create a cover photo to serve as the banner for your Facebook page.
This is where Canva becomes your best friend. Canva is a graphic design program great for creating social media posts and designs. They offer a wide array of templates that are free to use. Start by visiting Canva.com to create a free account and then you can access their design templates. A simple search for Facebook Covers will yield a plethora of choices, the majority of which are free. Once you find a template you like, you can customize its text, colors, and add photos. When finished, be sure to download your Facebook cover onto your computer to access later. You can learn more about creating in Canva by visiting their help page for tutorials.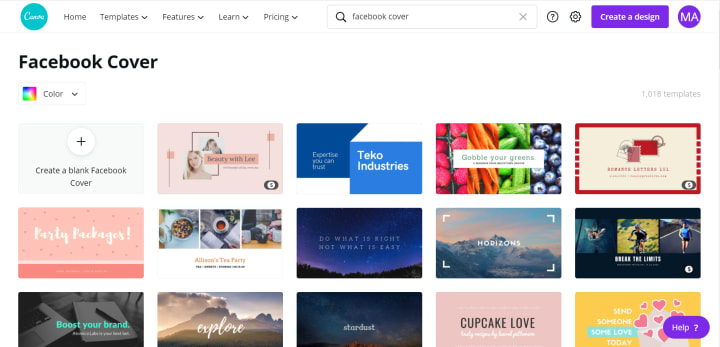 4. Choose a photo or create a logo for your profile picture.
Some ideas for your profile picture could either be a photo of yourself, of a product, or of your business logo. I recommend using a good quality photo of yourself so your followers have a friendly face to associate your business with. If you prefer a business logo, you can create one in Canva by following the same steps outlined for designing your cover photo, only this time you would search for Facebook Profile templates. Again, you can customize the text and color to fit your brand.
5. Write a description of your business in 255 characters or less.
This final step is essential for your business page so you want to give yourself time to develop the right script. This is a way to introduce your business and describe your product line or services or share your company's mission statement if you have one. Think of it as a ten-second pitch. If you only had ten seconds to describe your business to a potential customer, what would you say to entice them into wanting to know more?
Once you've completed these five recommendations you are ready to create your Facebook page. After your page is created you may have more questions like how to get followers, what to post, how often to post, and should you pay to advertise your new page. All great questions. I suppose I should get started on a follow-up article. In the meantime, Facebook for Business has information on the benefits of creating a page for your business as well as step-by-step instructions.
*If you found this article helpful, please leave a heart and share it with others on social media. Thank you.