Fab 5 Winners October 29, 2021
Week 3: FYI & Lifehack, Families & Marriage, Criminal & Horror, Fiction, Unbalanced & Wheels & Cleats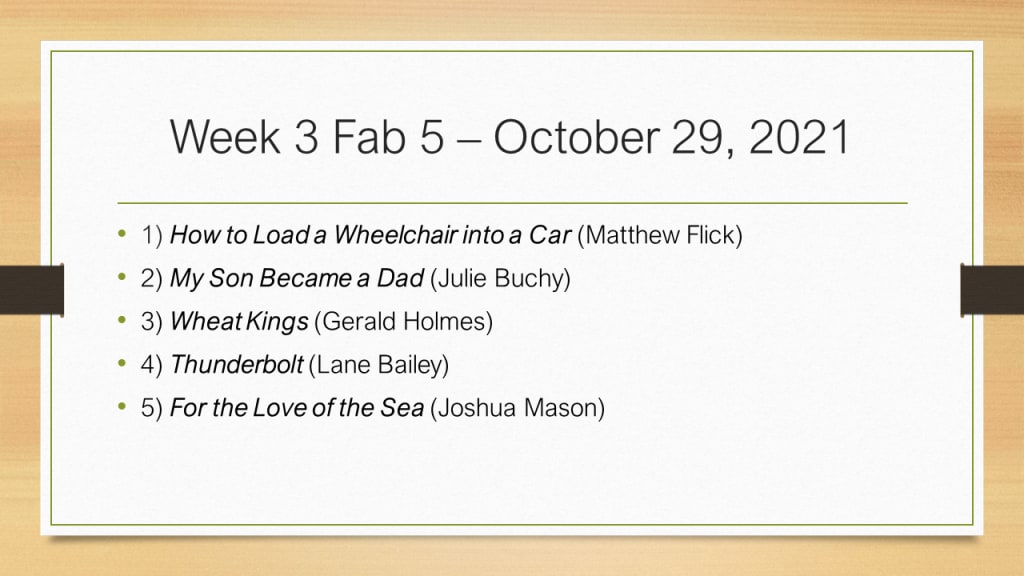 Welcome Vocal Fam! We are no longer doing solo posts to announce the winners in the hopes of streamlining your online experience. However, we still want our winners to know why they won and to uplift the collective by letting everyone read the peer reviews! Thank you to all the dedicated moderators who help read the entries every week; we couldn't do it without you. - Les
Not sure what the Vocal Social Society is all about? Check out our welcome article:
WINNERS
(Unless otherwise specified, intros penned by Caroline Jane.)
How to Load a Wheelchair into a Car – A Humorous look at Driving with a Disability – Matthew Flick
You cringe as you read this piece for lifehack. You laugh… and then you cringe some more. This reads like Matthew Flick is John Cleese in a wheelchair.. impressive writing skills to say the least. To forge empathy and awareness whilst at the same time make a person laugh – is there any better way to exact change in the world? Arguably, no.
"You have issues with your legs and now need to use a wheelchair to get around. Most people will consider this terrible news, but not you! You understand all the advantages—better parking, no waiting in lines, people are constantly offering to do things for you. One factor you didn't consider is that you drive and will have to transport the chair. Dammit!"
My Son Became a Dad – But he was a Little Boy Not Long Ago – Julie Buchy
This is a real coming of age story for a whole family. Mother to Grandmother and Son to Father. You could not find more love, warmth and understanding if you looked in all the great epics. These words written from a mother to her son as each of their worlds and roles change forever are wise and caring – like a readable arm being wrapped around a whole family. Joyous and moving.
"We beam with pride with each accomplishment and our hearts are a little bit saddened when they encounter bumps along their path. For me, perhaps the greatest wish I had for my son was that someday he would find a nice girl with whom he could make a life and have a family."
Wheat Kings – The Story of David Milgaard – Gerald Holmes
The sadness of the whole rotten story of David Milgaard's wrongful conviction is encapsulated beautifully in the song by The Tragically Hip: "Wheat Kings". Listening to it as you read the description of events adds to the woeful atmosphere, and is a great addition by Gerald.
The bottom line here is this - stories like David Milgaard's need to be told. Here, Gerald provides a thorough, soulful and grounding account of a human tragedy the world needs to remember, mourn, and learn from.
"Canada was horrified. David's mother was devastated. She orchestrated appeals. She helped find fresh evidence. More appeals. A new suspect. Appeal, again. No matter. David Milgaard was behind bars. Twenty-two years passed, five different Prime Ministers held office."
Thunderbolt – By Just a Little – Lane Bailey
Lane Bailey knows his cars and he also knows what makes a really great short story – a short moment in time explored thoroughly. In this instance his story is of an illegal street race where hot headedness and ambition collide in a mechanical and speed showdown. A great short story showing how the use of technical knowledge can really add substance, help a piece resonate and bring a short story to life.
"The long-haired guy either didn't know what to look for or was pretty confident that his car was faster that Arn expected it was. Under the hood of the Fairlane was a slightly warmed-over Ford 427. The Fairlane was a "Thunderbolt." The Thunderbolt was a car manufactured by Ford for one year, 1964. They stuffed a 425-horsepower rated big-block that had been used for NASCAR into a smaller, lighter package. The reality was that the engines made more than six-hundred horsepower in stock trim."
For the Love of the Sea – Cursed Gold – Joshua Mason
This is a horror story of unrequited love. Ambitious and sublimely executed. The sea is the anti-hero and Joshua is skilful in how he brings the personality of the sea to life… from temptress to vixen - to be simultaneously feared and adored… exactly like all the best horror characters you can think of. Such an innovative piece that certainly deserves far more attention.
"The ocean is my one love. Ever since I was a child every moment I could spend on the ocean was heaven on earth. It didn't matter if it was rain or shine. I loved the ocean all the time. I grew up on a small island in the southeast asian chain of islands. Growing up by the sea I think maybe had something to do with it. I could go there anytime I wanted and I did. I would watch with eager eyes when storms rolled in watching how it affected the ocean. So I personally find it ironic that a storm is what did me in."
Congratulations winners! Your peers at the VSS salute your efforts.
Until next time, reminding you we are 'better together'.
Psst...have you joined Great Incantations yet?
First published by Call Me Les for The Society pages - a mini magazine in The Vocal Creators Chronicle family on November 1, 2021