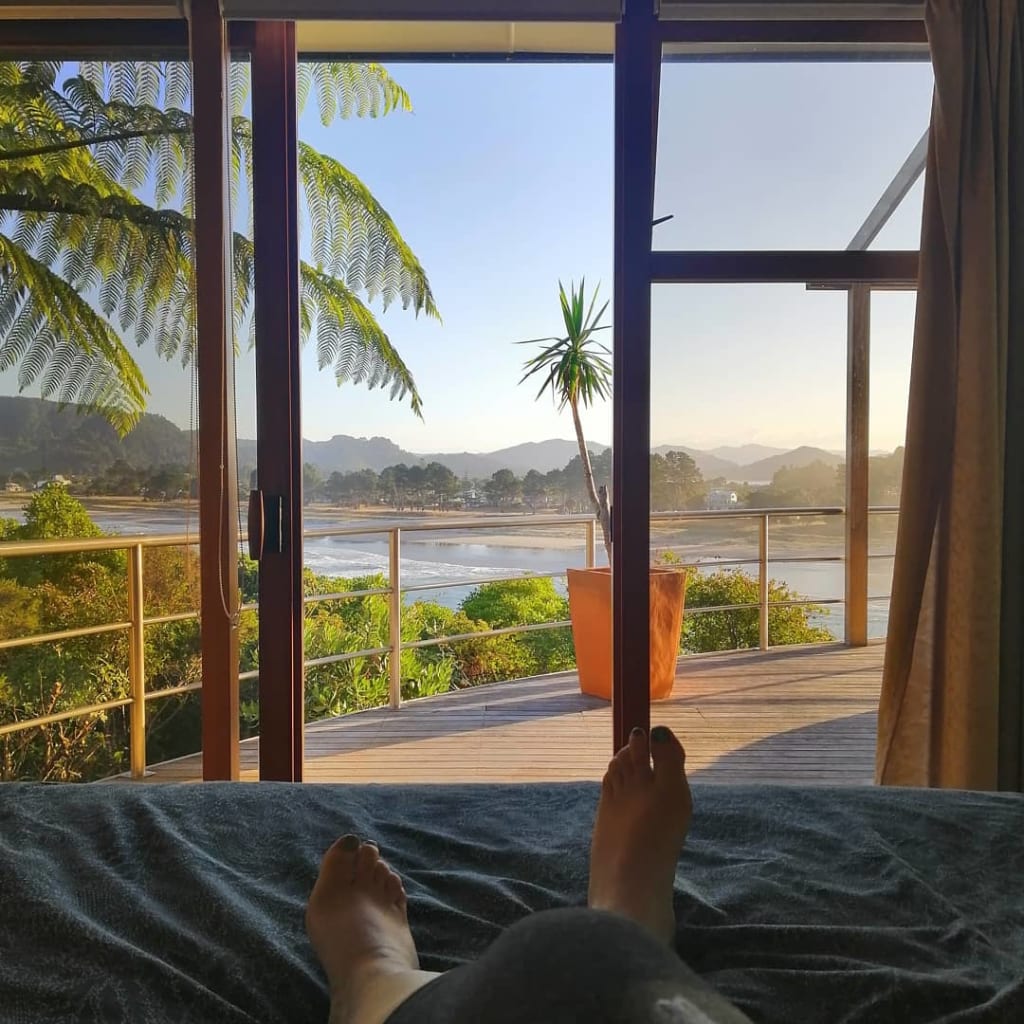 Escape Route
I lay back in my bed. I picture the beach, the blue sky, and the sound of the crashing waves as they landed on too the shore. The trickle of water as it rolled over my feet. The sun shone down around me and gave me a warm fuzzy feeling. All the tension that was inside me earlier slowly goes away. I looked across at the neighboring beach. People were casually strolling along without a care in the world. Kids were building sandcastles and fishing off the wharf, having the time of their lives. Boats headed out the sea to make the most of the beautiful summer's day.
I imagined the track along the rocky beach path with trees creating the illusion of a tunnel hovering over me. They kept me cold and away from the scorching heat of the sun. As I got closer to my family's house, I heard the sounds of laughter from my family's friends coming from the deck. As I enter the front door, I hear the sound of a cork popping off a fresh bottle of champagne. It made me want to join in the fun.
Pouring myself a glass of wine, I exited onto the balcony and sat down drinking out of my elegant glass of champagne. My view is of two beautiful beaches with a harbour in between. As the day goes by, the sun sets over the harbour. It sends shimmering rays of light that glitter on the wave tips. The sky lights up in a beautiful array of autumn colours. I'm enjoying the moment of tranquility. This is my escape route because reality was far from serenity.
The Real World
As I traveled to work, there was an eerie kind of feeling in the air. The streets once crowded with people and cars, are empty. Aside from a few parked here and there, there is no one in sight. I exit my car and enter my workplace. The silence as I walk in is like nothing I've experienced before. It seems like a ghost building waiting for the presence of people to overcome its now-abandoned state. Level one has been adjusted to fit the circumstances. There are two meters keep your distance signs on the floor and walls. Glass panels cover the tills at reception. Sanitiser dispensers are in every area, along with masks and gloves. The precautions you must take before starting, and finishing work are vital. Sanitising everything is mandatory.
The fences which surround my workplace make me feel trapped. It seems like a cross between a prisoner's camp and a hospital. Armed forces walk the building keeping everyone secure. DHB monitors us daily before we are allowed to start work. If we are above a specific temperature, we are sent home. A list of symptoms sits before the entry door on the way in. We are tested now twice weekly for the virus causing an epidemic around the world. We are restricted to where we can go and how we do certain things in different areas. Floors are marked with coloured tape. Each section is its own color and rules. There's no point in keeping up your appearance anymore as no one sees anything but your eyes.
You must stay in a bubble. We are not allowed to associate with guests. Mostly we do not see them. Their food is delivered in brown paper bags and throw away recyclable containers. Meals are no longer served on plates. Everything comes in individual items. Individual-sized packets of food replace jars or bowls once shared.
Apart of who I once was has been taken away. Some passion for my career is now lost. The sound of the docket machine that used to print out order by order is no longer there. The laughter and chatter from the guests have disappeared. The things I used to find frustrating have gone. No more late-night annoying guests enter the restaurant after hours. The wait staff no longer struggle to keep up with the demands of the hungry guests. The loading bay is no longer packed with cars waiting to be parked by porters.
Life Outside
Outside of work, my life has also been impacted. It was four months until I saw most of my family again. Travel restrictions have been put in place until recently. Only essential businesses were open for service. It feels like the world has gone to war without going to war. Memories of loved ones who passed away during this time will never be forgotten. Some whom we are lucky to have seen, others not so much. The family we still have not met yet because they were born overseas remains locked in our thoughts. Those who haven't managed to get back home also haven't been forgotten.
The days you could once get in your car and go for a Sunday drive have long gone. There is no such thing as a concert or communal gathering anymore. You can only go so far out of your home town and are fined if you are caught. I have become a stronger person through all of this and made some beautiful friends. Although it has its negatives, it also has its positives. Learning to adapt to a whole new environment was challenging but also rewarding. Skills I once lost are now found again.
Return To Paradise
My thoughts return to the rippling sound of the waves as they flow gently over the rocks. I picture the sandy beaches and tides coming and going throughout the day. The brilliant blue skies and the sounds of the wildlife surrounding my spot of paradise are a balm to my soul. The sounds of the sea bring a calmness to my soul, and the beautiful sunset puts me at peace. I imagine the faces of the people I long to see, enjoying another family bbq on the balcony. I absorb the beauty and peaceful surroundings, and I know that I will be okay despite everything.
Copyright © by Elizabeth Janssen