Embark on a Remarkable Honolulu Adventure:
Five Exceptional Tours for the Ultimate Island Experience
Aloha, dear travelers! Are you considering a trip to the vibrant city of Honolulu? This idyllic island destination is a treasure trove of stunning natural beauty, rich history, and unique cultural experiences. To help you make the most of your time in this tropical paradise, we have curated a list of five incredible tours, each offering a distinct perspective on the wonders of Honolulu. So, without further ado, let's dive into these captivating excursions that promise to make your Hawaiian vacation truly unforgettable.
Honolulu is home to one of America's most significant historical landmarks: Pearl Harbor. A visit to this poignant site is a must for history enthusiasts and those interested in understanding the wartime sacrifices that have shaped our world. On this day-long tour, you will have the opportunity to:
Pay your respects to the fallen heroes of World War II at the USS Arizona Memorial.
Explore the Pacific Aviation Museum and learn about the aircraft that played a pivotal role in the conflict.
Delve into the events that led up to the infamous attack on Pearl Harbor, gaining a deeper appreciation for the impact it had on the course of history.
With an expert guide by your side, you will be immersed in a captivating narrative that brings the past to life, making this an experience you will treasure forever.
For those seeking a more tranquil and picturesque adventure, a catamaran voyage and dolphin quest is the perfect choice. As you glide across the sparkling waters of the Pacific Ocean aboard a luxurious catamaran, you will be treated to breathtaking views of Honolulu's stunning coastline. Highlights of this tour include:
Spotting dolphins, whales, and other diverse marine life in their natural habitat.
Snorkeling in crystal-clear waters, marveling at the vibrant underwater world teeming with life.
Savoring a delectable on-board lunch while taking in the captivating coastal scenery.
This tour offers the ideal blend of relaxation and discovery, allowing you to unwind and appreciate the awe-inspiring natural beauty that Honolulu has to offer.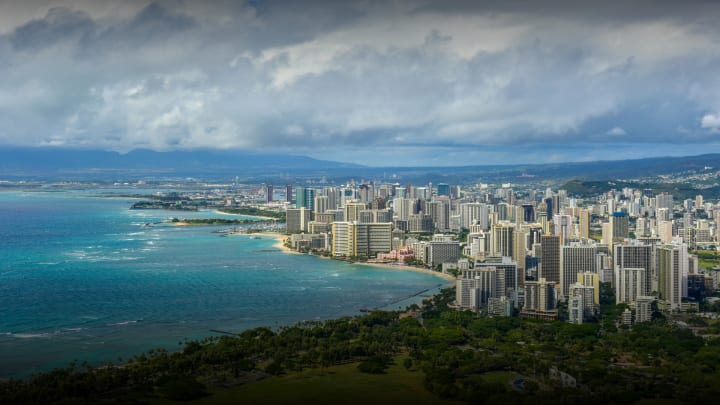 For the more adventurous travelers, hiking, scenic exploration, and coastal jaunt provides an opportunity to experience the incredible natural wonders of Honolulu. Led by a knowledgeable guide, you will:
Hike through lush rainforests, surrounded by the sights, sounds, and scents of verdant flora and native wildlife.
Visit striking waterfalls, capturing the perfect photo opportunity in these awe-inspiring locations.
Uncover secluded shores, where the pristine sands and azure waters will leave you breathless.
This tour is an exceptional way to engage with the island's diverse landscapes, leaving you with memories that will last a lifetime.
Eco-tourism enthusiasts will be thrilled with the Island Eco-Adventure from Waikiki. This tour focuses on showcasing the island's most exquisite natural habitats while promoting responsible and environmentally friendly practices. During this enlightening experience, you will:
Explore lush forests and sparkling beaches, witnessing the island's diverse ecosystems in all their glory.
Observe endangered species up close, gaining a deeper understanding of their unique challenges and the importance of conservation efforts.
Learn about sustainable living practices, empowering you to make a positive impact on the environment during your travels and beyond.
This tour is perfect for those who want to combine their love for nature with their commitment to making the world a better place, ensuring that future generations can enjoy the beauty of Honolulu and other pristine destinations.
Finally, the guided isle excursion with turtle snorkeling offers a fantastic opportunity to experience the natural beauty of Honolulu from an aquatic perspective. With an expert guide leading the way, you will:
Explore the island's most picturesque beaches and bays, discovering hidden gems that few tourists ever encounter.
Snorkel with sea turtles in their native surroundings, marveling at their grace and beauty as they glide through the water.
Learn about the fascinating marine life that inhabits the Pacific Ocean, gaining a newfound appreciation for the delicate balance of this underwater ecosystem.
This well-rounded and unforgettable tour provides an engaging and immersive experience that is sure to leave a lasting impression on all who participate.
When it comes to finding the perfect place to rest your head after a day filled with adventure, Booking.com is here to help. Whether you are seeking a luxurious beachfront resort, a cozy boutique hotel, or a budget-friendly hostel, Booking.com has options to suit every type of traveler. With easy booking and flexible cancellation policies, you can find the ideal accommodation without any stress.
Conclusion: Your Unforgettable Honolulu Adventure Awaits
So, pack your bags and get ready for an extraordinary trip to Honolulu! These five carefully curated tours, combined with the assistance of Booking.com, guarantee an amazing time in this tropical paradise. From the depths of history at Pearl Harbor to the serene beauty of a catamaran voyage, there is something for everyone in this enchanting destination. Embrace the spirit of Aloha and embark on a journey that will create memories to last a lifetime. Mahalo!
Reader insights
Be the first to share your insights about this piece.
Add your insights