Diversification
Is Diversification the way forward?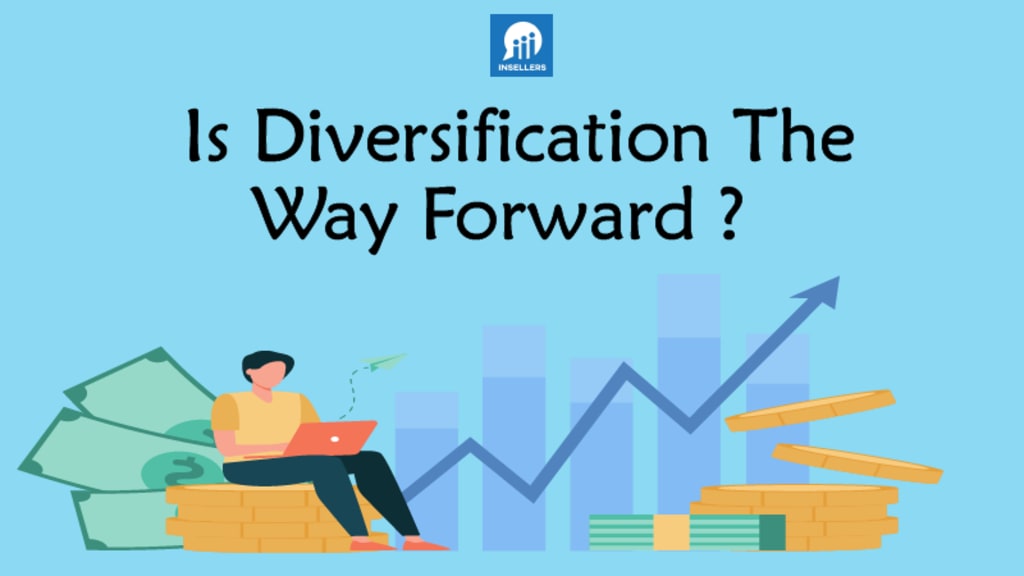 Before heading towards the question of whether to diversify the company or not, it is important to understand the elementary knowledge affecting this decision-making process.
What Is Diversification?
Diversification is a growth strategy where a company expands by manufacturing a new product, or starting a new product line, or entering a completely new market.
For example, an automobile company might extend its brand by starting the manufacturing of tires or by adding a new product line of trucks.
Diversification stretches from listening about the success of the biggest entertainment company Disney owning ESPN, ABC, Disney theme parks, cruise lines, and Pixar to stories of the decline of National Semiconductor Corporation which got collapsed due to poor retail manufacturing incompetent to the market.
Need for Diversification?
"Don't put all your eggs in one basket"
Every company at some point faces market saturation and customer increment stalls. Diversification opens the possibility of exploring new markets and targeting new customers. The reasons to diversify the company are-
• To be on the safer side, diversification offers you a chance to explore more than just your core business. It seems beneficial to have a diversified channel to protect the company from a decline in a particular sector by distributing financial risks.
• Diversification helps you gain a maximum customer base and establish you as a top provider. Movie rental provider, Blockbuster suffered a downfall as it failed to switch to new DVDs by mail, and online streaming formats.
• Diversification pursues stability and predictability, in case of loss or market saturation. It makes certain that the company remains profitable.
• Diversification demands maximum use of resources that might be underutilized currently.
While diversification seems to be a straightforward technique to maximize profits by investing in new areas and exploring different assets, it is just a risky shot if not proceeded with proper research and strategy.
When it comes down to business expansion, no negligence is accepted. Make sure to research and run all data-driven assessments before jumping on the decision to diversify.
Major strategies for diversification
Decisions should be based on facts, the best strategies, and analysis of competition. Types of diversification strategy-
Horizontal diversification-
Horizontal diversification is when a company starts a new product or merges with a company having the same position and approach towards the market, that doesn't deviate the company from existing customers.
Take the case of DISNEY-PIXAR,
Pixar operated in the same animation space as Disney, but its animated movies used progressive technology and an innovative vision. The acquisition of Pixar has combined pre-eminent creations to an unparalleled portfolio of Disney entertainment. The merger is now widely considered to have evolved Disney, raised its market share, and increased its profit.
Vertical diversification-
Vertical diversification leads to company growth by focussing more on its business supply chain of core industry. It is considered as a strategic move to add products or services complementary to the existing one. The benefits provided are low production cost, higher profits, and the expansion of the market.
The largest company practicing vertical diversification is Walt Disney. It owns the companies that create and produce film and television properties, and are then marketed and distributed by Disney throughout the world, who therein broadcast on affiliated networks, such as ABC and other channels and platforms. The home videos are manufactured by companies owned by Disney, and often shipped to Disney retail stores, along with significant forms of other consumer products such as toys, games, etc., and sold directly to the customers. Many of the products are found in Disney's hotels, restaurants, and theme parks.
Concentric diversification-
When a company chooses to add a new product or grow a completely new product line that also appeals to new customers and builds a new portfolio for the brand.
Disney purchased Marvel Comics in 2009 as intellectual property acquisition, due to its characters and brands being a strategic fit for Disney's family-oriented brands. Thus, its characters such as Spider-man, Iron Man, Thor, Captain America, and other superheroes were distributed throughout other Disney businesses, including its theme parks, retail stores, and video game business.
Take another example of the largest corporation Coca-Cola, its acquisition of Nigerian-based fruit company, Chi Ltd has updated the company profile with a solid foundation in Africa.
Conglomerate diversification-
This diversification poses maximum threats as a company extends a new product that is unrelated to its current core business.
Looking for companies having a diversified business portfolio, Disney has a remarkable history of pursuing a combination of related and unrelated diversification. One of them is resort properties, real estate business. Disney has made sure customers experience the magic of Disney right on its property rather than lodging in a different hotel or going to a third-party environment to watch its movies and visiting Disney park.
One of the stories of unrelated diversification is of Richard Branson. Virgin owning a record label to airlines, planned to compete with Coca- Cola, and Pepsi by releasing Virgin Cola. However, the ad spent was far too costly but couldn't overpower the already existing powers in this market resulting in a huge loss.
The goal always lies in success and growth for the company. A strategy suitable for your company can benefit substantially, however, a diversification strategy that hasn't been thought through can lead to the downfall of the company.
Questions to be raised before diversification
Being such an unpredictable move, diversification can't be preceded by seeing your competing company doing well over yours or by the entrance of any new industry in the field. Diversification doesn't need to be such a risky stake once you know about the uncertainty.
A little awareness and consciousness about the decision can turn the table, uplifting the company's value.
• What is the biggest strength of the company over other competitors in the same market?
Identify what your company does better than the competitors. These aspects differentiating your company are called "strategic assets". Decisions on diversification should be based on strategic assets which add additional values as well as guarantee success to the company. Your asset can be your exceptional product, your excellent customer interaction, superior knowledge, or even an effective distribution channel.
For example, J.K. Manufacturing Company, a dynamic organization, commenced with the production of Cement Paint, diversifying into floor oxides, wall Putty, Distempers, primers, tile fix, and plastic emulsion paints.
• What additional resources/skills are required to excel in the market?
Once a company identifies its strategic assets, it should proceed to anticipate assets that are needed for expansion. Having all the required qualities ensures success, not just some of them.
• Is there a chance for the company to stand out?
The famous coke company Coca-Cola was ruled out of the wine business game despite its huge reach as it lacked the asset of making quality wine.
So if the market rules don't apply then ask if the company can change the market at an affordable price. Look for ways that can rule out the insufficiency of resources.
For eg, Disney's cross-promotional relationships with McDonald's gave it an edge in retailing. The partnership will combine Happy meals with Disney figures. The deal ended in 2006, as the company prohibited licensing of characters for foods that fail to meet the minimum nutrition requirements. The partnership is again renewed with McDonald's announcing changes to its Happy Meals. The fast-food company has also promised to meet the Disney standards by June.
• Will diversification require breaking of current strategies?
Some strategies of the company work only when they are being clustered together. If the current knowledge of the team is not sufficient or helpful then it can't be backed by the other highlighting features of the company. When the upcoming business doesn't have any value chain that fits with the current business, then it is unrelated and strategically unfit for the company.
Suppose a company has knowledge in the entertainment sector, has a strong chain of suppliers and excel in customer relation, then all these assets will work the best together. But if that company decides to take note of only one asset say the entertainment sector, then chances of failure will increase. So the execution of strategies separately might result in a downfall.
Points of caution-
Diversification is a growth option with equal risks, if you fail at diversifying it may cost you more than money.
• Thinning your core business by redirecting a lot of the funds to an unsuccessful plan.
• Customer dissatisfaction and losing your current market.
• Over diversified companies sometimes suffer instability in all sectors due to fewer resources.
• Innovation and quality can sometimes be compromised for diversified companies as it is passive to market changes.
While knowing the company's strength and analysing other company's diversification moves, you can have an informed decision of whether to diversify or not. Resisting a good opportunity to broaden your domain or being over ambitious and unwise by investing in a non-profitable project, you should be smartly prepared.
Diversification can enhance the company's position as one of the strongest players in the market. Make certain that you examine every possibility of potential risks and benefits, as well as ascertain the type of diversification suitable for your business before implementing.
Finally, make sure you don't overdo it. All investments have some risk, also holding many investments doesn't allow any of them to have much of an impact. It is a tempting fate to diversify, the key lies in finding the right balance between potential risks and maximum returns.