Did you check your Social Selling Index today?
Linkedin has a powerful tool to monitor your Social Selling capacity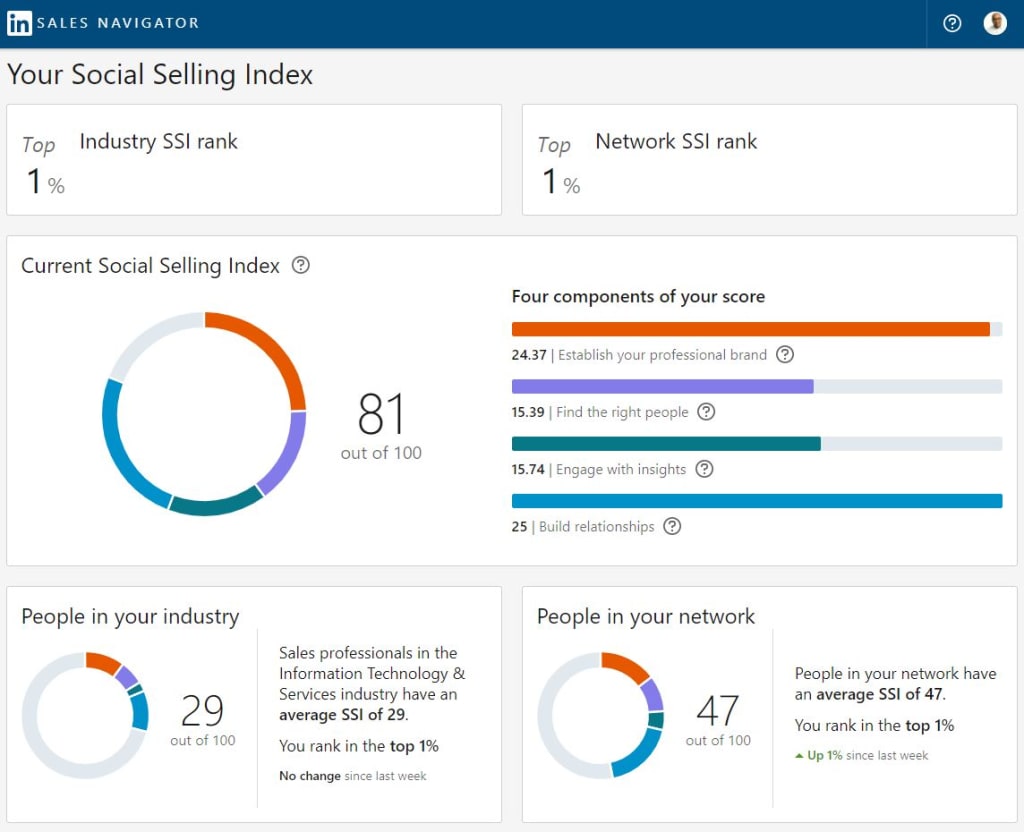 My LinkedIn Social Salling Index
According to Linkedin, I am in the Top 1% of Industry (IT) and on the Top 1% of my whole Linkedin network (more than 25.200 connections) regarding the Social Salling Index.
You've probably heard of LinkedIn's Social Selling Index (SSI) if you're using Linkedin to build your sales, make your network, or develop your brand.
In this article, I will try to explain what the SSI is, and I will share some tips to improve your behavior, having as an ultimate benefit, the upgrade of your SSI score.
But first, let's try to understand better what is Social Selling and Personal Branding are.
What is social selling?
Social selling refers to using social networks to find and nurture leads and prospects. When I talk about SSI, I am talking about how well people demonstrate their sales skills.
Professional LinkedIn profiles are mainly a way to sell ourselves on a level of personal-professional that we haven't seen before to connect with others.
An innovative social seller can use some characteristics of social networks or a specific demographic to find customers and partners in a way that hasn't been done before.
Social Sales is not only about getting to know customers and clients, but it's also about building brand awareness, and this can also be used to develop your brand as an employee, an entrepreneur, or as a freelancer.
What is Personal Branding
When I refer to "personal branding," I refer to establishing and promoting what you stand for. Your brand is the unique combination of skills and experiences that make you... you. On effective personal branding, for sure, will differentiate you from other professionals in your field.
LinkedIn users prefer to engage with a strong brand and people with a strong presence, such as well-respected thought leaders.
According to CareerBuilder, more than half (57%) of employers won't hire potential candidates without some online presence today.
It means that you may be losing out on an interview over something you can control - like your personal brand. If you aren't properly managing your online reputation, you may actively lose out on opportunities.
The average person now switches jobs every 2-3 years, and 40% of the workforce will freelance by 2020. This means that a solid personal brand is more critical than ever before. The more successful you want to be, the more critical personal branding becomes.
In today's competitive job market, a solid personal brand is no longer a "like to have" but a "must-have."
LinkedIn and the Social Selling Index (SSI)
Undoubtedly LinkedIn is by far the dominant platform of choice when it comes to structuring out our social selling activities, and it also includes its own built-in Social Selling Index (SSI), which provides you with a score, based on how effectively you are using the channel for social sales and branding purposes.
But for many people, it is not so bright what it is and how it works, so let's take a closer look at what this score tells you and how you can improve it.
Explaining the LinkedIn SSI
In case you haven't heard of it, or wonder what it really is, the Social Selling Index (SSI) is a LinkedIn tool that measures our capability with regards to selling a brand or product via social channels. The better our SSI is, the more we'll be able to sell ourselves and our products.
In other words, by using a lot of data collection and algorithm magic, the Social Selling Index is about measuring how you're doing on the platform in your sales efforts, providing you some insight on what you could be doing better to become a successful social seller.
The basic concept behind the LinkedIn Social Selling Index is to measure social selling effectiveness and how well users have embraced the idea. Users are given a score out of 100, with higher scores indicating the profile has been optimized and used to better effect than those with a low score.
Ultimately, the primary use for SSI is providing salespeople with real-time analysis of where they currently stand regarding social selling efforts, which aspects they are getting right, where improvement is needed and how they compare to others in their network. It can, therefore, be used not only for salespeople but also to inform employees of personal and social development.
Research from LinkedIn shows that SSI scores are directly linked to business outcomes. Social selling leaders create, on average, 45 percent more opportunities than those with a low SSI score and are 51 percent more likely to make a quota. Moreover, 78 percent of social sellers outsell peers who do not leverage social media.
How to Improve your SSI Score?
As I said, your LinkedIn SSI score is determined by a formula that looks at the following four key areas:
Establish your professional Brand – Whether the profile is complete, how much rich media has been added, etc.
Find the right people – Effectiveness at identifying prospects, use of advanced search features, etc.
Insight Engagement – Amount of content shared and engaged with, amount of conversation generated, etc.
Relationships – Number of connections made, links to critical decision-makers, etc.
Here I will share some tips to help you improve your score in any SSI dimension. I believe that by spending as little as 15 minutes a day on LinkedIn and following these tips, your social selling index score (SSI) should improve.
Following these tips, you will make your LinkedIn profile be your best business card and have everyone talking about your skills and talents.
"Establish your professional brand."
The first and most natural step towards improving your SSI score is merely to complete every possible aspect of your LinkedIn profile, leaving none of the optional elements blank. This also means adding all of your work experience, education information, and job descriptions and creating a custom headline and summary.
Additionally, you should upload a professional photograph of yourself and add multimedia to your profile, just like when you show up at clients; you have presentation material with you (ppt, video, and brochures). Since your profile is your online presence, use that multi-media here too.
Also, you probably want to be perceived as a professional and resource for your clients and prospects. What better way to become a resource than clients saying you have the skills and talents.
If you have a low SSI score, it indicates that you are not seen as a professional resource in your line of business. So, start to add and get endorsed for the skills that make you the #1 resource in your field.
Becoming a reliable resource on LinkedIn is about sharing relevant information with your network (without wanting anything in return). Make it a daily practice to do status updates and a weekly practice to write LinkedIn articles.
"Find the right people."
One of the most critical aspects of how you use LinkedIn, concerning defining your social selling score, is how active you are at finding or identifying prospects and forming connections with them. After all, relationship building is the single most significant benefit of social selling.
A low "Find the right people" score on SSI means you are not doing enough searches, viewing profiles, and starting conversations.
You should perform a regular number of daily searches to find new 2nd-degree contacts in your target audience. Visiting their profile, comment articles, or linking new and relevant posts can motivate them to come back to visit your profile. Then you will have the opportunity to start a conversation or get introduced by a mutual contact.
You can always join LinkedIn groups where your prospects and clients live and interact. But remember to be relevant!
Engage with insights
Now that you know how to find the right people and start new relationships, it's time to engage and share content and become the resource for your network.
Here, a low SSI score means that you are not sharing, interacting, and having meaningful conversations on LinkedIn as you should.
Many social selling strategies fail because some people are too reluctant to engage with contacts. My advice is to regularly engage with your social media contacts, mainly commenting on the things they post, trying to use your comments to regularly cater or demonstrate expertise, rather ng low-value comments. You can also engage with contusing the 'like' and 'share' functions. These simple actions will create visibility within your network.
You can use notifications to keep your network warm. There are controversial opinions about using this, but it gives you a perfect opportunity to start a conversation.
And remember that you can participate in group discussions with likes and comments or, even better, start a debate on your target audience's topics.
"Build relationships."
Since the beginning, I use LinkedIn to share helpful content with my audience. Usually, it can be my company content and content, which I have personally created. Still, even third-party content, which is sometimes utterly unconnected to my company or me, but which I think can be helpful to my network.
My branding strategy is, in part, powered by building and maintaining relationships on LinkedIn.
A low score in this section indicates you are not adding people to your network and not building relationships.
I blindly believe in the benefits of sharing compelling content on Linkedin, because sharing content helps me to establish trust and enables people to see me as a valuable source of information. Writing articles and personal updates on Linkedin also has the added benefit of establishing my unique voice. And if people comment on my articles or content I have shared, I have the opportunity to continue the conversation and engage further if it is relevant.
To increase my network and augment my possibility of professional relationships, I used to turn it into a LinkedIn connection, every business card I receive. I usually add every person I meet for any business reason to my network. It became a habit that helped me achieve a good number of valid and relevant relations on LinkedIn.
One more thing, I respond to every invite for my network. Most of the time, accepting it! In the worst case, when I don't know the person and her/his industry or role don't sound immediately related to my network or interest, I used to send a message first to start a conversation. In many cases, it turns out as an exciting opportunity.
Conclusion
I dedicate particular attention to my LinkedIn network. I've been spending pretty much more time on LinkedIn than on my Facebook profile.
If you want to have a consistent presence online on this excellent professional network, I believe that by following the tips I shared here, regularly, you'll reach your goal, and your SSI score will skyrocket.
After all, these tips don't take much time, and they work based on the most relevant professionals of branding recommend. If you have any other suggestions, please feel free to share them in the comments below.
And if you want, you can share your SSI here in the comments if you need any other information or if you want some advice.
Thanks!
Jair Ribeiro.
Useful Links
About the Creator
A passionate and enthusiastic Artificial Intelligence Evangelist who writes about people's experiences with technology and innovation.
Reader insights
Be the first to share your insights about this piece.
Add your insights