Creating Confidence In Crisis
A guide to JMDA's Proxy Statement and comments on the upcoming July 2020 shareholder meeting.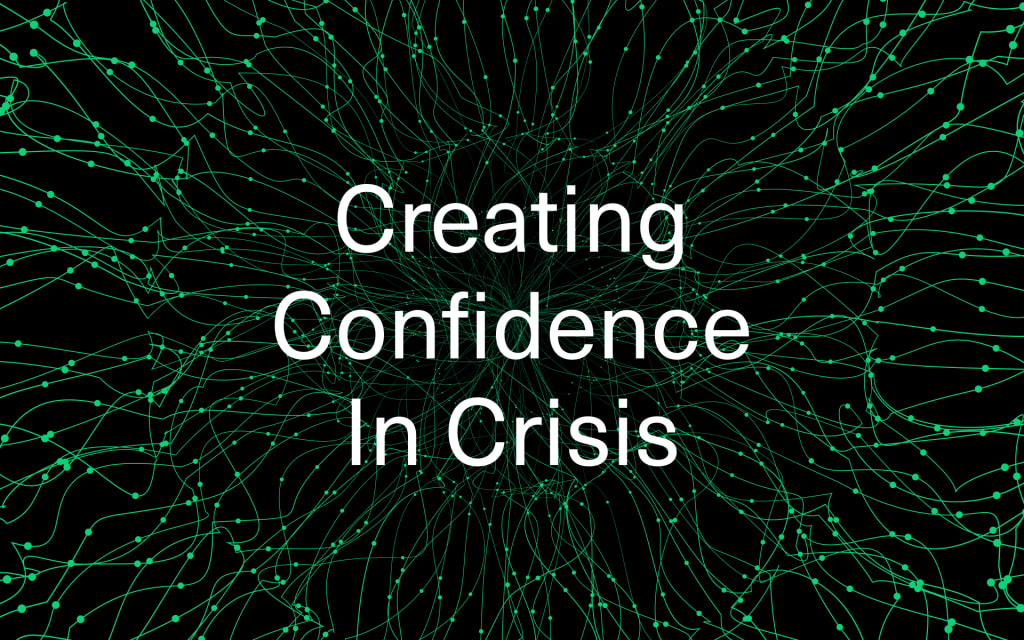 Jim Cramer, CNBC host and former hedge-fund manager, recently said, "At the end of the day, the market has no conscience... Nobody is investing to make the world a better place."
To some extent, I agree with him, but on the whole I find this to be an oversimplification of what is actually happening in the markets. Some experts say the stock market has rallied, recently making new highs, because the perceived economic repercussions of the pandemic have not, in fact, been worse. Others are patting the Fed on the back for putting a backstop in the credit markets. My personal opinion is that the broad market has very little idea how to price itself, which is allowing algorithmic trading to set synthetic levels based on liquidity and behavioral algorithms that, as Cramer correctly stated, have no conscience. And yet, the performance of these algorithms is to some degree still based on the emotionally-driven decisions of humans, which they consistently take advantage of. They study and leverage human behavior.
Generally speaking, the market is driven by some combination of logic and emotion, though less so when the government is interfering directly in its affairs. I support a number of the bailout decisions the administration has made, in particular the PPP. However, those are merely temporary solutions for a much more permanent problem. Directly buying corporate securities en masse, for example, is not the type of bailout that helps the people who really need it. Even if they literally have barely begun to buy, the mere existence of the backstop has interfered with normal market activity. This will be a serious problem in the near future, particularly if people conflate the stock market with the economy.
I am paying close attention to these developments as we get prepared to uplist JMDA to the NASDAQ in the midst of one of the most divisive and precarious periods in modern history. My team has always enjoyed a challenge.
The NASDAQ hit a record high last week. Our stock closed at $3.47 which, in my opinion, far from reflects the Company's underlying value. At the same time, our second-quarter revenue guidance remains intact, with conservative estimates hovering near $350,000. These last months have seen consistent growth in Vocal's subscriber base and potential revenue pipeline; we expect this strong momentum to be reflected in our third- and fourth-quarter financial results. Post our uplisting to the NASDAQ Capital Markets, with a strong balance sheet, capital for growth, and a technology platform as powerful as Vocal, Jerrick will be positioned to scale revenues exponentially.
This has been our plan since we first publicly listed on the OTCQB in February of 2016. OTCQB stocks are forever battling a technical morass that makes the odds of uplisting notoriously low, with the exception of only the best companies like Jerrick Media Holdings, Inc. (OTCQB: JMDA). It is a game changing event for a company to successfully uplist, particularly when it is done by a committed team and supportive shareholder base. It is even more astounding when it is done with limited dilution, a scalable business model, and capital to execute.
External Growth Drivers
With the uplist behind us, JMDA will be a powerful acquisition vehicle in what I expect to be one of the best buyer's markets for distressed companies since the 1987 market crash, and the decade-long savings and loan crisis. The success we achieved in integrating the Seller's Choice digital agency, resuscitating legacy media like General Media's women's magazine Viva, absorbing content sites like Unbalanced and once-defunct content communities like Creators Media (which at one time was valued at $50MM), are prime examples of our assimilation capabilities.
The Company will focus acquisitions across three verticals: direct to consumer agencies, content communities, and data science companies. Our technology can assimilate and scale that of weaker competitors, and accelerate media startups for equity. While I, like many others, expect the economy will take a long time to recover, when it does it will be led by the entrepreneurial spirit and management teams like ours, solving problems and filling voids, particularly in the technology space.
Bailout money cannot save many of the legacy digital platforms that have congested the online space for a decade. JMDA will be able to capitalize on both its rapid organic growth driven by best-in-class algorithms, technology framework, and 650,000 registered creators, as well as through the multiple accretive transactions and acquisitions we have been planning.
Elastic Stability
Extreme market behavior manifests itself in elasticity. Trading algorithms are designed to measure and respond to human behavior by looking to the past. Historical behavioral data can predict the future. This is the fundamental equation for almost all sophisticated business strategies in both financial and digital marketplaces. The key to navigating successfully through the unknown is to study the known. Simply put, data differentiates those who capitalize on elasticity and those who cannot. Data is invaluable at the extreme.
"In order to be successful, you're betting against the consensus, and you have to be right"

—Ray Dalio
That brings me to where we are today, both in the stock market and our business model. Our technology platform and underlying revenue streams continue to grow and we are experiencing unprecedented control over our cost of acquiring subscribers, their audiences, and the brands that want to access those audiences. The stock market, on the other hand, is chaotic and probably a near term short at the extreme of its elasticity. Renaissance Technologies, the quantitative hedge fund firm founded by Jim Simons, lost almost 21% this year through the first week of June in its supposed market-neutral vehicle, that being a euphemism for algorithmically driven. That is a telltale sign. The quants have lost control of a government-driven inflated market.
Jerrick 2020 Annual Meeting of Shareholders
As we enter into our final chapter as an OTCQB stock, I begin by thanking all of our stakeholders for the trust they place in us.
We work hard to maintain regular communication throughout the year to engage with our network on issues that are important to you. We do this not only for the sake of fiduciary responsibility, but because having these dialogues inevitably makes our team smarter and stronger—we rely on these back-and-forths with our stakeholders to help us continuously crystalize our corporate narrative, craft investor presentations, and refine strategy. I encourage you to review Jerrick's website, and contact us with any inquiries regarding the Company as well as potential brands and creative communities that you believe we can collaborate with.
My hope is that our recent proxy filing announcing Jerrick's 2020 Annual Meeting of Shareholders sufficiently conveys our intended message: our ongoing commitment to a sound corporate governance framework that incorporates input from our shareholders and emphasizes three central tenets above all else.
• Strong, interdisciplinary Board leadership
• Prudent management practices
• Radical transparency on corporate strategy
Proxy Proposals
The upcoming shareholder meeting and vote, which will be held in a virtual format on July 8th, 2020 at 4:30PM, is more than a formality to pass what we believe are essential proposals for our forward growth. Instead, I see it as a way for us—myself, the Jerrick team, and our shareholders—to get aligned on upcoming initiatives and, more importantly, to come together and get excited about all the growth we are experiencing and value we are creating.
You may pre-register for the meeting by visiting: https://jerrick.media/shareholder-meeting
Proposal No. 1: Election of Directors
In preparing for our anticipated uplisting, we've been tasked with reviewing the overall composition of JMDA's Board of Directors to ensure it reflects the appropriate mix of skill sets, experience, backgrounds, and qualifications that are relevant to Jerrick's current and future global strategy, business and governance.
The proposed Director nominees, the list of which is below (along with links to their respect bios) represent exactly such a mix of minds:
In advance of their officially joining the board, our director nominees have been instrumental in helping to prioritize and structure each one of the proposals to be considered at the Annual Meeting.
Proposal No. 2: Approval of the Second Amended and Restated Articles of Incorporation
By increasing the amount of shares of Jerrick's authorized common stock from our current 15MM to 100MM, the Company will have flexibility to issue common stock for a variety of purposes related to certain investment opportunities, joint ventures, acquisitions, and the like. The upcoming raise to uplisting, and the potential issuance of exercisable securities to those participating in the offering, encompasses using between 4-5 million shares. The Company does not expect to need further financing in the short term. While the standard request for OTCQB companies is an increase to 50MM, we chose to propose 100MM. The additional authorized shares are primarily earmarked by management for perspective accretive transactions that we are exploring as we expand the reach of our technology.
Proposal No. 3: Approval of Grant to Discretionary Authority to Change the Company's Name
Upon the consummation of its anticipated listing on the NASDAQ Capital Markets, Jerrick intends to change its official company name to "Creatd, Inc."
Rebranding will initiate the Company's go-forward growth strategy; Becoming Creatd will better communicate our team's mission to expand our offerings, while continuing to provide innovative technology products and solutions for creators and brands.
Creatd will focus on a community of creators, whose total addressable market totals more than 2.5 billion users globally, for which it will offer democratized, transparent platforms for distribution, sentiment, resources, and monetization.
Proposal No. 4: Approval of 2020 Equity Incentive Plan
Employees at Jerrick have not received any stock- or options-based bonuses for the past 3 years. Instead, we've put our blood, sweat, and tears into making the Company and our product what it is, and resolved to push off an incentive plan until now: uplisting time. The plan being proposed at the shareholder meeting will catch us up from the last 3 years, and minimally carry us through 2022.
Proposal No. 5: Authorization of Reverse Stock Split
In its simplest definition, a reverse split is a corporate action whereby a publicly traded company consolidates the number of existing shares of common stock into fewer, proportionally more valuable, shares. As the number of shares outstanding is reduced, the earnings per share increases on a pro rata basis. Most recently, Jerrick executed a 20-for-1 reverse stock split in July 2019, which worked to improve our equity structure. In a similar way, it will only make us stronger to have shareholder approval, and thus the ability, to initiate at maximum a 5-for-1 reverse stock split, if doing so becomes necessary to meet the minimum price requirements for uplisting.
Proposal No. 6: Ratification of Appointment of Independent Registered Public Accounting Firm
Our board believes that the continued retention of RRBB is in the best interests of Jerrick and its shareholders. Since engaging with them on January 3, 2019, we have filed on time without extension for all but one quarterly review. For our 2nd quarter 2019 review, we filed within an extension period, largely due to the extensive number of transactions completed that quarter, most notably the completion of two Tender Offers.
Championing Vocal's Creators
Lastly, it is more important than ever for our management team to highlight some of our amazing creators and their stories.
Vocal's Landscape Mode Challenge concluded recently, and showed a new side of many creators who stepped out of their comfort zones to explore creative writing.
Here is the winning story:
Vocal also launched a unique type of Challenge last week—one where there is neither a winner nor a prize, as is usually the case. Instead, Voices for Change challenges the Vocal community to speak up on the critically important societal issues dominating the current events landscape. We opened up our platform for creators to share their experiences with, knowledge about, and solutions in our collective fight for justice. In lieu of prizes, we're donating $10 for every story entered to the NAACP Legal Defense Fund.
Here are some of the most impactful entries we've seen so far:
I will never be too busy or inaccessible to take a call or visit with fellow shareholders who have entrusted their precious capital with our company and its leaders as fiduciaries.
As always, for regular updates please follow me on LinkedIn and Twitter, as well as the Company's other social pages:
Jerrick
LinkedIn: https://www.linkedin.com/company/jerrick-media
Twitter: https://twitter.com/JerrickMedia
Facebook: https://www.facebook.com/JerrickMedia/
Vocal
Instagram: https://www.instagram.com/vocal_creators/
Facebook: https://www.facebook.com/VocalCreators/
Twitter: https://twitter.com/Vocal_Creators
LinkedIn: https://www.linkedin.com/company/vocal
Reader insights
Be the first to share your insights about this piece.
Add your insights