Coronavirus Pandemic vis-a-vis Katrina
A Familiar Pandemic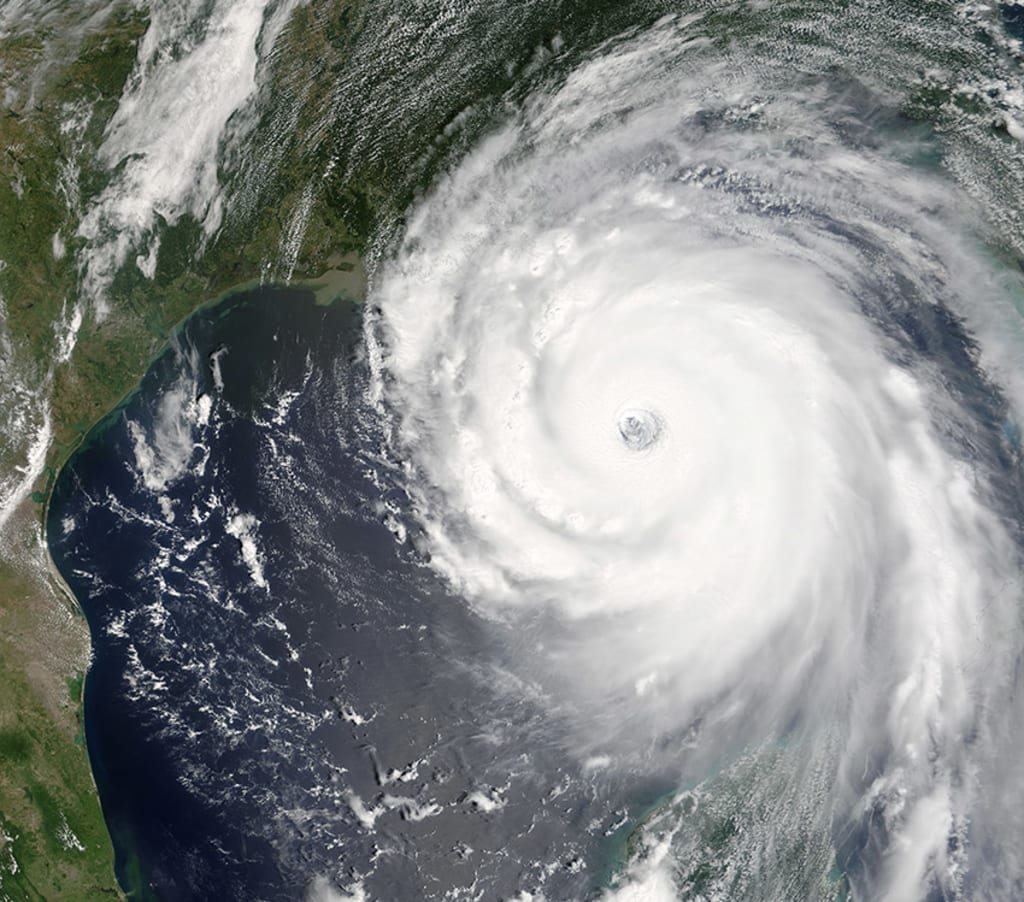 Hurricane Katrina Category 5, August 2005
Every time I think of the unbelievable pain and suffering that Coronavirus Pandemic is causing, it brings back a memory of a similar type of pain, of the victims that were televised daily while suffering and crying out for help to be rescued in New Orleans, for what seemed like an eternity in 2005 during the great tragedy of Katrina.
Back in 2005 I was still living off memories of my first solo trip to New Orleans in 2004, to attend a writer's award convention. I had won Second Place in the Novella-in-Progress category of the William Faulkner Pirate's Alley contest. I was so proud of my achievement; this one had proven to me that I was in fact, a contender. It was the one contest, of many I had entered previously, that gave me a real gauge of where I stood in the game of writing.
Armed with 4 manuscripts and a small suitcase, I recall flying to New Orleans. Once I landed, the first thing I noticed was the muggy southern heat, so much so, an airport attendant advised me to take a seat as I adjusted to the dramatic climate change from chilly Chicago to instant-bayou temperatures.
I next experienced a wonderful taxi ride though the lower 9th ward, which the driver suggested, so I could see the real New Orleans people of the South, and by God it was amazing. Some parts of it seemed to be almost stuck in a time warp, of things I'd only read about. Learning that we were travelling "below sea level" as we made our way to the higher level fabulous New Orleans hotel district, made me so nervous and jittery. And, everywhere I went I was taken aback by the stark contrast of the kick-ass city folks' attitude, where I'm from, to the slow, take-your-time southern grace of New Orleans citizens. To this day, I don't recall having ever experienced such kindness as I did from the gentle southern, good-mannered Black folk in New Orleans. I absolutely loved it!
Arriving at my hotel, to my surprise, they had lost my reservation, and the sweaty white manager freaked out apologetically, and upgraded me to a five-star hotel just around the block, after graciously plowing me with wonderful gigantic apple martinis. Yes, baby, the music was flowin', and so was I!
Once inside my hotel, I checked out the local radio stations that were super-jammin' and I danced the night away, alone in my hotel room, dancing until I dropped, to some of the best music I've ever heard. Along with excellent room service, wearing the fabulous robe provided, and finally resting in the magnificently dressed king bed, with full mosquito drape of course—I was off to the races.
For two days, I attended so many brunches and readings, and met countless writers and artists, more people that understood me than I've ever encountered in my life—that has rarely happened, and I was in heaven!
The big finale came when I met big time editors, chosen for each winner to work with one-on-one, and walk me through my sample manuscript, giving me pointers and real direction where needed, and most importantly where to take my writings next—it was surreal. I'm still working on several of those manuscripts today—yes, that's how it can be for writers when you let day-to-day life get in the way.
Present day—so here we are with another crisis that's not contained to New Orleans, yet to me it defines crisis in a most familiar way, whereby it's pointedly disproportionately affecting Black and poor people, and that is quite concerning to me.
Imagine a year later when I heard the news of Katrina hitting New Orleans and practically destroying it. My heart sank, and I remembered the long taxi ride beneath sea level—that ride, those wonderful people, that city, those memories haunted me for years, so much so that I experienced many nightmares and upsetting dreams about it. One dream was quite different though and it upset me so much that I penned it to a story, "Save One".
* * *
Through my tale "Save One," also posted on Vocal, I hope the reader will understand my deep anguish at the time of Katrina.