Chris Buckner on Essential Leadership Skills for Store Managers
In this article Chris Buckner provides a list of skills store managers should have to succeed in the industry.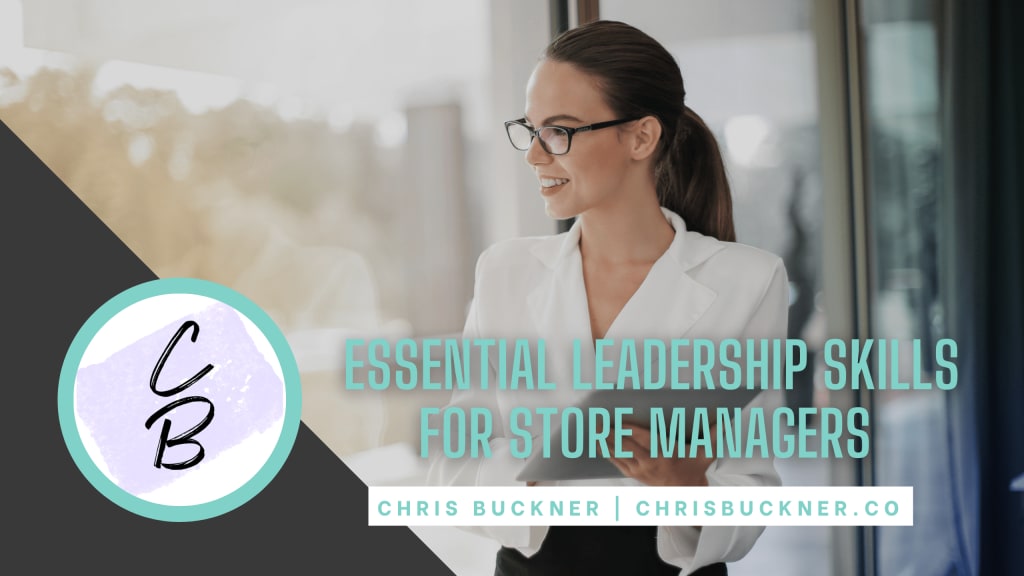 https://chrisbuckner.co/essential-leadership-skills-for-store-managers/
Despite the end of the pandemic, retailers still have a lot of work to get back on track. There are still many challenges that they need to address, such as labor shortages and supply chain issues. Having the right people in place is crucial to ensure that your stores run smoothly.
Having the right people in place is essential to ensure your stores run smoothly. Whether hiring new staff members or looking to improve your skills, the following list will help you identify the skills needed to succeed in this field.
Effective Communication
A good listener is crucial to ensure that your interactions with your customers, suppliers, and team go smoothly. Listening and communicating effectively with others will help your team feel valued and included in the conversation. One of the most essential factors you can consider when it comes to improving your communication skills is making the other party feel heard.
Excellent Customer Service
Being excellent at customer service can vary depending on the situation. Sometimes, it can mean helping a customer find the right products or fixing an error. In other cases, it can be about making them feel valued and meeting their needs. This is why you must start by understanding your customer's needs and doing your best to meet them.
Team-Oriented
As a store manager, you must be skilled at motivating and empowering your team members during good times and bad times. The right strategy depends on the situation. For some, having friendly competition can help them bounce back from their sales slump, while for others, a pep talk about dealing with unpleasant customers can help them.
Goal Driven
To be successful, a store needs to meet specific goals. Whether it's improving sales or increasing the number of customers, a manager must be able to identify the goals required to reach them. This can be done by working with the company's owner, district managers, or corporate office. Once they have identified the goals, the manager should communicate these goals to the team members.
Tech-Savy
To remain competitive, retailers must keep up with the changes brought about by the modern shopping environment. One of the most critical factors you can consider is having a strategy that includes using technology. Having the right software can help you run your store more efficiently and improve the efficiency of your operations. Store managers should also be knowledgeable about the various solutions available to them.
ABOUT CHRIS BUCKNER
Even though he now resides in New York City, Chris Buckner is a proud son of Knoxville, Tennessee. After graduating high school, Chris attended the University of Tennessee-Knoxville, where he received his Bachelor of Arts in Communications and Public Relations. Known colloquially as Tennessee's university, UT started as a small college in 1794 but has since grown to become the state's flagship university and top public research facility state-wide. In addition to its impressive curriculum, the school boasts 225 years of volunteerism, both within Tennessee and around the world. The university's space and agricultural institutes have a long history of educating residents and visitors and making a difference in people's lives via research and engagement projects.
After graduating from college, Chris spent a few years traveling and deciding which career path to take. Being a natural writer, Chris spent years as a columnist for Metropulse, an Association of Alternative Newsmedia (AAN) member. As an outspoken activist from an early age, Chris gravitated toward this medium to promote alternative journalism through advocacy and education. Publications within AAN are recognized for their regional focus on arts and culture, objectivity in news reporting, tolerance for social and individual freedoms, and eagerness to cover subjects and areas that many mainstream media outlets ignore. Chris showcased local artists in his weekly lifestyle column, where he shared museum exhibition experiences and helped promote upcoming bands.
A natural-born extrovert, Chris Buckner has always been a perfect fit for the sales industry. He has flourished in the retail sector for over two decades. Prior to moving to New York, Chris honed his customer service skills at Three Rivers Market in Knoxville, a food co-op that sustained the Knoxville region and empowered its residents.
As a showroom manager for Crate and Barrel, Chris led $1.5 million in sales in the New York City flagship location and was ranked #1 in sales for his region and #2 for the company as a whole. As the Store Manager at Jonathan Adler Enterprises' Washington, D.C. branch, Chris capitalized on Georgetown's vibrant and commercial center by joining the Georgetown Business Improvement District (BID). Chris attended community activities and raised community awareness while increasing his network.
About the Creator
Chris Buckner is a customer service professional and retail expert who has over twenty years of experience in the industry. Now residing in NYC, Chris is originally from Knoxville, Tennessee. Learn more by visiting chrisbuckner.org.
Reader insights
Be the first to share your insights about this piece.
Add your insights