Character Traits
What trait are you on social media?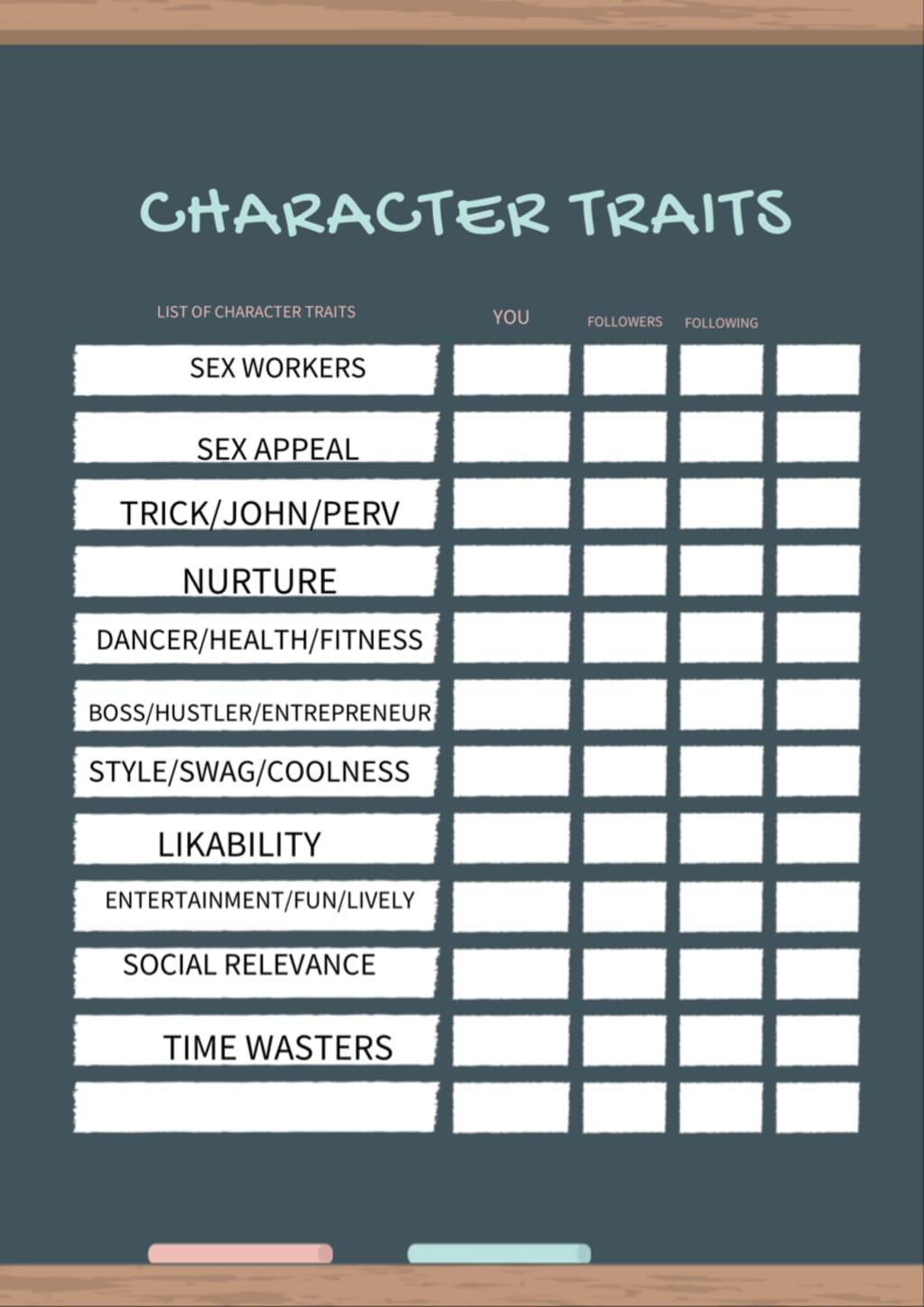 All my life I've been an entrepreneur and a go getter. I make it happen. I had one thing that I never thought I'd complete. I've always told people I'm writing a book. Year after year, I told people that but never had a title or a beginning or an ending. Not long ago, I did publish an autobiography called Emotional Hustler. I had been holding onto this book for over 20 years.
My publishing company told me to get my social media started. Because of my past career, I never signed up for any social media except Facebook for my family. I am a newbie to social media and I still am amazed by all the opportunity available for character traits. I learned so much about niches and branding and influencing. Even about affiliate and ambassador commitments. When researching all the opportunities available I also researched the people to get a better sense of what social media is all about. I'm obsessed with character traits and because of my book I was easily accepted into many lives and character traits.
So I ask you what character trait are you? Truly our character traits are the essence of your life. Your character trait is who you want the world to recognize that you are. I thought I was a "motivational speaker" or "coach." I may be those niches as well but my true niche surprised me! Thanks to my book I'm a niche I never imagined possible. The first six months of me being on Instagram, I struggled to find my niche. All of the social media success stories out there say "when you find your niche you'll know." August of last year is when I realized what my true niche was. At first I struggled with the title, not accepting it. I quickly realized that all of my words that I spoke daily, (whether it be videos or posts) touched many in my new niche.
My niche is sex workers because my book is about exotic dancing. I was an exotic dancer for 12 years over 16 years ago. I left that life 16 years ago and now I am full force back in it. My journey into this lifestyle exists more than ever now. I am a coach and a motivational speaker for that lifestyle. Today I have a business plan and I just turned in my 501(c)(3) paperwork for my nonprofit. Thefreemovement is the movement I started to end that fast cash lifestyle that so many fall victim too. We fight to end human trafficking! We bring awareness to illegal self trafficking by educating those of the legal end of that lifestyle. That is a much safer way than the illegal self trafficking! I ask everyone reading, truly look at yourself and your trait and behavior! Is there room for improvement? My book is available for all to read—it is key to everyone's mentality. I took 50 men character traits and 50 women character traits and detailed each one for all to read! The ladies are the strippers I danced with and the men are the customers that I knew while inside clubs. When I danced there was no such thing as a phone being allowed on the floor while you're working. While I was working in strip clubs social media did not exist. A lot has changed since I haven't danced in strip clubs. But the one thing that has not changed is character traits. They may be a little more intense than I remember them being. They still exist—those character traits have not changed. Some things have become very relevant in this new generation of that lifestyle. Even though this book is over 20 years old, the character traits in my book are very relevant today. This book is very interesting if you want to learn something or clear the air to any questions you may have wondered. I'm an honest person. I love to analyze everything and I never judge a book by its cover! I just pay attention—that is so very important!
career
About the author
I am a author and a movement starter, I have a wonderfully educational book on character traits. My book is appropriately titled "Emotional Hustler". This book is about that fast cash lifestyle as an exotic dancer.
Reader insights
Be the first to share your insights about this piece.
Add your insights