"By Any Means Necessary?"
The Malcolm X debit card—how do you explain a massive branding fail?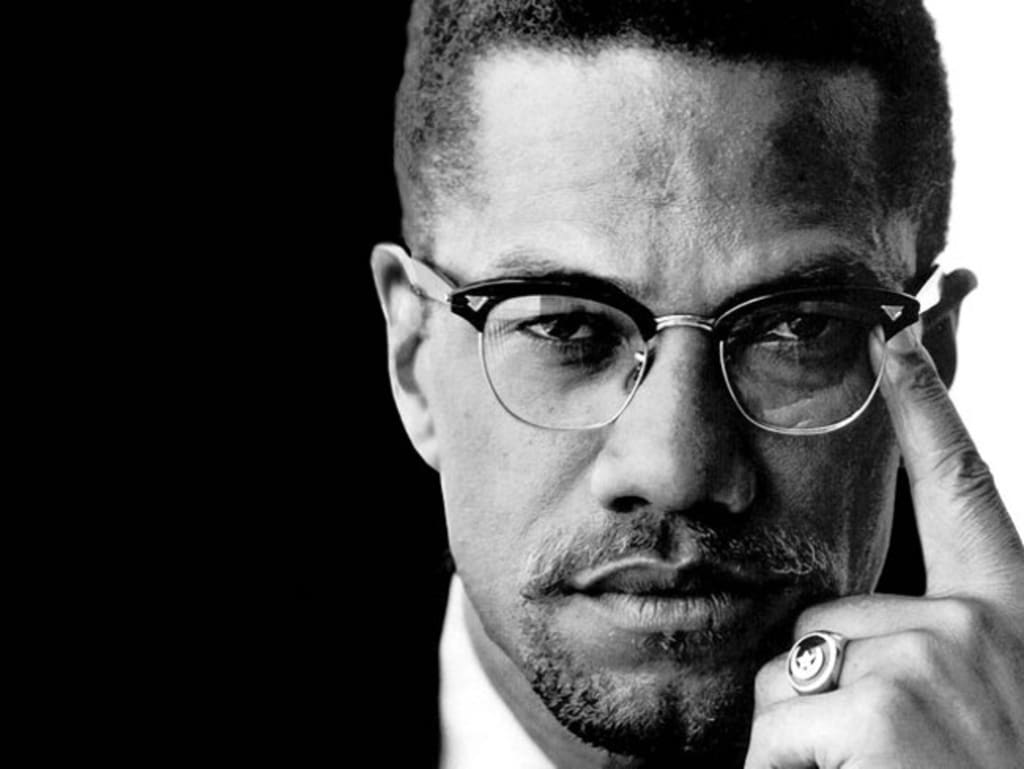 Sometimes, when casually scrolling through your Facebook feed, you just stumble upon something that makes you silently say—or sometimes verbalize out loud—a one-word reaction. Sometimes, that is a "Wow!" Sometimes, it can be "Damn!" With, of course, far different meanings based on your intonation. Other times, it can simply be an expletive, and on occasion, that can be the only proper response.
And so, when I came upon this ad as I was expecting to casually scroll through my friends' funny dog and cat pics and videos and their morning pro/anti-Trump screeds, I nearly dropped my coffee cup. It was a sponsored post that made me stop working my mouse for more than a few minutes and just say "Wow!" Or truth to be told, something to that effect that was not quite PG-13 since I was alone in my office at the time. You can see the post below: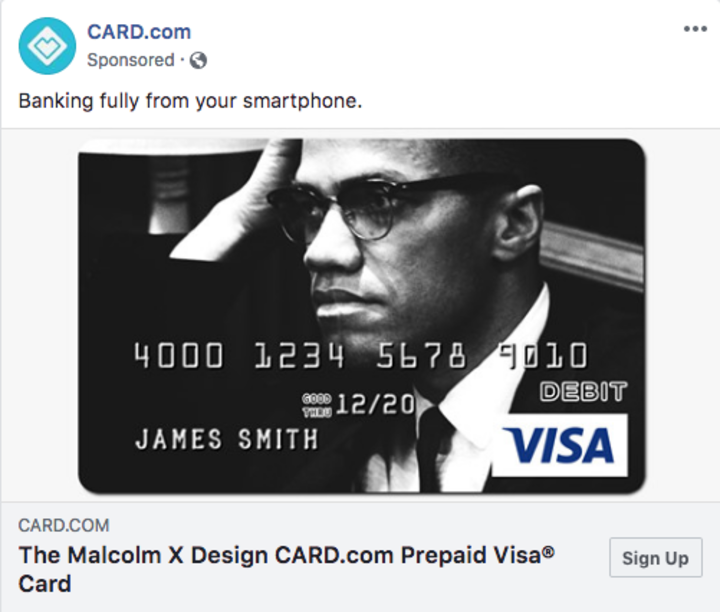 Yes, a company called Card.com is issuing a Malcolm X-branded prepaid debit card. Now I come at this topic as an AARP-card carrying strategic management professor and consultant that is not exactly the most-diverse fellow in the country (while I do have an Australian father, my Ancestry DNA test wouldn't be too interesting...) But as someone who thinks and advises companies strategically, I have to just shake my head and ask the simple marketing strategy question: "What were they thinking?" Although at the risk of being blunt, I might have even asked the question in a more appropriate, all be it a not-so-academic manner, that can be summarized in three simple letters—WTF? The operative question, however, more importantly, is this: "What were they not thinking—and why?"
And yes, upon doing a quick Google search on the subject, I was apparently not alone in being taken aback at the company's use of this historical figure in their marketing efforts. Walter Gildersleeve posted the YouTubevideo you see below, and he pointed out the irony—or worse—of the company issuing the card during February—yes, during Black History Month!
Mr. Gildersleeve also speculated, in admittedly NSFW language, as to the motives of the card-issuer and whether next-up would be the Martin Luther King. Jr. "I have a dream" debit card to try and exploit the black community. Little did he probably know that the same company, Card.com had indeed issued a Martin Luther King. Jr. branded card back in 2015, thanks to a little research assistance from "Mr. Google." According to the article by Joe Fletcher, Card.com had to pull the MLK-card from its site, likely in response to the King estate's objection to the unauthorized use of the civil rights image to promote their product. And yes, this occurred during Black History Month in 2015, making the "blacksploitation" aspect of this all the more cringe-worthy!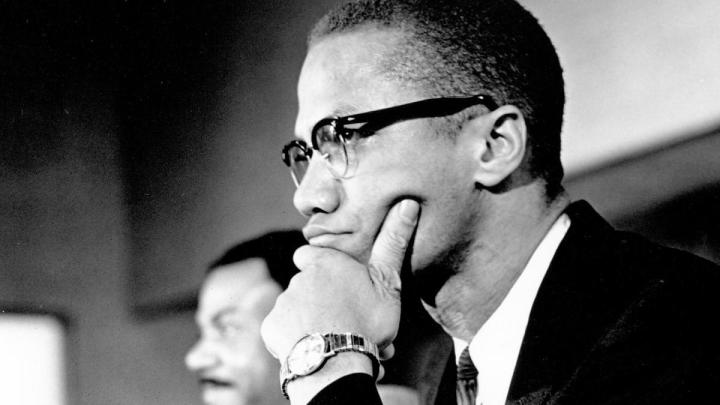 Now, even from an admittedly outsider's perspective, Malcolm X is certainly one of the most influential voices in the history of the civil rights movement and in the history of the Black American community. And so, from a branding and marketing standpoint, I do find it simply amazing—and in point of fact, quite troubling—to think that businesspeople would, in 2019, think that it is a good idea to use Malcolm X imagery to market a debit card predominantly to the Black market.
When one goes to the Card.com website, one can see that you can choose from literally a plethora of branded-cards. From your most favored TV show to your favorite NFL star to your most important charity, you can choose a card with an affinity to most anything or anyone whatsoever you feel close to.
You can even "drill down" on their website to a category for "Famous People" and have a branded-card in the celebrity or historical figure of your choosing, from Charles Darwin to multiple designs for "big name" celebrities from the ranks of the living and the dead (mostly dead however, outside of the world of sports)! Yes, there are far more Marilyn Monroe selections for consumers on their site than for the developer of the theory of evolution!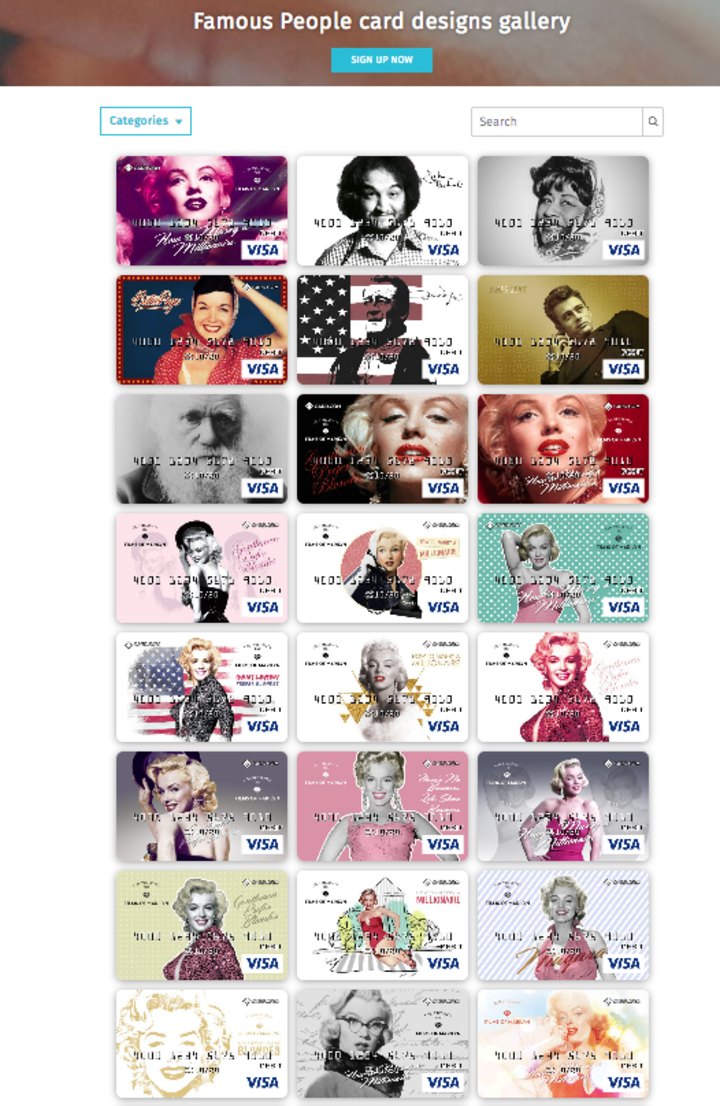 And yes, Malcolm X's card is there—as of this writing at least—and you can order a Visa debit card for your use with his likeness on the card from the company's website.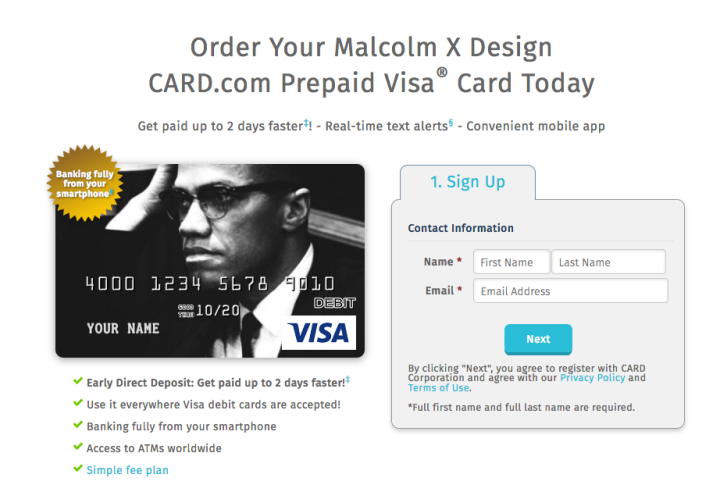 The estates of historical figures go to great lengths to protect their likenesses and the use of their names and imagery—and with good reason. After all, according to the most recent Forbes analysis of the earnings of dead celebrities, the estates of the top 10 icons of the past each earned in excess of $10 million last year!
Highest-Paid Dead Celebrities 2018 According to Forbes
Source:"The Highest-Paid Dead Celebrities of 2018"
Today, the marketing of dead celebrities is a business estimated to be worth in excess of $3 billion annually! And yes, dead celebrities, from the world of entertainment, sports, and more often out-earn some very big name, very alive stars from those same worlds. It is nothing less than an amazing, if often overlooked, area in the world of marketing, branding, and advertising.
But should historical figures be capitalized on and marketed in this way, especially when their imagery might be used in a way that targets and yes, potentially exploits, the community that they represent? Malcolm X seems like perhaps one of the worst historical figures to possibly utilize—many would argue to exploit—in this manner, principally given his political and economic stances in support of the Black community. Some might find that a Black-owned bank targeting black consumers with services to help them better manage their money—and to serve the large, "unbanked" portion of the American citizenry might be right to use the civil rights icon's image—with appropriate permissions, of course—in their marketing efforts. Such is not the case with the Card.com operation, which is operated by The Bancorp Bank (based in Wilmington, Delaware) under a license agreement with Visa USA Inc. In Card.com's marketing efforts, Malcolm X is just another image option, along with everyone from Betty Boop to Tom Brady to over 60 options for the Muppets alone!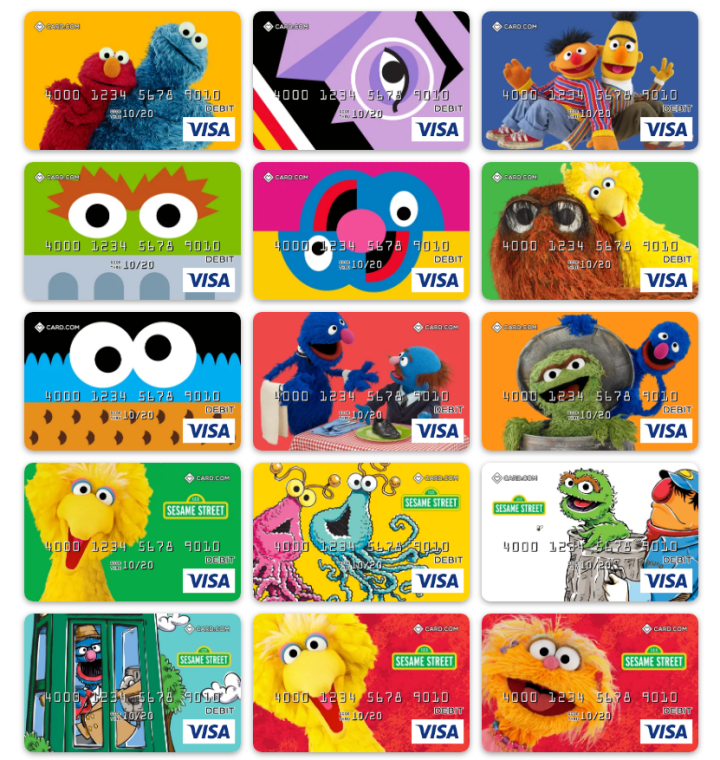 Tying your brand to a historical figure is never easy. Take for instance perhaps the best-known figure from the civil rights movement, Dr. Martin Luther King, Jr. As all "celebrity" estates must—and should do–the King family has been very quick to protect his name, likeness, and legacy through The Martin Luther King, Jr. Center for Nonviolent Social Change. According to a recent analysis from Trademark and Copyright Law, the King family has been remarkably diligent in protecting MLK's imagery and even his words. They have been involved in numerous lawsuits over the years to crack down against unauthorized use of King's likeness and his speeches. They even control, and go to great lengths legally to enforce, the rights to his most famous speech, the "I Have a Dream" speech delivered at the Lincoln Memorial during the during the March on Washington for Jobs and Freedom in 1963. In fact, according to The Washington Post, this speech won't be free for use until the holders of the copyright, King's descendants, either elect to place it in the public domain or the copyright protection expires in 2038!
In 2018, Fiat Chrysler did make use an excerpt from King speech with the paid-for permission of the King Family in a Super Bowl ad that year for its Dodge Ram trucks. The ad featured MLK's own voice, delivering a sermon known as the "Drum Major Instinct," which was given just two months before his assassination in 1968.
While the adage may hold that "there really is no such thing as bad publicity," the Dodge ad immediately sparked a harsh response from the Black community and yes, significant numbers in both the general public and in the advertising community. It was perceived by many as perhaps being "a bridge too far" in terms of having the civil rights icon apparently posthumously endorsing pickup trucks! As one Twitter user encapsulated the situation perfectly: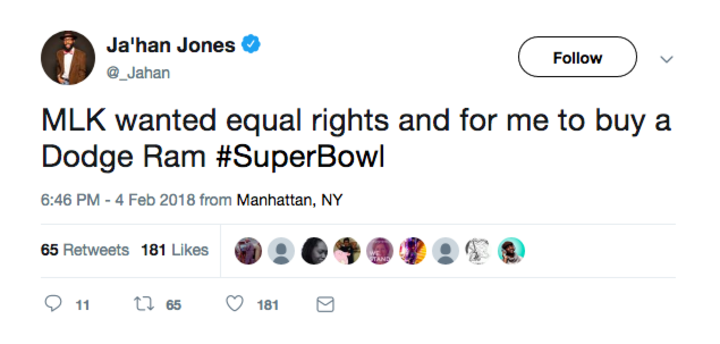 As the above video pointed out, MLK's image and words had been used in ads before. However, the fact that the ad copy was drawn from this particular speech is, well, ironic. In an interesting—and some would say—delicious touch, AdWeek shared an article that focused on a remix of the Dodge truck ad using quite different passages from the very same "Drum Major Instinct" speech in which Dr. King attacked the very notion of modern advertising, all put together by Nathan J. Robinson, a Harvard doctoral student in sociology. As Dr. King famously put it on that February day in 1968:
"Now the presence of this instinct (the drum major instinct) explains why we are so often taken by advertisers. You know, those gentlemen of massive verbal persuasion. And they have a way of saying things to you that kind of gets you into buying. In order to be a man of distinction, you must drink this whiskey. In order to make your neighbors envious, you must drive this type of car. (Make it plain.) In order to be lovely to love you must wear this kind of lipstick or this kind of perfume. And you know, before you know it, you're just buying that stuff. (Yes.) That's the way the advertisers do it."
So, in the end, you really, really have to question what they were thinking around the conference tables when the ad execs and the marketing team at Fiat Chrysler decided, "Yep! Let's go with the Martin Luther King speech for our big Super Bowl ad this year!" Even if you were trying to highlight achievement and success in your truck ad, you might want to read the rest of the speech from which your quote was drawn. And in the same way, you really, really have to wonder what the marketing folks at Card.com were thinking when they thought, "Hey! Let's try and better reach Black customers by putting Malcolm X and Dr. King on a debit card!"
Were these innocent marketing mistakes—some would even brand them with the hashtag—#epicfails, or were they something more? As a management consultant and educator, we talk a whole lot about the true value of diversity. The research clearly shows the value of having a truly diverse set of people who can offer a diversity of perspectives on marketing matters so that your company, your brand, and likely your career, doesn't suffer a nuclear-level meltdown from an advertising campaign, a packaging mistake, or a promotional idea that may seem wildly insensitive to "real people" outside of that conference room or workspace. I think one can safely assume that a diverse team would have more likely pointed-out the possible problems of associating civil rights icons with a pickup truck or a debit card. I think that a diverse team would have questioned how such marketing efforts could be viewed cynically as a ploy to reach Black customers. I think that a diverse team would have hopefully had members from a diversity of ages and educational experiences, enough so that those who had a better knowledge of contemporary American history could have spoke-up on the moral hypocrisy of using the images and words of leaders who were not exactly the biggest backers of capitalism to try and sell products to consumers.
I know that through my own research for this article, I came to better understand just how blatantly wrong—and let's put it bluntly—wrong-headed—it was to use either Dr. King to market pickup trucks or Malcolm X to sell debit cards. I am amazed that in 2018 and 2019 this kind of thing can still happen, especially when even if we don't know much about something, someone, or some particular event or situation, the "Mr. Google" we all have at our fingertips could almost instantly tell us everything we needed to know to make a better, more informed decision—and to avoid a marketing calamity.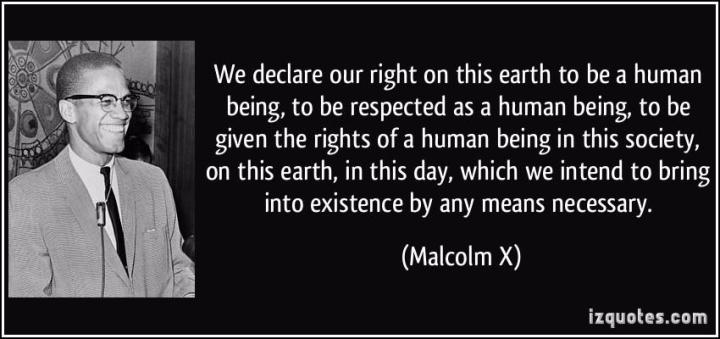 Finally, this case study is also a sad reminder of just how bad we are today at teaching history, civics, and political science at all levels and how these subjects have been deemphasized in an era valuing success in science and math-focused areas—STEM—at all costs! And let's face it, in middle school, high school, and even your college American history classes, not much has changed since you walked uphill two miles through the snow to school. The clock often runs out in such courses before your class gets to the Modern American history section, after learning more than you ever wanted to know about prehistoric America and the Tea Pot Dome scandal.
For everyone then, the Malcolm X debit card incident stands as an abject lesson in how to not try and be just too darn clever in your marketing decision making. It is, however, a great reminder of how so very important it is to do your homework and to think things out with a diverse set of people and perspectives when making such critical branding and advertising decisions. If you're not prepared to do so, well, just call the Elvis Presley estate to see what their licensing fee might be for his image or music—he's pretty safe, right?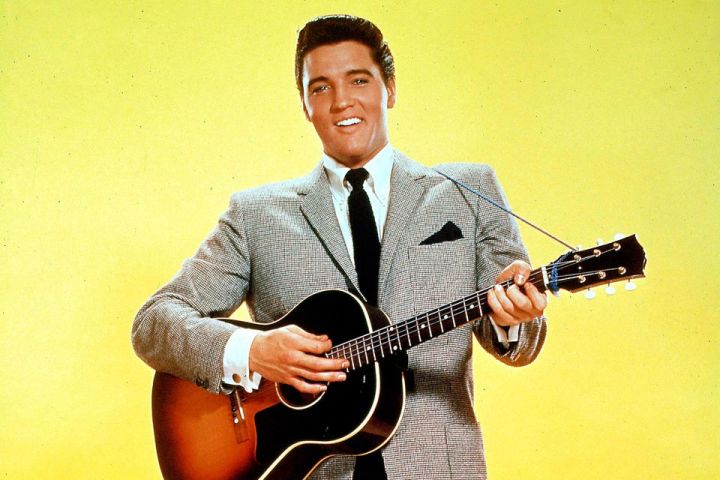 About David Wyld
David Wyld ([email protected]) is a Professor of Strategic Management at Southeastern Louisiana University in Hammond, Louisiana. He is a management consultant, researcher/writer, publisher, executive educator, and experienced expert witness. He is the founder and publisher of both The IDEA Publishing (http://theideapublishing.com) [The Best in News, Information and Content Marketing] and Modern Business Press (http://modernbusinesspress.com) [The Best in Academic Journals].
David Wyld's Online CV: https://clearvoice.com/cv/DavidWyld
Social Media Links to David Wyld:
Facebook:https://www.facebook.com/david.wyld
Twitter:https://twitter.com/PublisherMBP (@PublisherMBP)
LinkedIn:https://www.linkedin.com/in/david-wyld-4923707/
Show your support for David and for this platform.
Like what you just read? Did it make a difference to you? If so, please see and share this article through social media, email, and even the old-fashioned way of printing it off for a colleague or friend!
And while you're at it, ask yourself a simple question: Was the info worth a buck or two—or a whole lot more to you, your career, your company? If so, please consider "tipping" (after all, it's the polite thing to do!) using the easy link below. In providing a small tip, you not only help support the author's work, but you help keep the unique platform that Vocal Media is building be an advertising-free environment—and don't we all need more of that to make our online experiences better today? Please consider showing your support below and voting for good, ad-free ideas on the web!