Best Tips for Brands To Grow Customer Acquisition & Retention
Great products can't sell themselves and get new customers. Brands need effective marketing to acquire and retain customers. Here are the best tips your brand should be focusing on that can grow both customer acquisition and retention.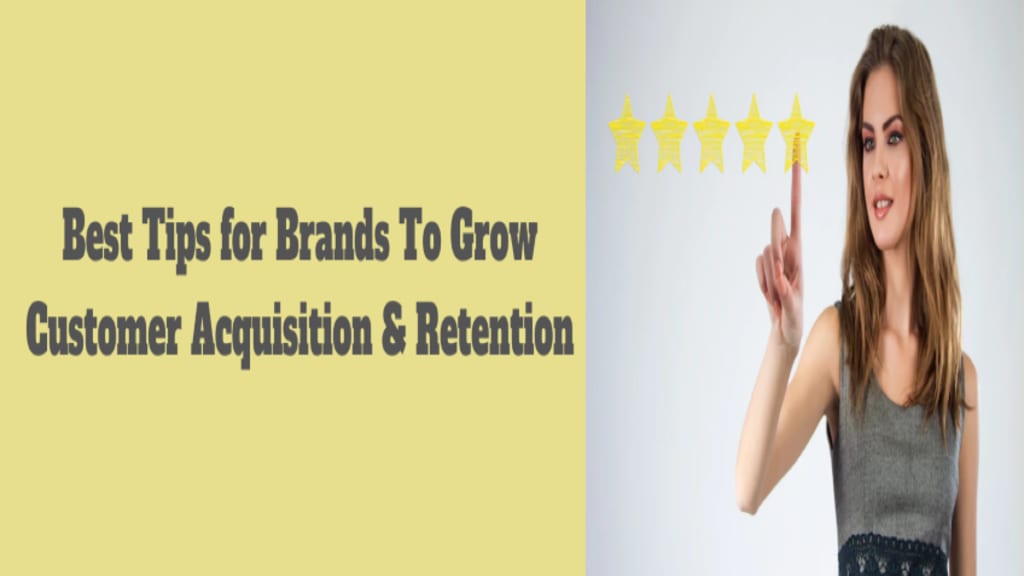 It goes without saying that the first step towards business success with brands is offering high-quality products and services adding value to customers. But great products can't sell themselves and get new customers. Brands need effective marketing to go beyond to acquire and retain customers.
If customers are not clear about how the product would benefit them, they may decide to go with a competitor or, if existing customers don't perceive the brand value of products and services they may decide not to renew. In the competitive business environment, it is vital for businesses to use new technologies at their disposal to both gain and retain a robust customer base that is engaged with their brand.
Most brand marketers have concluded that it costs many times more to acquire a new customer than to retain an existing customer. A research by Bain & Company reveals that increasing customer retention by five percent improves margins by 25 to 95 percent. This indicates that it is important for brands to focus their marketing efforts towards customer retention together with acquisition. Acquisition and retention being two sides of the same coin require a commitment to creating a favorable customer experience that keeps them engaged with the brand and its offerings.
With active smartphone users approaching a staggering 2 billion, it can safely be said that mobile marketing plays an increasingly crucial role for all businesses in building new customer relationships and maintaining them. The majority of brand marketers (58%) use mobile marketing as their most powerful customer acquisition and retention strategy (Source : SEMRush). As new mobile technologies continue to disrupt, and penetration continues to expand, the one sure place that brands can expect to get more customers is mobile.
Here are the best tips your brand should be focusing on that can grow both acquisition and retention :
1. Raise Brand Awareness, Attract More Customers
It's pretty obvious that new customers assist brands in increasing their revenues. However, customer acquisition can sometimes prove to be a challenging strategy for them. Brand marketers have to find ways to reach customers, bring them in, and keep them returning for more. Getting new customers requires appropriate marketing technology that addresses how to attract customers and increase sales.
Latest research has determined that customers prefer to be contacted via moLotus mobile video customer interaction platform. Unique direct response marketing campaigns offered by moLotus like brand awareness and lead generation have proved best for attracting new customers.
The direct marketing campaigns work best when brands craft intriguing compelling adverts using moLotus designed to attract customers and capture their contact information. The innovative and spam-free moLotus video ad campaigns are already helping brands in attracting more leads than any other platform or technology. The platform is successfully building trust among the consumers and generating more leads, conversions and retention for renowned brands.
Finding the right marketing technology can sound a little intimidating. It's best for brands to meet potential customers on the platforms they prefer most. Several brands have been attracting customers via social media platforms like Facebook while others would prefer emails, Meeting in and others.
2. Optimize Costs
Studies show that on average it costs eight times the amount of money to get new customers as it does to retain an existing customer. Modern technologies and tools have solved the problem, turning customer acquisition to be cost-effective. For instance, moLotus customer acquisition campaigns have been the simplest and most cost-effective way to get new customers. The new-age technology and platform is helping several brands in strengthening the customer base and increasing the profits dramatically.
There are a ton of other marketing tools like HubSpot, Marketo, etc. that assist brands in customer acquisition. These platforms have been less cost-effective when compared to moLotus. The moLotus mobile lead generation platform is successfully generating more leads for brands at optimum cost per lead.
3. Educate Customers, Tell Your Brand Story
Customer Education is the business function of teaching customers how to use and find value from products and services. It strategically accelerates customer acquisition and retention by changing behaviors, reducing barriers to value, and improving the way customers perceive the brands.
Marketing technologies have better enabled brands to educate customers adding to the customer base. It has also been instrumental in motivating existing customers to stay connected with the brands. Emerging tools and technologies have transformed customer education. Several brands are using tools like moLotus, Livestorm, Demio, Paradiso, Docebo, WebinarNinja, WebinarJam, YouTube, Facebook, etc., for customer education. With each tool contributing to customer education differently, creating customer training has never been easier.
Studies show that mobile video gaining has gained tremendous popularity among customers. Brand storytelling using moLotus mobile videos has come-up as the best way to educate and engage consumers. Brands are educating their consumers about their product and services by using high impact moLotus videos up to 40 sec with other rich media formats such as Showcases, Catalogues, and more.
During the pandemic, brands have successfully educated, inspired and entertained their customers using moLotus storytelling capabilities.
4. Boost Customer Engagement
No matter how intangible customer sentiments may seem, brand marketers have managed to transform them into a valuable strategy—customer engagement.
Customer engagement promotes brand, boosts sales, adds to customer-base, enhances loyalty, and empowers customer retention. However, without suitable technology, it's nearly impossible to engage customers and stay ahead of the competition. Engaging customers throughout the customer journey can create and improve the "human-to-human" connection, thus going beyond transactional associations.
The brand-customer relationships fostered via social media and other digital channels during the acquisition stage have deeply impacted customer acquisition and conversion. In the past studies showcased the importance of "personalized care" of customers via social media adding to customer engagement, acquisition and retention. However with social media turning into a source of hateful conversations, the focus of brands moved to new-age tools like moLotus. By giving a personalized touch to their marketing campaigns brands are attracting, engaging and retaining more customers using moLotus.
moLotus is the only mobile marketing and mobile video advertising platform that creates a real hyper-personalized customer experience by offering unique hyper-personalization options such as name, greeting, reward, etc. The hyper-personalized moLotus campaigns engage the entire customer base better and increase sales. moLotus personalization is done based on customer data, reaching directly to the customer's mobile message inbox without any app or data.
5. Be More Responsive
Customers have become increasingly impatient and expect brands to respond to them faster. They are also likely to switch to other brands if not responded adequately and timely. Brands need to create more dialogue and one-on-one interactions with prospective customers when the customers are adopting different channels and technologies. A recently unveiled research reveals that the effective brand-consumer interaction leads to more new acquisitions and retention.
Earlier brands used social media platforms and other channels like email and webinars for customer interaction. Using these channels brands could create conversations adding to new leads and asking for feedback from existing customers.
Big brands in search of a holistic tool that keeps customers engaged from first contact through their entire lifecycle are choosing moLotus - a more powerful customer interaction platform. They are creating informative and interactive marketing campaigns via moLotus, offering multiple response options like USSD, SMS, Call, Web Link, etc. Additionally, moLotus offers instant customer feedback capability. Using this capability brands can collect real time customer ratings and feedback and respond to them 24*7. It exhibits a robust success rate, enabling the brands to be more customer responsive.
6. Reward Loyal Customers
Rewarding loyal customers has been the most logical business strategy for a brand to enhance customer acquisition and retention. Brands giving away free or discounted products bring in existing and new customers. For instance, they can offer a discount for first-time customers. They can also offer incentives for the current customers referring to new customers.
Several brands have been using social media tools like Facebook and Instagram for running loyalty campaigns. They also used mobile apps like Shopkick, Smile.io, Spendgo, etc. for running many customer loyalty & rewards programs. A survey reveals that most brand marketers have been unhappy with the outcomes of social media or app driven loyalty programs.
Loyalty marketing has been disrupted by digital technologies like moLotus adding to sales and decline in churn rates. Best examples of moLotus loyalty campaigns are ads delivered to customers on special occasions like birthdays, anniversaries, reminders and festivals. They are custom-branded with options for rewards, greetings, names, call-to-actions, and more for individual customers. These campaigns are delivered to the customer' messages inbox without necessitating any app download or data charges.
7. Use Segmentation and Targeting
Naturally, different segments of the customer population have different interests, languages spoken, different needs and pain points. Once brands tend to know who is buying their products and how they are using them, they can tailor the content to different customer segments. Brands should know what their target clientele like, what they find relatable, and what customers want from their product to tailor their brand message specifically to the right leads.
Ultimately, both customer acquisition and retention come down to cultivating relationships with leads and customers via marketing tools and technologies. moLotus is one such technology which delivers customized offers that meet consumers' needs and interests at just the right time.
Customized moLotus mobile campaigns have proven to be extremely effective for brands planning to micro target their customers. Via moLotus brands do micro-targeting by utilizing a huge customer database – including basic demographics, online behaviors, attitudes, interests, and perceptions. The new technology offers customized campaigns - targeting languages, demography, etc.
8. Transform Customer Processes
Brands should automate and transform customer processes to get more customers and retain the existing ones. The evidence is piling up that big brands are digitally transforming their customer processes gaining efficiency, reducing costs and enhancing profitability.
Process automation via breakthrough transformation tools like moLotus offers brands the opportunity to automate their customer processes right from lead generation, customer onboarding, support, mobile commerce, outbound calls, loyalty cards, and more. With the process enhancement comes better customer experience.
A study of digital transformation and automation in global banking found that the most aggressive digital banks using moLotus breakthrough transformations did see improvement not only in customer acquisition, but also in retaining customers making them more loyal or satisfied.
Conclusion
Customer acquisition is the lifeblood of business. Brands can't afford to give up on marketing to new customers — no matter the cost. But research has shown that the key to growth lies not with marketing for acquisition but also customer retention. Setting up the right acquisition strategy with customer retention is not expected to happen without the adoption of marketing technologies like moLotus. With the new technology, brands will enter the path of consensual hyper-personalized customer interactions, leading to greater acquisition, revenues, retention and cost saving. Always work hard to bring-in and on-board new customers, but do not forget about them once they have joined the crew.
social media
About the author
Buana Sari is an online marketing enthusiast and a blogger who closely follows the latest digital marketing trends and lead generation strategies all over the world.
Reader insights
Be the first to share your insights about this piece.
Add your insights