Benevolent Ruthlessness
How relentless focus and accountability make for leaders an organization can count on.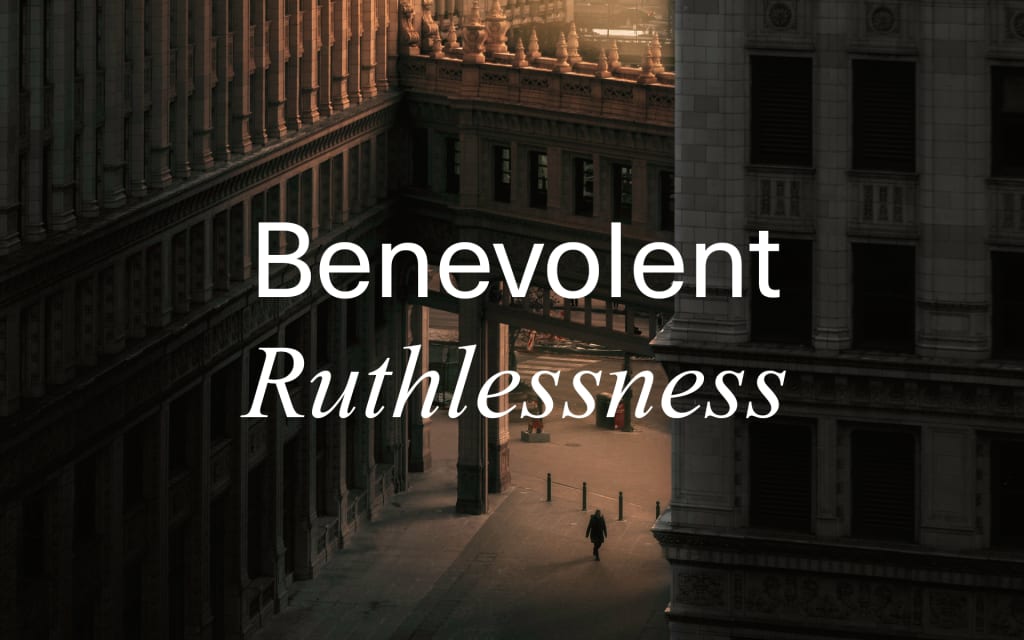 Pushing vs Pulling
In her recently published 'love letter' to Gov. Cuomo, Chelsea Handler gave a shout-out to NYT columnist Maureen Dowd.
"Thank you, Andrew Cuomo. Thank you for reminding us that there are men who can lead and be clear and tell the truth—even when the news is bad. Who practice benevolent ruthlessness." (Thanks, Maureen Dowd.)
Benevolent ruthlessness. Intrigued, I proceeded to find where that term came from, and what it was meant to suggest. Here's what I found:
Ruthless is an antonym for benevolent.
Benevolent - adjective. Having or marked by sympathy and consideration for others.
Ruthless - adjective. Having or showing a lack of sympathy or tender feelings.
What I took away from this is a reinforcement of what I instinctively have always known. That the best leaders, the benevolently ruthless ones, know how to rapidly adapt their skills to any environment, the inopportune ones in particular, and steer their enterprises out of adversity. Benevolent ruthlessness is marked by the ability to zone in on the initiatives that are going to drive results that matter and benefit the collective. These leaders are effective because they're uncompromisingly accountable; they deliver on their word more often than they don't, and deal with the consequences if they don't.
Leading a relatively small core group as I do, most of my day is pushing ahead, and pulling my team with me. A good leader pulls, and an effective team member lets themselves be pulled. I suspect that leaders everywhere are now tasked with pushing harder than ever because our leaders are pulling less. Presidents are only as good as the people that push along with them. Trump's administration is a good example of what happens when the push goes wrong - when the force is strong and the object misguided. There is quite a long laundry list of Trump's 'people' (i.e. his mouthpieces, fixers, lackeys, and sycophants) that personify this fundamental problem in the current administration.
Of all the administration's many problems, the one I find most glaring is that Trump is a poor manager. Managers must know how to listen, learn and delegate. Fast. He doesn't seem to have any of these skills, preferring talking to learning and bluster to humility, and preferring to misspeak than to say nothing at all (case in point: last week's bleach-gate). If the United States was a corporation, and Trump CEO, his board would have removed him long ago (more recently on the grounds of insanity as he muses about injecting UV lighting as a cure to the virus). Hopefully the 'board' that is American voters does just that this November. Until then, many of us must continue to push harder than ever before to survive this tumultuous time.
Survive vs Thrive
The last time I felt ripples in the economy that made me as concerned as I am now was back in January 2008. The issues today are far more complex and, in hindsight, the premonitions made back then seem relatively small compared to the depression-era levels of unemployment we're currently up against. A little over three years ago, in December of 2016, we turned on Vocal and could validate with data what had until then been a premonition of our eclectic executive group. There were deep changes coming, and we understood that. Technology platforms, and self-sustaining ecosystems in general, are what the world desperately needs more of right now. The inception of these new platforms replaced what were legacy models, part of a systemic deterioration of digital media assets. None of us could have imagined the exogenous shock of the coronavirus and the destruction of massive components of our once economic superpower.
In this new environment, the destruction of legacy asset value and the thriving nature of new technology platforms will greatly depend on leaders' abilities to survive the next 6-9 months and to thrive well beyond that timeline. Surviving and thriving is a function of a quality product and a network of supportive professionals who can work as a collective to protect the interest of the whole; and we have both.
The Need for Niche
I read an interesting and deceptively profound statistic this week which said the average person will use as many as 10 social networks by 2023, up from six at present day—and that's already the case for 30% of adults between the ages of 18 and 24.
Reddit's COO, Jen Wong, recently commented on this phenomenon and summarized it quite eloquently—"In an era of distrust and perfectly-polished online personas, tools that are supposed to bring us together are often making us feel more isolated and distant from one another."
In other words, the major social media platforms seem to launch new capabilities by the second, but there's a critical need going unfilled. The obvious question, then, is why? How can we navigate a reality in which the social media tools that are so good at connecting us are also hindering our ability to connect with a cohesive community like we do in real life?
"Online communities are driven by shared interests...The breadth and depth of communities on Reddit fosters a space where everyone can find their passions and their people. There's not just one thing for everyone on Reddit—there are many things for everyone on Reddit. Because users engage with the topics they're genuinely interested in on Reddit, they find real value in the platform and feel like it's a place where they actually belong."
I discussed this concept with numerous of my investors in the last few days, and I found an increased focus on Vocal's community-based architecture. Similar to Reddit's identity, this aspect of Vocal's DNA, the niche community structure, is elemental to its unique strengths, but the implications are not often seen so starkly. Facebook might be the world's largest community, but the fact is that a community of that scale and breadth can't possibly satisfy all of its users' needs at once. You need only look at your Facebook feed right now and you'll find it dominated by coronavirus headlines, which means that anyone who wants to talk about anything else is more or less out of luck.
This is all to say that as much as people rely, and will continue to rely, on Facebook (for some things) it cannot replace the need for narrowly defined and more intentional communities if the goal is true and comprehensive social satisfaction.
The Vocal platform is unique in that it is simultaneously highly scalable and broad in application (like the Facebooks of the world), while at the same time centered around this concept of niche community. We do both, so we do everything.
Our COVID-19 Response
My partner Justin Maury, Vocal founder and Jerrick President, recently addressed our creator community on behalf of the entire Vocal team and reaffirmed our commitment to being a reliable source of support through this period of uncertainty.
The message Justin shared is a poignant one, and worth sharing with you all:
We've been exceedingly lucky over the past three years to have fostered a platform built on the values of rewarding creativity and coming together over shared passions. We think it's infinitely important to continue fostering these kinds of communities—where we can help one another stay inspired, support each other financially, and continue to spread positivity while we all as creators do our best to make sense of the world.

Our team, like you, are creators at heart. That's why we've made it a priority to share with our community some of the lessons we've learned these past weeks. key strategies and tips that we helped us internally, We've documented some of these key strategies and insights in a series of new resource articles, that we hope you'll find just as helpful as we have.
How to Keep Your Creativity Alive During Quarantine
As a creator-centric company, we know all too well how important it is to exercise your creative muscles, especially when things are tough. We have to create. We have to write, sketch, paint, sing, act, dance, and express ourselves. Even, and especially, when we don't want to.
How Creators Can Foster a Sense of Community During a Global Pandemic
As a creator, there are so many ways you can foster a sense of community—even during a global pandemic full of sheltering in place and social distancing. This guide offers advice for how you can support fellow artists, connect with fans, and help your local community online.
7 Ways to Support Your Favorite Creators Through Tough Times
For creators, the stories they tell are important; but it's the readers who love and learn from those stories that make them so powerful. Whether you're a creator hoping to support your fellow creators or you're simply looking for ways to show your favorite creators how much they mean to you, here are some ways you can support the creators that make Vocal possible.
A Creator's Guide to Coronavirus Relief Funds, Grants, and Resources
If you find yourself struggling during these uncertain times, you are not alone. Millions of people are finding themselves in need of assistance, many for the first time. While there are ways to earn extra income online—even during a pandemic—these are not always enough to cover a household's worth of expenses. In this post, you'll find a list of coronavirus relief funds, loans, and resources available to creators right now.
Additionally, our Challenges have proven to be a valuable outlet for our creators, helping them stay engaged with their community while in isolation and giving them extra opportunities to fund their creativity.
We recently announced the winners of our Women Who Inspire Challenge. Congratulations to them, and to all who participated:
1st Place: To Infinity, and Beyond by Julie Chernesky
2nd Place: How My Wife Taught Me to Walk Through Open Doors by Everett Fitch
3rd Place: Jackillem: Long Live the Legendary Latina by Ashley Antunes
We've run a total of 10 Challenges so far, and realized that now more than ever the power of Challenges to help our creators harness and share their creativity. That's why we've introduced Weekly Challenges.
We're making Weekly Challenges exclusive to our Vocal+ members as a way to increase value for our premium members as well as to help sustain Jerrick's business model, so we can continue doing what we do best—driving success for creators everywhere.
Finally, I'll take this opportunity to remind our community that there are just two weeks left to enter our Pay It Forward Challenge, in partnership with Vimeo. The Challenge was designed to help the amazing small businesses in the US and around the world, who desperately need our help right now.
Vocal Alexa Ranking
Last week, we introduced a comparison between Vocal and Vice:
This week, I wanted to point out the similarities on a number of key metrics between the Vocal and Patreon platforms. There are approximately 1,000 points that now separate the two creator-oriented platforms. Both platforms are showing similar daily pageviews, time on site, etc.
I believe Vocal can close the gap to a few hundred points within the next 12 - 18 months if current trends remain intact. The value of our public equity will come to reflect that during the same period.
I have great respect for the Patreon business model and its monetization feature, as well as the dedication to their creators that they've demonstrated so acutely recently. It will be interesting to see how long it takes us to close the gap in ranking. I suspect it won't be long.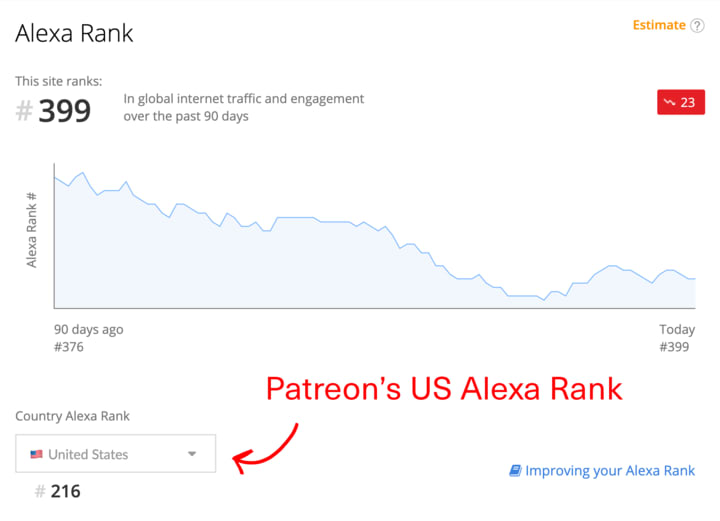 Seller's Choice Highlights
In 2019, roughly 40% of US e-commerce took place on Amazon. As COVID-19 becomes an even larger barrier for in-person business transactions, an increase in the demand for Amazon's services is becoming more apparent—and with it, the demand for agencies like Seller's Choice, who can use their Amazon expertise to help define your business. We're seeing consumers doing their part in staying socially-distant and recognized a need among our seller community to develop a cohesive strategy such that they, too, can 'survive and thrive' and emerge from this hermit-like period in the black. Some recommendations from our expert team:
Fulfillment Adjustments
Optimize Your Listing
Adding A+ Content (EBC)
Build or Update Your Storefront
Strategic Bidding Strategies in Advertising Campaigns
Establish or Remodel Email Campaigns
Seller's Choice's new e-book "Increase Your Sales on Amazon During COVID-19," available as a free download, fleshes out all of these concepts and weighs in on how sellers can navigate the current climate and succeed not just in maintaining the status quo but actually increasing sales during this time.
Stock Watch
We watch a number of stocks for strategic opportunities as well as for the purposes of general observational and comparative analysis. These stocks and their respective management teams are discussed as part of our regular business development and corporate finance meetings.
Leaf Group
This past week saw Leaf Group (LEAF) find new lows. I expect the stock has found a bottom as it got a notification from the exchange, beginning a fuse to destruction. They will be forced to unlock value one way or another.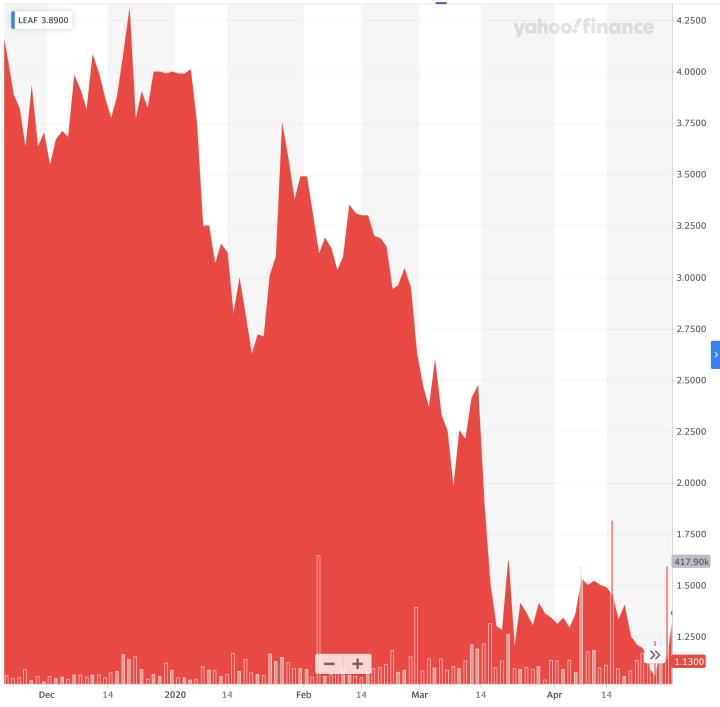 From a high of $11.95 and a market cap in excess of $250 million, the stock hit a new historical low of $1.05 this past week with limited evidence that display advertisers will be back anytime soon from some of the largest participants. At Expedia, for example, where a spend of $5 billion a year on advertising was once normal, they expect to spend less than $1 billion this year. There is a limited path to fix Leaf unless it can be lifted onto a platform like Vocal and restructured operationally. Otherwise the parts will need to be sold off. My interest is in eHow and a few other relatively well know brands.
Two other stocks we are watching closely are:
Genius Brands
Genius Brands International, Inc. (NASDAQ:GNUS) is a publicly traded leading global media company developing, producing, marketing, and licensing branded children's entertainment properties and consumer products for media and retail distribution.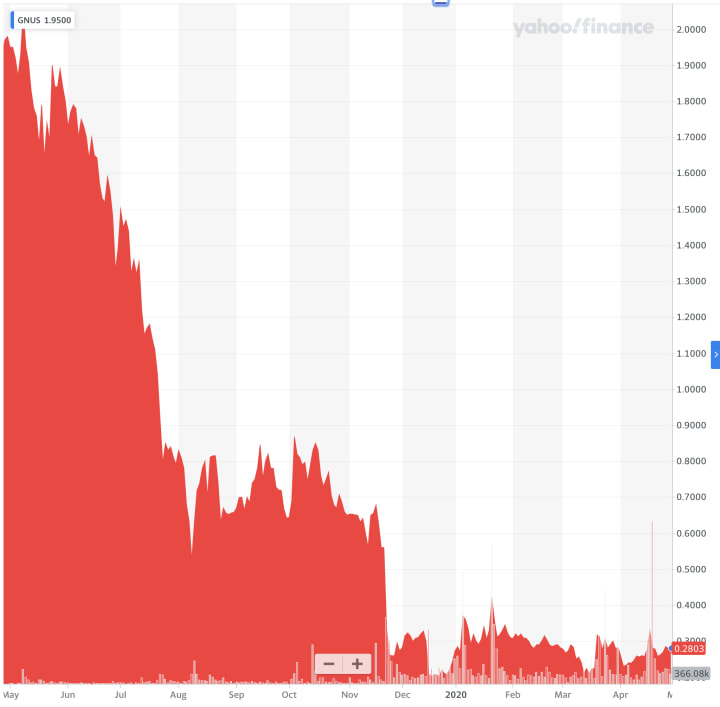 With a closing price of $0.26 on Friday the stock is near all time lows, dropping in market cap to less than $10 million from a high of $2 12 months go and a $100 million+ valuation.
In addition to GNUS we are keeping an eye on another vast content library.
Cinedigm
Cinedigm Corp (CIDM) powers custom content solutions to the world's largest retail, media, and technology companies. The company provides premium feature films and series to digital platforms including iTunes, Netflix, and Amazon, cable and satellite providers including Comcast, Dish Network and DirecTV, and major retailers including Walmart and Target. Leveraging Cinedigm's unique capabilities, content, and technology, the company has emerged as a leader in the fast-growing over-the-top (OTT) channel business, currently with nine channels under management that reach hundreds of millions of devices while also providing premium content and service expertise to the entire OTT ecosystem.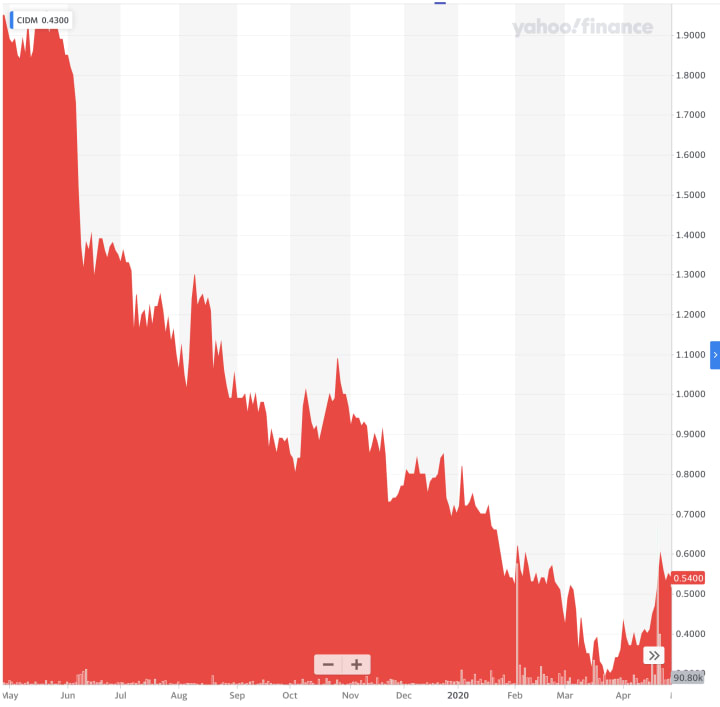 In November 2017, Bison Capital became the beneficial owner of the majority of Cinedigm's outstanding Class A Common Stock. Bison Capital is a Hong Kong-based investment company with a focus on the media and entertainment, healthcare, and financial service industries. Founded by Mr. Peixin Xu in 2014, Bison Capital has made multiple investments in film and TV production, film distribution and entertainment-related mobile Internet services.
I look forward to introducing Vocal to both of these companies. Together we can open up new distribution channels and reposition the company's content for a new era of community based ecosystems and decisions driven by data.
As always, for regular updates please follow me on LinkedIn as well as the company's other social pages:
Jerrick
LinkedIn: https://www.linkedin.com/company/jerrick-media
Twitter: https://twitter.com/JerrickMedia
Facebook: https://www.facebook.com/JerrickMedia/
Vocal
Instagram: https://www.instagram.com/vocal_creators/
Facebook: https://www.facebook.com/VocalCreators/
Twitter: https://twitter.com/Vocal_Creators
LinkedIn: https://www.linkedin.com/company/vocal
Reader insights
Be the first to share your insights about this piece.
Add your insights