Be a Leader instead of a Boss- This is the difference no one knows
Why Becoming a Leader is better than becoming a Boss.
In this short guide, I'm going to share with you something special, something big, and I think you have not heard before, so pay attention.
Always be a leader instead of becoming a boss.
For a full explanation keep reading and stay with me. Now, you have so many questions about it. That tells us, Asad, why,
Cool!
Now, the word I'm going to give absolutely for free could change your life forever and it is our responsibility as content creators must share with you something great every time.
What is the difference between a leader and a boss?
Always A boss says, I, for example, I built this company, I work hard day and night, I achieved Success, I Made this Successfully.
But on the other hand, A leader says, We Built this company, We work hard both day and night, We all achieved success, We made this successfully.
I think very interesting, and very useful lines that I shared with you. Agree? Response to me in the shape of tips.
A boss they command, And a leader Always Asks.
Usually, A boss point finger And a leader extends a hand.
A boss Speaks the word Go and a leader says let's Go A boss Use people And a leader improves the people.
However, this is the things we find in boss and leaders. That,s why I suggest you be a leader, not a boss.
Make $1,000 a Month With Affiliate Marketing- Just 2 Hours Per day Required.
How I achieved these numbers of results in affiliate marketing- Now I'm going to share with you a step-by-step guide on how to start a successful affiliate marketing business.
Basically, This is my own Method, My Own strategies, and everything I'm going to share with you in this guide.
Take a pen and copy write down everything and trust me. It will help you a lot in your affiliate marketing journey.
This is not a post where you'll learn like join affiliate programs, copy your affiliate link, share with your family and friend and make a commission no this is not the best way to make money online with affiliate marketing.
The good thing in this business is that you don't need to have 12 hours per day or 8 hours per day just 2 hours yes. Keep reading I will explain everything to you.
Note: I'm not a native writer, but I will try my best… My purpose is to help you to start a successful affiliate marketing business and be your own Boss.
Personally, I don't like 9 to 5 jobs…
First of all, I have a small question…
How many times did you use google for searching for something or for buying something in the last 30 days?
The answer is 2 times or 3 times.
Personally, Last week I search on Google about the HP Probook laptop.
"Best HP laptop Under $200"
About after that, there are so many sites available on google that are making thousands of dollars each and every single month just promoting other people's products or services.
Those sites are most linked with Amazon.
You can also start this type of business by yourself.
The same strategy I applied on my niche site. Here is an amazon affiliate earnings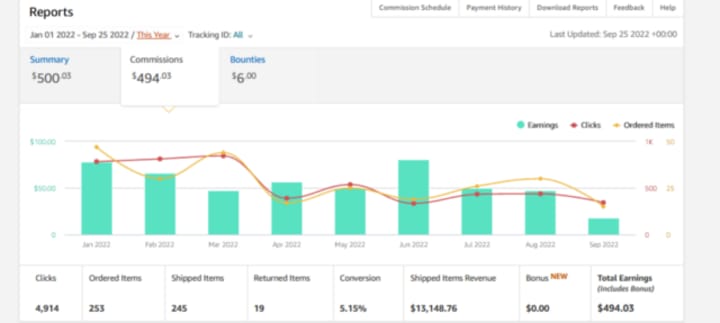 In short, Be a Middle Man between google and User's. But also focus on Search intent.
A piece of deep information this guide teaches you something more.
Bonus tip I want to share with you follow Adam enfroy YouTube channel and learn how they are making $300,000 a Month With affiliate marketing.