Barbara Hepworth: Art & Life
Tate St Ives, Cornwall, until 1 May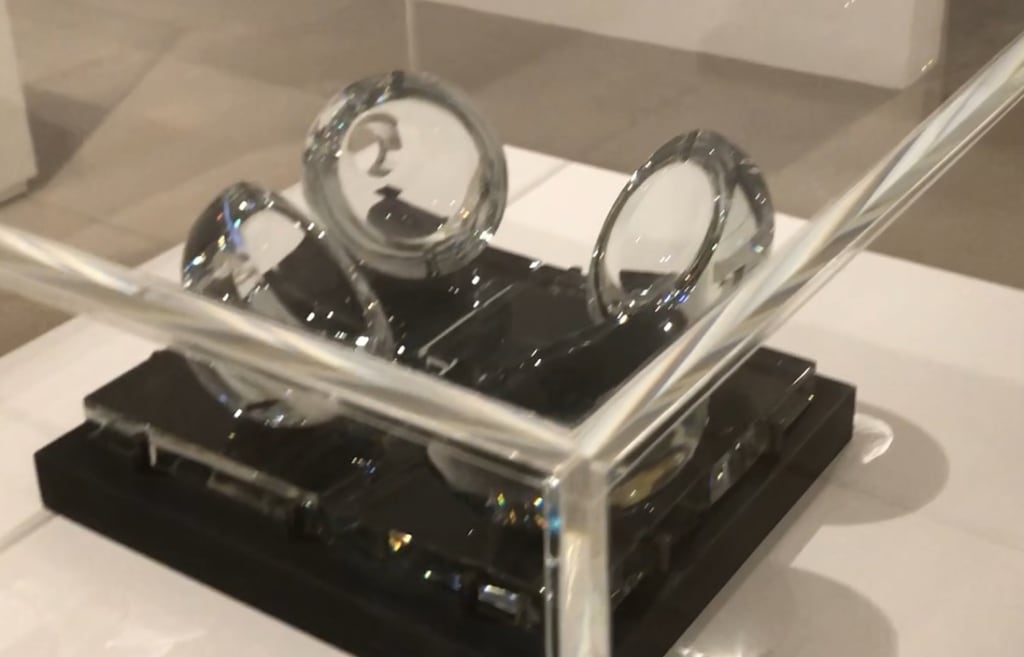 Barbara Hepworth (1903–1975), elected a Bard of Cornwall, is one of the most influential British artists of the 20th century. At the forefront of international modern art, deeply spiritual, and passionately engaged with science and technology change.
Hepworth is known for her organic and very human sculptures and is distinguished not just by being one of the few women in a world of male artists in the 20th Century, but by being a sculptor at a time when prejudice suggested the physical effort involved, if nothing else, made it a specifically male occupation. All the more satisfying, then, to see one of the exhibition videos, showing her working away with her mallet with an easy and rhythmic grace.
One of the most moving exhibitions I have seen for a long time if not for all time and, by moving, I mean moved to tears.
This exhibition demonstrates the huge breadth of Hepworth's work, encompassing painting, drawing and theatrical design as well as the iconic sculptural form that is her hallmark. She is also seen at the exhibition in film footage addressing the United Nations at the dedication of her colossal work 'Single Form', in memory of UN Secretary General Dag Hammarskjöld, following his death in an air crash in 1961. The footage covers the founding and erection of this monument in New York City, where it can still be seen today.
One of the highlights of the exhibition for me was this work, which I saw for the first time at the exhibition.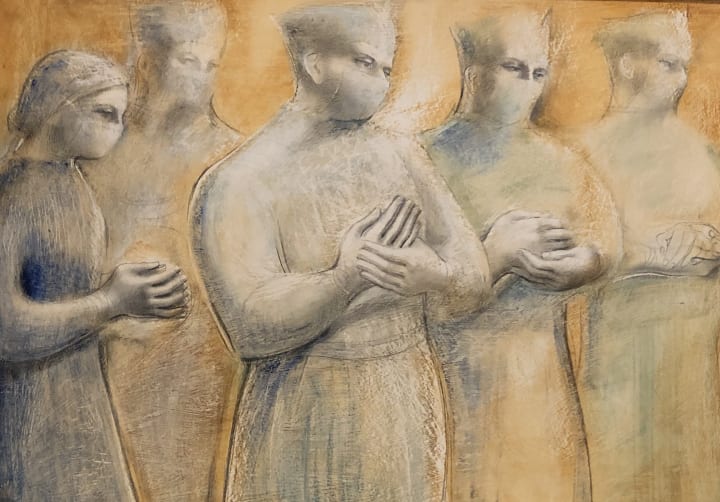 Created from life, having been invited to observe a day in the life of an operating theatre team. The work demonstrates not only Hepworth's empathy for the sensitive, life-or-death work of the surgeons but, more so here, empathy with the one woman depicted in the scene. In this drawing, Hepworth shows the near angelic presence of the theatre sister, a leading force in a group scene that itself is deeply spiritual in its interpretation. Clearly Hepworth made a close connection with the sister as a woman striving to establish her role in a world of high-profile men.
Returning to perhaps the most breathtaking of the galleries in this astounding curatorial tour de force, I attempted to capture a flavour of the experience with an iPhone panorama. This picture is a still from that video.
I have not published the whole video yet, so if you want to see the Space and Spirituality display, you will have to get to Tate St Ives by 1 May.
The Tate blurb explains that repeated circles began to appear in Hepworth's sculptures and prints following the 1969 lunar landing. These circles symbolising the Sun, Moon and stars and expressing her 'deep interest in a new sense of poetry in our scientific age'.
Works such as the one illustrated here derive from Hepworth's 1962 visit to the Goonhilly Satellite Earth Station newly opened in 1962 in Cornwall. Hepworth recalled her visit (quoting from the Tate site) 'I was invited on board the first [satellite dish] when it began to go round, and it was so magical and strange.'
The celestial, spherical form oft repeated in Hepworth's work was also (according to Tate) a reflection of her interest in Christian Science, drawing the spiritualistic connection between heavenly bodies and the geometric form that underpins much of her work.
Seeing so many of Hepworth's wooden and metal forms protected by plate glass casings and no-go barriers was in some ways frustrating, as such work just cries out to be touched and caressed., experienced in its elemental and physical presence. Clearly necessary, as for so many people to do so would result in serious deterioration of the materials. Oddly, thinking about this as I viewed the works from a distance, I felt a strange tingling in my fingertips, as if I were in reality running them over the delicate surfaces. I don't think I have ever formed such a close empathetic connection to any artist's work.
Finally, something that cannot be seen in its fleeting original form but masterly represented in the curatorial display of some of Hepworth's theatrical designs. Of particular interest to me was the stage depiction of the god Apollo, rendered in steel rod. The larger-than-life stills of some of the costume designs show how Hepworth's recurring themes manifested themselves on stage.
It is difficult to describe in words the impact this magnificent exhibition of Hepworth's lifetime of work can have.
To see it is to believe it.
Hurry! You have only until May 1st.
Barbara Hepworth: Art & Life
Ray Taylor visited the exhibition 23 February 2023
Thank you for reading. If you enjoyed this, you might like:
Ray Taylor is a volunteer visitor host at Tate Modern art museum in London and is otherwise unconnected with the Hepworth exhibition at Tate St Ives in Cornwall.
Reader insights
Be the first to share your insights about this piece.
Add your insights