Are You Using Social Media Correctly As An Entrepreneur?
Kameron Westcott outlines how entrepreneurs should be using social media.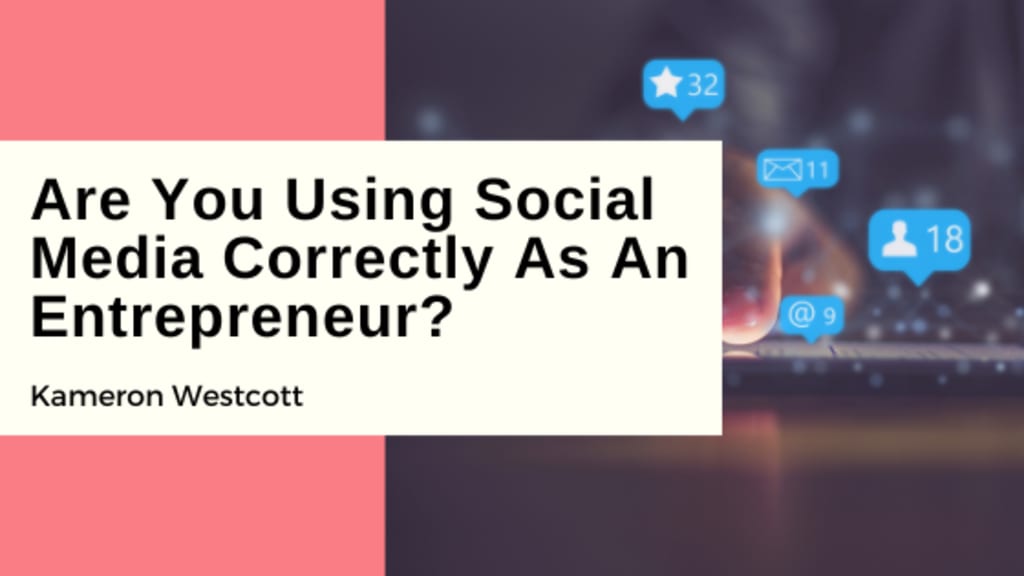 Entrepreneurs who want to leverage their marketing efforts can turn to social media to expand their businesses in different ways. To get the best results, entrepreneurs should know how to use social media the most effectively and always stay on top of their marketing efforts.
Put Together A Social Media Plan
One thing that many entrepreneurs may not realize is that a social media plan will be crucial for one's efforts to be successful. This is why entrepreneurs should focus on putting together a social media plan before jumping in. The plan should include what profiles will be used, how they will be used, and the frequency of the efforts for each one.
Choose the Right Platforms
Not all social media platforms are the same, and some platforms appeal more to certain types of people. A particular social media platform might be ideal for targeting younger people as potential new customers, while other platforms may be more suitable for finding older users. By researching the user data of each platform, entrepreneurs can know where they should look to find their key demographics on social media.
Connect Live
Some social media sites allow users to live stream videos, which can be a great way for entrepreneurs to connect to people in real-time. Potential new customers, as well as people who are already loyal to the brand, can tune in to these live stream videos to hear details about the latest products or services. Personal stories and client testimonials can be included in some of these live stream videos to try to generate even more interest among viewers.
Review Customer Feedback
Both positive and negative feedback that people leave on social media sites about a business should be reviewed regularly and taken seriously. Suppose customers are having common problems with a business and are airing their frustrations on social media. In that case, they might become customers of a competing business if these issues are ignored and aren't resolved. Entrepreneurs can also use customer feedback that's left on social media to develop better content strategies.
Showcase Personality
Entrepreneurs shouldn't forget to show off their personalities when marketing their businesses on social media. People are often more drawn to companies that show off some personality rather than just featuring pictures and information about products and services online. Entrepreneurs can try to emphasize their unique traits more in their marketing to try to connect more to people and create more personal experiences on social media.
Pay Attention To The Analytics
One thing that many entrepreneurs do not consider is the significance of tracking their social media efforts. To ensure they are getting the most out of their efforts, it is important to look at how the work is engaging target audiences. To accomplish this, look at how much engagement various posts are getting, while also examining what type of engagement it is. By getting as much detail as possible, it will make it easier and more effective to implement changes in the future. This also ensures that the efforts are reaching the right target audience.
Continue Making Adjustments As Needed
Many people think that once a social media plan has been created, it does not need to be adjusted again in the future. This is not always the case, as most social media plans will continuously need adjustments to get the most out of the efforts. Knowing this, entrepreneurs should plan on evaluating their efforts on a regular basis.
Social media isn't just for fun, and many entrepreneurs have managed to grow their businesses in different ways on social media platforms. Ambitious entrepreneurs may reap great rewards from their efforts if they learn how to utilize social media the most effectively.
About the Creator
Kameron Westcott is an accomplished entrepreneur and public figure in Dallas, Texas. She is well-known for her role on BRAVO's The Real Housewives of Dallas.
Reader insights
Be the first to share your insights about this piece.
Add your insights