Are Digital Marketing Certifications Worth It?
Are You Planning To Take A Digital Marketing Certificate? Let Us Understand If It Is Worth It For You Or Not.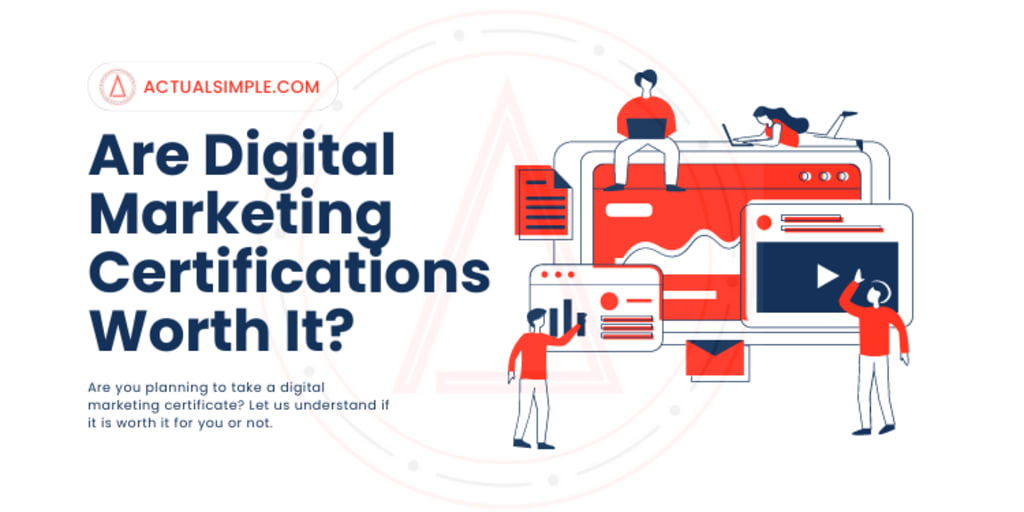 Are Digital Marketing Certifications Worth It?
There are multiple digital marketing certifications and courses available today. You can apply for them in your college, third-party organizations, or through online learning platforms. But are these digital marketing certifications worth it?
Around a decade back, there were no digital marketing courses or certifications. Now, you may argue that digital marketing wasn't there around a decade ago. You are right! However, does every industry or domain actually need a course?
I am working in the AdTech industry for a while now. I am in constant touch with the digital advertising ecosystem along with marketers. Digital marketing as a domain is vast and dynamic. Digital marketing professionals have been for a decade without certifications and did wonder. But does, that make these certifications useless?
Let us understand in depth.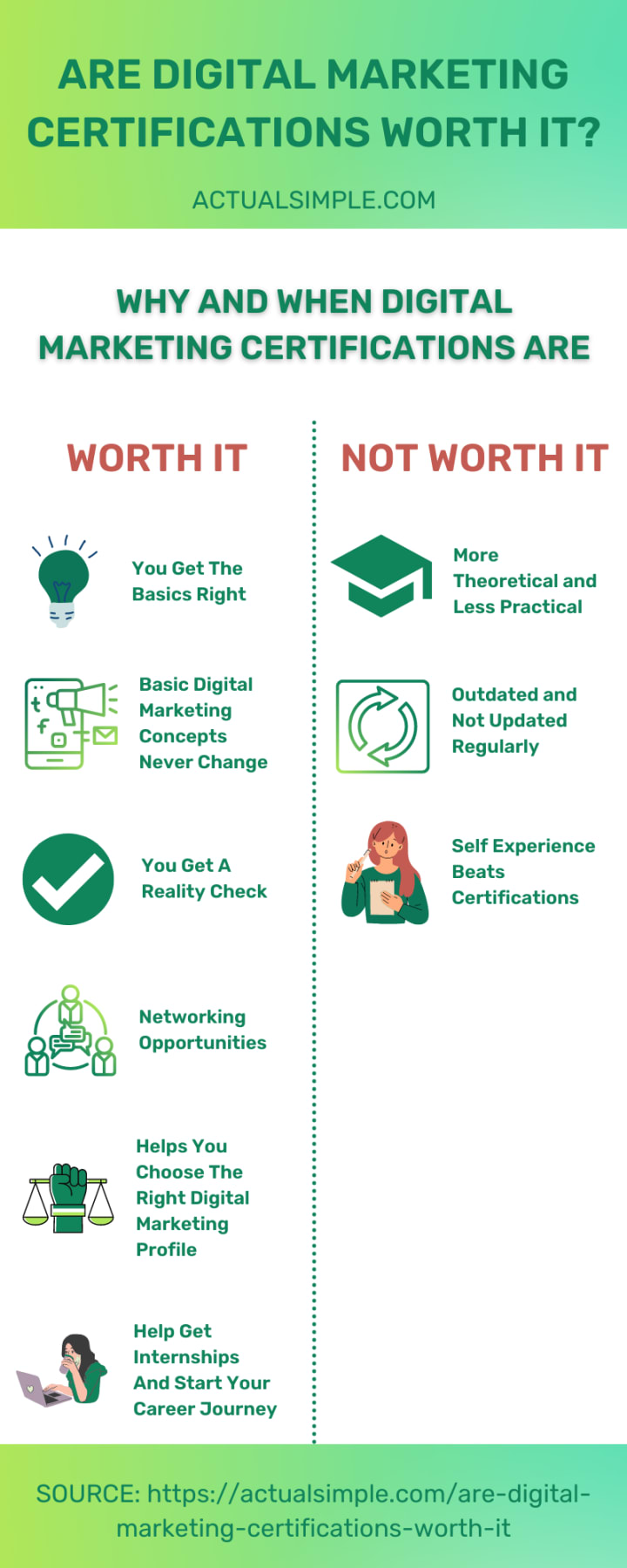 Are Digital Marketing Certifications Worth It?
Digital marketing is a field that is changing rapidly. Within every few weeks, there are new trends and opportunities to avail. However, this doesn't mean that a thing that changes rapidly cannot be taught.
So, the answer would be a Yes and No.
Why And When Digital Marketing Certifications Are Worth It
1. You Get The Basics Right
If you are a beginner in this field, one or two certification courses won't hurt. The course will not make you a marketing wizard. But, you will get the basics under your control. As this field is rapidly evolving, marketers with strong basics are only able to cope with these dynamics.
2. Basic Digital Marketing Concepts Never Change
The basics of digital marketing are still the same. You may have a new objective, goal, or challenge. However, the basics would still play an important role. Your marketing strategy would use the same basics and then move on to a new path depending on the situation.
3. You Get A Reality Check
Although a course may not emulate the entire practicality of any skill. But, when you do a certain course in a structured manner, you get a reality check. Many people realize whether digital marketing is for them or not. A simple beginner-level certificate can allow you to decide whether you would like to enter this space or not.
4. Networking Opportunities
When you are enrolled in a particular course, you meet people with similar professional aspirations. This actually helps to scale your knowledge and network with the right people. Working together can help you upscale your skills in a fast and paced manner.
5. Helps You Choose The Right Digital Marketing Profile
Digital marketing is too vast. It contains the following components:
SEO: Search Engine Optimization
SMM: Social Media Marketing
Content Marketing
Email Marketing
Going through a structured course can help you choose the right digital marketing profile for your career. Even if you start with the basics, you can develop a good understanding and then decide where to dive deep.
6. Help Get Internships And Start Your Career Journey
A digital marketing certificate may not make you a marketing wizard. However, it can help kickstart your career by giving you basic knowledge. With the basics done, you can apply for internships wherein you will get real-world exposure to this industry. This is when you will start applying the knowledge and mastering your skills.
Why And When Digital Marketing Certifications Are NOT Worth It
1. More Theoretical And Less Practical
Most of the courses give you detailed explanations of digital marketing concepts. But that becomes too theoretical and less practical. The real-world scenarios are quite different. As mentioned previously, the basics would remain the same. However, once the basics are done, things can get tough and require a practical approach rather than a theoretical one.
2. Outdated And Not Updated Regularly
The courses you find on different platforms would give you ample knowledge. But is that knowledge still relevant? The digital marketing domain is greatly changing. It sees new trends after every few months. Most of the courses are not updated regularly. This is where they lose their value and provide much less to the student. Moreover, it requires a lot of resources to update the course on a monthly or quarterly basis.
3. Self Experience Beats Certifications
Companies are choosing candidates who are well-versed in their digital marketing concepts. They would want someone who has applied the knowledge in a real use case rather than in some certification project. Now, people may argue that one needs to have certificates to start their journey. Well, this would have been true a decade ago. But now, you have ample digital marketing stuff that you can do at your own end without any investment. Many candidates who stand out come in this category. They have been trying to build something using the knowledge which helps them gain some extra points over others.
Bottom Line
As discussed above, the courses are worth it if you are a beginner. But if you rely only on certifications, it can be tough for you. Certification can be a good starting point to understand where to start.
Once the basics are done, it is important to apply the knowledge to projects on your own end. This will not only help you understand it better but also give you an upper edge over others.
Choosing to do projects after certifications can help you dive deeper into a particular subset of digital marketing. This is where companies are looking for their new candidates. They do not want you to know all components with little knowledge. Instead, they would want an intermediate level of the knowledge base in any one component of digital marketing.
In a nutshell, certifications and experience complement each other. So, certifications are worth your time only if you complement it your own projects and work.
Previous Post:
About the Creator
We write about digital marketing, business models, and startups in a simple and lucid manner.
ActualSimple.com - Everything Is Better When It's Actually Simple!
Reader insights
Be the first to share your insights about this piece.
Add your insights