A Tribute to MS Dhoni
A Maverick on and off the Field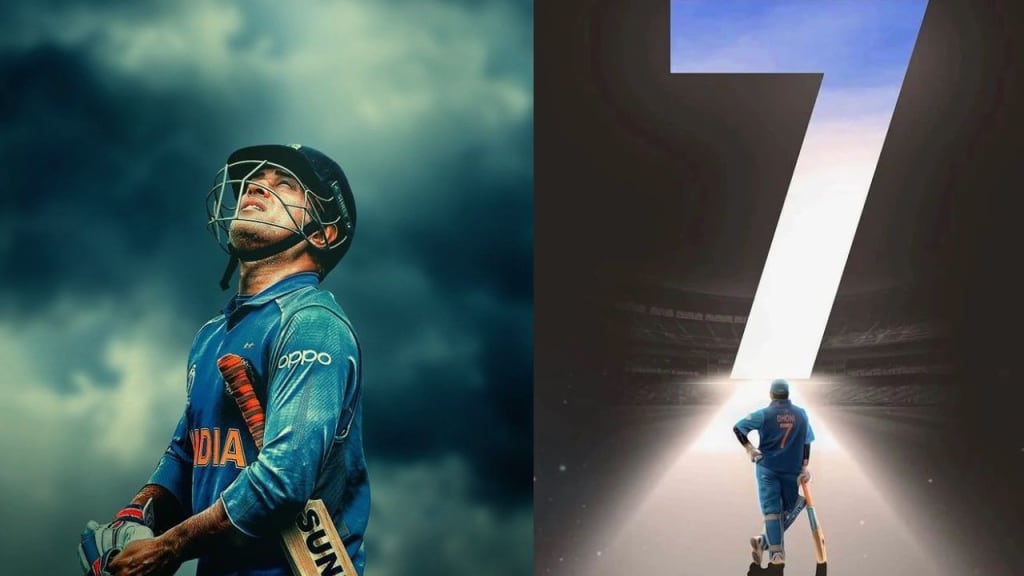 A Tribute to MS Dhoni: A Maverick on and off the Field
The cricketing world has witnessed many greats who have left an indelible mark on the sport. Among these legends stands one name that resonates with glory, resilience, and unmatched leadership - Mahendra Singh Dhoni. Affectionately known as "Captain Cool" and hailed as one of the most successful captains in the history of Indian cricket, Dhoni's impact goes far beyond his illustrious statistics.
This tribute aims to delve into the extraordinary journey of MS Dhoni, both as a cricketer and as an individual, capturing the essence of his greatness that has made him an icon of inspiration for millions around the globe.
Early Beginnings: The Making of a Legend
Born on July 7, 1981, in Ranchi, Jharkhand, Dhoni's journey to cricketing stardom was not a conventional one. Hailing from a humble background, he played tennis ball cricket on the dusty streets of Ranchi before making his way into the cricketing academies. His remarkable talent soon caught the eye of selectors, and in 2004, he made his debut for the Indian national team in an ODI against Bangladesh.
Dhoni's unorthodox batting style, characterized by explosive power, innovative stroke play, and an unruffled demeanor, quickly established him as a force to be reckoned with. He made an immediate impact, notching up several match-winning performances and showcasing his trademark helicopter shot, which would become synonymous with his name. With each innings, Dhoni's stature grew, and he soon became a pivotal cog in the Indian batting lineup.
Captaincy: The Birth of a Leader
Dhoni's tryst with destiny truly unfolded when he was handed the reins of the Indian cricket team in 2007. At the helm, he brought a unique blend of astute tactical acumen, calm composure, and a fierce determination to succeed. Under his leadership, Team India witnessed unprecedented success, clinching multiple major titles.
The crowning glory of Dhoni's captaincy came in 2011 when he led India to victory in the ICC Cricket World Cup after a gap of 28 years. His match-winning unbeaten knock of 91 in the final against Sri Lanka showcased his ability to rise to the occasion when it mattered the most. The image of Dhoni lofting the ball for a six to seal the victory will forever be etched in the memories of cricket enthusiasts.
Beyond the World Cup triumph, Dhoni's leadership prowess was evident in India's triumph in the ICC Champions Trophy in 2013 and the World T20 in 2007. His calmness under pressure, the ability to make crucial tactical decisions, and the knack of extracting the best out of his teammates set him apart as an exceptional leader.
Unparalleled Legacy: A Trailblazer in Many Ways
While Dhoni's exploits on the cricket field are well-documented, his impact off the field is equally noteworthy. He revolutionized the role of wicketkeeper-batsmen, redefining the standards of what was possible in the game. His lightning-quick reflexes behind the stumps, along with his ability to finish games with his batting, made him a complete package and a nightmare for opposition teams.
Furthermore, Dhoni's unconventional decision-making, often backed by intuition and an innate understanding of the game, challenged the status quo and paved the way for a new era of captaincy. His unflinching belief in young talents and his emphasis on building a strong team culture instilled a sense of confidence and self-belief in his players, resulting in many triumphs.
Beyond his cricketing achievements, Dhoni's humble demeanor, grounded personality, and commitment to his roots have made him a beloved figure among fans. Despite his astronomical success, he has always remained modest and approachable, endearing himself to millions. His simplicity and humility have transcended borders, making him a revered figure not just in India but across the cricketing fraternity worldwide.
A Role Model for the Ages
MS Dhoni's impact goes far beyond his cricketing accomplishments. He embodies the qualities of a true role model - discipline, perseverance, humility, and the ability to lead from the front. His journey from a small-town boy to a global icon is a testament to the power of dreams and hard work.
Off the field, Dhoni has been involved in several philanthropic endeavors, leveraging his influence to make a positive difference in society. His contributions towards education, healthcare, and sports development have touched the lives of many, especially underprivileged children. Dhoni's commitment to giving back showcases his compassionate and altruistic nature, further solidifying his status as a true hero.
As we celebrate the incredible journey of MS Dhoni, it becomes apparent that his legacy extends far beyond the boundaries of cricket. His unwavering determination, tactical acumen, and unyielding spirit have inspired a generation of aspiring cricketers. His ability to lead by example and maintain grace under pressure has earned him the respect and admiration of his peers and fans worldwide.
MS Dhoni, the enigmatic cricketer and extraordinary leader, has etched his name in the annals of cricketing history. As we bid farewell to his on-field exploits, we are left with a treasure trove of memories, a sense of gratitude for his contributions to the sport, and the enduring belief that legends like him are born once in a lifetime. MS Dhoni, you will forever remain a true maverick, a source of inspiration, and an emblem of excellence.
Reader insights
Be the first to share your insights about this piece.
Add your insights