8 Starbucks Secret Menu Drinks You Need to Try
Starbucks summer drinks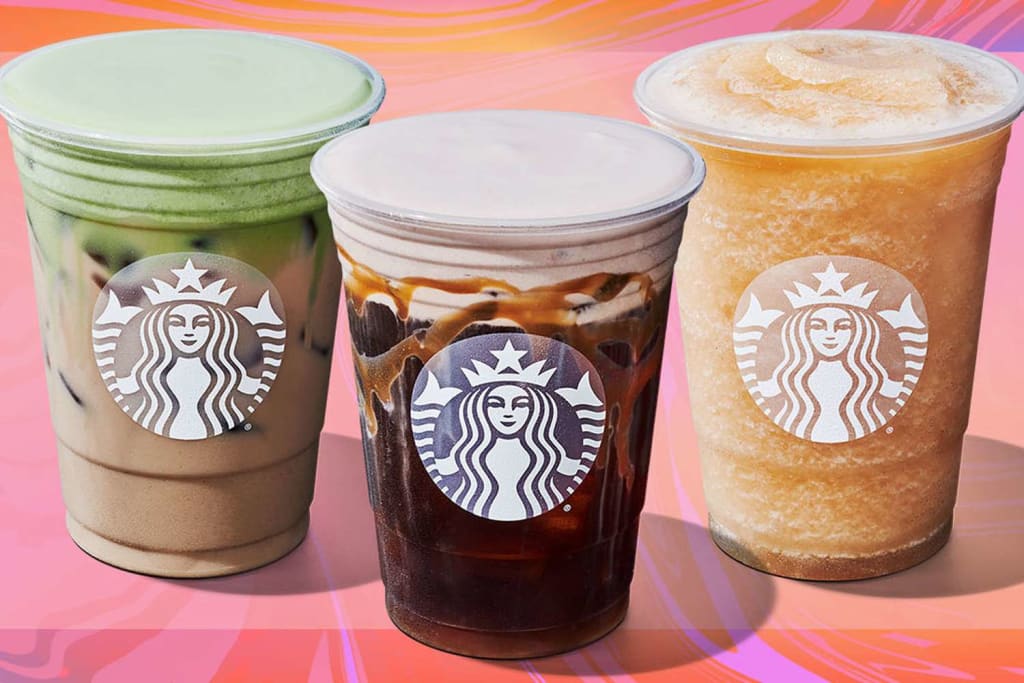 If you get bored with the Starbucks common menu, it's time to jump onto its secret menu. This world-famous coffee chain has a lot of beverage options to offer with its magical ingredients list. You need to be well aware of the perfect blends of these unique ingredients to get a drink for you.
But it's not easy to be creative with the Starbucks menu if you don't know the hidden details. That's why we are here with the top 8 Starbucks secret menu drinks you need to try this summer. Before this, let's read about what is Starbucks' secret menu.
What is the Secret Menu in Starbucks?
The morning pickup from Starbucks is a necessity for many in the world to stay hydrated and refreshing all day long. But sometimes ordering the same beverages, again and again, makes it boring.
The Starbucks secret menu is not a real printed menu but contains secret drinks made up of secret ingredients. The Starbucks employees too don't learn much about this official but not-so-official menu. So, you should know what you are going to order to get a nice blend of your choice. Let's read about some best example of drinks that comes under the secret menu of Starbucks.
8 Most Loved Starbucks Secret Menu Drinks
Strawberry Shortcake Frappuccino
If you want to try some dessert in a cup kind of drink, Strawberry Shortcake Frappuccino is a good option on Starbucks' secret menu. Most people love strawberry shakes and this drink can give you an identical taste. That's why Strawberry Shortcake Frappuccino is the most lovable drink among the hidden drink options.
This awesome drink is a good mix of Vanilla Bean Frappuccino with strawberry puree and frappe chips. Strawberry Shortcake is equally loved by kids too as it has a creamy texture with fruity flavors.
Mango Dragonfruit with Peach Juice
The next Starbucks secret menu treasure is Mango Dragonfruit with Peach Juice which is a tasty drink to try especially in summer. An interesting refreshing fusion of tender and juicy mangoes with tasty dragon fruit. If you want to taste something refreshing and vibrant, a Mango Dragonfruit drink is one of the best options.
This secret menu drink is a good blend of fruity goodness of tropical flavors with mango, dragonfruit, and peach juice.
Honey Peach Freeze
The next Starbucks secret menu is a peachy drink named Honey Peach Freeze. If you want to try something refreshing, especially in summer, this peachy blend is perfect for you. The drink offers you a burst of flavor on a hot day.
The fruity blend of sweet peaches, ice, and honey will surely give you a mind-bursting flavor. You can ask to add lemonade with a splash of guava juice. You can also try it with a top sweet cream foam.
Iced Peach Green Tea Lemonade
The next drink is an energized blend in Starbucks' hidden drinks menu. The green tea with some tangy flavors will surely quench your thirst on a hot summer day. The refreshing touch of green tea with the tangy lemonade and peachy taste is a blast drink to be on the best Starbucks Summer Drinks menu.
If you are sweating with hot sun rays and need a fresh and equally energetic liquid, you should try Iced Peach Green Tea Lemonade.
Purple Rain Tea
You must be wondering after reading the name of the next Starbucks secret menu drink. Why should you? As the name is unique, the same is the taste of the beverage. The unique thing about this drink is the flavor of tango iced tea without water. You can add soy milk if you need it. The cherry on the cake in this beverage is the toffee nut flavor with a little vanilla syrup. The tang of tea with a sweet touch of toffee nut and vanilla essence is a must to try.
Blended Strawberry Lemonade with Guava Juice
The strawberries, lemons, and Guavas combination is a great ingredient list when it comes to preparing the best Summer Drink. The sweet and sour blend of strawberries with tangy lemonade, and a splash of guava juice makes a blended Strawberry Lemonade with Guava Juice drink. The drink is a double-blended beverage to give an extra perfect blended and refreshing drink. If you are searching for a stress-beater drink in summer, this Starbucks' hidden treasure is a great one to try.
Chocolate Oatmeal Cookies
If you like something like cookies with cold beverages, Chocolate Oatmeal Cookies is a nice Starbucks drink that has your back. Although the drink sounds like an odd combination, something unique is a must to try. A cookie touch with an espresso boost is such a nice blend to take a seat in this top Starbucks' secret menu list.
A perfect mix of Iced Oat Latte, Mocha, Brown Sugar, and Oat Milk Foam on the top is surely a healthy and refreshing beverage to give a take.
Cotton Candy
The last but not the least option on our Starbucks secret menu is Cotton Candy. If you want to feel like a kid again, this is a perfect drink to enjoy your kiddish moments. Whether you love to eat cotton candy sticks or you like cotton candy ice cream, this is a perfect drink to try. Cotton Candy is a nice secret drink addition to get a good dose of nostalgia.
Cotton Candy is a good mix of Vanilla Bean Frappuccino with raspberry syrup and dragon fruit to give you a refreshing and yummy boost of energy.
Summing Up
This is our favorite take on Starbucks' secret menu drinks. But this is not the end, this famous coffee chain has a lot more to offer. The best part is, that all these drinks will give you a summer vibe no matter what season it is.
You can choose any of the above-given Starbucks drinks to order your favorite one. Even Starbucks adds new beverages to its menu each year to give some new options to the customers. You can always modify drinks as per your preferences like the quantity of sugar and its type, the caffeine intake level, etc. So, go and try your favorite drink this summer!
About the Creator
I am kate winselet,I work in Next Mashup Company, Our company provides the best information related to technology and entertainment.
Reader insights
Be the first to share your insights about this piece.
Add your insights