6 Tricks to Writing Suspenseful Fiction
How to keep your reader on the edge of their seat and turning pages.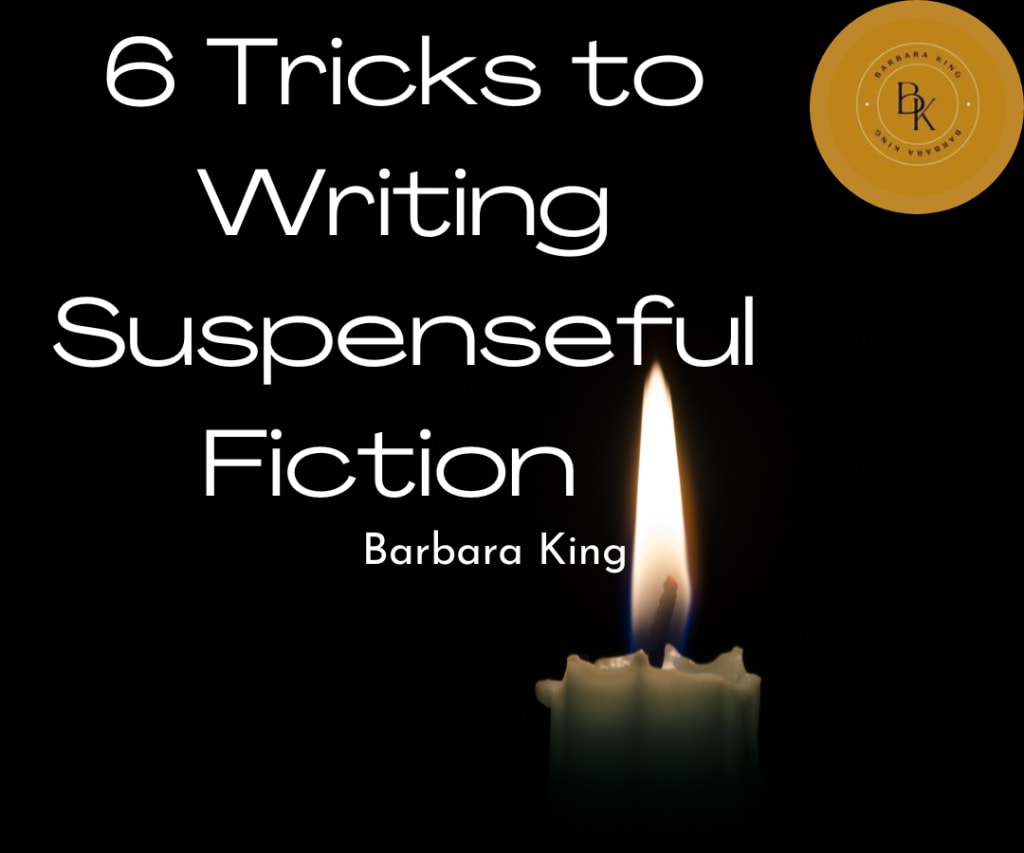 What is Suspenseful Fiction
Have you ever seen a movie where the stakes are high and the ending is full of uncertainty that your heart is pounding, you're leaning towards the screen, and you're not even blinking in fear that you'll miss it? It's that same feeling but brought to you by a book. Instead of a screen, your reader is drastically flipping through pages, eyes darting from one side to another devouring the words as the tension climbs higher and the amount of pages till the end grows shorter.
How can you give your reader this feeling through your story?
1. Keep the Stakes High
If there's nothing at stake, why would your readers care if your protagonist wins or loses? There's no suspense without something at stake for your protagonist whether it's their life, their way of life, or even their hometown basketball court. There has to be something they can lose.
2. Shorten the Clock
Your protagonist thought they had till the end of the week to get their rent payment to the landlord. Well not anymore the dirty landlord has now shortened the deadline to the end of the day and now your protagonist has to work against an even shorter restraint.
3. Cliff Hangers
What has you tuning in to your favorite television series week after week? You need to know what happens next and your reader needs to know what will happen in the next chapter. Leave them guessing at the end what will happen next until they get to the next chapter.
4. False Sense of Security
Or in other terms pull the rug out from under your protagonist with a plot twist or a red herring. Your protagonist and reader thought everything was going to be ok one second and then the next they're back at square one.
5. Withhold Information
Your reader doesn't need to know everything that is going on in the story. If your protagonist has an idea of who the killer is you don't have to tell the reader. Withholding information sets you up to reveal it when the time is right.
6. Give a Choice
Does your protagonist save his wife, but let his mother die? Or does he save his mother and let his wife die? Having your protagonist struggle with a complicated choice with no clear choice is going to have your reader needing to know what they decide especially if there's only enough time to save one of them.
Final Thoughts
Suspense is one of the best ways to hook your readers into your story and keep them there from the front cover to the back. Whether you're writing a thriller, a mystery or even a romance novel perfectly placed suspense will be sure to amp up your storytelling to the next level.
*If you've liked what you read you can show your support by subscribing, pledging your support, or leaving me a tip that directly supports and aids me as a writer.
By joining Vocal+ you can earn more per read on every story you publish on Vocal.
Click my link to start your 7-day free trial today and start earning more for your stories.
_____________________________________________
This story was originally posted on Medium.
If you would like to experience Medium yourself, consider supporting me and thousands of other writers by signing up for a membership. It only costs $5 per month, it supports us writers, greatly, and you have the chance to make money with your own writing as well. By signing up with this link, you'll support me directly with a portion of your fee, it won't cost you more. If you do so, thank you a million times!
If you love what you've read you can also show your support by buying me a cup of coffee to fuel my writing. 
https://www.buymeacoffee.com/barbaraking
*Contains Affiliate Links
About the Creator
Barbara King is a first-time author of the new dark fantasy novel The Dark Gods. King is a recent college graduate from Southern New Hampshire University where she earned her BA in Creative Writing.
Reader insights
Be the first to share your insights about this piece.
Add your insights